"1996 French Open Preview"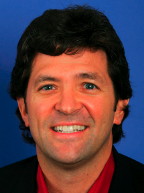 David Higdon
You know a Grand Slam event--and, subsequently, so-called experts trying to predict the outcome of a Grand Slam event--is in trouble when the healthiest top player in the draw is Steffi Graf. Top seeds Pete Sampras and Thomas Muster apparently are ailing, and Monica Seles reportedly will be a no-show.
So, with the starting lineup still up in the air, let's throw all caution to the wind and make our picks:
MEN
Winner: Thomas Muster
So the guy sprained his ankle. So the guy likely will have to face clay-court studs Frederik Fetterlein, Adrian Voinea and Carlos Costa in the first three rounds. So what? This man's chip on his shoulder has been growing like a pothole in Manhattan, and no broken bones or young stallions are going to get in his way.
Runner-Up: Alberto Costa
He's the only player on the circuit regularly getting sets off Muster on clay. You don't think this guy is tough? Even all his Spanish countrymen run and hide when he hits the dirt. If Muster's truly ailing, Costa's my man.
Semifinalists: Sergi Bruguera, Michael Chang
Bruguera will be the one-man American wrecking crew. He'll dust off Sampras in the second round (assuming Pistol Pete gets past Magnus Gustaffson, no small feat), then polish Jim Courier in the quarters. If Andre Agassi somehow sneaks into the semifinals, he'll send him packing as well. Chang's road to the semis will, on the surface, appear easier, but in fact it will be tougher, thanks to the clay-court surface. He'll have to get past a trio of potential Alberto Berasateguis: Carlos Moya, Jiri Novak and Bohdan Ulihrach. Waiting in the wings: The Moo-Man. Ouch!
Quarterfinalists: Jim Courier, Andre Agassi, Bohdan Ulihrach, Marcelo Rios
Courier will have his hands full with Roberto Carretero in the third round, but he should hold seed. Agassi has a good draw, but won't have the patience to grind out Costa--unless dry weather during the first week keeps the court fast. Ulihrach-and-Roll should upset Goran Ivanisevic, but he'll be singing a different tune against Chang. Rios is the real deal, and will give Muster a handful.
Early Round Follies
Mark Philippoussis and Alexander Volkov on clay; they might actually have to hit a few balls before winning points. Henri Leconte's French Open swan song could include an upset over Yevgeny Kafelnikov, but he (or Kafelnikov, for that matter) won't survive a duel with Spaniard Alex Corretja in the third round. A 1989 rematch of Chang versus Stefan Edberg would be a media event, but I don't think Edberg can beat Carlos Moya in round two. Interesting but probably Meaningless: Muster's first-round opponent, Frederik Fetterlein, beat Muster in October at Tel Aviv.
WOMEN
Winner: Steffi Graf
Neither rain, nor sleet, nor her annual allergy attack in Paris will prevent the greatest woman's player of all-time from snagging another Grand Slam title.
Runner-Up: Arantxa Sanchez-Vicario
A finalist in three of the four Grand Slams last year, she won not one. She's still got the goods, but she's been unusually inconsistent during the first five months of the 1996 season. She rarely loses early at Grand Slam events, however, particularly this one.
Semifinalists: Kimiko Date, Irina Spirlea
Date's got enough spunk to upset Conchita Martinez, who won the Italian Open but seems to be up-and-down. Date, of course, is always exactly the same: Good enough to reach semifinals, never tough enough to get past them. Spirlea may not survive the Romanian National Championships in the second round, where she likely will face Catalina Cristea, but I like her spunk and, more importantly, her draw.
Quarterfinalists: Iva Majoli, Conchita Martinez, Martina Hingis, Maggie Maleeva
If Majoli wasn't facing Graf, she could have been a finalist. I'd like to see Hingis dance past Sanchez-Vicario, but she still seems a year away. I fully expect Seles not to play, which opens up the bottom half of the draw for the last of the Maleevas.
Early Round Follies
Two six-footers, Andrea Temesvari and Shaun Stafford, duke it out in the first round. Hingis must face Barbara Schett of Austria (Land of Muster), who held five match points against Monica Seles earlier this week in Madrid, in round one. Favorite sounding first-round matchup: Shi-Ting Wang vs. Anna Smashnova. Please, please, please let it happen: If Pierce and Capriati win their first two rounds, they'll meet in the dirt. Fire up the popcorn!
David Higdon's follow-up to the French Open will appear during the week of June 10.




Higdon's Net Game / Between The Lines Archives:
1995 - May 1998 | August 1998 - 2002 | 2003 - 2007
If you have not already signed up to receive our free e-mail newsletter Tennis Server INTERACTIVE, you can sign up here. You will receive notification each month of changes at the Tennis Server and news of new columns posted on our site.
This column is copyrighted by David Higdon, all rights reserved.
David Higdon was named a senior writer of Tennis Magazine (U.S.) beginning with the December 1994 issue, which featured David's cover story on Andre Agassi. David worked for the magazine since August 1988, when he was hired by the magazine as a senior editor. In September 1991, he left his full-time editing position with the magazine to become a contributing editor, moving from Connecticut to Portland, Oregon. He currently works as a freelance writer, writing regularly not only for Tennis but also for publications such as Sports Illustrated for Kids, The New York Times, Self, Boys' Life and USAir Magazine. He also serves as editor of Rip City Magazine, the official publication of the NBA's Portland Trail Blazers.
---