"Wimbledon Wrap Up"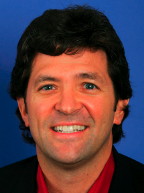 David Higdon
On Saturday, after another memorable Wimbledon ladies singles final, runner-up Arantxa Sanchez Vicario reached over and playfully switched plates with champion Steffi Graf. The next day, men's singles runner-up Boris Becker tried to do the same, but champ Pete Sampras smiled and held his trophy securely. After all, Sampras remembers fondly watching Becker win the title three times. Who can forget the year a beaming Boris ran around the court with the trophy and the lid tumbled to the ground?
"[Wimbledon] is the biggest tournament we have and I have always enjoyed watching it on TV," Sampras said before the tournament. "My first real strong memory was Becker winning at age 17. I was like, God, that must be unbelievable to win that tournament. You can't do anything more in tennis than win Wimbledon and so I have always put a lot of emphasis on it. Hopefully, I can win it as many times as I can."
And who can blame Sampras for snuggling the trophy, the third time in the past three years he has done so. He had to give it up eventually, of course, since the trophy remains on-site at Wimbledon. Still, Sampras' name gets permanently etched in the gold, and the Centre Court on which he strutted his stuff Sunday has become his own stomping ground. "In the 1980s and early 1990s, that court belonged to me," Becker said after the emotional final, "but now it belongs to Pete Sampras."
It was a classy statement by a class act, and it demonstrated that Sampras and Graf weren't the only winners this Wimbledon fortnight. Becker, ten years after his shocking run to the 1985 title, played inspired tennis, especially during his victory over top seed Andre Agassi in the semifinal. Indeed, as Becker said after losing to Sampras, Friday's semi was his Wimbledon final, and he had won. He does not go home a loser.
Among the ladies, I count four winners, semifinalists all. Jana Novotna played Graf tough, the hand disappearing from around her throat, hopefully forever. Conchita Martinez never let the lack of attention or credit for last year's stunning Wimbledon victory bring her down, marching to the final four by playing some brilliant tennis. If she isn't convinced by now that she could be a truly special player, another athletic Graf, she'll never be. She's got all the gifts; she just needs to learn to use them all.
Sanchez Vicario thrilled me most of all. I'll never forget watching her play Italian Raffaella Reggi on Centre Court at Wimbledon in 1989. She had just won the French Open, and many of us were there that afternoon to see this little bumblebee who had captured our hearts weeks earlier. Reggi, though, was the more experienced grass-court player, and she soon held match point. The two players traded groundstrokes until Sanchez Vicario hit an improbable, go-for-broke drop shot from well behind her baseline. It plopped over the net; the crowd roared. Reggi turned around to look at her family and friends (they were sitting a few rows away from me) and looked like she had just seen a ghost. She never recovered, and Sanchez Vicario came back to win the match.
That spunk and spark had been missing from Sanchez Vicario's game for years, and on Saturday afternoon, it came roaring back with a vengeance. She pumped her fist. She went for broke. She hit drop shots, lobs, passing shots. Unfortunately, in the eleventh game of the third set, she went to the well one too many times. She hit her patented forehand cross-court passing shot near the end when she should have gone down the line.
The eleventh game was riveting theatre. It already is being compared to the classic 1980 fourth-set tie-break between John McEnroe and Bjorn Borg. Finally, a clip of the women to show again and again on future Wimbledon broadcasts to get us through rain delays.
And, last but not least among the ladies, Graf won too. She's got the plate (or does she?) to prove it. This time, though, she's joined in the winner's circle not only by the aforementioned three female competitors, but by women's tennis as a whole. In case you haven't noticed, what with all the grumblings about short rallies and controversy over slowing the balls down, Wimbledon has become the perfect venue for the women. The grass courts entice the women to play more aggressively, and we've been rewarded the last few years with many more interesting matchups, much less pattycake play from the baseline, and fewer straight-set shellackings. Indeed, one could argue that the women provide more splendor in the grass than the men.
But that would be petty. Why stoop to comparisons between the sexes? The tennis at Wimbledon, played by men and women alike, was top-notch. Too bad there weren't enough trophies to go around.
---
VERBAL VOLLEYS
When has Murphy Jensen not been lost?... The sport of tennis is going to miss Zina Garrison Jackson when she retires this year a lot more than Zina will miss our sport... Like Magic Johnson and Michael Jordan, Martina Navratilova's "retirement" wasn't all it was made out to be. I certainly don't mind seeing her play again, but last year's extensive retirement celebration now seems like a farce. Going after a record number of Wimbledon titles by playing mixed doubles doesn't sit well with me either... Kimiko Date's strokes look like she learned them by studying tennis instructional manuals from the 1970s... If Mike Tyson thinks he's so tough, let's see if he's willing to go mano a mano with Benedicte Carriere, Jeff Tarango's wife. Are you online, Don King?... It's only a rumor that L.A.'s Michael Joyce, dubbed "the Hollywood Kid" by the British scribes after he reached Wimbledon's fourth round, played Doogie Howser, M.D, on TV... Oh, where have you gone, Gaby?... It's good to see David Wheaton back in the mix. He looked impressive in his third-round loss to Andre Agassi at Wimbledon. Watch for my profile on Wheaton in an upcoming issue of Tennis Magazine.

Was it something in the England air? During a men's doubles match at Wimbledon, Todd Woodbridge advised Patrick Rafter's girlfriend, who was cheering courtside, to "shut up." After shaking hands, Rafter told Woody, "Don't you ever talk to my girlfriend like that again," then the two Aussies almost came to blows in the locker room... In his obituary about Pancho Gonzalez, New York Times sports editor Neil Amdur wrote that any discussion about the "best tennis player of all time" includes Gonzalez, Bill Tilden, Ellsworth Vines, Rod Laver, Jack Kramer, Don Budge, Bjorn Borg and John McEnroe. Anyone want to quibble with that list?... Speaking of Mac, it was hard not to laugh at the hypocrisy behind his criticism of Tarango... I wonder if Jim Courier misses former coach Brad Stine more than he will admit... The campaign starts in earnest here: Get rid of let calls on the serve! Make players play a netcord on the serve just as they would if it happened during a point... The announcement that Monica Seles would return to the tour was leaked on the eve of the Wimbledon women's semifinals, then she made her official declaration on the same day as the women's final. Once again, Seles purposely stole the other women players' thunder just as she did with her announcement of the exhibition against Navratilova during the French Open... Make sure you pick up a copy of Tennis and the Meaning of Life: A Literary Anthology of the Game edited by Jay Jennings (features editor at Tennis Magazine). If you can't find this wonderful collection of stories, poems and excerpts by such authors as Irwin Shaw, Paul Theroux and E.B.White in your local bookstore, call Breakaway Books at 800/548-4348. Tell 'em Higdon's Net Game sent you.

Yevgeny Kafelnikov will reach a Grand Slam singles final within the next two years... Michael Chang will never win another Grand Slam singles title... Lindsay Davenport is a '90s version of Pam Shriver, without the sharp wit, of course... Remember when Anke Huber was hyped as the next Steffi Graf?... Sampras once told me that he's envious of Agassi's private jet, but is too fiscally frugal to spend the big bucks for one of his own... Wimbledon suffers more than any other tournament from the inane pro tour schedule. For the world's preeminent grass tournament to be played only weeks after the extensive clay-court campaign hurts both players and fans... NBC should consider using NBA analyst Steve Jones, a true tennis buff--and top-notch player--for future tennis broadcasts... They also should consider spending a dollar or two to produce some interesting features to go along with their broadcasts... Who's a bigger crank than Michael Stich?... Imagine this: Murphy and Luke Jensen as the U.S. Davis Cup doubles team at the semis in Las Vegas. Watch out, Wayne Newton!... Now, back to reality: U.S. captain Tom Gullikson should consider teaming Todd Martin with Sampras in doubles. Richey Reneberg and Jared Palmer are a stellar team, but they make me nervous.
---
READER RALLY
Love & Love
How often throughout the year outside the Grand Slams would Andrei Medvedev and Anke Huber meet? I can't imagine them getting together much and at the Slams they can't have too much fun, they would be too weak in the knees. Are there or have there been any other romances between male pros and female pros? --Desmond Pegrum
The word on Andrei and Anke is that they are kaput! Too bad: They were a cute couple. They did, in fact, used to rendezvous away from the Slams. He often would visit Anke at her parent's house near Hamburg, or they would meet at her apartment in Austria. Andrei's sister, touring pro Natalia Medvedeva, also has a place in Germany, so the two young lovebirds sometimes met up there.

You're right that it's difficult for men and women pros to maintain relationships. Since they're flying from city to city, on their own different tours, they spend more time with Skycaps than love interests. It's even more difficult for the top players, who tend not to lose early in the week too often. I know of two current relationships between the two pro camps: Natasha Zvereva-Scott Davis (an on-again, off-again romance supposedly back on) and Sean Stafford-Luke Jensen. Some notable past pairings include Jimmy Connors-Chris Evert and David Wheaton-Mary Joe Fernandez.
Carry a Big Stick
What racquet model is Agassi playing? It looks oversized. I'm demoing mid-sized, relatively stiff racquets: Should I consider this one? Thanks for the help. --J.T. Keating
Agassi's whacks those forehands with the Head Radical 260 OS, perhaps bigger than you might be used to with a hitting area at 107-square inches. Agassi's customized stick weighs 13 ounces, an ounce more than an off-the-shelf model, and is balanced at 3/4-inch head light, which is 1/4-inch head heavier than a stock model. The racquet is well-suited for Agassi since its open string pattern and large size benefits his return of serve and groundstrokes, the cornerstones of his baseline game. He strings his racquets at 64 pounds, the middle of the recommended range. Try it: You might like it. The white bandanna is optional.
Longing for Greg
Wow! Do you have any background details as to why we Canadian tennis fans have lost Greg Rusedski? What a sweetheart! Great smile, enjoying himself immensely out there, a powerhouse game, and gracious in defeat. What class!

I can only assume that launching a tennis career is difficult in Canada. Lack of sponsorship, etc. What a loss for us; those lucky Brits have him now. It sounds like there was lots of "family sacrifice" on his behalf to get him established. --A Canadian admirer
To answer this question completely, I'd have to make you download a mega-file! Remember when hockey star Eric Lindros scorned Canada to sign with the NHL's Philadelphia Flyers? There's the same feeling among many Canadians now about Greg. His story played out like a soap opera in tabloid-land during Wimbledon, and everyone seems to have a different view of why or how Greg left the Great North for Great Britain. The bottom line, however, is that Greg will compete on the British Davis Cup team this July, thus preventing him from ever playing for the Canadian Davis Cup squad.

Greg's camp will tell you that Tennis Canada, the country's official tennis federation, suddenly is crying foul even though they did little to support Greg during his junior days. There's plenty of evidence to back them up. Greg had a very modest upbringing in Montreal, where his father, Tom literally mortgaged his family's funds to pay for Greg's tennis development. He actually was set to play Davis Cup for Canada in 1993, but an injury shelved his debut. Ironically, if he had played, he wouldn't be allowed to compete for Britain now.

Greg's mother, Helen, was born in England, thus giving him dual-citizenship status; he's been carrying a British passport for five years along with his Canadian one. Since falling in love with a Brit four years ago, Greg has spent much of his non-playing time in her home country. There's no doubt that securing the position of No. 1 British player will reap far more dividends, endorsements and the like than remaining Canada's top gun.

Alas, I recommend you ignore all the complaints by Tennis Canada and don't let it diminish your support for Rusedski. He's also had to endure the wrath of some bitter British players suddenly bumped down one notch. "The hostility's going to be [there], I can understand that, but other athletes have changed and gone where their heart is," Rusedski said at Wimbledon. "I've been living here four years; this is where my heart is." Andre Agassi said he noticed that Greg already has adopted British tendencies. "I'm getting a kick out of watching him trying to pick up the accent," cracked Agassi. "I've been watching his interviews and he starts using words like 'brilliant' and 'lovely.'"



Higdon's Net Game / Between The Lines Archives:
1995 - May 1998 | August 1998 - 2002 | 2003 - 2007
If you have not already signed up to receive our free e-mail newsletter Tennis Server INTERACTIVE, you can sign up here. You will receive notification each month of changes at the Tennis Server and news of new columns posted on our site.
This column is copyrighted by David Higdon, all rights reserved.
David Higdon was named a senior writer of Tennis Magazine (U.S.) beginning with the December 1994 issue, which featured David's cover story on Andre Agassi. David worked for the magazine since August 1988, when he was hired by the magazine as a senior editor. In September 1991, he left his full-time editing position with the magazine to become a contributing editor, moving from Connecticut to Portland, Oregon. He currently works as a freelance writer, writing regularly not only for Tennis but also for publications such as Sports Illustrated for Kids, The New York Times, Self, Boys' Life and USAir Magazine. He also serves as editor of Rip City Magazine, the official publication of the NBA's Portland Trail Blazers.
---