"Monica Seles, the Sequel"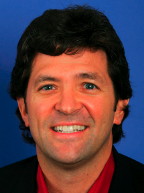 David Higdon
Monica Seles never has had a firm grasp on reality. Her first tennis court was a Yugoslavian parking lot where she hit balls over a piece of string tied between the bumpers of two cars. Her first instructor, father Karolj, was a professional cartoonist who used sketches to literally illustrate his lessons. Her first taste of America was Disneyland (she won two Sport Goofy World Championships as a teenage sensation!), and a poster of Marilyn Monroe hung on her mostly barren Florida condo wall. No one can definitively identify her first hair color since it changed color, length and texture so often.
When Seles was a tour newcomer, a gawky 15-year-old with a guttural grunt and a babbling speech pattern, she told the media that she planned someday to be the next Julia Roberts. First, though, she took a game built around a funky two-handed forehand and no serve to speak of to the top of the women's pro tennis game. Then she disappeared from sight for two years only to resurface recently as still the biggest star in the women's tennis galaxy.
Hello? Earth to Monica.
No, Seles prefers a solo orbit. It's not surprising that Seles chose to return to the sport of tennis this weekend in an exhibition against Martina Navratilova in surreal Atlantic City. Leave me in my cartoon world, she's telling us. Reality isn't any fun. Reality is a knife in the back during a changeover. Reality is a German judge who awarded her attacker a two-year suspended sentence. Reality is realizing that the man who stabbed her can roam the land relatively free. For Monica Seles, it is much better to float through life in a state of grace known as women's tennis, where home is where you leave your Yonex and bright lights offer comfort.
"I think [Seles] basically just loves the spotlight," Navratilova told me four years ago, "and she's trying to do anything and everything she can to get it, one way or the other."
It's not just coincidence that Seles chose to announce the July 29 exhibition, which will be shown on CBS, during the French Open, or confirm her plans to play the U.S. Open on the eve of the ladies singles final at Wimbledon. For Seles, all the world's a stage. That's why the WTA Tour, despite grumbling from the top players directly affected by the organization's decision to award Seles a co-No. 1 ranking upon her official return, didn't mind being upstaged once--OK, make that twice--by this Pretty Woman wannabe. With the fabulous Wimbledon showdown between Steffi Graf and Arantxa Sanchez Vicario behind them, and with Venus Williams and Martina Hingis in front of them, the WTA Tour only needed Seles to return women's tennis to center stage.
Seles never has been my cup of tea, but a staid sport like tennis always can use someone who once dressed up in 1970s wig and staged a photograph of herself sneaking into a limousine. The National Basketball Association doesn't need Dennis Rodman's antics either, but they're certainly good for comic relief.
Seles was, and still can be, even more than that. She previously lifted the entire sport up when it needed it most, when women's tennis had become Graf's dull domain. Despite Graf's obvious athletic superiority, Seles dominated her; Seles won seven of the eight Grand Slam tournaments that she had entered before being stabbed. She was the toughest female competitor, mentally, that I had ever seen play pro sports.
Now, one has to wonder if she can regain her old form. I don't think she will: I think she'll be even tougher. Remember: Seles is only 21. This isn't George Foreman returning to the ring, or even Michael Jordan lacing up his Air Nikes again. She could play another ten years--unless Hollywood beckons, of course.
That's where I expect to see Seles play her first WTA Tour, at the Los Angeles event beginning August 7. From Atlantic City to the City of Angels, Seles doesn't step back into the fire quietly. Plus, Los Angeles is where Venus Williams will make her 1995 debut, a perfect place for the game's shining star to steal someone else's thunder.
Then again, maybe Seles just wants to ease her way back into the game. Perhaps she'll go to the U.S. Open without any expectations of actually winning it. After all, she's just returning to have some fun, isn't she?
Get real.
---
READER RALLY
Wimbledon aspirations
Suppose that I want to take part in Wimbledon next year. Would that be possible? What would I have to do? And what would it cost me? --Dimitri Boone
Ever hear the joke about the tourist in Manhattan asking how to get to Carnegie Hall? Well, the answer to that joke also applies to your Wimbledon question: Practice, practice, practice! Since I couldn't find you between Byron Black and Arnaud Boetsch in my ATP Tour Player Guide, I'll assume that you'll need plenty of practice on your serve-and-volley game before you grace the hallowed grounds at Church Road in London, SW 19, England.

However, if you do have a serve in excess of 120 miles per hour and a ranking somewhere near or above that number, you could take part in Wimbledon without shedding a pound--English money, that is, not the stuff many of us are currently carrying around our waists. There's no entry fee at Wimbledon. Whatta deal.
Just curious
I have always wondered how much a pro tennis player must pay to enter a pro tournament. For example, the U.S. Open. Do they pay entry fees, and who usually pays the fee, the player or their sponsor? --Kirk Spears
Hmmm. Dimitri, meet Kirk. Kirk, Dimitri. Your questions prompt another analogy, this time from the world of cinema: Breaking In, starring Burt Reynolds and Casey Siemaszko. After the two men spend an evening with a couple of nice, young ladies, Siemaszko wakes up and is shocked to discover Reynolds handing an envelope to the pair. "I've never paid before," he tells Reynolds. "Believe me," says Reynolds, "you've paid. In one way or another, you've paid."

Such is the case with pro tennis and U.S. Open entry fees. They don't pay to play, but, believe me, they've paid in blood and sweat and all the anguish that comes from dealing with pushy parents and sweaty palmed agents. "We stopped charging entry fees years ago," the USTA's Art Campbell explains. "It was stupid: We were paying them thousands of dollars in prize money and charging them $20 to enter."

A regular WTA Tour event, on the other hand, will cost a player some change if they're not members of the Players Association. If you didn't pay your dues, you'll pay $75 a tourney. I wasn't able to confirm this prior to my deadline, but I believe the ATP Tour has a similar set-up. Non dues-paying members who get into a Championship event will need to fork over $200; a World Series event, $100; and $20 for a Challenger event.

If you're paying entry fees, that means your ranking is probably in the triple digits and no major sponsor is clamoring to pick up your fees. In many cases, though, a fringe player is aided in his quest by a local support group, or deep-pocketed friends from the country club, who are willing to pick up the day-to-day expenses such as entry fees.
Dressed to the S
Any clue on what Steffi's special announcement will be about? It supposedly has something to do with the "S" patch on her shirt. --Clueless
Clueless is referring to a mysterious announcement made about Graf during Wimbledon. As it turns out, it was another advertising ploy, similar to the one used by Taco Bell for Hakeem Olajuwon and Shaquille O'Neal. (While on the subject, is that commercial, which was directed by Spike Lee, a letdown, or what?) After her stint on grass, Steffi took a stroll down a model's walkway, introducing her own casual fashion collection, known as "The Steffi Graf Collection." Catchy name, huh? There are dresses, midriff-showing jackets, vests and jeans. You can get the jeans for a mere $110-180. At those prices, you'd better not approach any purchase too casually. USA Today reported that Graf said her foray into fashion won't tempt her to end her tennis career. Hear, hear. No, I have no idea where to buy the stuff. So don't ask.
Planting Seeds
At most major tournaments, the seedings are drawn such that if form prevails, #1 meets #4 in the semifinals and #2 meets #3 in the semis. This is the way the seedings were drawn at Wimbledon--for the women. For the men, however, the seedings were drawn so that we found #2 Sampras playing #4 Ivanisevic in the semis, and #1 Agassi playing #3 Becker. Thus, we were deprived of the "dream match" pitting Ivanisevic's serves against Agassi's returns. Can you explain why the seedings are handled differently for the men and the women at Wimbledon? Is the Wimbledon arrangement duplicated at the other Grand Slams? --Confused
Your confusion is understandable, but the seedings are done the exact same way for both men and women at all Grand Slams. In a 128-player draw, the top seed is put in position #1 on the draw sheet, #2 at position #128. There then is a draw for the next two seeds, and the first player drawn gets line #33 (and thus a potential showdown with the top seed), while the other player gets placed in position #96. Thus, Becker was drawn on the men's side to face top-seeded Agassi while #4 Jana Novotna drew top-seeded Steffi Graf. I'm surprised you considered Agassi vs. Ivanisevic a "dream match." I think such a match would have been too one-dimensional. Because Ivanisevic doesn't have the return or baseline game to challenge Agassi on his serve, the match either would have been a quick race to tie-breaks (if Ivanisevic was serving well) or an Agassi blowout (if Ivanisevic wasn't serving well). Plus, I'm a firm believer that Sampras, not Ivanisevic, has the best serve in the game. Pistol Pete can place it anywhere, he seems to hit aces on crucial points all the time and he clearly has the best second serve in the game. Ivanisevic can crank up the number of aces, but Agassi would much rather face an all-or-nothing Ivanisevic than a more versatile Sampras any time. Agassi's coach, Brad Gilbert, told me when I was researching a piece for Tennis Magazine on the Agassi/Sampras rivalry (May, 1995) that "Pete Sampras serves so well not because he hits the shot with so much power, but because he disguises all his different serves so well." Alas, the "dream match" that many tennis fans--including me-- wanted to see was Agassi vs. Sampras, clearly the best two players in the game at this moment. We can keep dreaming, though: Sunday afternoon at the U.S. Open. Agassi vs. Sampras. Hard courts. Awesome.



Higdon's Net Game / Between The Lines Archives:
1995 - May 1998 | August 1998 - 2002 | 2003 - 2007
If you have not already signed up to receive our free e-mail newsletter Tennis Server INTERACTIVE, you can sign up here. You will receive notification each month of changes at the Tennis Server and news of new columns posted on our site.
This column is copyrighted by David Higdon, all rights reserved.
David Higdon was named a senior writer of Tennis Magazine (U.S.) beginning with the December 1994 issue, which featured David's cover story on Andre Agassi. David worked for the magazine since August 1988, when he was hired by the magazine as a senior editor. In September 1991, he left his full-time editing position with the magazine to become a contributing editor, moving from Connecticut to Portland, Oregon. He currently works as a freelance writer, writing regularly not only for Tennis but also for publications such as Sports Illustrated for Kids, The New York Times, Self, Boys' Life and USAir Magazine. He also serves as editor of Rip City Magazine, the official publication of the NBA's Portland Trail Blazers.
---