"1996 Wimbledon Review & Parting Shots"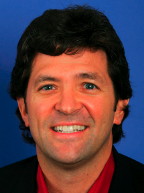 David Higdon
The winners: Steffi Graf and... Richard Krajicek? The runner-ups: Arantxa Sanchez Vicario and... MaliVai Washington? Wimbledon '96 offered fans both the familiar and the unexpected, with a rash of upsets and rain delays to keep things interesting. Anyone who tuned out after the limelight duo of Andre Agassi and Monica Seles were dispatched early missed out on one of the most rewarding Wimbledon fortnights in recent history.
I attended Wimbledon during the first week of the tournament, which means I spent nearly every day sprinting from one court to the other so I wouldn't miss out on another superstar hitting the road. The Day America Got Dusted was particularly revealing. On the first day of the event, Michael Chang, he of the pumped-up serve and more aggressive game, fell to Spanish whiz kid Alberto Costa, who hadn't won a grass-court match in his entire career. They slogged it out from the baseline on the slippery fast courts (the courts slow down as the fortnight progresses), truly setting grass-court tennis back a few hundred years. They weren't alone; there were an amazing number of men's matches during Wimbledon contested from the backcourt. Anyone who doubted whether the death of serve-and-volley tennis was fast approaching need only have spent a few days roaming the grounds of the All-England Club. When Stefan Edberg fell meekly to countryman banger Mikael Tillstrom in the second round, another nail was put in the S&V coffin.
Agassi's defeat by Doug Flach, which followed Chang's on Court 2 on opening day, was less a matter of style than substance. Yes, they both banged from the baseline, but Agassi usually dominates such encounters. His body language, though, was very clear: He was not interested in gutting out a very winnable match. You should have seen the steam coming out of coach Brad Gilbert's ears. Mr. Winning Ugly couldn't have enjoyed watching a player of so much talent mail it in like Agassi did. I'm convinced Agassi's career will be one of glorious peaks and stupefying valleys. He's currently firmly entrenched in the latter.
Jim Courier's opening-day loss to Jonathan Stark, who possesses a big serve and solid returns, was more likely but equally disturbing. Courier behaved as if he was competing in an "exo" rather than his sport's biggest event. MIA was his intense stare and rooster-like strut, replaced by sarcastic smiles and loose-limbed strolls between points and games. He, like Agassi, is in need of a gutcheck.
Seles' loss to Katarina Studenlikova was shocking because she was beat by a player simply trading groundstrokes with her. Studenlikova hit a big forehand and a fairly consistent slice backhand, but neither struck me as the type of stroke to give Seles trouble. During similar occasions in the past, Seles would tighten up her game and let her opponent self-struck. Studenlikova certainly seemed to be falling apart at the end, but Seles showed none of the killer instinct for which she's renowned. I think some self-doubt has surfaced in her mind after the initial rush she got from returning to the game. Plus, whether she'll admit it or not, she's clearly out of shape.
Pete Sampras survived the opening-day bug which felled his fellow Americans, though he didn't look too impressive in his victory over Richey Reneberg. He seemed up and down the entire tournament. He played superbly in the second round against Mark Philippoussis, struggled through his match against Karol Kucera, then smoothly dispatched the talented Cedric Pioline in the round of 16. His game dropped a notch again against Krajicek, which was enough for the Dutchman to drum the three-time champion out of the event.
Krajicek was unstoppable from that point forward. It was an amazing transformation to observe. Here was one of the tour's biggest underachievers demonstrating to the world that he finally had arrived. During the previous two seasons, Krajicek hadn't even gotten past the third round at any of the Grand Slams in which he had competed, and had lost in the first round of Wimbledon in 1994 and 1995. Now he's a Wimbledon champion. (Note: Much of the coverage of the event emphasized that he was the first unseeded champion since Boris Becker, which may officially be true but overlooks the fact that as the "No. 17 seed," Krajicek was placed into Thomas Muster's No. 7 seed slot when the Austrian pulled out lame just prior to Wimbledon.)
Krajicek has it all: a big serve, a strong return, solid groundstrokes. His best previous Grand Slam performance was reaching the semifinal at the 1993 French Open, a result which demonstrates that his skills go beyond his 135 mph serve. In many ways, he reminds me of Michael Stich. Krajicek moves well for a big man (six-feet, five-inches) and he's got an impressive all-around game hampered only by a suspect mental one. Stich, the 1991 Wimbledon champion, has yet to cop his second Grand Slam, though he's been to two finals (1996 French Open and 1994 U.S. Open). His surliness both on- and off-court always seemed to demonstrate a lack of confidence, though that seems to be changing of late.
After vaulting into the top 10 in 1992, Krajicek had developed a reputation as a bit of a whiner who tended to crack under pressure. Big matches and big occasions were not his forte. Will he go the way of Stich, slipping into a funk, or follow the lead of Sampras, developing a quiet confidence to bolster his physical skills?
A similar question surfaces when considering the future of runner-up Washington. Like Krajicek, he previously wilted at the big events; he never surged past the quarterfinals at 26 previous Grand Slams. Many of his most memorable matches were five-setter thrillers that he let slip away. At Wimbledon, everything changed. He won the tight matches, he beat the higher ranked players, he reached a Grand Slam final. Washington once pounded from the ground with Nick Bollettieri Academy stablemates Andre Agassi and David Wheaton. Will he follow the impressive path laid out by the three-time Grand Slam champion Agassi, or that of Wheaton, who's one and only moment in the Slam sun was a 1991 run to the Wimbledon semifinals?
The two women finalists don't have the same question marks about their games. What you saw is what we always get: the consistent Sanchez Vicario beating who she should beat on the way to the finals, the better Graf raising the level of her game when she needed to. Both should be applauded. Sanchez Vicario's ability to conquer the countless pretenders in the women's game on nearly all big occasions belies the heart of a true champion, even if she always seems to be left with the runner-up plate. As all of the men's seeded players at this year's Wimbledon will attest, it's just as hard to hold your place in the pecking order of professional tennis as it is to get there in the first place.
Parting Shots
NBC-TV's decision to cut off the men's award ceremony and interviews so we wouldn't miss a few precious swings during the U.S. Old Geezers Golf Championship was an insult. Hard to fault me for my men's tournament picks (see Wimbledon Preview). The only "good guess" I had was foreseeing Todd Martin's march to the semifinals. As for the women, I picked the winner but not much else... Sorry, but the Sampras Q-and-A will be delayed until after the U.S. Open. My next column will be a preview of the season's last Grand Slam in late August.




Higdon's Net Game / Between The Lines Archives:
1995 - May 1998 | August 1998 - 2002 | 2003 - 2007
If you have not already signed up to receive our free e-mail newsletter Tennis Server INTERACTIVE, you can sign up here. You will receive notification each month of changes at the Tennis Server and news of new columns posted on our site.
This column is copyrighted by David Higdon, all rights reserved.
David Higdon was named a senior writer of Tennis Magazine (U.S.) beginning with the December 1994 issue, which featured David's cover story on Andre Agassi. David worked for the magazine since August 1988, when he was hired by the magazine as a senior editor. In September 1991, he left his full-time editing position with the magazine to become a contributing editor, moving from Connecticut to Portland, Oregon. He currently works as a freelance writer, writing regularly not only for Tennis but also for publications such as Sports Illustrated for Kids, The New York Times, Self, Boys' Life and USAir Magazine. He also serves as editor of Rip City Magazine, the official publication of the NBA's Portland Trail Blazers.
---