"U.S. Open Preview & Predictions"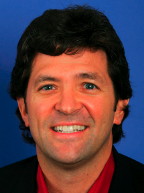 David Higdon
The players hate it, the on-site media hates it, the tour management hates it... but fans love it. And for good reason: The U.S. Open, more than any other Grand Slam event, always seems to offer the most intrigue and the best tennis of the season.
This year should be no exception. Here's a look at the best first round match-ups, the most likely upsets and my predictions for the tournament:
MEN
Champion: Pete Sampras
He's had a rough summer and some truly lackluster performances, but I still like his chances. It won't be easy: He likely faces Jaime Yzaga, who upset him at Flushing Meadow last year, in the second round; big-serving American Todd Martin in the fourth round; ninth-seeded Thomas Enqvist, who's been playing great lately and beat Agassi at the 1993 Open, in the quarterfinals; and American Jim Courier or Michael Chang in the semifinals. Fellow Tennis Magazine Senior Writer Peter Bodo pointed out in an interesting article in the September issue that the last three U.S. Open champions won only after beating Chang in a pivotal match. Will Bodo's "Chang as Roadblock" hypothesis hold up a fourth year? Beating Chang in the semifinals should provide Pistol Pete with just enough momentum and confidence to carry him to the winner's circle.
Finalist: Andre Agassi
Of course, everyone, including me, wants Agassi and Sampras in a Sunday afternoon showdown. Agassi already has stated that whoever wins the Open deserves the No. 1 ranking for the year, wacky computer be damned. I agree. I give the edge to Sampras for the reason stated above, plus two more. First, Agassi has been so hot, so dominating, so untouchable, that I wonder if he's bound to hit the wall eventually. If he claws his way out of a near-loss in the early rounds, however, he may be impossible to beat in the final, Sampras or no Sampras. If he floats through to the final, I think it hurts his chances in a showdown with Sampras. Second, he has a tougher draw, match-up wise, than Sampras. He likely will have to face former two-time champion Stefan Edberg in the third round; due-for-a-breakthrough Yevgeny Kafelnikov, who beat Agassi at the French Open, in the quarterfinals; and Goran Ivanisevic in the semifinals. I wouldn't bet against him, though. My gut says Sampras, but my rational mind says Agassi.
Semifinalists: Michael Chang and Goran Ivanisevic
Chang, the No. 5 seed, has an excellent draw. He should have no problem until he likely faces David Wheaton in the fourth round. The aggressive but slow Wheaton, who I predict will upset No. 12 seed Richard Krajicek in the third round, is a perfect foil for Chang's counterpunching game. Chang then would probably face Jim Courier, who will have to first get past Thomas Muster, the No. 3 seed, in the third round. No problem. Muster's been playing all over the world on clay and may not get past Mark Woodforde or Cedric Pioline in the second and third rounds. I give a slight edge to Chang over Courier; Jimbo has been coming up a little short all season.

Ivanisevic, as always, could be a first-round upset victim, but I think the draw favors him. Patrick McEnroe might make him play in the second round, but the first seed he would face is clay-court specialist Sergi Bruguera; Ivanisevic should be able to serve Bruguera off the court. His likely next seeded opponent would be No. 4 Becker, but I expect Becker to fall in the third round to Aaron Krickstein. I think Krick will be this year's surprise quarterfinalist, but he won't be able to get past Ivanisevic. If he does, and plays Agassi in the semifinals, you can expect to see the biggest blowout in the history of Super Saturday. Agassi owns Krickstein.
Quarterfinalists: Jim Courier, Thomas Enqvist, Yevgeny Kafelnikov, Aaron Krickstein
Courier hasn't played a great match in a big event since he faced Sampras in the Australian Open--and, don't forget, he lost that one. Enqvist has been on a roll that should carry him past No. 8 seed Michael Stich in the fourth round. Kafelnikov will squeak past No. 10 seed Wayne Ferriera in the fourth round, but he faces Agassi after that. See ya, Yevgeny! I think Krickstein's part of the draw is going to include a handful of upsets, including his own upset of Becker in the third round, and Andrea Gaudenzi over No. 13 seed Marc Rosset in the first round.
First-Round Follies
Agassi faces hard-serving, go-for-broke Bryan Shelton, who has nothing to lose. Shuzo Matsuoka vs. Petr Korda is a back-court match to watch for true tennis aficionados. Jeff Tarango likely won't be chipping away at his monster fine much after his duel with Kafelnikov. Richey Reneberg vs. Patrick Rafter provides an interesting contrast in style. As mentioned previously, I think Rosset won't be able to handle the killer groundstrokes of Thomas Muster's practice partner, Gaudenzi. And, speaking of the Moo-Man, he's involved in the first-round testosteronefest of the tournament: Luke Jensen vs. Thomas Muster. Turn up the volume!
WOMEN
Winner: Conchita Martinez
My "Are You Nuts?" pick of the year. After all, the Spaniard just lost in the first round of a pre-Open event. But she has been hot, hot, hot! Okay, she's been winning tournaments a bit with mirrors, beating the likes of Lisa Raymond in finals, but she has played inspired tennis all year. At the two most recent majors, the French Open and Wimbledon, she reached the semis of both. She's due to go farther. I also think she got the best draw of the top four seeds. Her first match against a seeded player likely will be Lindsay Davenport, who she'll run all over the court, then she faces Kimiko Date, a steady Chris Evert-clone without the mental fortitude. That puts Martinez into the semifinals against--drumroll, please--Monica Seles. I don't know: Seles is an amazing athlete, but Martinez won't be intimidated, not with new coach Carlos Kirmayr devising a game plan. If Martinez gets past Seles, she has to hurdle both Graf and the natural tendency to let down after an emotional semifinal win. I think she can clear both.
Finalist: Steffi Graf
Sure, the Seles comeback has been inspirational. As has been the case often throughout her career, however, nobody is paying attention to Graf. She has played wonderfully despite career-threatening injuries and the distraction of her father getting tossed into the slammer. Graf likely would face Mary Pierce in the quarterfinals and Arantxa Sanchez Vicario in the semifinals; she'll make short work of both of them. If Martinez spoils everyone's wish to see Seles-Graf in the final, Graf will uncharacteristically let her guard down--and Martinez will slip past her.
Semifinalists: Arantxa Sanchez Vicario and Monica Seles
Ironically, defending champion Sanchez Vicario, the one with the most to lose in the debate over the co-No. 1 ranking given to Seles, got a great draw. She's going to breeze into the semifinals. She lost to Graf in the finals in Paris and Wimbledon and, in large part because of a chronic injury she has yet to shake, will fall to her a third time. If Sanchez Vicario gets past Graf, however, and loses in the finals, she will achieve something very rare: A Runner-Up Grand Slam. She has been second best in the three previous Grand Slam tournaments (she lost to Pierce in Australia). Seles, too, benefits from the lack of depth in women's tennis; her first seeded opponent is Anke Huber, who she waxed in Canada. The seed expected to face her in the quarterfinals is Gabriela Sabatini, who Seles also killed up North, but I don't think Sabatini will get that far.
Quarterfinalists: Mary Pierce, Martina Hingis, Kimiko Date, Asa Carlsson
Pierce has been the Jekyll and Hyde of women's tennis this summer; she's been both outstanding and horrific at times. Against Graf, she could be either and she'll still lose in straight sets. Hingis faces No. 8 seed Magdalena Maleeva in the second round. I expect the budding star will upset the last of the Maleevas and do the same to Sabatini in the fourth round. No. 7 seed Date always seems to reach the quarterfinals, but isn't tough enough to crack the U.S. Open semis. Carlsson's my underdog pick of the tournament. The young Swede has played well in the pre-Open events and has a strong, steady game that will help her upset No. 5 seed Jana Novotna in the second round and No. 13 seed Iva Majoli in the fourth round.
First-Round Follies
If Graf doesn't show up ready to play, watch out: She drew Amanda Coetzer, one of the hottest players on the women's tour, in the first round. Graf's been down this road before, losing to Lori McNeil in the first round at 1994 Wimbledon. No. 14 seed Mary Joe Fernandez faces Judith Wiesner, who I think will provide the only upset in the first round among the women.

Unfortunately for me, this column will remain on the Web as the tournament takes shape and even afterwards, thanks to the Higdon's Net Game archives! That means you can mock me for my outlandish predictions. Of course, if much--or any--of this comes true, I expect a flood of congratulations to my e-mail address....
---
Watch for David Higdon's U.S. Open review on September 12, the Monday following the men's final. He then will provide answers to the many "Reader Rally" questions that he has received in a future column.




Higdon's Net Game / Between The Lines Archives:
1995 - May 1998 | August 1998 - 2002 | 2003 - 2007
If you have not already signed up to receive our free e-mail newsletter Tennis Server INTERACTIVE, you can sign up here. You will receive notification each month of changes at the Tennis Server and news of new columns posted on our site.
This column is copyrighted by David Higdon, all rights reserved.
David Higdon was named a senior writer of Tennis Magazine (U.S.) beginning with the December 1994 issue, which featured David's cover story on Andre Agassi. David worked for the magazine since August 1988, when he was hired by the magazine as a senior editor. In September 1991, he left his full-time editing position with the magazine to become a contributing editor, moving from Connecticut to Portland, Oregon. He currently works as a freelance writer, writing regularly not only for Tennis but also for publications such as Sports Illustrated for Kids, The New York Times, Self, Boys' Life and USAir Magazine. He also serves as editor of Rip City Magazine, the official publication of the NBA's Portland Trail Blazers.
---