"A Conversation with Mary Pierce"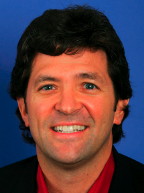 David Higdon
Six years ago, I attended the U.S. Tennis Association's first-ever touring pro training camp for players projected to be top-20 material. The group included one player who would reach those heights (MaliVai Washington), two who already had (Pam Shriver and Stephanie Rehe), several currently trying to get there (Ann Grossman, Bryan Shelton and Shaun Stafford) and many more who never got close. Standing out among the entire group, however, was the youngest player there, a 14-year-old gangly blonde who wore gaudy glasses and hit the ball as if she hated it: Mary Pierce.
I reminded Mary of the camp a few weeks ago when we sat down for an interview at the picturesque Nike campus in Beaverton, Oregon. "I remember," she said, a sparkle appearing in her eyes, "that I was the last one out there every day, boy!" Pierce even recalled a practice match she had with Shriver one late afternoon. "The match was on the court in the far corner of the resort," she said. "Three sets. I lost, but it was close." The only spectators that overcast and windy day were me and a couple of USTA coaches. All of us, including Shriver, went away impressed.
It was exciting to see the youthful Pierce play, but my enthusiasm was tempered by what the USTA coaches told me. Mary's father, Jim, was a nightmare, they explained. After she won the national 12-and-under junior title, an amazing feat considering she had only started playing two years earlier, Jim feuded with USTA officials and took her immediately to France, where she competed in non-tour pro events for 10 months. Pierce's father wasn't around during this camp at Saddlebrook Resort only because the owner had barred him from the resort due to a past financial conflict; unlike the other campers, who stayed in Saddlebrook rooms, Mary went home to her family's apartment at night in nearby Lake Woodlands.
Pierce's trials and tribulations with her father, currently barred from WTA Tour events because of his abusive behavior, has been well-documented. At Nike, Mary told me that she has seen her father twice this year and talks to him "off and on" over the phone. In many ways, he has been replaced in her life by Nick Bollettieri, who shares the coaching duties of Pierce with Sven Groenveld but more importantly provides her with a voice of reason and support. "With Nick, we don't see each other quite as much as I see Sven, who's with me day in and day out, but we talk practically every day," she said. "Nick can say things that kind of open my eyes, or make me realize things, bring me confidence or not make me feel nervous."
Last week, Mary reached the semifinals at the Toshiba Tennis Classic in San Diego, and plays this week in the Los Angeles Championships (a tournament I will attend). During our conversation, which took place on a nearly-deserted veranda overlooking a man-made lake, I asked Pierce about Wimbledon, the upcoming U.S. Open, the return of Monica Seles and how she herself has changed since I saw her scare the skirt off Shriver at the USTA camp:
Higdon: You seem quite relaxed, almost serene, here. That's not the typical fan's image of you.
Pierce: I'm a different person off the court than I am on the court, where I'm very competitive, a perfectionist, and I can be hard on myself sometimes. Off the court, nothing really bothers me. I'm easy-going.
Higdon: Were you disappointed with your early-round exit at Wimbledon this year?
Pierce: When I was practicing on grass before the tournament, I felt really, really good. I was not expecting anything, though, because it was my first Wimbledon. But I thought: "Wow, I'm really playing pretty well on it, so you never know what could happen." Of course, I was a little disappointed to lose so early but I felt great on the grass and I got to play on Centre Court, which was a wish of mine before I played the tournament. I'm looking forward to playing there in the future. In my mind before, playing on grass was something weird and not really tennis. But I actually like it.
Higdon: Tell me how it felt to play on Centre Court at Wimbledon.
Pierce: It was hard for me to stay focused and concentrate. Because it is grass, you have this feeling of being out on an open field, and the way the stadium is set up, it's real open. It was hard to find the court because it was all so green! It took me the first set to get used to it. It was an unbelievable feeling just to be out there, to do the curtsy and all.
Higdon: Are you looking forward to playing in the Atlanta Olympics next year?
Pierce: Yes. I played in the Olympics in Barcelona, where I was so excited. It was impressive to think that I was among the top athletes in the world. In tennis, you have the Grand Slams, and so many other tournaments week in and week out, but for other athletes, it's once every four years. It's the biggest thing in their lives. I don't think tennis players look at the Olympics like that. But I look at winning the gold meal in the Olympics as equal to winning the Austalian Open, the French Open or another major.
Higdon: What are your thoughts on Monica's return?
Pierce: When I heard Monica wanted to come back, I was very excited. It's been two years since I've played her and I feel like I've improved. We had great matches. I know that physically she's been well for awhile, but mentally it's been very, very difficult for her to get over. I'm happy she's ready to come back because it means she's ready both physically and mentally.
Higdon: At the 1989 USTA camp, you told me you were a hard worker, practicing five to eight hours of tennis daily. Are you still like that?
Pierce: No! (Laughs) I trained eight years with my Dad and I think it's the equivalent to probably 15 because of all the hours I played and the balls that I hit. I did so much work compared to anybody who trains normally. But now I'm at a different level. When you're younger, you work a lot more on technique. Now I have the technique and it's just a lot more tactics and staying in shape. I practice probably half as much as I used to, but I train off-court a lot more. My training is much more intense. Before it would last all day: Hit a ball, hit a ball, hit a ball. Today it's a lot more specific, a lot more competition.
Higdon: Heading into the U. S. Open, how do you get back into the winner's circle?
Pierce: Just keep doing what I'm doing. I've been unfortunate. I've just been sick and injured. They have hampered my training and physical conditioning, which is a big part of my game. Now I feel healthy and I've been working real hard. Plus, hard courts are not a foreign surface to me.
---
Watch for David Higdon's U.S. Open preview column prior to the season's last Grand Slam, which begins August 28, and his post-tournament review the Monday following the men's final on September 11. Future installments will include answers to the many "Reader Rally" questions that he has received.




Higdon's Net Game / Between The Lines Archives:
1995 - May 1998 | August 1998 - 2002 | 2003 - 2007
If you have not already signed up to receive our free e-mail newsletter Tennis Server INTERACTIVE, you can sign up here. You will receive notification each month of changes at the Tennis Server and news of new columns posted on our site.
This column is copyrighted by David Higdon, all rights reserved.
David Higdon was named a senior writer of Tennis Magazine (U.S.) beginning with the December 1994 issue, which featured David's cover story on Andre Agassi. David worked for the magazine since August 1988, when he was hired by the magazine as a senior editor. In September 1991, he left his full-time editing position with the magazine to become a contributing editor, moving from Connecticut to Portland, Oregon. He currently works as a freelance writer, writing regularly not only for Tennis but also for publications such as Sports Illustrated for Kids, The New York Times, Self, Boys' Life and USAir Magazine. He also serves as editor of Rip City Magazine, the official publication of the NBA's Portland Trail Blazers.
---