"U.S. Open Wrap-Up"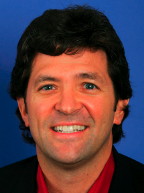 David Higdon
The moving image that will be remained ingrained in my mind long after the 1995 U.S. Open has faded from memory--or I lose my videotape of the men's singles final--is Pete Sampras and Andre Agassi darting back and forth across the court during the long baseline rally that won Sampras the first set. It was a wonderful point, one that TV analyst John McEnroe sputtered was the best single baseline battle that he had ever witnessed. "The power, the angle, the depth, the importance of the point," McEnroe said, practically gasping for breath. "Wow!"
Wow, indeed. It also demonstrated why Sampras, not his formidable and impressive rival, won the match 6-4, 6-3, 4-6, 7-5: Sampras' groundstroking game packs a mean punch. Sure, he's the best server in the game, but it's his ability to rally with the game's best groundstrokers, such as Agassi, that makes him the best player. In today's high-octane pro tennis game, your strength is only as good as your weakness, and Sampras' weakness--specifically his backhand groundstroke--ain't much of an Achilles Heel.
The same can be said of Steffi Graf, the women's singles champion, who began the U.S. Open with more than her fair share of Achilles Heels. Bad back. Foot problems. Her father's imprisonment. Like she's done all year, however, they seemed more motivation than distraction. Her 7-6, 0-6, 6-3 win over Monica Seles was her eighteenth Grand Slam singles title, putting her on the same champion platform alongside Chris Evert and Martina Navratilova. And she's still only 26.
But next year, with Seles clearly poised for a return to old form--not to mention a notch or two higher, courtesy of the inches she recently added--Graf will face a tougher opponent on the second Saturday of Grand Slam events. Expect Seles to soon shed the understandable spare tire that limited her movement yet proved to be a liability only in her match against Graf. In 1996, Seles, one of the fiercest competitors ever to play the sport, will not accept coming up one match short like she did in Flushing Meadow on Saturday. Suddenly, women's tennis has a rivalry worth watching equal to the one currently being enjoyed by fans of men's tennis.
The Agassi-Sampras rivalry, which has warranted considerable--and deserved--attention this year, will be better and more intriguing in 1996. This year was a learning process for both players; it will be a true, dog-eat-dog test next year. They seemed to relish the shared spotlight in the ring during the past nine months, but I expect the gloves to come off soon.
Agassi demonstrated plenty of class this year, including his acknowledgment before the U.S. Open that the winner in New York City, if it was he or Sampras, deserved to be ranked No. 1 for the year. So be it. Sampras rose to the occasion and, though the computer probably will vote differently in December, deserves the top spot for 1996. Maybe the men can borrow a bit of marketing savvy from the women: A co-No. 1 ranking.
Sampras vs. Agassi. Seles vs. Graf. The season's Grand Slam finale failed to disappoint and, as usual, gave us a taste of what we can look forward to when the pros head Down Under in January.
Predictions Post-Script
Sure, my Conchita Martinez pick was horribly off-base, but at least she reached her fourth Grand Slam semifinal of 1995, a relatively good performance. Still, who would have predicted she would retreat to her old hangdog ways at the U.S. Open after such a consistent year? She's got a bit of soul-searching to do after her lackluster showing against not only Seles, but also Brenda Schultz-McCarthy in the quarters, where she grumbled and moaned her way to a three-set victory. The only other saving grace among my women's predictions was picking three of the four semifinalists, though that's really nothing to e-mail home about.

I can take solace, however, in my predictions for the men. After all, didn't I predict the Shuzo Matsuoka vs. Petr Korda first-rounder, during which they fought like cats for five sets until Matsuoka went down crying in a heap with cramps, would be one to watch! Picking Sampras over Agassi in the final helped me save face and answer a few of my more vocal critics, such as Jordan, who said in an e-mail that he "completely disagreed" with my Sampras prediction.

Also, Werner e-mailed me prior to the event to say he wished U.S. journalists had "more objectivity," referring to my prediction that the two Americans, who he called my "marketing favorites," would meet in the final. Werner, Werner, Werner: Who's got an objectivity problem here? Me, or you raving on about Thomas Muster winning the Open? Muster, who sailed to No. 3 in the world solely on his bloated clay court results, had about as much chance as winning the U.S. Open as Conchita Martinez did. So, let's just call it even!




Higdon's Net Game / Between The Lines Archives:
1995 - May 1998 | August 1998 - 2002 | 2003 - 2007
If you have not already signed up to receive our free e-mail newsletter Tennis Server INTERACTIVE, you can sign up here. You will receive notification each month of changes at the Tennis Server and news of new columns posted on our site.
This column is copyrighted by David Higdon, all rights reserved.
David Higdon was named a senior writer of Tennis Magazine (U.S.) beginning with the December 1994 issue, which featured David's cover story on Andre Agassi. David worked for the magazine since August 1988, when he was hired by the magazine as a senior editor. In September 1991, he left his full-time editing position with the magazine to become a contributing editor, moving from Connecticut to Portland, Oregon. He currently works as a freelance writer, writing regularly not only for Tennis but also for publications such as Sports Illustrated for Kids, The New York Times, Self, Boys' Life and USAir Magazine. He also serves as editor of Rip City Magazine, the official publication of the NBA's Portland Trail Blazers.
---