"1996 U.S. Open Wrap-Up"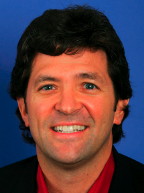 David Higdon
Who threw the white towel? And why didn't anybody pick it up?
When Alex Corretja double-faulted to hand Pete Sampras the fifth-set tie-break in one of the most thrilling sporting contests that I've ever seen, a white towel came hurtling out of what I assumed to be the players' box where Sampras' contingent was located. How ironic: A white towel. A symbol of defeat in what could arguably be the biggest victory in Sampras' career.
Then, after Corretja sank to his feet in disappointment, after Sampras staggered to the net to lean and wait, after Corretja tossed his racquet to the side of the court in disgust, after a hug between two guys who I can guarantee you had never said "boo" to each other previously, after Sampras tried in vain to lift his arms in his customary post-victory salute to the crowd, after the two players left the court--the victor quickly, the defeated one slowly but more surely--there it sat, all by itself on the court.
A white towel.
The brawl was over. No one was left standing.
Sampras returned, though. Oh, did he ever return. He trashed the best server in the game (Goran Ivanisevic) on Saturday and the game's best groundstroker (Michael Chang) on Sunday, thereby becoming the 1996 U.S. Open men's singles champion. It was the 25-year-old Sampras' fourth U.S. Open title, his eighth Grand Slam overall. Anyone who doesn't suspect that we may be watching the advent of one of the game's greatest all-time players isn't paying much attention.
Steffi Graf, the 1996 U.S. Open women's singles champion, already has reached that pinnacle, and right now, everyone else who ever played the women's game is looking up at her. Graf has won at least four Grand Slam titles at all four Grand Slam events, capturing 21 overall. Margaret Court's 24 Grand Slam titles isn't as impressive when you consider that nearly half of them (11) were accomplished at the Australian Open.
Monica Seles, the Open runner-up, isn't all the way back quite yet. Physically, she wasn't 100 percent and mentally she didn't seem her normally tough-minded self. I kept waiting for her to slow down and take her breath, if not to let the rain temporarily save her (call it gamesmanship, but I would have been stalling like crazy when I saw those storm clouds on the horizon) than to at least consider why she was getting soundly thumped. She's always been a bundle of nervous energy, but it's the first time that I looked at her and wondered if she wasn't one of the strategically handicapped bashers who are proliferating in today's game.
Michael Chang now has lost three of the last seven Grand Slam finals, dating back to his runner-up finish at the 1995 French Open. That's nothing to be ashamed of, but the obvious nervousness he displayed at the beginning of Sunday's final isn't a good sign. But it could be worse. He could be Andre Agassi.
The U.S. Open tends to favor the favorites more than any other Grand Slam, and the favorites prevailed again in 1996. Heading into Sunday's two singles finals, there was some debate about who were the No. 1 players on the tour. That debate has been resolved. If you're not Sampras or Graf, throw in the white towel.
The Open that Got Closed
Wondering how the Open would have shaped up if the USTA didn't redo the men's draw? I went back and looked at the original draw and found that the results would have been dramatically different. While you can only guess what might have happened with the original draw, there are a few things that certainly would have been altered. To wit:
Sampras would not have played both Alex Corretja and Mark Philippousis. Why? Because Corretja and Philippoussis were slated to meet in the first round! Now that would have been a great showdown. Based on what we witnessed at the Open, I believe Corretja might have won that match. The winner, assuming he won his next round (a safe bet considering he would have played the winner between Tomas Carbonell and Roberto Carretero), would have played Sampras in round three.

Either Goran Ivanisevic or Andre Agassi would have been absent on Super Saturday. They were slated to meet in the quarterfinals.

There would have been at least two different quarterfinalists and one different semifinalist. Only two of the men who reached the quarterfinals were in the bottom half of the draw. Those two, Chang and Edberg, would have met in the quarterfinals.
What can we only guess might have occurred? Assuming the players who did reach the quarterfinals duplicated their performances, here's how I believe it would have shook down:
Sampras, Javier Sanchez, Ivanisevic and Agassi would have been quarterfinalists in the top half of the draw. Sampras would have beaten Sanchez, and I suspect that Agassi, who would have played Ivanisevic at night, may have been able to outslug the big Croatian. Therefore, the match everyone wanted (or at least everyone in the USTA), Sampras vs. Agassi, could have been the showcase semifinal match on Saturday.

In the bottom half of the draw, Edberg and Chang would have been joined by--don't laugh--Richard Krajicek and Tim Henman. If Krajicek had been able to avoid Edberg, he might have played his way into the event. His first tough match would have been in the third round against Alex O'Brien. That's a tough call, though; O'Brien was on the top of his game and might have done to Krajicek what he did to MaliVai Washington.
Todd Martin also might have benefited from the first draw and faced Krajicek or O'Brien in the fourth round. The winner from the group likely would have faced Henman, who I believe would have beaten any of them, including Krajicek. He was playing excellent tennis, even during his match against his idol, Stefan Edberg, who prevailed over the young Englishman. I don't even want to imagine how much the Brits would have gone batty had Henman reached the U.S. Open semifinals!...

As much trouble as Chang had against Javier Sanchez in the quarterfinals, he would have had an even more difficult time with Edberg, who beat him at the French Open. Still, you have to figure that Chang would have won that match, and beaten Henman in the semifinal.

Ultimately, though, the top two seeds, Chang and Sampras, likely would have met for their Sunday rendezvous no matter who they would have encountered on the way. Then again, what if Edberg did sneak past Chang, and beat Henman... or if Sampras had his epic showdown against Corretja in an earlier round and was forced to play Cedric Pioline in the next match and...

Oh, never mind.
Evaluating my 1996 Slam Predictions
First, the good news: I picked all four 1996 Grand Slam women's singles winners. Four-and-oh. One-hundred percent on the mark. Break out the champagne--and send my thanks to Ms. Graf.

I also nailed the winner and runner-up of the U.S. Open men's singles event, picking Sampras and Chang to hold seeds when nearly everyone else sneered at the likelihood of the two of them meeting in the final. All together: Nah nah nah nah nah.

Now, the bad news: Kimiko Date. You thought I couldn't possibly make a worse selection than Conchita Martinez winning the 1995 U.S. Open. Well, I outdid myself this year by selecting Date, a first-round loser at Flushing Meadow, to reach the 1996 Open finals. You can't blame a guy for going out on a limb, can you?

Here's the percentage breakdowns--ouch!--for my 1996 Grand Slam predictions:
Picking the champions: 1-4 men (25%); 4-4 (100%) women; 63% overall.
Picking the runner-ups: 1-4 men (25%); 1-4 (25%) women; 25% overall.
Picking the semifinalists: 4-16 men (25%); 6-16 (38%) women; 31% overall.
Picking the quarterfinalists: 11-32 (34%); 16-32 (50%); 42% overall.
David Higdon's next column for the Tennis Server will be--drumroll, please--his long-awaited, much-delayed Pete Sampras Q-&-A. The questions were supplied by Tennis Server readers. Watch for it soon. In the meantime, check out David's Pete Sampras profile in the September issue of InStyle Magazine, and watch for his cover story on Stefan Edberg in the October issue of Tennis Magazine.




Higdon's Net Game / Between The Lines Archives:
1995 - May 1998 | August 1998 - 2002 | 2003 - 2007
If you have not already signed up to receive our free e-mail newsletter Tennis Server INTERACTIVE, you can sign up here. You will receive notification each month of changes at the Tennis Server and news of new columns posted on our site.
This column is copyrighted by David Higdon, all rights reserved.
David Higdon was named a senior writer of Tennis Magazine (U.S.) beginning with the December 1994 issue, which featured David's cover story on Andre Agassi. David worked for the magazine since August 1988, when he was hired by the magazine as a senior editor. In September 1991, he left his full-time editing position with the magazine to become a contributing editor, moving from Connecticut to Portland, Oregon. He currently works as a freelance writer, writing regularly not only for Tennis but also for publications such as Sports Illustrated for Kids, The New York Times, Self, Boys' Life and USAir Magazine. He also serves as editor of Rip City Magazine, the official publication of the NBA's Portland Trail Blazers.
---