Adding It Up In Tennis
Mathematics And Tennis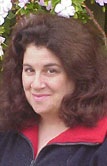 Jani Macari Pallis, Ph.D.
In the movie, Peggy Sue Got Married (1986), Peggy Sue, played by actress Kathleen Turner, is transported back in time 25 years to her high school days. Still retaining her adult memories, but unprepared for a math test, she calmly tells her teacher, "Mr. Snelgrove, I happen to know that in the future, I will never have the slightest use for algebra. And I speak from experience."
In contrast, I regularly recall the comments of my academic advisor at Berkeley, Professor Phil Marcus. A young and brilliant researcher (with a sense of humor as well) he was best known for his work regarding the "Red Spot of Jupiter." When I asked him which classes I should take, Marcus advised, "Take more math. You can never have enough math. It's like toilet paper; you can't have enough of it. You'll always need it and use it. It will never go to waste."
Well, whether your feelings toward math are like Peggy Sue's or an astrophysicist's, math is here to stay and is used extensively in tennis analysis. This month we'll provide an overview on the different types of math used in tennis and some examples.
While there are many more branches and divisions of mathematics, you may have studied these major math subjects.
Algebra - a generalization of arithmetic, where letters can represent numbers and are combined according to the rules of arithmetic.
Geometry - the branch of mathematics that deals with the measurement, properties, and relationships of points, lines, angles, surfaces, and solids.
Trigonometry - the study of the properties of triangles and trigonometric functions (sine, cosine, tangent, etc.) and their applications.
Statistics - the branch of mathematics dealing with the collection, analysis, interpretation, and presentation of masses of numerical data.
Probability - a mathematical basis for prediction.
Differential Calculus - the branch of mathematics dealing chiefly with the rate of change of functions.
Several years ago, I interviewed Philippe Dore, at that time the statistician for the ATP. One of Dore's responsibilities was to determine the weekly rankings for the men's tour. The ATP player database dates back about 30 years and contains data on over 10,000 players and thousands of tournaments.

The database provided statistics on just about anything that you could imagine: rankings, earnings and points for singles, doubles, and teams; statistics by age, country, and court surface; number of aces, double faults, 1st serve percentages, 1st serve and 2nd serve points won, service games won, break points saved, return of serve leaders, points won on the return of 1st serve or 2nd serve, break conversions, return games won. The list went on and on and on.

There are many fun and interesting math questions which can be answered or predicted using statistics and probability in tennis. While it may be exciting to create statistical profiles of top players, recreational and team players can learn a great deal about their own performance by tracking, charting, plotting, and tabulating their match statistics. Maintaining a journal along with those statistics can truly highlight trends or indicators: were you fatigued, fearful or recovering from an injury.

An interesting statistic Philippe pointed out was that the average match time on a hard court is 1 1/2 hours. A record of the average duration of matches assists tournament directors in scheduling courts. For hard courts, there was very little variation from match to match or tournament to tournament. However, while the average time for a clay court match was also 1 1/2 hours, there was a large variation from match to match even though the average time was the same as for the hard court.

Today, in the area of probability, several researchers are investigating bias or "unfairness" in the current tiebreak rules for a doubles match. Even though the stronger and weaker players in each doubles pair may be equally matched and have the same performance statistics, under specific circumstances and based on the order the four players serves, there is not a 50-50 chance that either team will win.

Over the years students and parents have asked me for ideas on math or science fair projects that involve tennis. My favorite tennis science fair project is still the Hot and Cold Tennis Ball, but I have several favorite math projects.

The equations used to describe the position, velocity and acceleration of a tennis ball presented in the past Tennis SET column Trajectories 101B: The Flight Of The Tennis Ball are examples of a more complex algebraic expression.

Differential calculus is used in the equations of motion for the trajectory of a tennis ball.

Geometry is often used in the calculation of court dimensions. Examples: The court dimensions are 36 feet at the baseline, by 78 feet long. What is the total square footage of the tennis court? The service line is 27 feet wide and the feet from the service line to the net is 21 feet. How many square feet are there in the two rectangles on each side of the court from the service line to the net? The alleys on each side of the court are 4 1/2 feet by 78 feet. What is the total square footage of the 2 alleys on the court? A few years back changes in court size were considered as a possible alternative to slow the game down. Data regarding how the horizontal and vertical ball clearance angles had to be considered.

Areas I've been investigating include Agassi's reaction time on his return of the serve against Pete Sampras and "two-bounce" statistics for wheelchair tennis players. The only major difference between regular "able-body" tennis and wheelchair tennis is that wheelchair players can hit the ball on the second bounce even if that bounce is outside the courts lines. However, there has been discussion about changing this rule, especially in the Open divisions. Players feel it could push the limits of their game and at the professional level, most wheelchair players hit the ball on the first bounce. I began recording how often two bounce hits were made, if the second bounce was in or out of the court, and match times for players from different divisions.

Tennis is fun, math is fun (I think so anyway) and tennis math can be doubly fun. You can learn a lot, develop insight into and improve your game and often this can be accomplished with paper, pencil, racquet, ball and calculator.

Until Next Month ... Jani



Tennis SET Archive
If you have not already signed up to receive our free e-mail newsletter Tennis Server INTERACTIVE, you can sign up here. You will receive notification each month of changes at the Tennis Server and news of new columns posted on our site.
This column is copyrighted by Jani Macari Pallis, Ph.D., all rights reserved.
Dr. Jani Macari Pallis is the founder and CEO of Cislunar Aerospace, Inc., an engineering and research firm in San Francisco. In addition to her engineering practice, she has led two collaborations between NASA and Cislunar, creating educational materials on the aerodynamics of sports for pre-college students and educators. As the head of NASA's "Aerodynamics in Sports" project, she has led a team of researchers investigating the aerodynamics, physics and biomechanics of tennis. The group has conducted high speed video data capture at the US Open and research of ball/court interaction, footwork, serve speeds, trajectories and ball aerodynamics. Pallis received a BS and MS from the Georgia Institute of Technology, an MS in mechanical engineering from the University of California, Berkeley and a Ph.D. in mechanical and aeronautical engineering from the University of California, Davis. She is a member of the Executive Committee of The International Sports Engineering Association.

Questions and comments about these columns can be directed to Jani by using this form.
---