New Challenges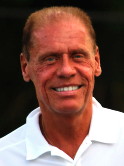 Ron Waite, USPTR
For over twenty years, I have had the great privilege of writing about this great game of ours! I have been blessed with faithful readers, who at times have asked the most thought provoking questions. These questions and comments have always piqued my interest, and at times, challenged my assumptions. The dialogs over these many years have been a joy for me.

Now, I face a serious illness which prevents me from continuing to write my monthly column. I have some new challenges to face. But, despite my diagnosis of cancer, I hope to become a cancer survivor!

I thank each of you for being loyal followers of my column. I hope that in some small way, that I have helped you in your games and enhanced your appreciate for this wonderful game of ours.

I will try to be a "cancer overdog!" I trust that each of you will continue to strive to be the best "tennis overdog" possible.

Good luck in your games!!!

Ron Waite





Turbo Tennis Archives:
1996 - 2002 | 2003 - Present
If you have not already signed up to receive our free e-mail newsletter Tennis Server INTERACTIVE, you can sign up here. You will receive notification each month of changes at the Tennis Server and news of new columns posted on our site.
This column is copyrighted by Ron Waite, all rights reserved. Questions and comments about these columns can be directed to Ron by using this form.
Ron Waite is a certified USPTR tennis instructor who took up the game of tennis at the age of 39. Frustrated with conventional tennis methods of instruction and the confusing data available on how to learn the game, Ron has sought to sift fact from fiction. In his seven years of tennis, Ron has received USTA sectional ranking four years, has successfully coached several NCAA Division III men's and women's tennis teams to post season competition, and has competed in USTA National singles tournaments. Ron has trained at a number of tennis academies and with many of the game's leading instructors.
In addition to his full-time work as a professor at Albertus Magnus College, Ron photographs ATP tour events for a variety of organizations and publications. The name of his column, TurboTennis, stems from his methods to decrease the amount of time it takes to learn and master the game of tennis.
---