Making Your Forehand A Powerful Weapon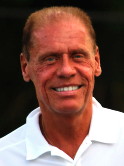 Ron Waite, USPTR
For most of us, the forehand groundstroke is the more powerful, if not more consistent, side of our ground game. In photographing the WTA tour, it never ceases to amaze me how many players on this tour have forehands that literally crush the ball…both Williams sisters and Lindsey Davenport...to name a few. On the men's side of the tour, the big forehand has been around for a long time. Pete Sampras' trademark running forehand is truly a thing of beauty. In my opinion, very few hit the forehand harder than Mark Philappoussis.
In that the forehand is usually (not always) the more confident wing for players, it makes sense to try and make the forehand a weapon. Well, this month's column is dedicated to helping this become a reality for you.
Before I go any further, remember…power without control is useless in tennis!!! Knowing when to use power is half the battle. Not many of us are going to hit winners while on the full run (a la Pete Sampras). But, when we get are chance to hit a reasonable winner, we have to go for it. In addition, adding a little power to each of your forehands probably won't hurt.
The easiest (and least likely to be helpful) way to add power to your forehand is to use a stiffer racquet or lower your string tension. The problem is that each of these solutions will probably affect other strokes negatively.
So, here is my advice on making that forehand a weapon.
First, you need to know what grip you use to hit a forehand. If you go to my previous article entitled "The Grip: Picture Perfect," you will see plenty of illustrations that will show you the different grips, stances and contact points associated with virtually all strokes.
The three most common grips used to hit a forehand are: The Eastern Forehand Grip (used by Sampras), The Semi-Western Grip (the most common on both tours), and The Full Western Grip (used by Bruguera and others). You are probably using one of these three grips to hit your forehands.
Let's start with the Eastern Forehand Grip. If you are using this grip, you are probably capable of hitting a very hard forehand that passes low to the net. When it lands in, it is pretty tough to hit a good reply. The problem with this forehand is that the margin for error is very high. Quite frequently, this type of forehand grip will result in balls that land out (by a considerable distance) or balls that will hit the net (frequently the middle of the net or lower). The reason for the pace with this grip is that the ball is essentially hit flat with little spin.
The key to harnessing the power associated with forehands hit with this grip is to make certain to take the racquet back with the face of the racquet facing the ground. To do this, you may actually have to raise the elbow of the racquet arm. By keeping the racquet face closed in the backswing, you will automatically impart a bit more topspin to the ball. This will actually allow you to hit with more "muscle" and still keep the ball landing in bounds. You will have to raise your sights a bit with respect to the net. By this, I mean you will need to clear the net a little higher than you normally would. Why? Well, the added topspin will make the ball drop a bit more.
To illustrate what I mean, here is a picture of Pete Sampras hitting his patented running forehand.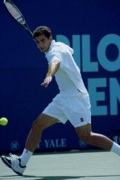 Though he is taking the racquet back in a very high manner, the racquet face is facing toward the ground. This is why he can hit so hard and still keep his balls landing in.
In contrast, look at this picture of Anna Kournikova who also uses an Eastern Forehand Grip for her forehands.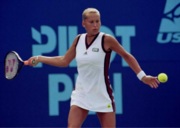 Granted, Anna is not on the run, but her racquet face is perpendicular to the ground. She will invariably hit the ball flat. In my opinion, this is okay when you are not moving to get to a ball, but fatal when you are on the run. I suspect that this is why Anna's forehand is her weaker wing.
Anna is not alone in this approach to The Eastern Forehand backswing. Here are Henri Leconte and Jana Novotna.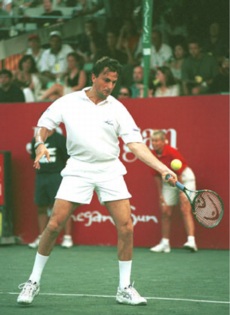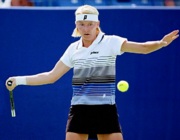 If you do use The Eastern Forehand Grip, you can impart lots of topspin when needed (as would be the case when hitting a topspin lob). The key is how you finish the stroke.
Here is Pete Sampras showing us how to properly finish the forehand with this grip when wanting to impart massive topspin.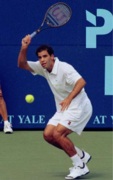 I, like most players on both tours, prefer to use The Semi-Western Grip. This grip by its very nature imparts topspin, but it will allow you to hit flatter when necessary. It does make things a bit difficult when "lifting" low bouncing balls, but these can be handled with some practice.
If you use this grip, you are probably comfortable hitting balls several feet above the net. The natural topspin provides the "drop" necessary to allow for a good margin for error.
To gain power with this grip, you need to use a 3/4 closed racquet face on the backswing. Keeping the racquet face completely closed on the backswing is fine if you want to hit a very hard shot that has low net clearance. Hitting with a completely open face (where the racquet face is perpendicular to the ground) is great for topspin lobs but will take lots of power off of your shot.
So, by adjusting your racquet face on the backswing, you can actually adjust how hard your forehand can be hit. Again, hard hit balls need to pass lower to the net. Shots with less pace need to be hit higher. Why? Well, the goal is to keep the ball landing deep in your opponent's court.
Here is a pic of Patrick Rafter using the "normal" backswing for The Semi-Western Grip.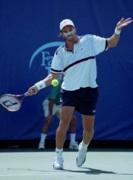 .
This is a picture of Mats Wilander using a more closed take back for The Semi-Western Grip. He is looking to hit with more power in this shot.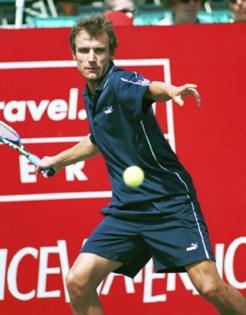 For comparison's sake, here is a picture of Patrick Rafter closing the face a bit more in order to hit a more driving shot.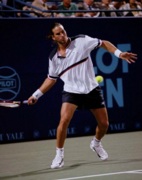 The key to power with The Semi-Western Grip is to close the face more on the backswing when you are hitting for power.
The Full Western Grip is very popular on the tour, especially among those who play on clay. Balls bounce higher on clay and The Western Grip has a very high contact point.
The only way to get power with a western grip is to "muscle" the ball as much as is possible and to go "airborne" in your stroke production. The Full Western Grip is all about topspin. In fact, it is almost impossible to hit flat with this grip. So, power must come despite the topspin.
Here is a shot of Sergei Bruguera doing both.
Lleyton Hewitt in this pic is illustrating the proper way to get power when using a Semi-Western Grip. (Although his grip is not quite as Western as Bruguera's)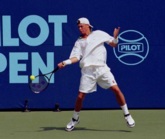 Low bouncing balls create problems for players who hit with The Full Western Grip. To hit them (with or without power) one needs to get low to the ball. Here is a shot of Jim Courier showing us how to hit the low ball properly when using The Western Grip. Notice how he has his knees bent and has a very closed racquet face.
In this picture, we see Nicolas Kiefer beginning to go "airborne" as he hits his forehand.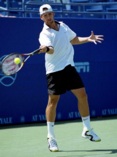 So, let's review.
The way to make your forehand more powerful depends primarily on the grip that you use.
For those who use The Eastern Forehand Grip, close the racquet face on the backswing when you want to hit with power. This will allow you to hit harder and will give your balls a bit more topspin for safety. Just remember to aim a little higher over the net.

For those who use The Semi-Western Grip, you need to adjust the backswing similarly to those who use The Eastern Forehand Grip. The more closed the face is on the backswing, the harder you can hit the ball. For you, however, you will want to lower the net clearance a bit. If you want even more power, try going "airborne" as you make contact with the ball. This body lifting will require a bit of practice, however, and if not timed correctly, you will actually take power off your shot.

For the player who uses The Full Western Grip the only way to gain power is to hit harder while going "airborne" at the moment of impact. If you want to play this type of forehand, you need to be in shape because you will be straining on virtually every shot. Still, on clay, The Western Forehand Grip cannot be beat easily.
Well, it is the heart of the summer. You have recaptured your strokes and form, and are now ready to develop a real weapon. The powerful forehand may just be the thing you need to become a tennis overdog!!!



Turbo Tennis Archives:
1996 - 2002 | 2003 - Present
If you have not already signed up to receive our free e-mail newsletter Tennis Server INTERACTIVE, you can sign up here. You will receive notification each month of changes at the Tennis Server and news of new columns posted on our site.
This column is copyrighted by Ron Waite, all rights reserved. Questions and comments about these columns can be directed to Ron by using this form.
Ron Waite is a certified USPTR tennis instructor who took up the game of tennis at the age of 39. Frustrated with conventional tennis methods of instruction and the confusing data available on how to learn the game, Ron has sought to sift fact from fiction. In his seven years of tennis, Ron has received USTA sectional ranking four years, has successfully coached several NCAA Division III men's and women's tennis teams to post season competition, and has competed in USTA National singles tournaments. Ron has trained at a number of tennis academies and with many of the game's leading instructors.
In addition to his full-time work as a professor at Albertus Magnus College, Ron photographs ATP tour events for a variety of organizations and publications. The name of his column, TurboTennis, stems from his methods to decrease the amount of time it takes to learn and master the game of tennis.
---