The Integrated Approach to Tennis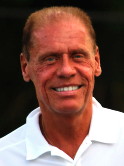 Ron Waite, USPTR
Last month, I asked readers to do some self-examination. It is, in my opinion, critical to rapid improvement, that each player knows why she/he want to play tennis, what type of player she/he is, and her/his strengths and weaknesses. If you have not reviewed my January column, I strongly encourage you to do so.
Those of you who are familiar with my biography know that I began playing tennis late in life. I was frustrated at the lack of progress that I was making and by the conflicting (and frequently ill-founded) information I received from other players, books, videos and teaching pros. Believe me. I am not a slacker. I worked hard then, and I continue to work hard, today. That's why I created this column. To help others find ways that actually work. Let's face it. We all want to win, but equally important, we all want to improve as quickly as is possible.
In teaching tennis to others and in my role as a collegiate tennis coach, I have learned that a danger in trying to improve one's game is looking for quick fixes that will in one fell swoop take your game to a new level. Sometimes, this can and does occur. This is particularly true if there is a conspicuous flaw in your game or if you need a new strategic approach.
The realization that tennis is a multi-faceted game that requires an Integrated Approach is the key to developing a realistic and effective progress plan.
Tennis is a sport that requires a lot from those who play the game seriously! So this month, I am going to lay the groundwork for what I believe every player needs to understand as he/she makes the commitment to improving his/her game.
First, each player needs to be athletically fit. Strength, speed, flexibility, endurance and agility are the primary components that every competitive player absolutely needs. Yet, for many, the only solutions to improvement are to attempt to improve a stroke, to hit with greater pace, add a more powerful serve, etc. We seem to begin our quest for improvement with attention to strokes…and perhaps, strategies.
Pros on the tour train virtually every day hitting balls. But, their off court training and off season (which is unbelievably brief) training focuses upon the above.
Do you strength train? Do you control your weight? Do you provide your body with the proper nutrients? Do you work on improving your flexibility? Have you ever dedicated time to improving your sense of balance?
Whenever I begin the pre-season training for the team that I coach, I spend a good amount of time on getting each player as fit as is possible. As I write this, it is about 5:30 AM. Why so early? Well, in order for me to be able to train off court, I need to arise early before I begin my full-time job as a professor.
When I am giving private lessons, I am often times frustrated. I see a player who has real potential, wants to genuinely improve her/his game, but is hindered in her/his learning curve because physically she/he is not fit.
The first component in Integrated Tennis is to get you physically ready to compete! You would be amazed at how much better you can and will play when you have done the hard work needed to meet the physical demands of this wonderful game. Clearly, the legendary Harry Hopman realized how important this component is. During his time as Davis Cup Coach for Australia, he would not tolerate one of his players being out of shape.
Second, tennis requires an ability to see in a very unique way. A successful tennis player rarely allows his/her eyes and attention to drift outside the court. Before her Wimbledon Final, Zina Garrison was advised by Althea Gibson to "Just focus on the ball." It has been reported that Serena Williams has written similar comments on the little sheets of paper she reviews during game changeovers.
Tennis requires that the player truly be able to See the Ball. This was the title of my very first column. Focusing on the ball's spin, the ball's bounce, the ball making contact with the opponent's strings are all good ways to improve focus.
However, the tennis player needs to also be aware of two other things at the same time…Where is my opponent? Where am I on the court? The answers require peripheral vision and a good court sense.
So, a logical question from the reader is: "Okay, Ron. How do I improve these?"
Well, this is one of the reasons that (those who follow my column know) I am constantly encouraging the player to "quiet the head" or "freeze the head's movement"… particularly at the moment of impact.
The Second component to Integrated Tennis is the ability to see properly! In practice and in matches, try to truly focus on the ball during points. However, at the same time, try to track the ball with your eyes…not your head. I cannot tell you how many players who have come to me in the past claiming that their games have fallen apart. Simply getting them to work on this aspect of their games has had a profound effect in resurrecting their ability to compete.
Third, tennis requires that strokes be well founded and well grooved. Do not get me wrong…there are many ways to hit a tennis ball properly. Some of these are more likely to be effective in certain circumstances or on particular surfaces. But, John McEnroe does not hit his forehand in the same manner as Andre Agassi.
The real keys to good strokes involve the following:
Every stroke begins with a grip…know what grip you are using and make certain you are comfortable using this grip.

Every stroke's grip dictates several things: where the ideal contact point will be, what stance is best to assure that you will make contact with the ball at this ideal point, and what spin(s) are naturally generated by this combination.

Every stroke has a proper finish. Again, the grip/contact point/ stance combination dictates the proper finish. If every stroke was "finished" properly, the improvement in a player's game would be phenomenal!

Getting back to a "ready position" after each stroke is critical in helping to make the next stroke successful. I watch many players on the recreational level who simply stop after they hit a ball…often times, the racquet is at their side.

Keeping your feet moving while waiting for your opponent's reply is essential to good strokes. Watch the pros. In between shots, they are never allowing their feet to be a complete rest. They are running, drifting, or perhaps, they are simply "jumping" at the net waiting to make a volley.
The third component in Integrated Tennis is proper stroke production and form! I remember training in Florida at Saddlebrook and learned an important lesson. Holding form, particularly when one is fatigued, often times separate the good from the great. Pros know this. When they lose form, you can often times see them "correct" the mistake with "shadow" or "mock" strokes as they move to play the next point.
You need to practice and groove strokes!!! But, always focus on proper form.
Fourth, tennis can frequently be like a game of chess…particularly doubles. As in the game of chess there are beginning, middle and end games. You wouldn't play chess without some sort of plan, and in chess, one has to be able to adjust this plan as the middle game unfolds.
The point is that each competitive player needs to have a plan of attack. These plans will invariably have to change given the surface and given the opponent. Frequently, players will have to slightly, and sometimes, profoundly change the game plan as the match unfolds.
I was a baseball catcher growing up in the NYC area in the 1960's. So, it is not surprising that Yogi Berra was a big hero to me. To say the least, he is known not only for his prowess as a baseball player, but for his unique sayings… "Yogisms." Well, one statement attributed to Yogi is: "You can't think and play baseball at the same time." To me, this is a profound insight.
In tennis, the time to think is in between games, and maybe, between points. One performs best when she/he separates execution from evaluation. So, the problem is not so much what to analyze and plan, but when to analyze and plan.
Charting your own matches and those of likely opponents will go a long way toward helping you understand what should be done to win. I have a charting form that I created some years back that is available for you to use.
However, one does not always have the time to do this kind of research on opponents, and sometimes, the opponent is unknown. I think this is why sometimes pros lose to lower ranked opponents…they just don't know that much about the opponent because they have never played him/her very often. When really talented pros arise on the tour, they usually have meteoric success. But, sooner or later, coaches (who are doing the analysis for their players) will find the weaknesses and craft more successful game plans.
The fourth component in Integrated Tennis is to develop a game plan! In truth, every player should have a plan and backup plan for every match. "Heady" players, or what I term Type B players, frequently have myriad plans.
On all levels of the game, the player who makes the fewest errors wins. Most of us think that it is the player with the most winners. The latter is rarely true.
In one sense, tennis is extremely simple. Hit more balls in bounds than your opponent and you are probably going to win. The real dilemma is: "How can I achieve this goal?"
Fifth, tennis is an extremely "mental" sport. Attitude and confidence are everything in this game. Unless you are playing doubles, you are out there alone. This creates a tremendous amount of potential stress and emotion.
Tennis is a game of control. One form of control that is extremely important is self-control. Those of you who read my colleague, John Murray's, "Mental Equipment" column and/or who have read his book, Smart Tennis know how important this component is.
This reality is that in every match, 50% of the players are going to lose. No one wins all the time. In fact, sometimes we lose when we should win. Sometimes we win when we should lose. The point is that we cannot always control the outcome. However, we can always control how we respond to the outcome.
We can learn from both our victories and our losses. We can also learn to put victories and losses into the past. In fact, it is my belief that we need to do both of these to improve mentally.
I tell the players on my team to never evaluate a victory or a loss until the emotions have returned to normal. It is the only way that you can perceive clearly and learn from experience. Post match analysis is critical to improvement and must be done…in writing if possible. Keeping a tennis journal is a great way to enhance the learning process.
The last component in Integrated Tennis is to keep things in perspective in order to learn! Patience, persistence and self forgiveness go a long way toward helping a player to improve...and to keep improving.
So, over the course of this year, Integrated Tennis will be the goal for this column. If you adopt this holistic approach to your game, I am sure that in no time you will become a tennis overdog!



Turbo Tennis Archives:
1996 - 2002 | 2003 - Present
If you have not already signed up to receive our free e-mail newsletter Tennis Server INTERACTIVE, you can sign up here. You will receive notification each month of changes at the Tennis Server and news of new columns posted on our site.
This column is copyrighted by Ron Waite, all rights reserved. Questions and comments about these columns can be directed to Ron by using this form.
Ron Waite is a certified USPTR tennis instructor who took up the game of tennis at the age of 39. Frustrated with conventional tennis methods of instruction and the confusing data available on how to learn the game, Ron has sought to sift fact from fiction. In his seven years of tennis, Ron has received USTA sectional ranking four years, has successfully coached several NCAA Division III men's and women's tennis teams to post season competition, and has competed in USTA National singles tournaments. Ron has trained at a number of tennis academies and with many of the game's leading instructors.
In addition to his full-time work as a professor at Albertus Magnus College, Ron photographs ATP tour events for a variety of organizations and publications. The name of his column, TurboTennis, stems from his methods to decrease the amount of time it takes to learn and master the game of tennis.
---