All Geared Up for Winning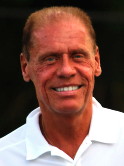 Ron Waite, USPTR
Automatic transmissions for cars have been a wonderful invention. We need only start the car, hit the gas, and the transmission automatically adjusts. We can go from zero to a very high speed, without having to shift any gears. In fact, an automatic transmission shifts gears seamlessly. We actually forget that gears are being shifted.
Those of us who drive a standard transmission car know that getting from zero to even a cruising speed requires shifting. Although this manual shifting requires effort and some thought, the driver of the standard transmission vehicle has a few benefits. Standard transmission allows for more driver control, and in my mind, is more fun.
Well in tennis there needs to be some shifting of gears as well. One speed of tennis is not sufficient. Actually, every player needs at least several speeds or gears, if she/he is going to win against varied players. In addition to needing these different "gears," playing at different speeds makes the game more fun.
In my capacity as a college coach, I see lots of players who simply hit the ball as hard as they can. I suspect some of them were enticed into this practice by knowledge that Andre Agassi's father kept encouraging him to hit every ball as hard as he could, when he was a youngster. Andre's father believed that sooner or later the majority of balls would land in bounds. Andre's father was right, but was working with a most exceptional player. In addition, it wasn't until Andre took on Brad Gilbert as a coach that he truly learned to expand his game into a completely lethal weapon.
Even if you or your child is a prodigy, it doesn't make much sense to hit every ball as hard as you can. Simply put: "Very few players are ever that good!"
So, this month's column will address the several gears that each of us need and when to use them.
When I say that a player needs to have different gears, I am suggesting two things:
Players need to know when they are in offensive, neutral or defensive positions.

Allied with these, a player needs to be able to strike balls with several, different paces or speeds: powerful/fast, normal/medium and soft/slow.
Let's begin our discussion with groundstrokes. These are the most commonly hit stroke in tennis.
All of us have a pace at which we prefer to hit these groundies. The pace is determined by the amount/type of spin we hit, the height at which we hit the ball, and where we are positioned on the court. When a player hits in groundstrokes in practice drills, this is that player's unique, normal pace. Generally, most of us hit these strokes at about three quarters of our power potential. This is your benchmark for all groundstroke pace.
If you are rallying in a game, your groundstrokes should be hit at this pace… unless there is a compelling reason not to do so. If your opponent is way out of court, you may want to hit a shorter ball that contains less pace, or go for a big shot that she/he will be unable to retrieve. It may be that you want to change the look of the balls you are hitting to your opponent to upset his/her rhythm. However, most of your groundstrokes should be hit at this "normal" or "neutral" pace/speed if you are rallying.
Some players move from this normal pace/speed for no good reason. They hit a super hard ball…simply because it is in their strike zone…or because they simply feel like it. These shots generally do not pay dividends.
In like manner, hitting a drop shot from behind the baseline does not make sense from the point of view of percentage tennis. Generally, the drop shot hit from this position is an errant shot, or is retrieved easily by the opponent.
Frequently in tennis, a player is put on the defensive. Unfortunately, many of us do not realize that we have been placed in this position, and continue to hit at rally speed or greater.
If you are on the run, pulled way out of court (into the doubles alleys or wider), or pushed way back from the baseline…you are in defensive position. From a defensive position, it makes no sense to hit an offensive or rally shot. Granted, the pros will sometimes make great, winning shots on the run…but this is why they are the pros. Sampras and Lendl were amazing in this regard. But most of us are mere mortals.
When in a defensive position, you should be hitting a soft/slow shot…usually a lob. Hitting the ball with little pace or hitting it high as a lob (by definition lobs have little pace in comparison to regular groundstrokes), you increase the chances of the ball landing in bounds. In addition with lobs, you increase the amount of time you have to recover and get back into a desirable court position.
I know that many of you will say, "But lobs just allow the opponent to hit overheads." This may be true at times. However, it is better to allow the opponent to hit a winner than to allow yourself to hit an error. It is, after all, possible that the opponent will miss the overhead smash.
In addition, the soft/slow pace ball may be useful against players who prefer pace. This is the wisdom that the "pusher" possesses. Sometimes, just hitting softer balls to your opponent will pay big dividends in terms of eliciting errors from her/him.
If you are crafting points (not just hitting balls), you will find there are times when you have your opponent in a defensive position. This is when you want to go for the winning shot and move into offensive mode. Hitting a ball a bit harder may be just what is needed to elicit an error, as well. The key, here, is to be certain that the ball that you are striking is in your preferred strike zone. If you like balls at waist height and the shot you are about to hit is in this zone…go for it. However, balls outside your strike zone are not likely to pay dividends if hit at a powerful/fast pace. Thus, it is critically important that you know your strike zone.
Sometimes by moving to the ball judiciously, you can position yourself so that the ball will bounce into your preferred contact area. This is what Andre Agassi does so well. He has made his strike zone such that he can take balls on the rise. As a result, he moves close to every ball as it bounces. In doing this, he has increased the number of balls that fall within his strike zone. This is the secret to why he is able to hit so many balls at full, offensive pace.
Volleys should be hit with several different speeds, as well. However with volleys, the height at which the player will strike the volley dictates the pace at which the volley is hit.
Low volleys (hit at below net height) should be struck softly…without much pace. The goal here is to simply get the ball over the net. However, you do not want to have a volley that bounces too high, if possible. Thus, hitting volleys with a soft/slow pace will help realize both of these goals.
Volleys hit at waist level or slightly above net height require a neutral or medium pace. You don't want to "stick" these volleys, but you do want to place them. Thus, a volley with some pace is desirable, but the goal is to hit the volley with some backspin to a precise area in your opponent's court. The backspin will help keep the volley's bounce low…which means that your opponent will have difficulty hitting a winner off of it.
If you are lucky enough to get a high ball (chest high or higher), go for the hard hit, powerful volley. It makes sense to "stick" these volleys and to go for a clear winner. The percentages are in your favor.
Lastly, serves can benefit from having several speeds. The first serve should be a hard hit, fast paced, flat serve…if the surface is fast. Big serves on clay just don't cut it. The surface takes pace off the serve, and opponents will tee-off on these flat serves. Remember that over the course of a match, an opponent gets used to the pace of a first serve and is more likely to be able to return these with ease.
On slower surfaces, the percentage first serve is delivered at three quarter or medium pace, but placed carefully and with variety. On clay, the wise server is one who varies how he/she places the first serve.
The important thing about first serves is not winning the point…but getting it in the service box!!!
Lastly, second serves should be hit at a slower pace. Usually, this is best achieved by having a slice or kick serve. The spin associated with these serves automatically slows the serve down and increases your chances of getting the serve in the service box.
On medium speed surfaces, I recommend varying the speed and placement of your first and second serve as much as is possible. In doing this, you will be helping to keep the opponent "off balance" with respect to her/his return of serve.
All of us need three gears or speeds for all of our strokes. However, we will never have these three paces unless we practice all three!
If you do practice and acquire these three speeds for your strokes and use them properly, you will invariably find yourself becoming a tennis overdog!!!



Turbo Tennis Archives:
1996 - 2002 | 2003 - Present
If you have not already signed up to receive our free e-mail newsletter Tennis Server INTERACTIVE, you can sign up here. You will receive notification each month of changes at the Tennis Server and news of new columns posted on our site.
This column is copyrighted by Ron Waite, all rights reserved. Questions and comments about these columns can be directed to Ron by using this form.
Ron Waite is a certified USPTR tennis instructor who took up the game of tennis at the age of 39. Frustrated with conventional tennis methods of instruction and the confusing data available on how to learn the game, Ron has sought to sift fact from fiction. In his seven years of tennis, Ron has received USTA sectional ranking four years, has successfully coached several NCAA Division III men's and women's tennis teams to post season competition, and has competed in USTA National singles tournaments. Ron has trained at a number of tennis academies and with many of the game's leading instructors.
In addition to his full-time work as a professor at Albertus Magnus College, Ron photographs ATP tour events for a variety of organizations and publications. The name of his column, TurboTennis, stems from his methods to decrease the amount of time it takes to learn and master the game of tennis.
---