The Integrated Approach to the Second Serve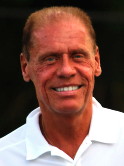 Ron Waite, USPTR
Frequently, you will hear tennis players say: "You are only as good as your second serve." Truer words were never spoken.
In the game of tennis, the server has a tremendous advantage. She/he has two chances to get the serve to land in bounds. The receiver has only one chance to make a return. In addition, the only way that a player can lose a set is to lose her/his serve (unless a tiebreaker is played).
Despite the importance of the serve, many players do not sufficiently practice this most important stroke, and when they do practices serves, they practice only first serves. This is a tremendous mistake.
First serves benefit from a reliable second serve. How? Well, if you truly believe that you can get your second serve in bounds, you are more likely to hit an aggressive first serve. You see, first serves benefit from the confidence that a good second serve can bring. I spend about 70 to 80 percent of my practice serves working on my second serve. Second serves are that important.
To have a reliable second serve, you need to be able to impart spin to the ball. Spin does two things for a second serve. Having spin on the ball means that it is more likely to bounce in bounds, as this spinning slows the ball down. In addition, the spin means that the ball will bounce in a somewhat unusual manner. These bounces may be enough to prevent the opponent from making a winning return of serve.
So this month, we are going to look at the integrated approach to spin serves. Before we begin this specific discussion, it is important that the reader realize that there are several different types of spin serves:
The Slice Serve - This is a serve where the ball travels with sidespin.
The Topspin Serve — This is a serve where the ball travels with forward spin or what is more commonly called topspin.
The Kick Serve — This is a serve where the ball travels with both sidespin and with topspin.
Many players (particularly less accomplished players) will try to hit a second serve that is merely a half pace or three quarter pace version of their flat serve. These "dink" serves usually do not present any problem for the opponent and frequently are returned as outright winners. Thus, it is imperative that each player have at least one spin serve in his/her arsenal. It is my belief that each player should work to possess all three of these spin serves.
The slice serve is great for fast surfaces like grass or many indoor surfaces. The topspin serve is a great second serve for slow surfaces like clay or for gritty hardcourts. For medium speed surfaces like most outdoor hardcourts, the kick serve is usually the best option for a second serve. Since most professional tournaments are played on medium speed hardcourts, the kick serve is usually the second serve of choice for pros on both tours.
As always, the integrated approach begins with the grip. For second serves, several grips are best depending upon the type of spin you wish to impart.
The continental and "hammer" grips are usually the best for slice serves
Here is the continental grip:
Please note in the illustrations below that the black areas of the handle represent the top, sides and bottom of the grip…the blue areas represent the bevels.
Here is the "hammer" grip:
For topspin serves and for kick serves the eastern backhand and full eastern backhand grips are best.
Here is the eastern backhand grip:
This is the full eastern (sometimes called western) backhand grip:
All of the above grips can be used as backhand grips. However, many novice players prefer to serve with more of a forehand grip. This is a terrible mistake. Forehand grips do not allow the racquet hand's wrist to snap or break during the service motion. To serve with spin, you must break the wrist during the serve.
I have learned to hit all of my serves (flat, slice, topspin and kick) using one grip…the eastern backhand. Having to use different grips for different serves make the entire service process more complicated for me. However, I know of pros and amateurs who change the grip depending on the kind of serve. Each player must discover what is most comfortable and most effective for him/her.
Generally, it is best to serve from a somewhat closed (standing sideways to the net) stance. A good rule of thumb is to point the toe of your front foot at the net post to the right (if you are right handed) or at the net post to the left (if you are left handed) for both deuce and ad courts serves. In positioning the front foot in this manner, your body will automatically take a somewhat closed position.
Tossing is critical in spin serves. In fact, it is one of the most important variables in all serves. Some pros (like Pete Sampras) can serve all the various flat and spin serves using one contact point. Most of us mortals need to vary the toss to vary the contact point to produce different spins. Although varying the toss slightly will not be deceptive, it will increase the chances that you will impart the desired spin (or absence thereof).
Flat serves (first serves) usually benefit from a somewhat lower toss that makes the contact point for the serve that is positioned in front of the player.
Slice serves usually have a similar contact point to the flat serve. However, the contact point is slightly to the right (if you are right handed) and slightly to the left
(if you are left handed).
Topspin serves require a slightly higher toss that makes the contact point directly above the player's head.
Kick serves need a toss that is very similar to the topspin serve, but the contact point needs to be more behind the player's head (this will force a back arching).
Wrist action at the moment of impact is critical in all serves, but even more important, when hitting any spin serves.
Slice serves require a wrist action that forces the racquet to brush sideways against the ball.
Topspin serves need a wrist action that tends to move up on the back of the ball.
The kick serve requires that the player use a wrist action that is both sideways and up in relationship to the ball.
There is only one way to learn to spin serve…practice, practice, practice. However, it is best to try to add one serve at a time to your arsenal.
I learned the slice serve first. I found it a fairly easy serve to acquire, once I changed my toss slightly. I spent about six months playing matches where this was my only second serve. You will know you have developed a good second serve when the ball bounces to one side (to the right if you are right handed or to the left if you are left handed).
My next acquisition was the topspin serve. This took me quite a while to master. I had to move from a continental to an eastern backhand grip and needed to experiment with different tosses. Eventually, I found the combination that was reliable. You will know you are successfully hitting topspin serves when the ball bounces with greater than normal height.
Although I have a bad back, I eventually learned the kick serve. Again, I had to use the eastern backhand grip, and the toss, for me, needs to be significantly behind my head. At first, I felt that I would almost fall backwards. However, I never did. You will know when you are hitting the kick serve correctly when the b all bounces higher than normal and moves to one side.
By far, the kick serve is the most useful of the spin serves. You can hit it very hard, and it will normally land in bounds. It two-way bounce makes it difficult for opponents to read and strike.
Of course, with all serves, a player needs to be able to learn placement. Having a great spin serve that lands in the same spots all the time is not helpful. So, you need to acquire not only the spin, but you need to be able to control where in the box you place this serve.
By spending this summer learning the three spin serves, you will be adding variety to your serves and will be able to mix up your serve patterns to prevent the opponent from "locking in" on your serves.
Grip, stance, toss and wrist action…these are the variables with which you need to experiment to discover how to hit all three spin serves. However, when you do learn them, you will certainly become a tennis overdog!!!



Turbo Tennis Archives:
1996 - 2002 | 2003 - Present
If you have not already signed up to receive our free e-mail newsletter Tennis Server INTERACTIVE, you can sign up here. You will receive notification each month of changes at the Tennis Server and news of new columns posted on our site.
This column is copyrighted by Ron Waite, all rights reserved. Questions and comments about these columns can be directed to Ron by using this form.
Ron Waite is a certified USPTR tennis instructor who took up the game of tennis at the age of 39. Frustrated with conventional tennis methods of instruction and the confusing data available on how to learn the game, Ron has sought to sift fact from fiction. In his seven years of tennis, Ron has received USTA sectional ranking four years, has successfully coached several NCAA Division III men's and women's tennis teams to post season competition, and has competed in USTA National singles tournaments. Ron has trained at a number of tennis academies and with many of the game's leading instructors.
In addition to his full-time work as a professor at Albertus Magnus College, Ron photographs ATP tour events for a variety of organizations and publications. The name of his column, TurboTennis, stems from his methods to decrease the amount of time it takes to learn and master the game of tennis.
---