Momentum …
Swing It in Your Favor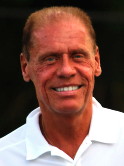 Ron Waite, USPTR
About six years ago, I wrote an article on using match momentum to help you win more (See: The Big "MO!!!"). The article was inspired by the work of Bob Love who is a USPTA Master Professional. The article generated lots of responses from readers. Though most liked the concept, there was a somewhat consistent complaint. Many readers believed that the strategies associated with different momentum situations were a little confusing and difficult to remember.
Over the years, I have taught this approach to competition. Most players (especially juniors) like the idea of not paying close attention to game score, which is part of this approach. It allows the player to focus on the point at hand and focus on how she/he is fairing with respect to the match's momentum.
In offering this to students and players whom I coach, I have discovered a more simple way to utilize the system… one that seems to work well, and that can be easily remembered.
So this month's article will present the reader with my revised advice regarding match momentum. I strongly encourage the reader to review my previous article, which is available at the above link. It more closely follows the principles and guidelines presented by Bob Love. However, I think that once the reader understands the principles associated with this system, and commits to memory my simplified play approaches, I believe the system will become a very useful tool for most players.
To begin with, we need to define what is meant by match momentum. Momentum is when a player seems to be in control of the match play, and has won a series of consecutive points. A player can actually be winning the match, but find that he/she is losing momentum. Conversely, a player who has lost the first set may find himself/herself gaining in momentum.
The idea in any match is to gain as much momentum as possible as often as is possible. Now, it should be noted that a player rarely, if ever, enjoys being in control of the match momentum from start to finish. Usually, there are shifts in the momentum "tide." However, if a player can control momentum to a significant degree, she/he will most probably be victorious in the match.
Instead of focusing on game score, Bob Love would have the player focus on the "conversion" situation. In his system, every time a player wins three consecutive points, he/she has made a conversion. If one wins four consecutive points, she/he has a double conversion... five consecutive points is a triple conversion, etc.
Given the nature of how tennis is scored (must win a game by two points and must win a set by two games), conversions are necessary to win a match.
By counting the number of consecutive points won or lost, a player has a very good idea of what the momentum situation is at that time in the match. The player who has momentum in his/her favor for the longest period of time in a match wins.
The questions of how to capture momentum, keep momentum or recapture momentum are critically important. In the past, this is where; I believe Mr. Love has made things a little more confusing than they need to be.
In my approach, there exist three distinct momentum situations:
The opponent has momentum.
There is no clear momentum with either player
The opponent does not have momentum.
The opponent has momentum, if she/he has made a conversion, double conversion or triple conversion.
If neither player has made a conversion, neither player has secured the match momentum.
If you make a conversion, double conversion or triple conversion, momentum is with you.
Now, I realize that there is a difference in momentum when a player has made a simple conversion as opposed to a triple conversion. But, in essence, the situation is the same. Momentum is with this player.
Once you realize the momentum situation (by keeping track of conversions) you can fashion one of several different approaches to the next point. I have tried to make these approaches more simplified than in the past…and hopefully more memorable.
The Opponent Has Momentum
In this situation, you need to desperately win a point to break the momentum of the opponent. Usually, this is best done by playing conservative tennis. Most points are lost through errors. We like to believe that our opponents win points, but more often than not, we "give" the point to the player.
With this in mind, you need to play your most solid and least risky tennis. Most often, this means attempting to keep the ball in play for as long as is possible.
If you are serving, make certain to get your first serve in. Don't worry about pace. Rather, try to keep the serve deep (perhaps with spin) to the opponent's weaker wing. If you are returning serve, do not try to go for a winning shot on the return. Rather, keep the ball high and deep…preferably hitting the ball crosscourt.
The goal is to win a point and stop a conversion cycle for the opponent. Safe tennis (whatever are you safest shots and strategies) is the best bet.
Neither Player Has Momentum
In close matches, it is very difficult for either player to make a conversion. Double and triple conversions are almost non-existent. When you are in a position where neither your opponent nor you have the benefit of a conversion, it is time to play cautiously aggressive tennis.
By cautiously aggressive tennis, I mean that you are playing safe tennis, but are looking for the opportunity to hit a winner. If you are a serve and volley player, you are looking to hit that winning volley on the second, not the first volley.
If you are a baseliner, you are hoping to get a short ball and put it away for a winner. However, you need to be certain that the put away is a viable shot for you. In addition, you need to hit this winner carefully. You want to hit it…not guide it…but with care and a margin for error.
Patience is what is needed to play this cautiously aggressive game.
The Opponent Does Not Have Momentum
If you have made a conversion, you have secured momentum. Now is the time to begin to be more assertive in your game. However, you need to do this in increments.
The idea is to take advantage of the momentum to win points more decisively, and perhaps, more quickly.
Going for winning first serves makes sense. Hitting the big return is probably not as risky. Going for broke on the first volley is probably okay. Hitting big groundstrokes that may force your opponent back on his/her heels may be a good strategy.
Now is not the time for reckless tennis. But, it is the time for more aggression in your game tactics. This is even more true when you have secured a double or triple conversion.
When I compete, I consider every point important. Focusing on score with respect to momentum really helps me to forget about score and to focus on the present. If I am down in a match, but begin to win some conversions, my confidence level is greatly enhanced. By focusing on momentum, I have had some big comebacks.
Spend some time familiarizing yourself with conversions and the guidelines I suggest for the three principle momentum situations. I am sure that if you do, you will soon become a tennis overdog.



Turbo Tennis Archives:
1996 - 2002 | 2003 - Present
If you have not already signed up to receive our free e-mail newsletter Tennis Server INTERACTIVE, you can sign up here. You will receive notification each month of changes at the Tennis Server and news of new columns posted on our site.
This column is copyrighted by Ron Waite, all rights reserved. Questions and comments about these columns can be directed to Ron by using this form.
Ron Waite is a certified USPTR tennis instructor who took up the game of tennis at the age of 39. Frustrated with conventional tennis methods of instruction and the confusing data available on how to learn the game, Ron has sought to sift fact from fiction. In his seven years of tennis, Ron has received USTA sectional ranking four years, has successfully coached several NCAA Division III men's and women's tennis teams to post season competition, and has competed in USTA National singles tournaments. Ron has trained at a number of tennis academies and with many of the game's leading instructors.
In addition to his full-time work as a professor at Albertus Magnus College, Ron photographs ATP tour events for a variety of organizations and publications. The name of his column, TurboTennis, stems from his methods to decrease the amount of time it takes to learn and master the game of tennis.
---