ELEMENTAL TENNIS - PART TWO:
Playing in the Sun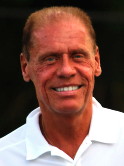 Ron Waite, USPTR
Well, here we are in April. It won't be long (for those of us north of the equator) before the days of outdoor play become the norm…not the exception. From a personal perspective, I have never really enjoyed indoor tennis. It seems to me that this wonderful game is really suited to being played outdoors. Certainly, the number of pro events that are outdoor tournaments gives support to my personal preference.
Last month, I wrote about how one should compete when there are winds with which to contend. I must confess, that this is the one part of outdoor tennis that I truly do not enjoy.
This month, I want to address the element of the sun in tennis competition. Unless we are playing under the lights at night, we are likely to have to deal with the sun as we compete outdoors. Yet we rarely pay attention to some of the specific consequences that the sun can have during daytime competition. This month's column will help bring your attention to these consequences, and provide you with some insights on how best to cope with them.
The Sun and Heat
Although April is usually not a really hot month here in the North East, it certainly can be quite warm in the southern areas the United States.
The first thing that every player must realize is that it is always warmer on the court than in the general environment. Why? Well, simply put, the tennis court itself is a reflector of heat. Of course, this is less true on natural surfaces like clay. Hard courts can get really hot in ways that are very similar to highway or street pavement that is exposed to the sun.
If you look at matches that are televised, the commentators will often times display a thermometer that is measure the temperature of the court surface. These temperatures can, at times, range to 120 degrees Fahrenheit!!! On these very warm days, it is not uncommon to see the pros standing in what little shade the spectator stands' shadows may provide in between points. They are obviously looking for a way to cool down.
The pros train and compete in warm climates virtually the entire year. In a sense, their bodies are conditioned to withstand the heat. This is not always the case for the recreational or seasonal competitor.
Dehydration is a key problem for recreational and seasonal players. We simply do not take in enough water before, during and after a training session or match. Dehydration can cause fatigue, light-headedness and muscle cramps.
If there is one piece of advice that I would give every player regarding playing in the sun, it would be to hydrate her/his body. I literally teach my classes at Albertus Magnus College with a bottle of water, at all times. I try, throughout the year, to take in as much water as I possibly can. I really do not believe that you can ingest too much water…but, I am not a physician. The point is to make a deliberate effort to continuously hydrate your body during the warmer months.
Bananas can actually help the body retain water because they contain potassium. I have an allergy to bananas. So, with the advice of my physician, I take a potassium supplement. Believe me. Potassium can make a huge difference with respect to water retention.
Personally, I am not a big advocate of sports drinks. I do think that they can be helpful during a match, particularly, when you are experiencing an energy drop. But, most of these drinks contain some form of sugar. My experience is that they can provide a short term burst of energy. At times, this is necessary.
For me, water is really the best liquid. The key is to drink lots of water at all times. Everyday, I force myself to take in water throughout the day. If you wait until the match or training session begins to take in water, you are too late.
Sun and Shoes
Crazy as it may seem, very hot hard courts can literally melt the soles of your shoes as you play. I have experienced this phenomenon on more than one occasion. The solution is to always carry a spare pair of shoes with you. By alternating the shoes in between games, you can avoid the "sticky foot" syndrome that can, at times, occur.
Sun and the Time of Day
We all know that the sun rises in the east and sets in the west. This is the reason that tennis courts are always constructed facing north and south. In this manner, the sun is not likely to be directly in a player's eyes.
However, this is not always true despite the north/south court configuration. The days are longest in the middle of the summer. Thus, in months like April, we find the sun positioned low in the sky both in the morning and in the afternoon. Sometimes, these April "positions" can present problems for players when serving.
Generally, regardless of the time of year, left handed players prefer to play in the afternoon, while right handed players prefer morning matches. Why? Well, given the position of the sun (east or west), serving ease can be greatly effected.
Sun and Serving
Regardless of time of day or time of year, there are going to be those times when serving will be made more difficult by the position of the sun. If you are one who relies upon a big serve to win your points, the problem can be catastrophic. But, there are some remedies.
First, learn to toss the ball to a spot where the sun is least likely to affect your vision of the ball. Sometimes, we need to toss a little higher or lower. We may have to adjust our position on the court. I can recall one match where I had to serve every one of my serves to the deuce court in a position that would be more appropriate for doubles than singles competition. Now, I did lose some points because I was farther from the center hash mark that I normally would be, and my opponent hit some wonderful returns down the line. But, he also lost some points trying to hit winners on the return.
Most importantly, I found a place on the baseline where I could toss fairly normally and still see the ball. My thinking is that getting the serve into the service box is most important. If I have to give up a little with respect to court positioning to achieve this, I am willing to make the sacrifice. Double faults are free points for your opponent!
Having a good second serve is critical in conditions where the sun is an obstacle to serving. Usually, you can vary your toss more on a second serve and still find a way of getting the ball in the service box. First serves usually require precise tossing and timing. Thus, it is usually better to just hit second serves when the sun is in your eyes. Again, the goal is to avoid giving free points to your opponent by double faulting. All of this should remind you of how important it is to practice your second serve!
Since players change sides every two games, you will only have to adjust your serve toss or serve position 50% of the time. When you are on the side of the court where the sun is to your back, you can return to your normal serve tosses and positions.
Sometimes the best solution is to simply wear a hat with a brim. I have been known to where a hat on the side where the sun is affecting my serve and to remove the hat when I am on the other side of the court.
Sun and Overheads
There is at least one way in which a player can use the sun to his/her advantage. This is by hitting high lobs. Some years ago, my college team was playing a match at midday in late April. It was a particularly bright day and the sun was high in the sky…almost directly overhead. I was blessed with a number 4 singles player who was one of the smartest players I have ever coached.
His name is John and he had no real weapons in his stroke arsenal. He was a soccer player. So, he had good footwork and speed. But he was not a "pretty" tennis player. Still, he had tremendous heart and one of the most competitive spirits I have ever seen.
In the aforementioned match, John literally tortured his opponent by using the sun to his advantage. John would begin the rally normally… hitting high deep groundstrokes. He recognized that his opponent was not a natural volleyer. So, he would wait and chip a drop shot to bring his opponent to the net. Now, John's opponent was a fairly skilled player and had great wheels. He would actually get to most of these drop shots and dump a fairly deep volley or half volley into John's court. John was ready for this and instead of attempting the passing shot, John hit every reply as a lob. However, the placement of John's lobs forced his opponent to hit the overhead smash while looking directly into the sun. Needless to say, the opponent actually missed hitting some of these overheads entirely…yup, he whiffed them. The opponent, who perceived himself as being the more gifted player, became very angry and frustrated. Little by little, he worked himself into such a lather that his entire game began to disintegrate. Ultimately, John won the match in two sets with scores of 6-4 and 6-1.
I learned an important lesson that day. Although passing shots are one of my strengths, I am not at all hesitant to lob into the sun. This strategy has won me a fair amount of points.
It has been my experience that the only true defense that the person hitting the overhead has is to use her/his free (not racquet) hand to block the sun. Sometimes, this will work. However, it often times makes the motion of hitting the overhead less effective.
Sun and Shadows
Most courts are designed to prevent major shadows from being cast onto the courts. However, once in a while, you may find yourself presented with a court that is half brightly lit and half in shadow. These are really tough situations. Seeing the ball can be very difficult, to say the least.
Still, you have to realize that your opponent is going to have to face these same conditions. So, the scales are, in reality, balanced.
When I find myself in these situations, I have found several "solutions" that help. First, I carry around a pair of yellow tinted sunglasses. For whatever reason, I find that these help reduce the contrast of this type of lighting situation.
Second, I make a deliberate effort to focus more on the ball after it bounces. I certainly have to track the ball to move to hit it, but I don't really force myself to "see" it until it has bounced. I have found that this helps prevent the contrast difference from having such a profound effect.
Lastly, I always tell myself to "freeze my head" in these lighting situations. I am likely to be a little late, early or in some other way slightly out of position when I make my stroke. The lighting contrast prevents me from seeing the ball early. So, to make certain that I hit a clean stroke, I make a deliberate effort to keep my head motionless while making contact with the ball and for a second after I have hit it. This "quieting" of the head can go a long way toward helping you avoid hitting wildly errant shots.
Cooling Down
As a sports photographer, I have had the chance to shoot many WTA and ATP events. As a tennis teacher, I pay close attention to the things pros do in between points and games.
First, pros have the benefit of umbrellas. Most tournaments have ball kids open an umbrella and shield the player from the sun while he/she sits in between games. Elena Dementieva places a bag of ice on the back of her neck during changeovers. Many other players will use a cold, wet towel to cool off the back of their necks. Finding ways of cooling down your body in between points and during game changeovers is critical…especially in the very warm months of summer.
Equally important, it is imperative that you cool your body down after a match. This is particularly true if you are expected to play another match in a few hours or so. I like to take a cold shower…yes cold…after my match. This may be a bit more than you are willing to try, but certainly getting out of the sun and into a cooler environment is helpful.
I do not, however, like to spend any great amount of time in an air-conditioned environment after a match…if I am to play another match later in the day. For me, it makes the re-entry into the hot environment too difficult for my body.
Certainly, flushing your body with lots of water after a match is an essential ingredient in "recovering" quickly. Again, I cannot stress how important hydrating your body is.
So, as we move into the warmer weather and sunny days of spring and summer, do not forget to take into consideration the impact that sun can have on your performance. If you do pay attention to this important element, I am certain that it will go a long way toward helping you become a tennis overdog!



Turbo Tennis Archives:
1996 - 2002 | 2003 - Present
If you have not already signed up to receive our free e-mail newsletter Tennis Server INTERACTIVE, you can sign up here. You will receive notification each month of changes at the Tennis Server and news of new columns posted on our site.
This column is copyrighted by Ron Waite, all rights reserved. Questions and comments about these columns can be directed to Ron by using this form.
Ron Waite is a certified USPTR tennis instructor who took up the game of tennis at the age of 39. Frustrated with conventional tennis methods of instruction and the confusing data available on how to learn the game, Ron has sought to sift fact from fiction. In his seven years of tennis, Ron has received USTA sectional ranking four years, has successfully coached several NCAA Division III men's and women's tennis teams to post season competition, and has competed in USTA National singles tournaments. Ron has trained at a number of tennis academies and with many of the game's leading instructors.
In addition to his full-time work as a professor at Albertus Magnus College, Ron photographs ATP tour events for a variety of organizations and publications. The name of his column, TurboTennis, stems from his methods to decrease the amount of time it takes to learn and master the game of tennis.
---