Tennis: A Game Of Oxymorons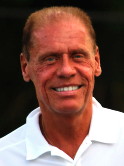 Ron Waite, USPTR
As the name of this column suggests, I truly believe that there are ways in which people can learn to play tennis or improve their existing games in less time. Now, don't get me wrong. Tennis requires practice. Even the most gifted pro cannot pick up a racquet after a hiatus and expect to play at her/his peak. It just doesn't work this way.
Still, I think that there are methods and means that can help a player advance more quickly. When I teach or coach, I constantly find myself explaining to my students/players that tennis is a game of oxymorons. By this, I mean that there are aspects of the game that seem to defy normal logic. However, the essence of rapid improvement in one's game involves a recognition and acceptance of these "contradictions."
So this month, I am going to spend some time reviewing and identifying what I believe are the essential oxymorons that are necessary for improvement.
LESS IS MORE
I have written about this in past articles, but it is worth repeating. Tennis is a game that rewards players who do no more than they absolutely need to do. Thus, less is more.
For example, we often times will see players attempting to hit a ball hard that has come at them with pace. In fact, shortening the backswing, improving one's timing and taking a more relaxed approach will provide a reply that is powerful but controlled.
On the collegiate level, I see too many players who try to do too much with a difficult shot. An opponent hits a great slice shot that stays low to the net and does not bounce very high. Many collegiate players will attempt to hit a reply that changes the direction of the ball, and does so with pace. This is double trouble. When I get a great slice shot hit to me, I simply return the ball back in the direction from which it came. I attempt to hit with 3/4 pace, and if possible, I reply using slice.
If you play competitive tennis, you are at some point going to find yourself running hard to get to a ball. The seemingly "natural" response is to run hard, and to hit hard. In fact, many players will try the Ivan Lendl-like winning shot! Most of us are not so gifted. A simple rule of tennis is: "Fast feet… slow stroke." By this, I mean that if you are running hard, you are not in an offensive position. Your best shot is to loft a lob and attempt to get back in the point. For every winner you may make in this situation, I assure you that you will make several errant shots. The odds of winning the point outright are just too low to make sense.
When it comes to serving, we all wish we were Andy Roddick… but we are not!!! I watch players who begin their matches going for aces from the very first serve. Again, this is not percentage tennis. It takes a while to groove the big serve. Pros spend hours everyday, in addition to matches, grooving their serves. Most of us mortal players simply do not have the time. So, I like to begin my matches by serving kick serves for both first and second serves. Eventually, I get my bearings and I can begin to try the "heater." But you know what? Any serve that lands deep in the service box is a good serve. Why waste first serves by trying to go for too much too soon. Most of us need to work our way into a match.
There are quite a number of South American players on many of the teams that compete in the same NCAA conference that our team is in. Most of these players grew up playing on clay. Although they are not usually serve and volley players, they do have one clear mindset when it comes to volleying. They don't attempt to over hit the volley. In fact, most of these players will simply dump the volley short and at an angle. Now, the smart opponent who has some foot speed can read this and move forward to hit a winner. But it never ceases to amaze me how often times these "stop" volleys work. The great thing about these volleys is that they do not require perfect form. Again, an example of where less is more.
ARC IS BETTER THAN POWER
Testosterone is a crazy thing in male tennis players. Meaning no malice or insult, the way I see the women on the WTA tour hitting the ball, there is obviously a quest for power.
Many tennis players want to dominate their opponents with powerful groundstrokes that go for winners. They hit their balls relatively flatly, and try to put as much pace on them as is possible. Frequently, the net result of this is that they get a powerful reply from their opponents, and have expended lots of energy in the process.
Tennis groundstrokes are designed for rallying. The primary goal of a groundstroke should be to keep the ball deep and in play. There are two ways to get the ball deep into your opponent's court: hit it hard and low to the net… or hit it with arc and less pace. This latter approach will often times force your opponent to be way behind her/his baseline… which is just where you want her/him. My players will tell you that I am the master of the "moonball." I can hit these shots all day and never find myself becoming fatigued. I hit them with so much topspin that they literally jump up… often times, these shots force my opponent to move to the back fence. As soon as I see this, I am into the net in the hope of getting a high volley to hit or an overhead.
When I listen to many of the Australian coaches at the pro events, I often times hear them ask their charges to "give the ball some air." This is sound advice when you are rallying.
The only time that we mortals should really be going for big groundstrokes is when we are inside the court and have a clear put away shot. Hitting hard groundstrokes from the baseline may make you feel powerful, but this practice will ultimately tire you out, and probably, force more errors.
HELP YOUR OPPONENT TO LOSE
Okay, this tip may not be applicable to everyone reading this column. However, I would argue that most of us who play this game competitively need to keep this concept in mind.
Most matches are won by the person who makes the fewest errors… not by the player who hits the most winners!!! Given this reality, one great strategy is to give your opponent balls that he/she does not like. If I see a player with a great forehand, I play to the backhand. If the player's "strike zone" is around hip level, I will make certain to keep the ball lower or higher. If the player is one who likes to volley, I will keep him back whenever I can. If the opponent likes pace, I give this player fewer shots that have pace.
It is oxymoronic, I know, but this is the nature of tennis for most of us. Sure, Roger Federer can go out and play his game. He has such tremendous strokes and talent that playing anything but his aggressive game would be foolish. But most of us are not so gifted. Certainly, we should play our game, but we should also be aware that we stand a better chance of winning if we simply do not give the opponent what she/he wants.
EMOTIONAL TENNIS IS USUALLY LOSING TENNIS
I know the strides that have been made in sports psychology, and I cannot refute the benefit of such a component in one's training regimen. However, I have rarely seen players who win when emotional… whether it is positive or negative emotion.
Lately, I have spent lots of time looking at old videotapes of Bjorn Borg's matches. After a while, an epiphany came to me: The truly best players in the games history are, more often than not, unemotional on the court. Sure, every player has a moment of anguish, anger or a flash of joy. But watch Federer, Agassi, Davenport, and many others. They simply play the points as best as they can showing little or no emotion.
Now, I know that John McEnroe belies this insight, and he truly is a great tennis player!!! But I think he is the exception… not the rule.
Dr. Allen Fox makes a great point in one of his videos. If we allow ourselves moments of elation, we must allow ourselves moments of dejection. The real goal should be to maintain an equilibrium of overall positive energy. However, any excessive display or emotion is likely to cause more harm than good… at least for the average player.
This year, I have worked hard with my players to instill a sense of calm in them while competing. It is paying dividends each match. Their opponents may be screaming in elation or in frustration. But my guys are simply playing the game… one ball at a time. In my own game, I rarely, if ever, show any emotion. I can be down 0-6, 0-5 and you cannot tell if I am losing or winning. I can be up 6-0, 5-0, and again, my demeanor is deceptive.
The rules of tennis are simple. First, control yourself. Then, control the ball. Next, control the points. And finally, control the opponent. To do all of these successfully requires a calm, patient, persistent and "unemotional" approach. I realize that, for many, this is not an easy process to put in place. However, I truly believe that we will all play better, more consistent tennis, if we can become Borg-like.
IN ORDER TO WIN, YOU MUST NOT BE AFRAID TO LOSE
This is, perhaps, the most confusing riddle in tennis. But it is invariably true. Fear is an emotion that cannot help but creep into any player's psyche from time to time. Fear means that you care about winning. But here is the real riddle.
If you want to win, you need to be prepared to lose. I didn't say that one should "tank" a match or that a player should accept losing without remorse. Rather, you need to realize that tennis is a game that puts you on the line. Unless you are playing doubles, you are out there by yourself. No one but you can affect your fate.
Wanting to win with every fiber of your being is great. But sooner or later, we all lose. Sometimes, we lose to players whom we know we should beat. How you deal with this reality can affect future play.
I always console myself after a loss with this statement: "Ron, you simply ran out of time before you could find a way to win." By making this kind of statement to myself, I am really saying that I am not afraid to lose… I don't like it… but I can deal with it intelligently.
We play our best tennis when we are truly relaxed. If we have an underlying fear of losing, we will never truly relax. Rod Laver was once quoted as saying "The worst thing that can happen to me out there is that I lose a tennis match." If you think about this, it really speaks to a healthy competitive mindset.
Imagine that you had no fear when playing. Wouldn't tennis become more fun? When we have fun, we are enjoying ourselves. We are pleasure-seeking creatures. If we can find a way to make this wonderful game fun, we have the secret to a lifetime of positive tennis experiences.
So, if you look at the game of tennis, you can find lots of oxymorons. I think, in part, this is why I find this game so fascinating and compelling.
This summer, spend some time freeing yourself from the constraints of "logical" tennis. Recognize the conflicts and riddles in this game and embrace them.
The final oxymoron is the most important. There is a huge difference between playing to win and playing not to lose. I assure you that if you play to win, your enjoyment of the game will increase immensely. Once you find yourself truly enjoying the playing of tennis, the wins will take care of themselves. This is when you will be well on your way to becoming a tennis overdog!



Turbo Tennis Archives:
1996 - 2002 | 2003 - Present
If you have not already signed up to receive our free e-mail newsletter Tennis Server INTERACTIVE, you can sign up here. You will receive notification each month of changes at the Tennis Server and news of new columns posted on our site.
This column is copyrighted by Ron Waite, all rights reserved. Questions and comments about these columns can be directed to Ron by using this form.
Ron Waite is a certified USPTR tennis instructor who took up the game of tennis at the age of 39. Frustrated with conventional tennis methods of instruction and the confusing data available on how to learn the game, Ron has sought to sift fact from fiction. In his seven years of tennis, Ron has received USTA sectional ranking four years, has successfully coached several NCAA Division III men's and women's tennis teams to post season competition, and has competed in USTA National singles tournaments. Ron has trained at a number of tennis academies and with many of the game's leading instructors.
In addition to his full-time work as a professor at Albertus Magnus College, Ron photographs ATP tour events for a variety of organizations and publications. The name of his column, TurboTennis, stems from his methods to decrease the amount of time it takes to learn and master the game of tennis.
---