The Backhand Overhead Smash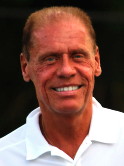 Ron Waite, USPTR
Last month, I addressed the principles of hitting the overhead smash. This is probably one of the most exciting shots to see in action when viewing a tennis match live. Somehow, the drama is lost when seeing this shot on television broadcasts.
As promised, this month, I will address the backhand overhead smash…often times this kind of overhead smash is referred to as "the most difficult shot in tennis." Here are some of the reasons why this may be true:
It is a shot that is not hit that frequently in matches. There are more backhand overheads hit in doubles matches, but this is due to the fact that there is at least one player at the net at all times. A high ball comes within range, and the net player takes a stab at a backhand overhead…usually, with good results. Since many players do not play doubles as often as they do singles, it is no surprise that the doubles player may have an edge in producing the backhand overhead smash.

Most tennis instructional books and videos (I am in the process of producing my own instructional video as I write this) don't address this shot at all. Given the number of times you may have to hit it, I can only surmise that the writers of these books and producers of these programs don't see the need. In fact, it is rare that I have seen a teaching pro work with a student on this stroke. Truthfully, the only time I have seen this taught is by Barbara Potter when she was residing, here, in the New Haven area. If we aren't taught how to hit the shot, it likely to become difficult for us when the occasion arises.

Movement and visibility are compromised somewhat when hitting the backhand overhead. Literally, it is a bit harder to track the lob's path, and moving to the ball properly can be a challenge. At times, we are actually hitting the backhand overhead smash with our backs to the net!!!

The muscles used when hitting this backhand overhead are not the muscles we use to hit the majority of shots in tennis. Thus, they are a bit weaker, and we tend not to have as much muscle control when executing this shot.

Because it is a rare shot, people do not have confidence when hitting it. Well, this is certainly exacerbated when one realizes that we rarely, if ever, practice the backhand overhead. Some years back when the ATP Doubles Championships were held in Hartford, I watched Leander Paes practice for his match that day. He spent quite a bit of time practicing his backhand overhead smashes. When I watched him perform in his match, he did not miss a single backhand overhead. In fact, he seemed to be looking for opportunities to hit it. What did I learn? You can't hit a shot that you don't practice seriously. I never let a week go by where I do not spend some significant time working on this shot. Consequently, when I am at the net, my opponents learn quickly that the lob to my backhand is not necessarily a good strategy.
With all this in mind, let's begin our discussion of hitting the backhand overhead, as we begin a discussion of any stroke…looking at the proper grip.
Now, with forehand and backhand groundstrokes, volleys, serves, etc., there is more than one proper grip. But, when hitting the backhand overhead, it is my firm belief that one, and only one, grip should be adopted: The Eastern Backhand Grip.
Here are some pictures that show this grip. I have these images to allow lefties to better visualize the grip.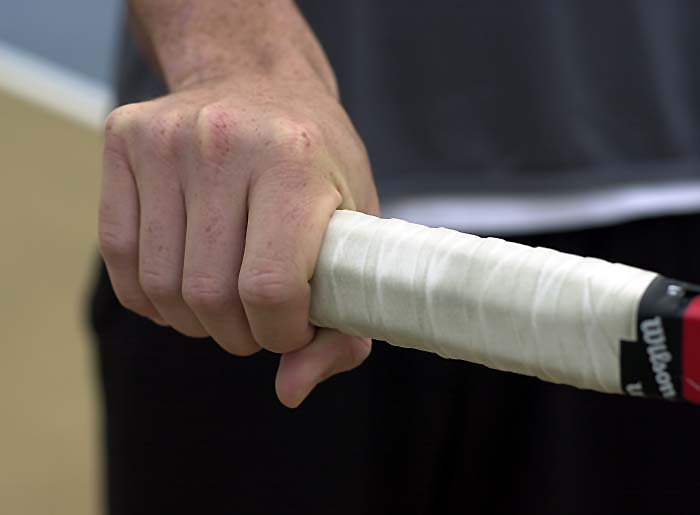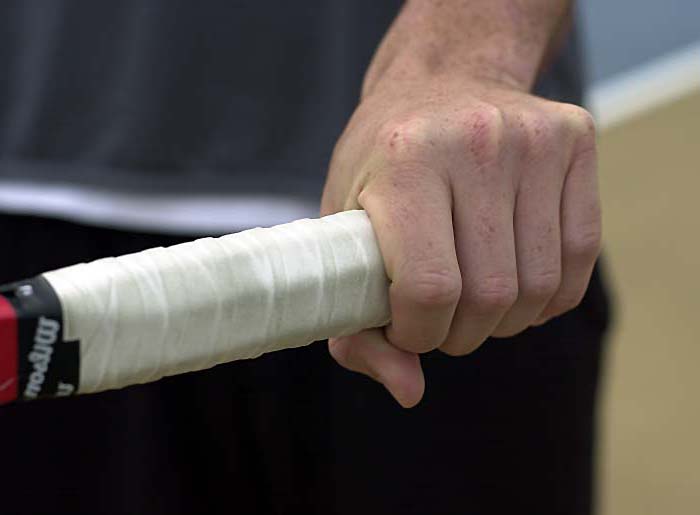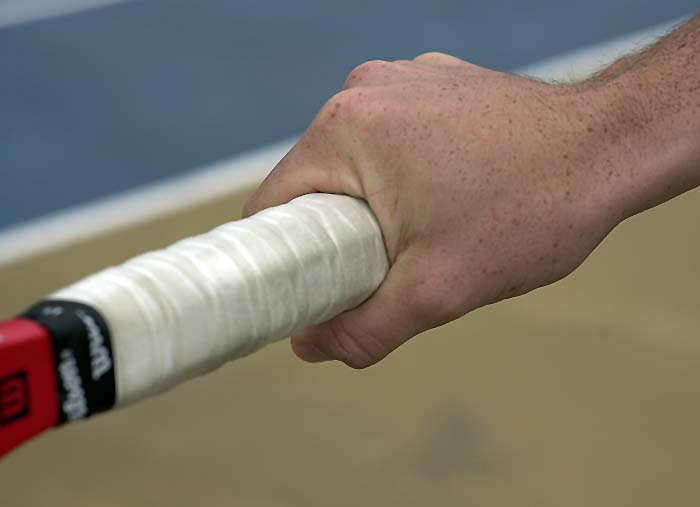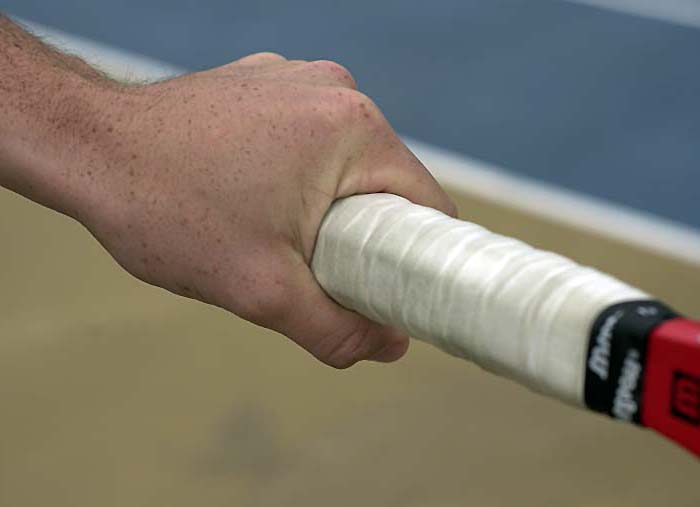 In all of the pictures above, notice that the palm is almost completely on the back of the racquet handle. The thumb is almost underneath the handle. Now in reality, there are some minor variations that players bring to this grip, which are fine. Some move the palm a little lower on the handle…some a little higher. Still, the common denominator in all of these is that they provide a strong, supporting grip…the kind that would be very useful for hitting a one-handed backhand drive.
To help you find this grip easily, Gino Cardillo (2005 Captain of the Albertus Magnus College Men's Tennis Team) demonstrates the over the head method. Simply take the racquet and hold it near the strings or on the side of the head's frame in your non-dominant hand. Keeping the string's plane parallel to the ground, lift the racquet over your head and a bit in front of your body. Now, just grab the end of the racquet grip with your other hand, and you will find that you naturally are gripping the racquet with an Eastern Backhand Grip.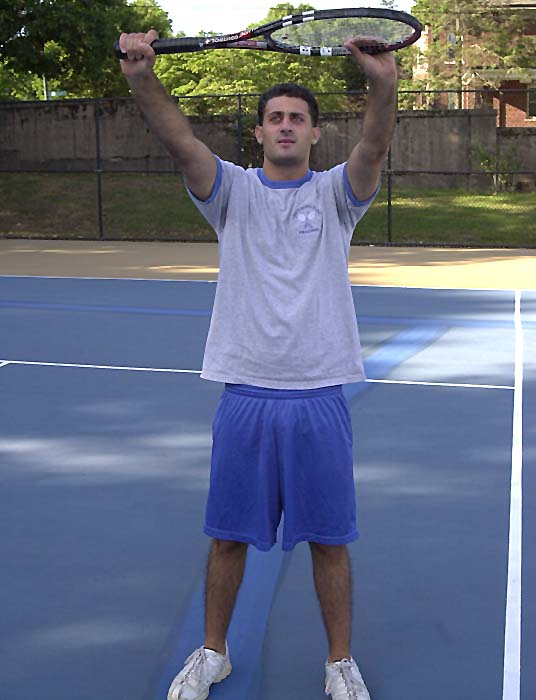 The next problem we must address is how a player moves to hit the backhand overhead. I wish that I could say that in every situation, one could employ a clean and predictable movement pattern. But, this is not always the case.
However, when you can move appropriately (meaning that you are not simply scrambling to get to the ball in an emergency situation), crossover steps are the best method. As is the case with forehand overhead smashes, if you can move to follow the ball in a sideways manner, you will stand the best chance of tracking the ball properly and getting into proper position to execute the smash.
Crossover steps are achieved by moving sideways with one foot moving in front of the other and vice versa. In the series of shots below, we see Gino tracking a lob using crossover steps before he hits a backhand overhead smash.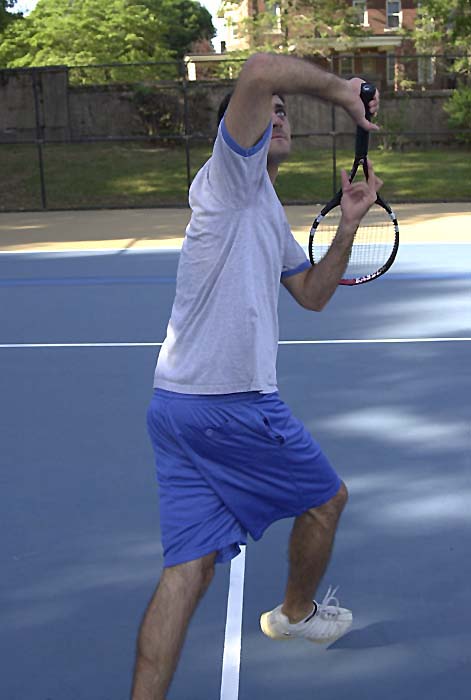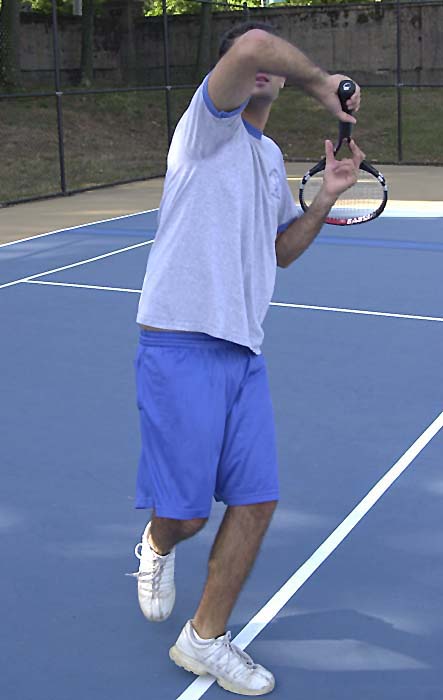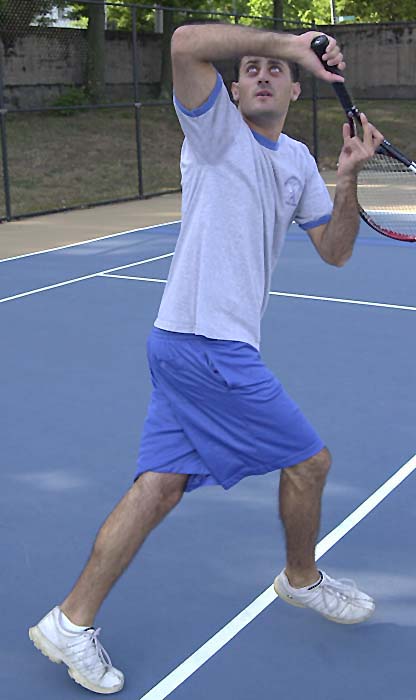 As is the case with the forehand overhead smash, Gino is attempting to move in a manner that will keep the lobbed ball in front of his body when he makes contact. Sometimes, this is just not possible, and the best a player can do is hit a backhand overhead with her/his back to the net.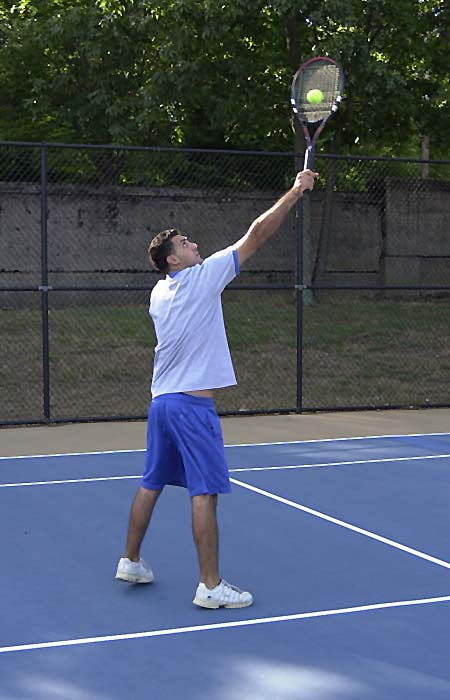 When you are forced far away from the net to hit the backhand overhead, this will be the position in which you find yourself quite frequently. But, it can happen when you are inside the service box, as well. One would prefer to hit a backhand overhead smash with his/her body sideways to the net…not with his/her back to the net. Why? Well, you will have better control over where the smash lands and you will be able to hit a more powerful smash.
It is important to realize that the backhand overhead smash is rarely an offensive shot, as is the case with the forehand overhead smash. About 70% of your backhand overheads should be hit with the intention of clearing the net high, and landing deep in the opponent's court. In the second of the above pictures, you see that Gino is doing exactly that. His goal is to stay in the point…not win it.
However, in doubles an aggressive backhand overhead smash is more common. In singles, if your opponent hits a short lob to your backhand, you are in the position to go for an aggressive shot.
In these offensive situations, placement is key. In doubles, place the backhand smash either in between your two opponents or directly at the opponent closest to the net. Yes, in the latter case, you may actually hit the opponent. But, this is a part of the game that is permitted, and is not improper to utilize.
In singles, the offensive backhand overhead smash should almost always be hit at a sharp angle that is away from your opponent. Here, you are not attempting to hit the ball deep in the court. Rather, you want to hit the ball in such a manner that it bounces inside the opponent's service boxes and is angled in such a way that the opponent cannot hope to get a racquet on the ball.
As is the case with all shots in the game of tennis, how you finish the stroke is critical. Well, you don't have to worry too much when you are hitting the defensive backhand overhead. However you finish is probably okay, if the ball is hit high and deep over the net.
With the aggressive or offensive backhand overhead smash, you need to finish very similarly to the way a player would finish a one-handed slice shot. Here is a series of shots that shows the motion that I recommend. Gino is quite good in doubles matches at utilizing this offensive backhand smash.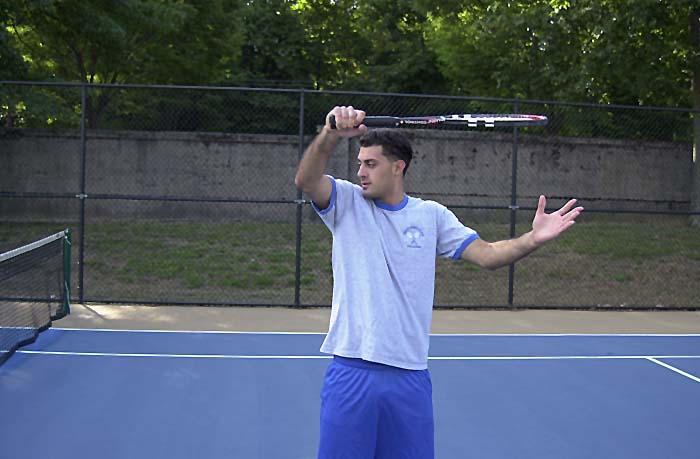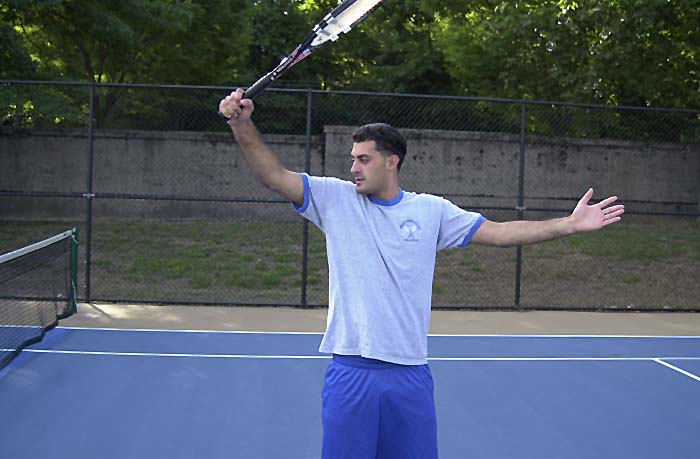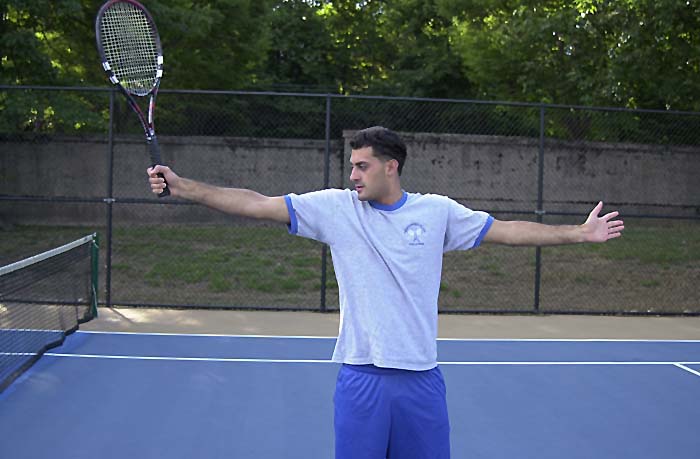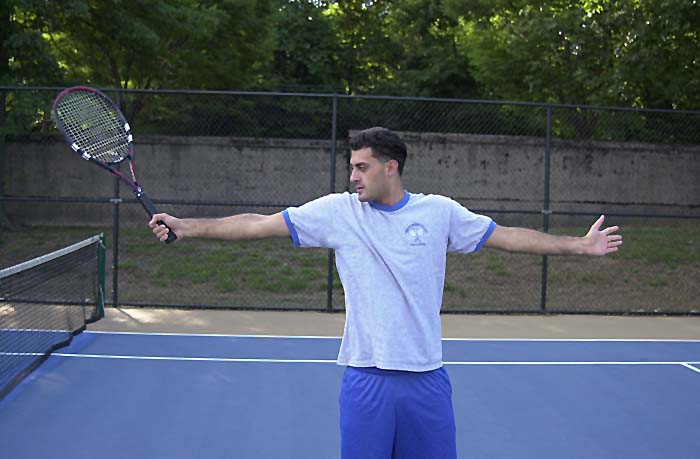 I will end our discussion by giving you what I believe is the single most useful "tip" about hitting the backhand overhead smash.
Always point the butt of your racquet at the lobbed ball as you move and prepare to hit the smash. If you do this, and only this, I assure you that your backhand overhead smashes will improve dramatically. In this last picture, you see Gino doing precisely this.
Although it is one of the rarest shots in tennis, and perhaps, one of the most difficult…the backhand overhead smash can truly help you become a tennis overdog!



Turbo Tennis Archives:
1996 - 2002 | 2003 - Present
If you have not already signed up to receive our free e-mail newsletter Tennis Server INTERACTIVE, you can sign up here. You will receive notification each month of changes at the Tennis Server and news of new columns posted on our site.
This column is copyrighted by Ron Waite, all rights reserved. Questions and comments about these columns can be directed to Ron by using this form.
Ron Waite is a certified USPTR tennis instructor who took up the game of tennis at the age of 39. Frustrated with conventional tennis methods of instruction and the confusing data available on how to learn the game, Ron has sought to sift fact from fiction. In his seven years of tennis, Ron has received USTA sectional ranking four years, has successfully coached several NCAA Division III men's and women's tennis teams to post season competition, and has competed in USTA National singles tournaments. Ron has trained at a number of tennis academies and with many of the game's leading instructors.
In addition to his full-time work as a professor at Albertus Magnus College, Ron photographs ATP tour events for a variety of organizations and publications. The name of his column, TurboTennis, stems from his methods to decrease the amount of time it takes to learn and master the game of tennis.
---