Put Away those Put Aways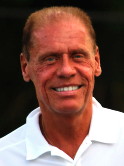 Ron Waite, USPTR
Frequently, the inspiration for my columns comes from e-mails I receive from readers. Such is the case with this month's column.
All of us, at one time or another, have been presented with the "golden opportunity," and have failed to take advantage of the situation. Specifically, I am referring to those shots that should be "put aways."
Generally, the scenario goes something like this. The opponent hits a ball that is landing short in your court. You move into position like a tiger waiting to attack. You are ready to hit the ball from your better wing. It comes. You swing hard, and the ball hits the net or sails out of bounds. Perhaps nothing is more frustrating that this experience, and it happens to us all.
Well, in this month's column, I am going to address the dos and don'ts of put away shots. I assure you that, no matter what you do, sometimes you are simply going to flub the potential put away shot. But, you can improve your chances of success if you pay close attention to what follows.
Not all short balls are candidates for a put away!!! The pace of the ball, its spin, the court surface and your position on the court make some short balls out of the question for a put away approach. Each player needs to recognize that this is the case, and discover through match experience what it viable and what is not viable with respect to hitting a put away.
Let's first address court position. In this case, I am referring to your position on the court…not the ball's. Below, is a diagram that I have prepared which will hopefully help make clearer the court positions which are more desirable. As I view the court there are four key areas:
The volley and half-volley area or zone.
The best put away area or zone.
The possible put away area or zone.
The rally area or zone where no put aways are likely.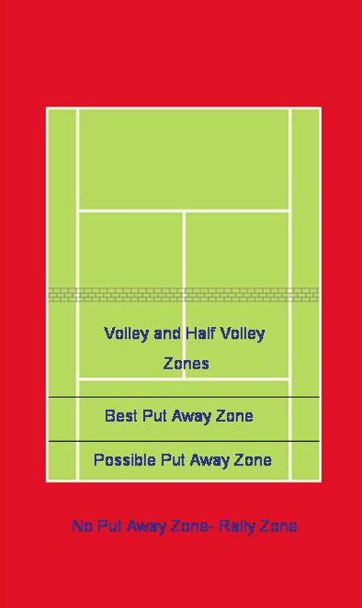 Let's work backwards for a moment. If you are in the rally zone when you make contact with the ball, you cannot expect to execute a put away. There is very little likelihood that you will be presented with a shot that your opponent will not reach…unless she/he has been pulled out very wide, or has horrible foot speed. I see far too many juniors with big groundstrokes who try to win points with a single shot from this rally area. The odds of success are just plain against them. At best, they hit a great groundstroke that has pace, and the opponent struggles to put a racquet on the ball. I was always impressed with Todd Martin's ability to hit a clean winner down the line off his backhand wing…even though he was at or behind the baseline. Of course, he would never really attempt this type of put away winner without having his opponent having to run hard to get at the ball.
For we mere mortals, this rally area should be a zone in which we do just that…rally. We should be able to be patient and hit groundstrokes that land deep in the opponent's court until an opportunity presents itself. This kind of patience is generally not something that is common among junior and collegiate players.
Next, we'll move to the Possible Put Away Zone. This area is inside the baseline and extends to about 3 feet inside the baseline. When you are positioned here, it may be possible to hit a clean winning shot or put away. It is not likely that your shot will be a true put away, but there is a chance and by moving forward you increase the angles available to you off either wing. If you have a true weapon (e.g. a killer forehand), it may be possible for you to consistently hit a winning shot or put away. But, I stress that you need to have a true weapon that you can control for this kind of put away to occur. Maybe twenty percent of the time, balls that position you in this zone are truly eligible for a put away winner.
The Best Put Away Zone is from about 3 feet inside the baseline to a foot in front of the service line. If you are positioned in this area when making contact with the ball, you are definitely in attack position. Going for winners or put aways in this zone makes sense, most of the time. I would say about 60% to 70% of all balls that you hit in this area are candidates for the put away.
If you are at the service line or closer to the net, you are not in a put away zone. Rather, you are in a Volley/Half Volley Zone. In this area, the way to put away a shot is not using any form of groundstroke. Rather, you need to half volley or volley, and then move closer to the net…following the path of the ball you have hit to make certain that you are in proper position at the net.
I have seen many good players who do not own decisive volleys. They make it in near to the net but blow the volley in some manner. Sometimes, these players will attempt to hit swing volleys or let the ball bounce and attempt a somewhat lifting put away. In fact, there are more players on the tours who use these tactics today than ever before. Still, it is risky business. The swing volley requires perfect timing, and if the ball is allowed to bounce, you may be hitting a put away that does not clear the net. Remember, in practical terms, the net becomes higher the closer you get to it.
Moving properly to hit a put away is essential. First, you need to get into position as soon as is possible. You want to be waiting to hit the put away, if at all possible. To do this, you need to have good court awareness (that the opponent has hit a short ball), and you need to move to the ball with very little steps. Court awareness allows you the extra fraction of a second to move to the ball and setup. Little steps enable you to move to the ball with small adjustments. This latter component is critical when hitting on natural surfaces like grass or clay. But the hard court player needs them as well.
The height that the ball bounces is critical in deciding whether to attempt a put away or winning shot. Usually, balls that bounce above net height are good candidates for a put away. However, a short ball with lots of topspin may bounce so high that you get "jammed," as you attempt the put away.
The spin of the ball is another important consideration. If the ball has lots of slice or backspin, you are probably better off not trying for an outright winner. In all probability you will hit your shot late and be unable to lift it sufficiently to land deep in your opponent's court.
Balls with topspin, however, are very good candidate for the put away. They generally bound higher than net height. They normally sit up better and allow you to take a full swing at the ball, and still maintain placement control.
The pusher knows how important this spin can be in disarming a formidable opponent. He or she will hit dink shots that have incredible backspin and have absolutely little to no pace. We see a short ball, and begin to salivate at the possibility. But, the pusher knows that it is tough to hit a full out winner when the ball sits up in this manner, if you attempt to hit it hard. So, pushers torture their opponents with a mixture of these dink, drop-shot-like balls, and balls that bounce high and deep. Some pushers can really junk up the ball with lots of sidespin, as well. These shots can be hit as put aways, but you cannot go full throttle with pace. Rather, it is best to relax, hit a put away at three quarter pace, and then take the net.
Pace is next on our list. Most players like to have balls hit to them with pace. In fact, some players cannot hit a ball without pace effectively. Too much or too little pace on a ball can negate its potential to become a put away. Each player needs to discover what pace is best and what pace is worst for her/him. Generally, more pace is preferred.
The next ingredient is perhaps the most important tip of all. Keep your head calm and quiet during the stroke. By this, I mean freeze the motion of your head when the ball nears you, when you make contact, and for a moment after you make contact. I have coached many players who improved immediately with respect to put aways by just learning and remembering to freeze their heads when making contact with the ball.
Lastly, finish your stroke completely…preferably while the head is still frozen. This finish will ensure that the stroke is executed fully and will provide pace with less "muscling" of the ball.
You can practice hitting put aways with your hitting partner. Have him or her get involved in a rally with you. Try to hit these rally shots at three quarter pace. After three or four exchanges over the net, the hitting partner should hit a short ball, or even a drop shot, without warning. When this occurs, you need to see if you can put the ball away. From some court positions, you probably can. From others, the best you can do is to scramble toward the ball and try to simple get it over the net. Practicing in this manner will go a long way toward improving the consistency of your put away.
If you have a video camera, then videotape yourself hitting put away shots while performing the drill mentioned in the paragraph above. Seeing yourself moving toward setting up and applying the appropriate pace will help you more fully understand the shot and better prepare you for when you use it during matches.
Learn to hit put aways with consistency, and I assure you that you will become a tennis overdog!



Turbo Tennis Archives:
1996 - 2002 | 2003 - Present
If you have not already signed up to receive our free e-mail newsletter Tennis Server INTERACTIVE, you can sign up here. You will receive notification each month of changes at the Tennis Server and news of new columns posted on our site.
This column is copyrighted by Ron Waite, all rights reserved. Questions and comments about these columns can be directed to Ron by using this form.
Ron Waite is a certified USPTR tennis instructor who took up the game of tennis at the age of 39. Frustrated with conventional tennis methods of instruction and the confusing data available on how to learn the game, Ron has sought to sift fact from fiction. In his seven years of tennis, Ron has received USTA sectional ranking four years, has successfully coached several NCAA Division III men's and women's tennis teams to post season competition, and has competed in USTA National singles tournaments. Ron has trained at a number of tennis academies and with many of the game's leading instructors.
In addition to his full-time work as a professor at Albertus Magnus College, Ron photographs ATP tour events for a variety of organizations and publications. The name of his column, TurboTennis, stems from his methods to decrease the amount of time it takes to learn and master the game of tennis.
---