The "Infamous" Backspin Serve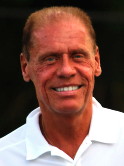 Ron Waite, USPTR
Less than a year ago, I had the misfortune of breaking the tip of my thumb on my dominant hand. Needless to say, this did not make my tennis game improve. However, I did happen to go back to a first serve which I had all but forgotten. One of my readers in searching the TurboTennis archives sent me an e-mail asking me to forward to him my description of the backspin serve. It then dawned on me that this serve my be a solution to my serving problems, while my thumb healed.
Well fortunately, my thumb has healed fine. Unless it is a rainy day, I can honestly say that I have no after affects of the fracture. However, I still use the backspin serve. Why? Well, my opponents tell me that they find it one of the most, if not the most, difficult serve to return. Having spent the summer perfecting it, I am quite confident in using it. As one of my team players put it: "Coach, I would rather have a Roddick 145 MPH serve than that backspin serve of yours." I figure this is a great endorsement, given the fact that this is my number one player and he has a great return of serve.
So, for the "holidaze," I am presenting to you my description of this serve in its most modern form. It takes a little while to learn it, and it defies most of the advice that coaches have provided students regarding serves in general. Still, it works!!! My number one player has learned it, and is using it with effectiveness, as I write this.
I stumbled upon this serve many years ago, when I was first learning the game of tennis. Like most players, I began to serve using a forehand grip. It seemed like the normal thing to do. Besides, when I used this grip, I could generate lots of pace…even though many of my serves hit the net. Little by little, I began to learn from my mistakes and develop the serve technique necessary to impart backspin on a first serve hit with pace.
The effect of the serve is devastating. The ball has lots of pace. It is difficult to read where you are intending on placing the serve. The backspin does one of two things, depending on the surface. It will either stay very low after bouncing on clay surfaces or gritty hard courts. On faster surfaces like grass or most indoor courts, the ball actually skips as it makes contact with the court surface.
Should I miss the first serve using this technique, I follow up with a high bouncing kick serve. Usually, these two extremes prevent the opponent from getting accustom to either serve. I have found that I am winning about 20 to 30 percent more points off of aces or ill-returned serves, since adopting this backspin serve.
With all this having been said, let's begin with how to start the service motion.
First, I would recommend that you open up your stance just a tad from what is your normal stance. It doesn't have to be a significant change. Just face the net a little more than you normally would.
Second, you need to use an eastern forehand grip. Now, I don't want to show pictures of this grip, because each player needs to adjust her/his grip slightly. Suffice it to say that this is not the semi-western grip that most players use today on their forehand groundstrokes. Instead, this is the "old school," traditional, "shake hands with the racquet grip." If you must see illustrations of grips to be clear, please refer to my previous column entitled "Picture Perfect" This article shows grips in close up and shows all the various stances as well.
Next, your toss needs to be adjusted from what is probably your normal toss. The toss for the backspin serve must be low and tossed in front of your body. When teaching this serve, I really have to force students to make a concerted effort regarding both of these toss aspects. On of the benefits of this backspin serve is that its toss lends itself to very windy conditions. The lower the toss, the less likely the wind will affect the toss.
Now comes the most unconventional part of the serve. Instead of hitting up on the ball, hit forward and down. I know. This goes against everything you have been taught by me and other teaching pros.
If you have tossed low enough and in front enough, the natural motion with the eastern forehand grip will be to hit the ball forward. Adding the downward motion as you make contact with the ball is what makes the serve have backspin.
Lastly, you must follow through on the serve by bringing your back foot forward. In fact, this back foot should land inside the baseline after making contact, if you are following through correctly. The ideal model is to look at pitchers in American baseball. They always are finishing with their bodies moving forward. Many times, these pitchers will land with their front foot almost off the sandy area of the pitching mound.
Now, you must be patient in learning this serve. Like most things in tennis, something clicks and the stroke becomes effective. In your early efforts, don't be surprised if you shank a few balls into another zip code. You certainly will find that many of your early service efforts will hit the net. Sometimes these net errors will hit quite low on the net. Do not be discouraged. Trust your mind and body to make the necessary adjustments.
In learning this serve, don't be timid. Take a good whack at the ball. This pace is necessary to make certain that the ball will travel over the net.
If you watch recreational players of badminton, you will see the downward motion of the service "at the moment of contact" with the "birdie." This is how most of us serve when we are first learning the game of tennis. It is later on that we are taught to use a continental or eastern backhand grip. We are also taught to hit up on the ball…not down.
Boris Becker was one of the few players that I have seen who used an eastern forehand grip for his serves…all of them!!! When I observed him playing in person, I realized why he was so effective on the grass at Wimbledon. His serves had lots of pace, but they frequently skip or would stay low due to the backspin. I am relatively certain that his opponents would remark that his placement of serve was an additional element in his success.
Once you have gained the basic technique of the backspin serve, your next goal should be placement. As is the case with any serve, the placement can be more important than the pace or spin. I have found that serving the backspin serve directly at the opponent pays great dividends in terms of "free points."
Unorthodox as this serve is, I promise you that it is more effective than you can imagine. Frankly, resurrecting this serve is a positive consequence of my broken thumb. Now, I use it as my first serve 90% of the time!!!
So, take the time this off-season (if you are north of the equator) to learn this serve. I assure you that it will go a long way toward helping you become a tennis overdog!!!
I wish you all the best this holiday season and hope that 2006 brings you much tennis happiness!



Turbo Tennis Archives:
1996 - 2002 | 2003 - Present
If you have not already signed up to receive our free e-mail newsletter Tennis Server INTERACTIVE, you can sign up here. You will receive notification each month of changes at the Tennis Server and news of new columns posted on our site.
This column is copyrighted by Ron Waite, all rights reserved. Questions and comments about these columns can be directed to Ron by using this form.
Ron Waite is a certified USPTR tennis instructor who took up the game of tennis at the age of 39. Frustrated with conventional tennis methods of instruction and the confusing data available on how to learn the game, Ron has sought to sift fact from fiction. In his seven years of tennis, Ron has received USTA sectional ranking four years, has successfully coached several NCAA Division III men's and women's tennis teams to post season competition, and has competed in USTA National singles tournaments. Ron has trained at a number of tennis academies and with many of the game's leading instructors.
In addition to his full-time work as a professor at Albertus Magnus College, Ron photographs ATP tour events for a variety of organizations and publications. The name of his column, TurboTennis, stems from his methods to decrease the amount of time it takes to learn and master the game of tennis.
---