The Truth About Doubles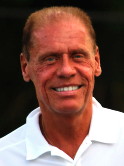 Ron Waite, USPTR
Here we are in February, and for those of us North of the Equator, the prospects of playing tennis outside loom around the corner. Many of us are beginning to think about playing this wonderful game once more. Some of us haven't stopped playing, despite the winter weather.
Regardless of which of these two categories you find yourself, there are some really good reasons to think about playing doubles…now, and throughout, the tennis "season."
On the professional level, doubles is part of this sport that has not enjoyed the best TV coverage or notoriety. In photographing professional tennis events (both WTA and ATP), it is amazing to see how vacant the seats may be during the doubles finals. From my point of view, it is truly tragic.
One of the pros for whom I have great respect is John McEnroe. I realize that he has been the controversial "bad boy" while playing on the tour, and is a brutally candid commentator on TV. However, love him or hate him, there is one thing for which you must give him credit. During his prime, John McEnroe was a number one singles player and a member of a top ranked doubles team. This was certainly no easy feat, but was in the tradition of the game. Look at the great Australian players who were coached by Harry Hopman. Doubles was every bit as important as singles.
Such is not the case, today. The leading doubles players on both tours are generally unknown to the average person. While we all know who Andre, Roger, Maria and Serena are…the doubles tour members are, for the most part, a group of "no names." Now, I mean no disrespect to any of these doubles specialists. When photographing the ATP Doubles Championship, the skill, talent and dedication of these players was certainly obvious. But, there was no Pete Sampras, Jim Courier, Andre Agassi, et al, competing in this event. The question one must ask is...why?
Well, I am sure that there are many reasons why this has become the case in professional tennis, and I am equally sure that I am not the best person to speculate upon why this horrific situation has occurred. The important thing to realize is that this deemphasis of doubles on the professional levels should not in any manner influence the reader's commitment to this half of the game.
This month's article is dedicated to revealing the truth about doubles. It is a truth that every player of this great game needs to consider as she/he determines her/his tennis path.
Some non-professional tennis players will suggest that doubles is a seniors only game. After all, you only have to run half as much, right? You can be out of shape and compete well in doubles. If you lose a match, you don't have only yourself to blame. From a recreational perspective, tennis involves more people. Therefore it is not really a competitive form of tennis. Rather, it is a source of fun exercise and social interaction.
Well, nothing could be farther from the truth!!! Any player who wants to develop his or her game to its fullest potential should and must play doubles. John McEnroe knew this, the great Australian players knew this, and you should know this, too.
Clearly, singles and doubles in the modern game are different entities. Singles has become a power-oriented, groundstroke dominated game. Tall players with big serves, fast feet and big strokes are the mainstay of modern singles play…professionally and in the scholastic/collegiate arenas. Singles players like Pete Sampras, who are complete in their skills, are hard to find these days. Certainly, Roger Federer deserves kudos in this area. But, does he compete on the doubles side of the game? Well, my guess is that, at some point, he played his fair share of doubles, and so should you.
While singles is a game of power, these days, doubles was and is a game of control. This word, control, is critical in understanding the truth about doubles.
By playing doubles on a regular basis, you will bring to your singles game an added level of control that will provide you with more options, and will facilitate more wins. You cannot play doubles, if you cannot control the ball well.
In doubles, placement is critical. Rallies occur, more often, at the net. Getting to the net requires a precise ability to serve, return serve and approach the net with great accuracy and ball control. Now, imagine that you could control placement, spin and power with greater control when playing singles. Would these elements help your singles game?
In doubles, you have a partner. Now, I realize that there are some who play doubles as if they had no partner. They simply believe that they are so good that their partner just needs to stay out of their way. If you have played doubles a lot, you probably have had such an obnoxious partner, at one time or another.
However, truly beautiful doubles (and it can be tremendously beautiful to play and to watch) requires a coordinated team. Remember when the "Woodies" were an active doubles team on the men's tour? They were wonderful to watch. They knew how to communicate with each other. They respected each other, and each assumed a leadership role during matches. When one made a mistake, the other was there to identify why it occurred, and to lift the confidence of the "offender." In this communication and coordination, a player can actually learn from his/her partner!
Doubles is like a game of chess. There are many strategies, many "moves" and still, some basics that must be respected. If you watch the great doubles teams, they have many different formations, different tactics, and different patterns of play. They need to be multi-dimensional if they are truly going to win a tournament.
To give you an idea of how doubles can actually involve these elements, I wrote an article some time back entitled "Variation in Your Doubles Formations." I encourage the reader to clink on the link to this article and see how formations in doubles can be created to handle different situations.
If you begin to "think" strategically in doubles, you are probably going to start thinking more strategically in singles. Players who simply hits balls without a lot of strategic thinking are what I call "Type A" players. They may be very gifted with weapons, but to get to the next level, some breadth and cerebral contemplation in matches must occur. If you are a "Type A" player, you will greatly benefit by beginning to think about "why" you are hitting a certain shot…"why" you are attacking an opponent's backhand…"why" you are hitting short angled shots, etc. In my mind, Andre Agassi moved from a Type A Player to a Type C Player (the complete tennis player) from the coaching of Brad Gilbert. Brad taught Andre to consider the options and to select the proper option more frequently. Type B players, to complete the triad, are those players who are always thinking on the court. They may not possess the best strokes or skills, but they win matches by their savvy wiles. When Type B players develop weapons, they, too, become Type C players.
My point is that doubles is particularly necessary for those singles players who simply like to hit their "shots." They do well until they face the opponent who knows the key(s) to minimizing their weapons. Then, panic sets in and this Type A player folds. Sometimes, she or he will simply tank. In part, pushers are Type B players. They can, often times, bring a big bashing player to his/her knees.
The basic strokes of doubles are the same as in singles. However, the volley and lob become much more likely to be in play. Doubles players who do not own these shots are generally not wanted partners. But, by playing doubles, you force yourself to acquire greater proficiency with each of these important shots.
Imagine you are playing a singles match. You are losing with your normal, groundstroke-oriented style of play. Wouldn't it be great to be able to shift gears into an effective serve/volley game? Playing doubles more often will bring this option into play, I assure you.
People believe that movement in doubles is non-existent. Well, that is simply not true. What may be true is that the typical movement in doubles is forward and backward, while in singles, a side-to-side movement may be more common.
In my mind, the great players, like a Rod Laver, Pete Sampras or Roger Federer and Martina were capable of moving in every direction on the court. It is my contention that this ability to move in all directions is a requisite, if one wants to reach her/his full potential. Doubles will certainly bring new motions to your game if you are the typical groundstroke player.
Lastly, we have the question of fitness. Well, I would argue that John McEnroe's career belies the myth that one doesn't need to be fit to play doubles. From what I have read, John used doubles like many players now use off-court training. Instead of running and extra workout sessions, John would play a doubles match. By playing both singles and doubles in a tournament, he would invariably be keeping himself in top shape without having to train off court. In many ways, I think he had it right.
Granted, you will see lots of senior players who are seemingly "doomed to doubles." However, if you look at the USTA competitions by age categories, you will find lots of players over 55 who are competing in singles, national tournaments. I assure you that the vast majority of these senior competitors are in great shape.
So, this leads us to the logical question: How do I play more doubles? Well fortunately, USTA Leagues are a great place to find doubles matches. Apart from these, most local clubs have doubles round robins, at some point in their year or season. If you are a collegiate player, you can according to NCAA rules compete in both singles and doubles. Your coach may not initially be in favor of it, especially if you are a highly skilled singles player, but it is worth pushing to be able to compete in both. Recreationally, doubles "pickup matches" usually are not too hard to find. Go to the courts looking to play doubles, and you will probably find yourself with a partner and an opposing team.
You see the truth about doubles is that it is an important part of the game of tennis. It is different in some ways, yes. But, vive le difference! I hope that tennis returns to the days of Harry Hopman. In his time, singles and doubles were equally important. They should be today!
Well, whether the tours find a way of bringing doubles back into viewing popularity or not, you should consider doubles as an important component in your tennis life.
I promise you that playing doubles will help make you become a true tennis overdog!!!



Turbo Tennis Archives:
1996 - 2002 | 2003 - Present
If you have not already signed up to receive our free e-mail newsletter Tennis Server INTERACTIVE, you can sign up here. You will receive notification each month of changes at the Tennis Server and news of new columns posted on our site.
This column is copyrighted by Ron Waite, all rights reserved. Questions and comments about these columns can be directed to Ron by using this form.
Ron Waite is a certified USPTR tennis instructor who took up the game of tennis at the age of 39. Frustrated with conventional tennis methods of instruction and the confusing data available on how to learn the game, Ron has sought to sift fact from fiction. In his seven years of tennis, Ron has received USTA sectional ranking four years, has successfully coached several NCAA Division III men's and women's tennis teams to post season competition, and has competed in USTA National singles tournaments. Ron has trained at a number of tennis academies and with many of the game's leading instructors.
In addition to his full-time work as a professor at Albertus Magnus College, Ron photographs ATP tour events for a variety of organizations and publications. The name of his column, TurboTennis, stems from his methods to decrease the amount of time it takes to learn and master the game of tennis.
---