Inside-Out Tennis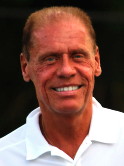 Ron Waite, USPTR
If you are typical of the modern player, you are likely to use your forehand groundstroke as your primary weapon. There is no denying that racquet technology and hard court surfaces have made the groundstroke game the basis of modern tennis.
Certainly, there are those pros who are true serve/volley competitors. Tim Henman is one of this breed. But, they tend to be the exception not the norm on both tours. If one takes a look a junior tennis, players with big groundstrokes far out number the serve/volley players.
Huge forehands are the trademark of those players who have come out of the Florida tennis academies. Starting with players like Jimmy Arias, the modern game in America has evolved into big, bashing forehands.
If you have been watching Roland Garros, you will see that the dirt negates some of the power associated with the groundstrokes. At Wimbledon, you will see that groundstrokes are almost non-existent. Grass really does not allow for the time that is necessary for the groundstoke-oriented player to setup.
However, the vast majority of tennis played professionally and recreationally (at least in the United States) is played on outdoor hardcourts. It is this surface that really lends itself to the big groundstroke game.
If you were to survey tennis players at all levels of the game, you would find that about 80% identify that their forehand is the better wing. In fact, some players really do not own a decent backhand.
Well, this month's column is dedicated to those players who like to crush the ball on the forehand wing. The archetype for this approach to play was Jim Courier.
If you watch his Australian Open and French Open victories, you will see that he often times would run around his backhand. This is not suggesting that he had a poor backhand. Rather, he had a crushing forehand. This was a weapon for Courier…and Jose Higueras taught him how to take full advantage of this threat.
To hit as Jim Courier did during his prime, you will need to be able to hit the inside-out, forehand groundstroke. You will find yourself camping out in the ad side of your court hitting most of your shots to the opponent's backhand wing.
I am assuming that you are right handed, and that your opponent is also right handed. Only 1 out 7 people is left handed. So the odds are pretty good that you and your opponent are both righties.
However, do not use this approach or strategy against a left handed opponent, unless you, too, are left handed. The idea of this strategy is to hit your weapon (the forehand groundstroke) to the opponent's weaker wing (the backhand groundstroke).
Sometimes, you will find an opponent who actually has a better backhand than forehand. If this is the case, you should avoid this strategy and approach. Otherwise, you will be hitting into your opponent's strength.
Below is a diagram that illustrates the normal rally that would be associated with inside-out tennis.
Player X is you. You are camped out in the ad side of your court hitting crosscourt to opponent Y's backhand wing. The wider you can go with your groundstrokes the better. However, even a rally that follows the line that is evident in the diagram pits your strength against the opponent's weakness. The odds of you winning the point (even on slow, clay surfaces) are significantly in your favor.
Many times, players will naturally run around their backhand in order to hit a forehand. The inside-out strategy is an attacking approach to the game that is based upon the desire to hit your forehand.
Many times, the opponent will simply mishit a backhand in these inside-out rallies. Other times, the opponent may be unable to handle the pace of your shot well. She/he will almost certainly hit a short ball if your pace is greater than her/his backhand can handle. If the opponent hits short, you are in perfect position to hit a put away with your forehand. If the opponent's reply is really short, you need only step in and put away the volley for a winner.
In the following diagram, you can see that X is hitting at a severe crosscourt angle. This type of shot forces the opponent to be pulled way out of court. His/her options are really limited to hitting down the line or hitting a drop shot. In either case, you are capable of getting to the ball and hitting a winning reply.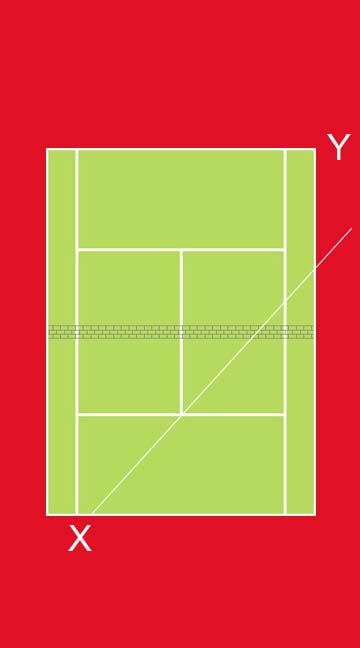 When I am playing inside-out tennis, I try to make each of my shots move the opponent farther and farther out of the court. Eventually, I can hit a groundstroke down the line for a winner. If the opponent drop shots me, I will move in and hit a deep shot crosscourt to his deuce corner.
In the following diagram, my opponent Y is drawn way out of court. He makes the mistake of hitting his reply back to me. My response is to hit my shot down the line. This is not an uncommon scenario, if you are patient and keep moving your opponent out farther with each groundstroke you hit.
The important thing is to be patient! Wait for your opponent to be out of court when you go for the down the line winner.
Sometimes when you are employing this strategy, the opponent will be pulled out wide and attempt to hit a down the line winner, himself/herself. This is not a wise decision.
First, the opponent will need to clear the highest part of the net…the part nearest the net posts. The net is 6 inches higher here than in its center. Second, there is really very little distance from the opponent to your baseline. This makes the margin for error much less desirable. It never ceases to amaze me how often an opponent will go for a big backhand winner down the line from a position outside the court. Usually, the ball hits the net or lands deep.
In the following diagram, we see what can happen when opponent Y does go down the line successfully from an "outside" position. It is very easy for player X to get to this shot and to put it cross court for a winner.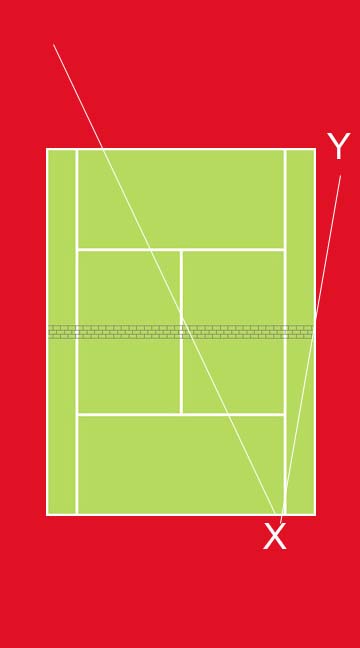 You definitely do not want to go for the down the line shot, unless your opponent has been pulled wide out of court. The following diagram shows what is likely to happen, if the opponent can get to your down the line shot. Invariably, he/she will hit crosscourt and deep. Now, it is you who is scrambling for the ball and is not likely to make a solid reply.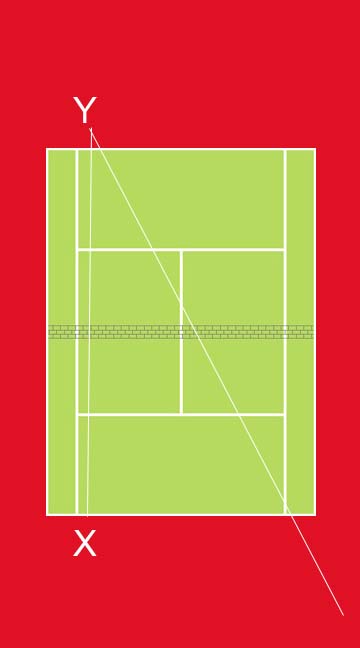 Sometimes, your opponent will try to put you on the defensive by hitting groundstrokes that draw you out of the court. Obviously, this is not what you are hoping will be the case. However sometimes, your opponent will be able to hit severe angles off her/his backhand wing. If this should happen, the goal is to try and keep the rally going. Do not attempt the down the line shot. It is just too risky.
In this diagram, we see the way in which these sharp angled rallies should unfold, if your opponent can generate the severe angle.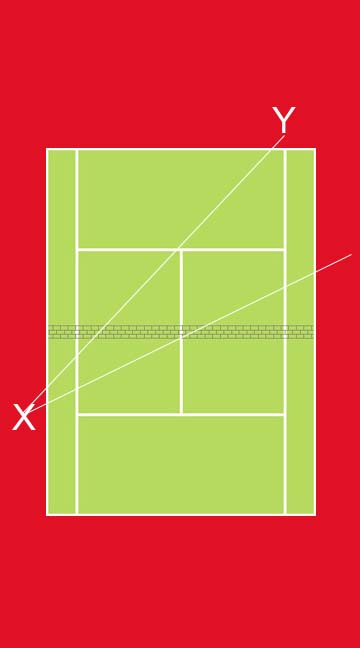 Given the fact that this strategy encourages you to hit the ball back to your opponent, it is not surprising to see practitioners of this style of play who, when pulled wide, continue to hit at the opponent. The problem with this is that invariably the opponent will be able to hit a winner down the line.
The following diagram illustrates this problematic situation.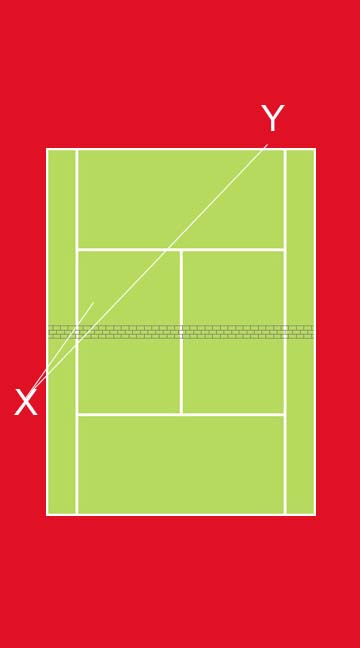 You can see that opponent Y has a clear path to a down the line winner.
Big forehand tennis is a common phenomenon, these days. Increasingly, on both the Men's and Women's tours, I see players who literally can rip the cover off the ball with their forehand groundies. Among junior, high school and collegiate tennis players, this big forehand presence is a norm…not an exception.
Obviously to be a winner on all surfaces, a player needs to be complete with respect to strokes and strategies. However, on medium speed hardcourts, and even on clay courts, inside-out tennis can be a most successful tactical approach.
If you have a powerful forehand, I assure you that inside-out tennis will make you a tennis overdog!



Turbo Tennis Archives:
1996 - 2002 | 2003 - Present
If you have not already signed up to receive our free e-mail newsletter Tennis Server INTERACTIVE, you can sign up here. You will receive notification each month of changes at the Tennis Server and news of new columns posted on our site.
This column is copyrighted by Ron Waite, all rights reserved. Questions and comments about these columns can be directed to Ron by using this form.
Ron Waite is a certified USPTR tennis instructor who took up the game of tennis at the age of 39. Frustrated with conventional tennis methods of instruction and the confusing data available on how to learn the game, Ron has sought to sift fact from fiction. In his seven years of tennis, Ron has received USTA sectional ranking four years, has successfully coached several NCAA Division III men's and women's tennis teams to post season competition, and has competed in USTA National singles tournaments. Ron has trained at a number of tennis academies and with many of the game's leading instructors.
In addition to his full-time work as a professor at Albertus Magnus College, Ron photographs ATP tour events for a variety of organizations and publications. The name of his column, TurboTennis, stems from his methods to decrease the amount of time it takes to learn and master the game of tennis.
---