Wide is Snide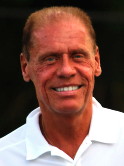 Ron Waite, USPTR
As we end the calendar year, I hope that each of you have had a healthy and enjoyable tennis experience. The Holiday Season is upon us, and regardless of your religious beliefs (or absence there of), I wish you all the best at this time of year.
As my last article for 2006, I thought that I would share what I believe to be one of the most simple, yet under-used tactical approaches in this wonderful game of ours. It occurs to me that it is important that I follow the guideline of K.I.S.S. (Keep It Simple, Stupid) as I know that I can become a bit too wordy in this column.
Despite the horrible rhyme that appears in the title of this month's column, the idea of playing a wide-oriented game of tennis is, in fact, a desirable and somewhat snide way of playing.
In the modern game of tennis, as I observe it, we are all too often playing a simple groundstroke game that is based on power and consistency. Now, don't get me wrong. There are reasons why this basic strategic approach to the game works with pros and others. Racquets are more maneuverable and powerful than ever before. Most of the surfaces upon which players find themselves competing are hard courts. Even the average size and power of the typical player has increased over the last decade. All of this translates into big serves, big groundstrokes and powerful play.
Yes, there is still a place for the serve/volley player and for the finesse-oriented, thinking player. This is particularly true on the recreational level and in the under rated game of doubles. But, let's face it. Our game, on both tours, has some big hitters who simply smash balls from "coast to coast" moving their opponents from sideline to sideline. I am fairly confident that Rod Laver, Chris Evert and Roy Emerson would agree that the game has changed.
Fortunately, there are those players on both tours who can do it all. As an archetype, one has to put forth Roger Federer. Truly, he is an amazingly gifted player. He has so many ways to hurt you. I spend hours watching tapes of his matches to see (and hopefully learn) from his genius.
This month, I want to present a component that I see in Roger's game that we all can emulate to a greater or lesser degree. Simply put, we need to see outside the box and look at the court horizontally… not vertically. We need to think and hit with "wide" in mind.
Let's begin our discussion with the serve. More often than not, we mortal players will put the first and second serve to the backhand side and/or center of the service box (presuming a right handed opponent). This is not wrong, and in fact, it is probably the percentage approach 80% of the time.
But when I am playing someone with a full western or semi-western forehand grip, I am not at all hesitant to serve to the forehand wing. The key is to force the serve out wide on the deuce court. This forces the opponent to run and probably stretch. You can't hit a great return of serve with these grips if you are stretched. When using these grips the racquet face closes when the arm is fully extended. The result is usually a ball that hits the net or is returned short.
To achieve this result, I usually move a little more to the right of the hash mark than I normally would (I am right handed). I have learned to hit a slice serve that has little pace that bounces almost on the sideline of the service box. I literally practice this serve using an empty tennis ball can as a target. To illustrate what I mean, I offer the following diagram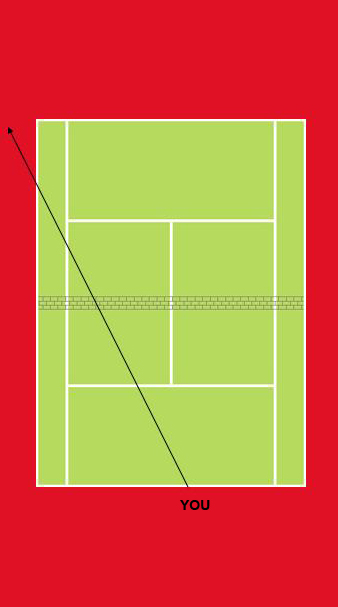 Usually, I do not begin my matches with this serve. I take the traditional approach and put my first serve at the opponent with pace, and my second serve to the backhand wing using a kick serve. No surprises with these. But once I have my serve established, I will begin to use this wide, slice serve on the deuce court if my opponent is right handed and has either the western or semi-western grip. Almost without fail, I am assured a few "cheap" points.
If the player is aware and heady, they will start to setup for return moving a little to their right… to be able to get to the wide serve. If I am successful with the wide serve several times, it almost always results in this shift of position. Now, I will still hit the first serve wide for a bit, but I usually follow it into the net when I see this shift in my opponent's return position. Why? Well, they are likely to return a bit better. If my opponent tries to return down the line, they increases their likelihood of hitting the net. If they go crosscourt with the return, I am ready to hit a winning volley.
If the opponent wins two points with a down the line return off of my wide, slice serve, I will begin to hit my first serve down the T to their backhand side. If I hit this with a little less than full pace, I am very likely to hit or nearly hit the center service line. Generally, the shift in my opponent's position prevents them from being able to hit a great return.
Now, I am in the driver's seat with my first serve. I will mix it up as much as is possible, hitting wide, center and down the T in a random pattern. If I am successful, I have my opponent thinking…this is always a plus for me and a negative for my opponent.
Although I will hit about 90% of my second serves to the right handed opponent's backhand side in the deuce court, every so often, I will hit the wide, slice serve as my second serve. Without fail, the opponent is rarely expecting this second serve to go wide. I can literally hit the wide slice serve at half pace and get an ace…and have on many occasions.
Looking to the ad court, serving wide can be a great asset on the first serve. Lefties have a great edge on this side of the court. Their lefty, slice serve that is directed wide can be devastating to the player not accustomed to playing these "sinister" players. But righties can benefit, as well. When I want to hit the really wide serve to the ad court, I literally move to my left (I am right handed). In fact, I am probably serving from where I would normally be serving doubles. Despite this obvious shift in position, you would be amazed at how many opponents do not notice my repositioning. This wide serve to the ad court is usually delivered as a kick serve. My repositioning gives me a little more angle than I normally would be able to achieve.
Two handed players who are right handed generally do not like this serve. The one handed, backhand player may be able to hit a decent slice return. So, I am judicious in hitting this wide serve to them.
To illustrate this concept, I offer the following diagram.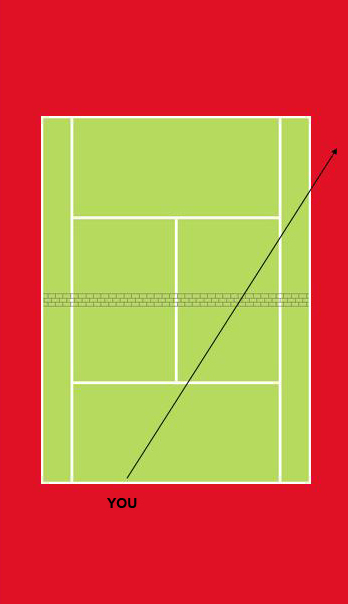 Again, I spend time practicing this serve using a target. However, if you play doubles, it is natural to practice this serve. Thus, we have another reason for playing doubles.
Moving to groundstrokes, I must say that many players on the recreational level have a difficult time putting away short balls. When running forward, the natural inclination seems to be to hit the ball hard and deep to a corner. If you really aren't sharp on a given day, you are likely to hit deep, wide, or even into the net.
As I age, I find the quick feet are slowing down faster than I would like to admit. Now, Roger Federer is quick and literally glides around the court. His footwork is impeccable. But, Roger is not a one-trick pony. Sometimes when he is moving to put away a ball, he will hit a sharp angled shot that has comparatively little pace.
I have adopted this technique into my game with great success. I find that it is almost never anticipated by my opponent…even when I have done it several times in a set or match! In my mind, it is much easier and safer than the powerful put away shot. To illustrate what I mean, I will give you two diagrams that show my hitting angle in the short court.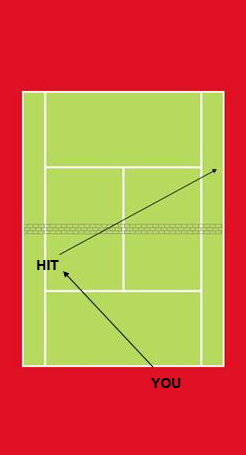 I am a two handed, backhand player (right handed). But, I hit this with one hand slice and little pace.
Since I am right handed, I will hit this shot using a light, rolling topspin.
Next, we should touch upon volleys. Now, many modern players are weak with respect to this stroke. But, if you can volley at all, I have found that angled volleys are the easiest to hit. Trying to hit a deep, powerful volley looks great, but is harder to execute with consistency in my mind.
Generally, players practice their volleys from the center of their court…not good!!! In real match play, most volleys should be hit off center to the left or right. If you are in this off centered position, angled volleys become much easier to hit.
Once again, I show you two diagrams that will hopefully illustrate the proper positions to hit volleys and the angles that are easiest to execute. Just remember to block the ball in these volleys. Pace is not needed and can often times ruin a perfect execution.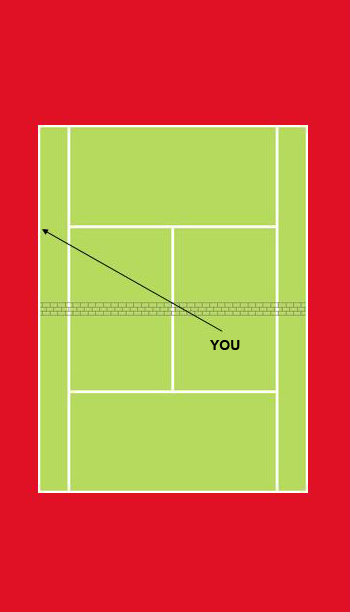 If you play tournament tennis, you are invariably going to run across the player who executes the wide game of tennis that I have described above. So, the logical question is, "How do I defend against it?" Well, it is easier said than done because it truly is an effective approach to the game.
First, make certain that you practice returning wide serves. It is rare that we spend enough time practicing our returns. Have your hitting partner stand whereever she/he needs to be to effect the wide serves.
But in a rally, the "wide"player will force you outside the sidelines unless you anticipate the wide shot. Even if you do anticipate the wide shot, what you do with your reply is important.
The diagrams below show two typical situations.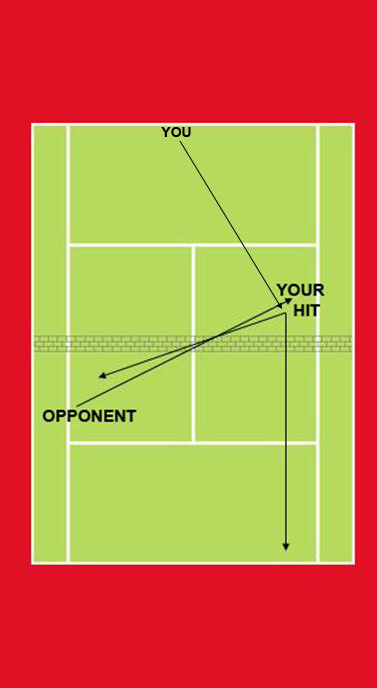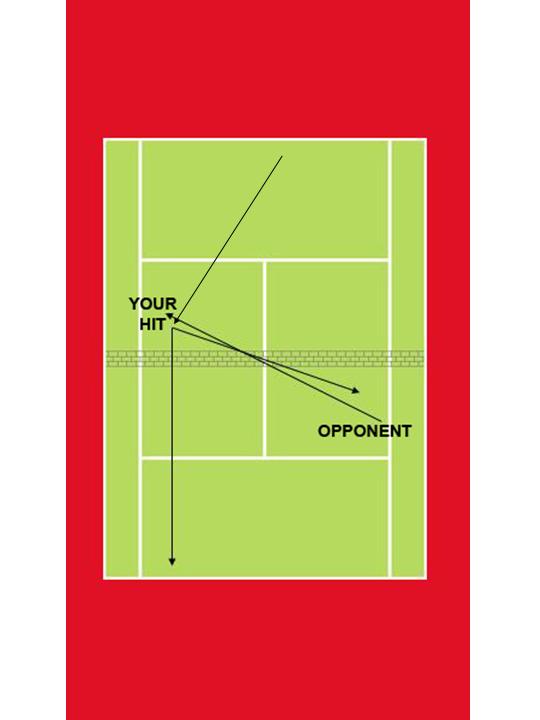 In each of these above diagrams, you are moving forward to intercept the wide ball hit by your opponent. Assuming that you are successful and can get to the ball before it can move you outside the sidelines, you have two options: hit your reply down the line, or hit your reply back at the opponent.
It has been my experience that the latter is a far better choice. Why? Well, if you hit down the line (the more tempting of the two) you have to clear the highest part of the net…while on the run. The extra six inches can result in a netted shot, or in your effort to clear the net, you often times will hit long.
Hitting a ball back at the opponent means you are hitting over the lowest portion of the net. Second, you don't have to hit your shot with any pace. If you need to stretch to make the shot (this is my fate as I age and become slower of foot), you are more likely to be able to execute a decent shot. In addition, your opponent is probably not expecting you to hit back at her/him. In fact, she/he is probably moving toward the center of the court to cover your down the line reply. If this is so, you will hit behind your opponent…always a great tactic.
Finally, if your opponent does not move when you hit back at him/her, he/she will have to either hit at you or go down the line (actually the going into the center court is not a viable option in that you can cover that response with a volley). If he/she goes down the line the higher part of the net is now the opponent's obstacle.
Having already wished you the best for this Holiday Season, I will end with this:
Those of you who learn to play the wide game of tennis will become snide tennis overdogs!



Turbo Tennis Archives:
1996 - 2002 | 2003 - Present
If you have not already signed up to receive our free e-mail newsletter Tennis Server INTERACTIVE, you can sign up here. You will receive notification each month of changes at the Tennis Server and news of new columns posted on our site.
This column is copyrighted by Ron Waite, all rights reserved. Questions and comments about these columns can be directed to Ron by using this form.
Ron Waite is a certified USPTR tennis instructor who took up the game of tennis at the age of 39. Frustrated with conventional tennis methods of instruction and the confusing data available on how to learn the game, Ron has sought to sift fact from fiction. In his seven years of tennis, Ron has received USTA sectional ranking four years, has successfully coached several NCAA Division III men's and women's tennis teams to post season competition, and has competed in USTA National singles tournaments. Ron has trained at a number of tennis academies and with many of the game's leading instructors.
In addition to his full-time work as a professor at Albertus Magnus College, Ron photographs ATP tour events for a variety of organizations and publications. The name of his column, TurboTennis, stems from his methods to decrease the amount of time it takes to learn and master the game of tennis.
---