Finish What You Start!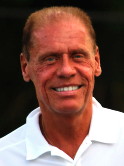 Ron Waite, USPTR

Over the years, I have had the opportunity to visit many of the more prestigious tennis academies. These schools will have many young players seeking to raise their games to the pro level. Most will not make this goal, but they may find a path to a college scholarship. These academies are not inexpensive. So, the instruction needs to be very good!

Most players on both tours are groundstoke oriented in their game approach. The days of serve/volley players are not gone, but the ranks have thinned. So it is not surprising that the aforementioned academies spend much time on teaching solid groundstrokes, and helping to develop solid first and second serves. After all, these are the strokes most likely to be evident in the modern form of our wonderful game.

At all the academies that I have visited, there is one common denominator when it comes to stroke production: Finish each stroke fully, properly and consistently!

The emphasis upon the "finish" of each stroke is well founded in my opinion. We all have idiosyncrasies in our strokes. It is safe to say that, within reason, there is no single, correct way to hit each stroke. Each stroke begins with a grip. This grip will dictate much of what is needed to strike the ball effectively. Grip determines what stance is ideal, where the contact point is best made, and what stroke follow through (finish) is best.

The modern game encourages a shorter "backswing" on groundstrokes, and the Roddick-like serve is becoming more of a norm. (Andy does not really go through the traditional, drop racquet and create a circle motion.) Still, there are many players who take very long backswings and have the traditional service motion on both tours.

Given all of this, my column this month will address the appropriate or "ideal" finishes for the common groundstrokes and serves in the modern game.

I am not addressing volleys, in that, a really good volley is more of a blocking or "jabbing" (often referred to as punching) motion. Good volleys have little, if any, backswing, and they do not have much, if any, of a follow through to their finish. Indeed, Oscar Wegner (author of Play Better Tennis in Two Hours) shared with me some time back his insight about John McEnroe's superb volleys.

If you watch John hit a volley, he seems to bring the racquet back towards his body immediately after making impact with the ball. If you are a groundstroke-oriented player who has difficulty with her/his volleys, I strongly recommend that you practice this technique. It does work, and proves the theory that a follow through on volleys is not really necessary.



This said, I will begin our discussion with forehand groundstrokes. In the modern game, there are two grips which are most commonly used for forehand groundstrokes: The semi-western grip and the full western grip.

(If you are confused about how I label grips, contact points and stances; refer to my previous column entitled The Grip: Picture Perfect. There are photos in this column that will help you determine what grip you are using, etc. In addition, I have an archived column entitled, Synchronized Strokes which explores the interdependence of grip, stance and contact point. This latter column has a link to a video I made that will give you quick and simple ways to get a particular grip.)

The eastern forehand grip (traditionally referred to as the "shake hands with the racquet grip" is still used by some pros. But, it is really a passe grip in the modern game. I do not recommend using this grip for forehand strokes. If it is your normal grip, I would suggest trying to change to the semi-western grip.

It is my belief that the semi-western grip is the ideal grip for forehands. It allows for easy generation of topspin, permits power and still can allow for grip changes necessary for backhands and volleys that are not so difficult to achieve. Many clay court players use the full western grip, which given the high bouncing balls produced on this surface makes perfect sense. However, changing grips to a backhand grip may be a bit time consuming and awkward. Either of these grips is well suited to the modern game. The full western grip is a bit severe in my opinion, but there are plenty of pros on both tours that use it.

Let's start with the proper finish for the semi-western forehand.

Using this grip, the ideal finish is where the racquet is brought upward and finishes over your non-dominant hand's shoulder. Below are some images from last year's Pilot Pen tournament that illustrate this semi-western's ideal finish.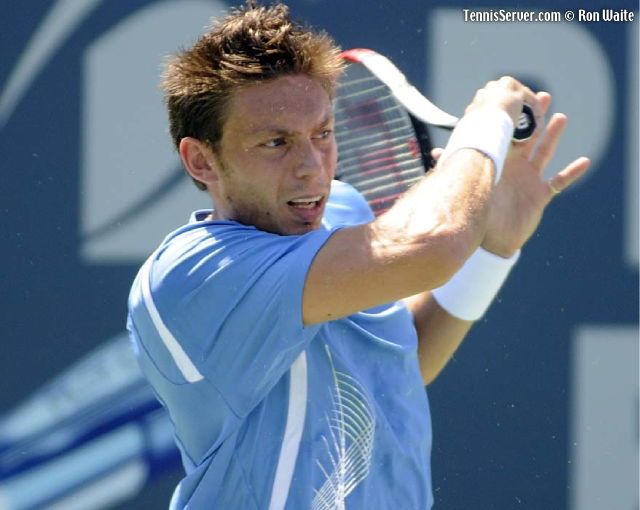 Nicholas Mahut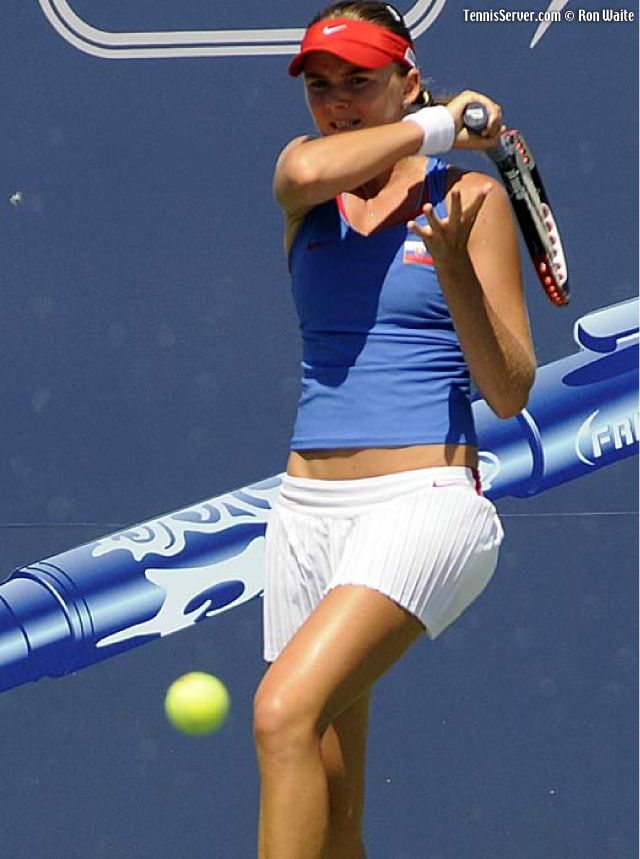 Daniela Hantuchova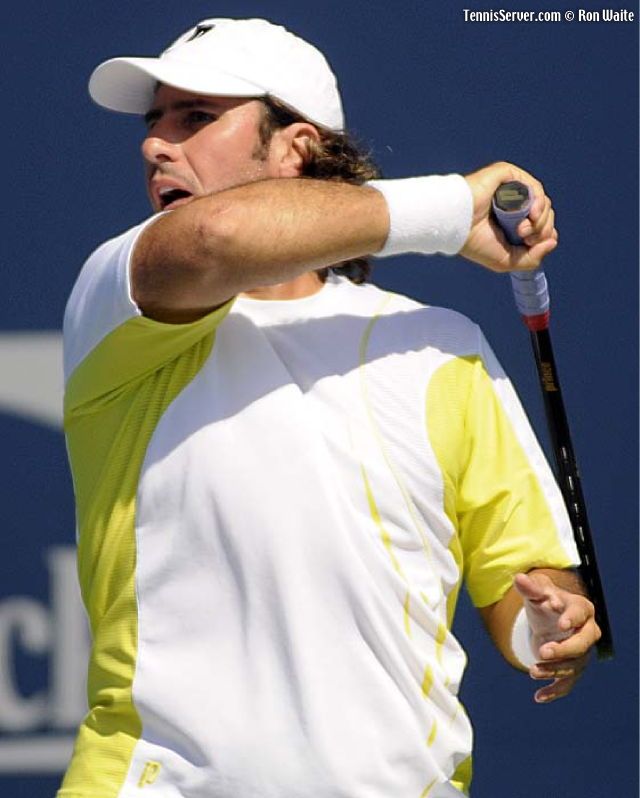 Vince Spadea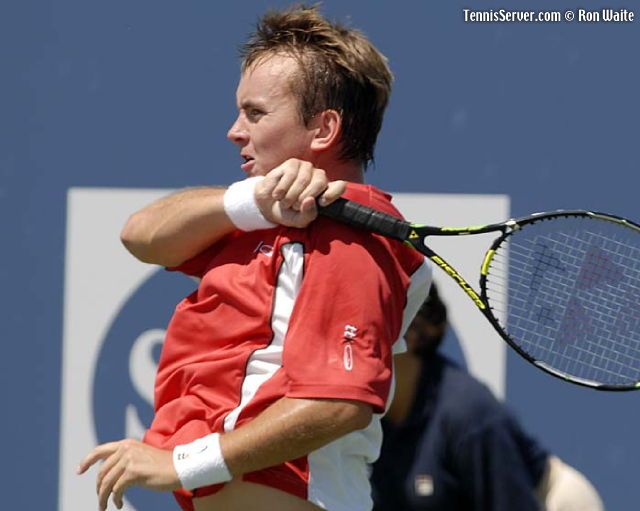 Ivo Minar



If you look at these finishes, the racquet head is usually above and always behind the shoulder. If you use a semi-western grip, this is the ideal finish for a drive that is hit with pace and some topspin. If you use the full western grip, this finish is not really ideal, but is probably what is needed if you are attempting to hit your forehand flatter (less spin).

Increasingly, you will see more players on both tours that use what I call a windshield wiper finish for their forehand groundstrokes. This finish is really the ideal finish for the full western grip, but is useful for the semi-western grip when the player wants to impart more topspin.

In this follow through, the racquet head always finishes below the shoulder and somewhat in front of the body. To achieve this, a circular, windshield wiper-like motion is necessary. Here are some pics to illustrate this finish.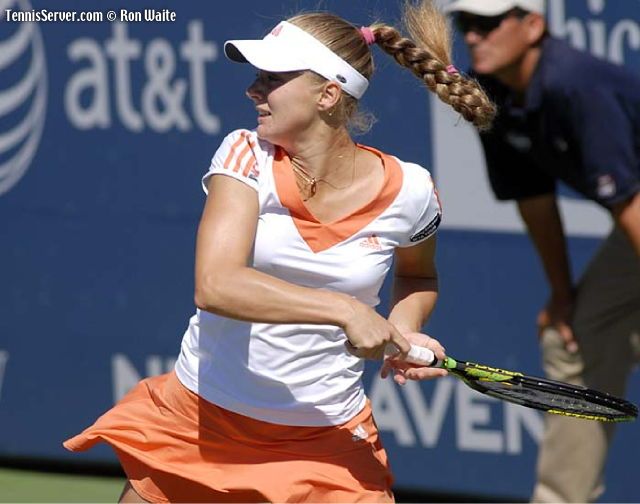 Anna Chakvetadze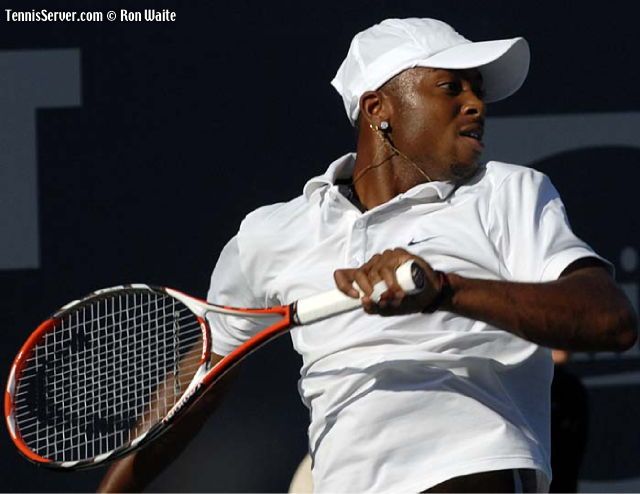 Donald Young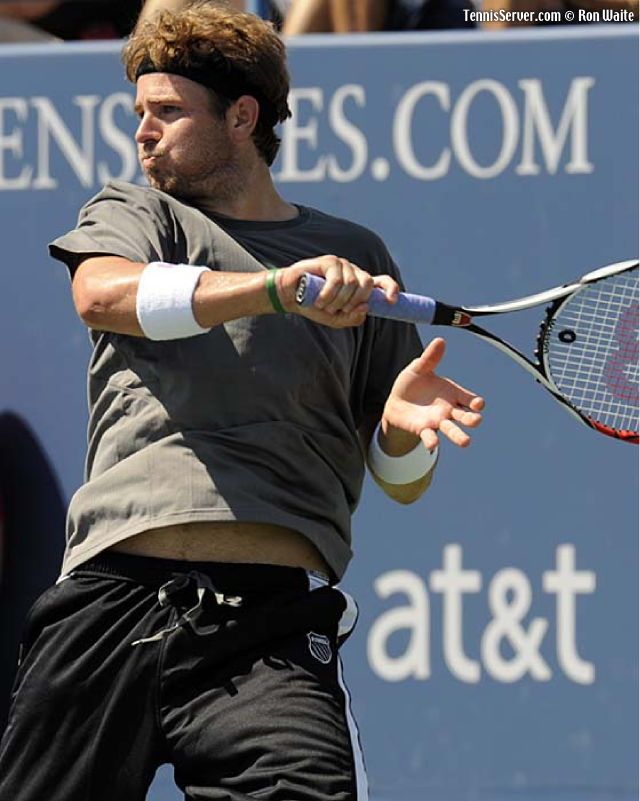 Mardy Fish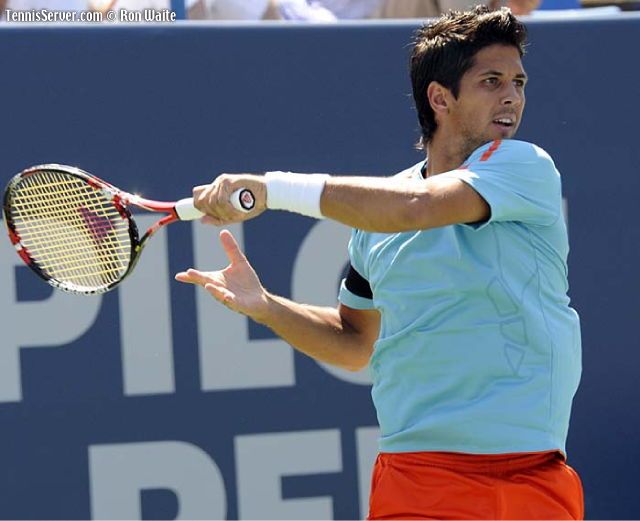 Fernando Verdasco



Either of these two finishes is fine, and will often be seen on both tours. Of course, there are times when one needs to scramble and stretch to simply put the racquet face on the ball when hitting a forehand. These emergency situations require a "squash shot" forehand, which is really a forehand slice. With these shots, one rarely can control the finish of the forehand stroke. Indeed to hit this forehand slice, you will probably need to switch to either a continental or eastern forehand grip. In either case the motion of the stroke is downward. Thus the finish is always low. Here are some illustrations of the forehand slice.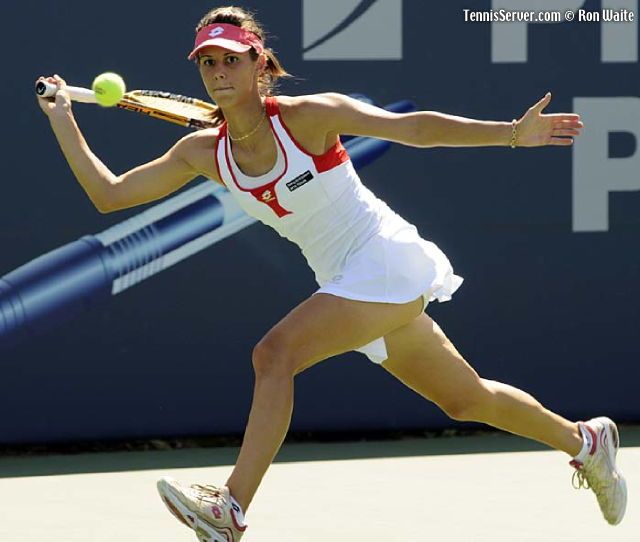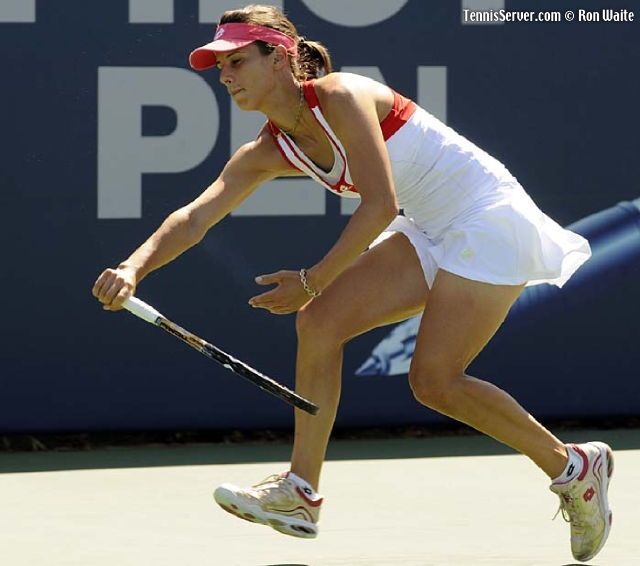 Tsvetana Prionkova



Another situation that may present itself when hitting a forehand occurs when trying to hit a topspin lob and/or impart lots of topspin to a forehand drive. In these situations, the racquet will always finish above the head, but sometime on the dominant hand's side of the body. The pictures that follow show this finish.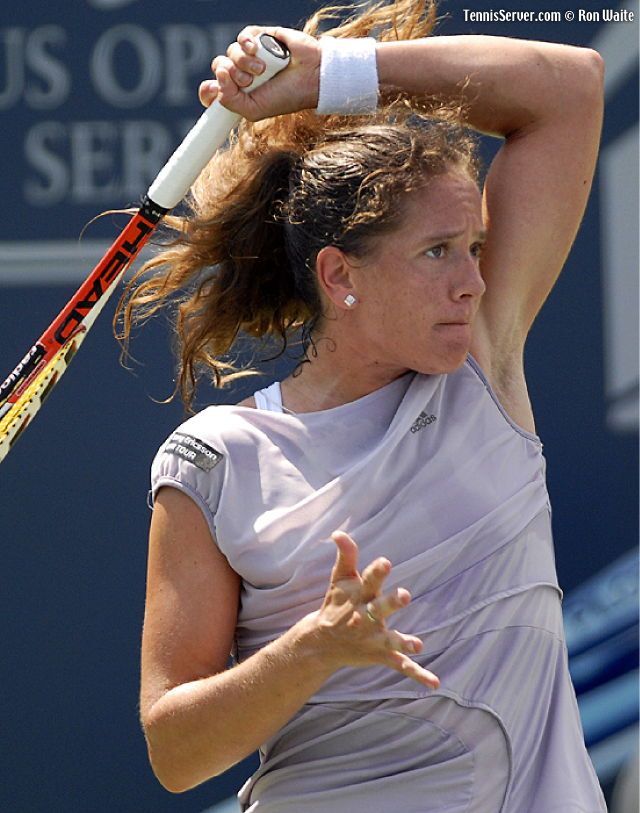 Patty Schnyder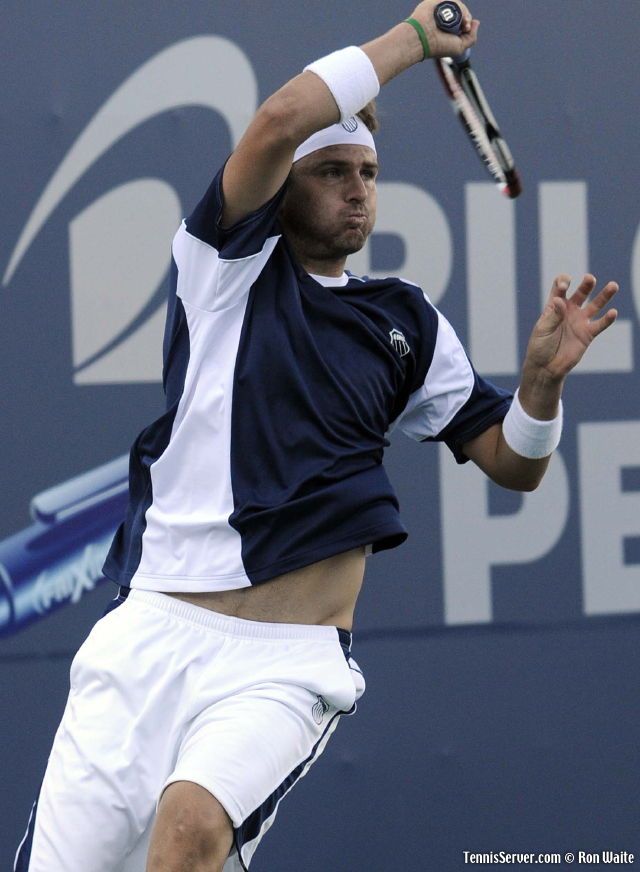 Mardy Fish



The two handed backhand is seemingly the most common backhand used in the modern game. Regardless of how one grips the racquet, there is one common finish for the two handed shot. The player should imagine that he/she is throwing a "sack of potatoes" over his/her shoulder. If you imagine this, you will automatically arrive at the ideal finish. The racquet head is always above and behind the dominant hand's shoulder. Here are some images of proper two handed finishes.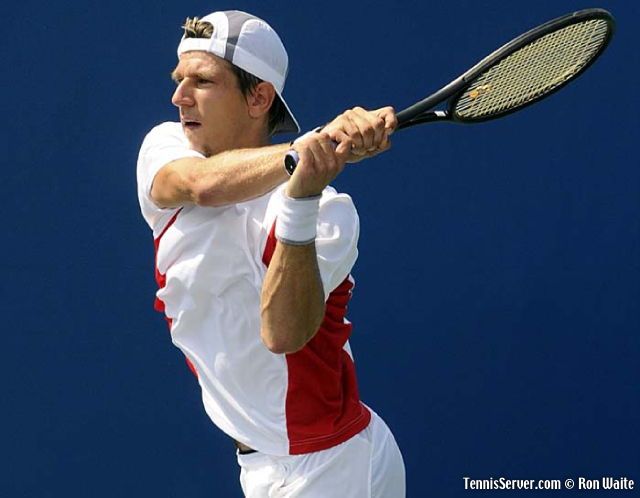 Jurgen Melzer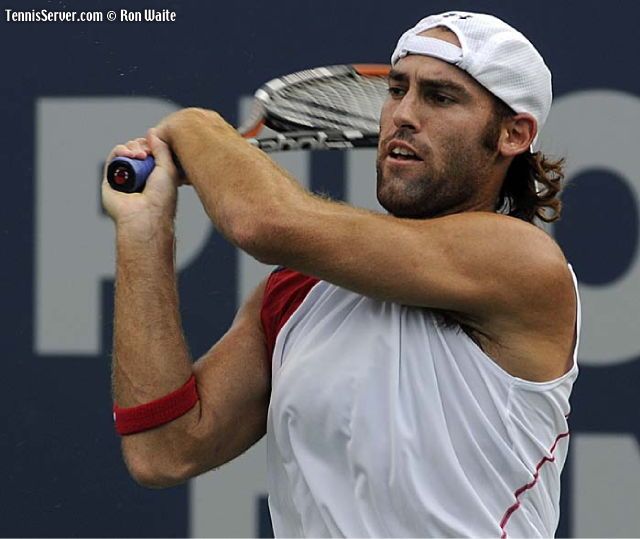 Robbie Ginepri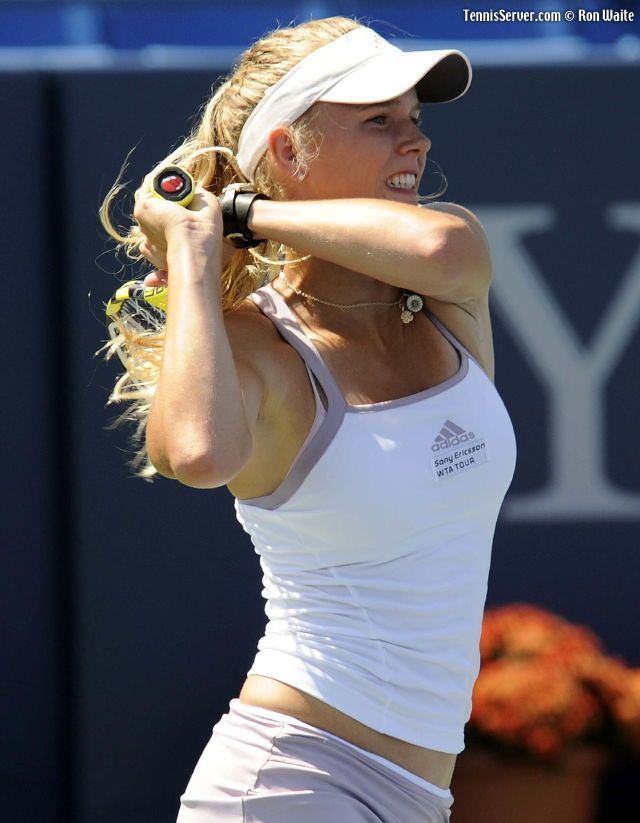 Aleksandra Wozniak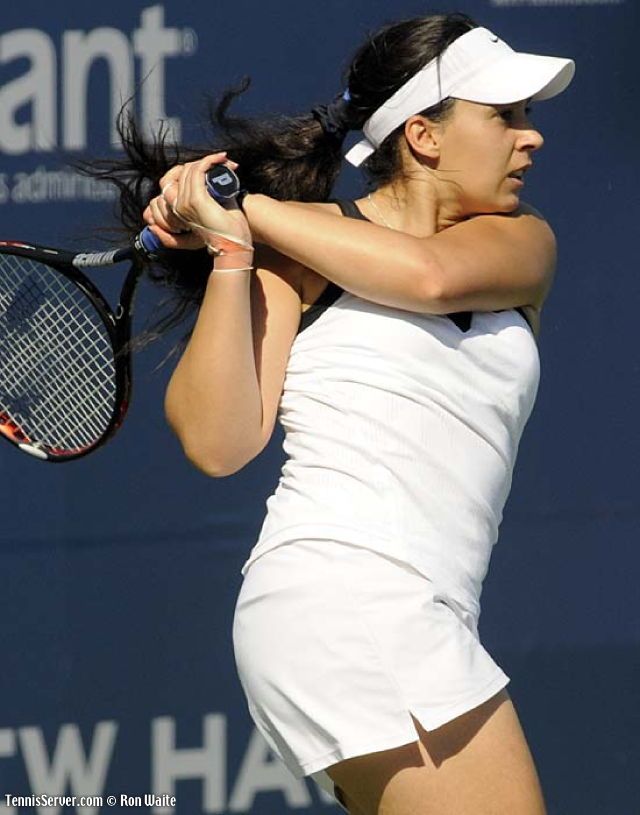 Marion Bartoli



When hitting a one handed backhand, you are either hitting a drive or a sliced shot. Each of these has a different finish. The one hand, backhand drive requires a finish where the racquet head is above her/his head and in front of her/his body or away from the body in the direction of the net). Let's look at some one handed, backhand drive finishes.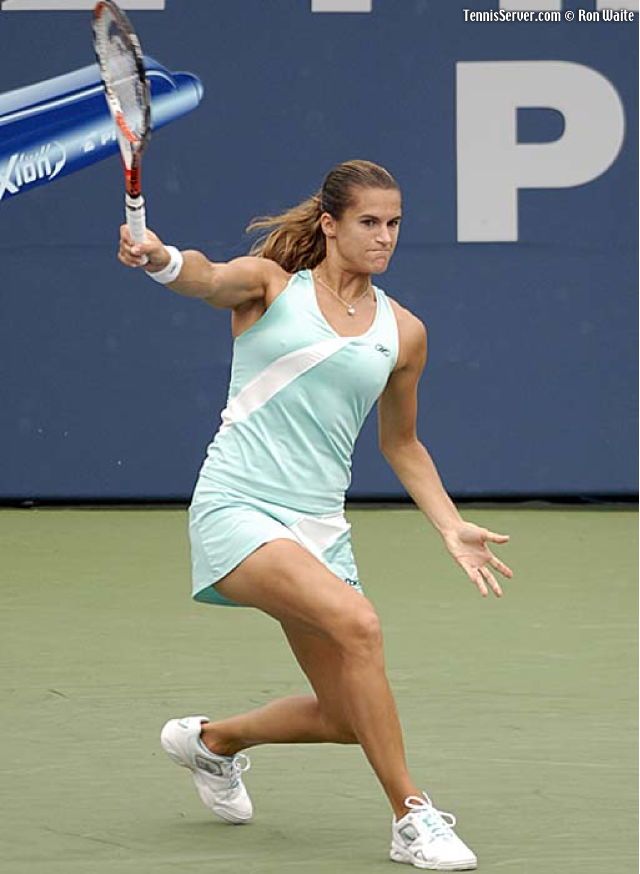 Amelie Mauresmo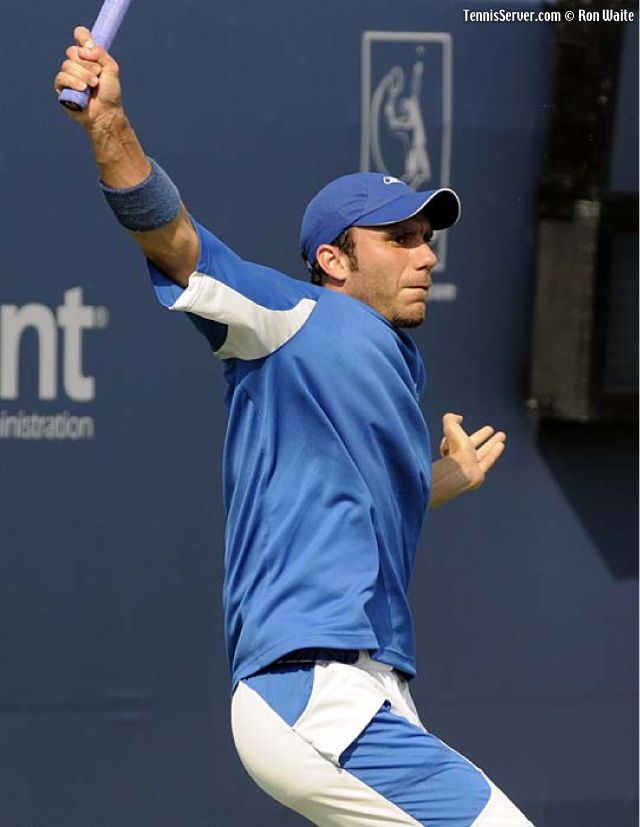 Luis Horna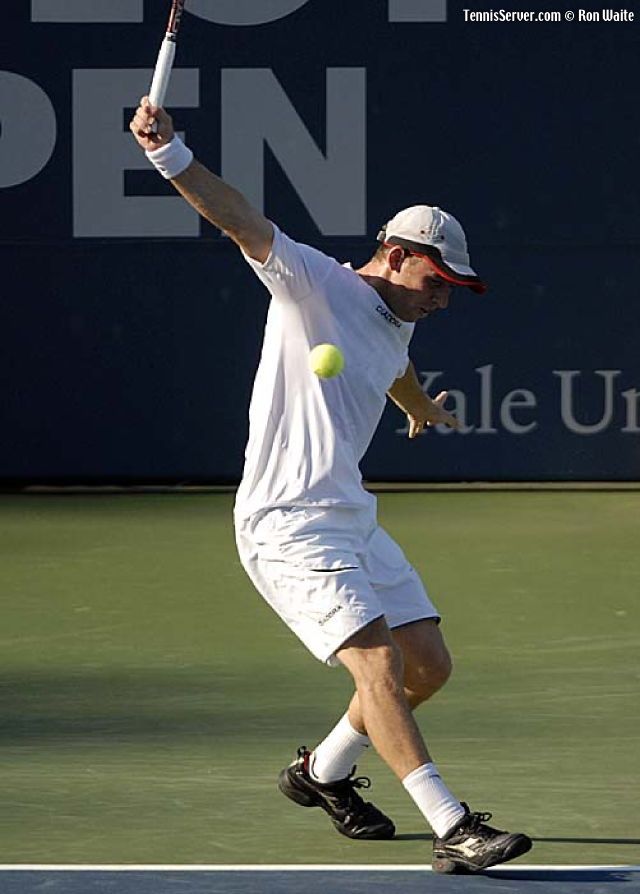 Dudi Sela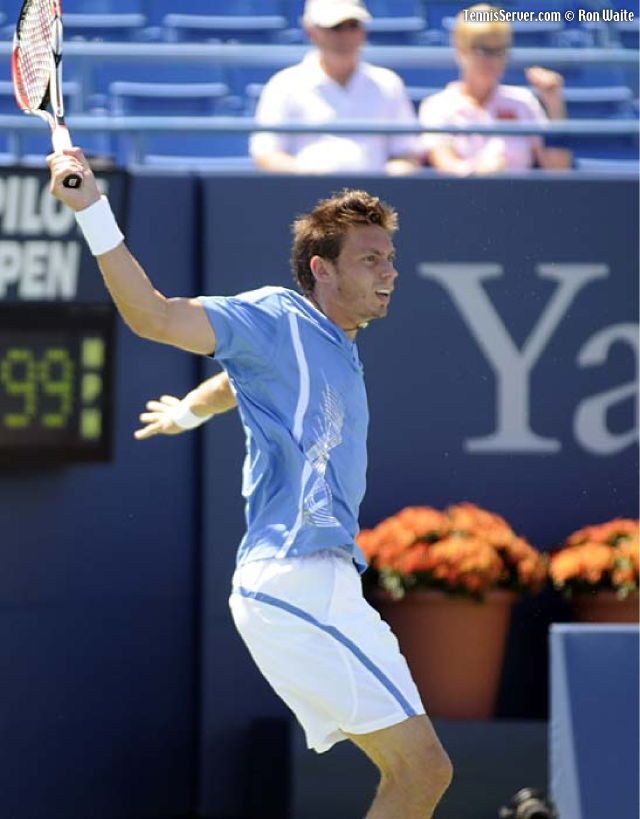 Nicholas Mahut



The one handed slice is a shot that every player needs in his/her arsenal. Even two handed players need to perfect the one handed sliced backhand. The motion of this stroke is downward. The racquet head finishes low and in front of the body. In some instances, the racquet head will end by moving upward a bit as it continues to move forward. But, this occurs long after contact has been made with the ball. Let's examine some one handed, sliced backhand finishes.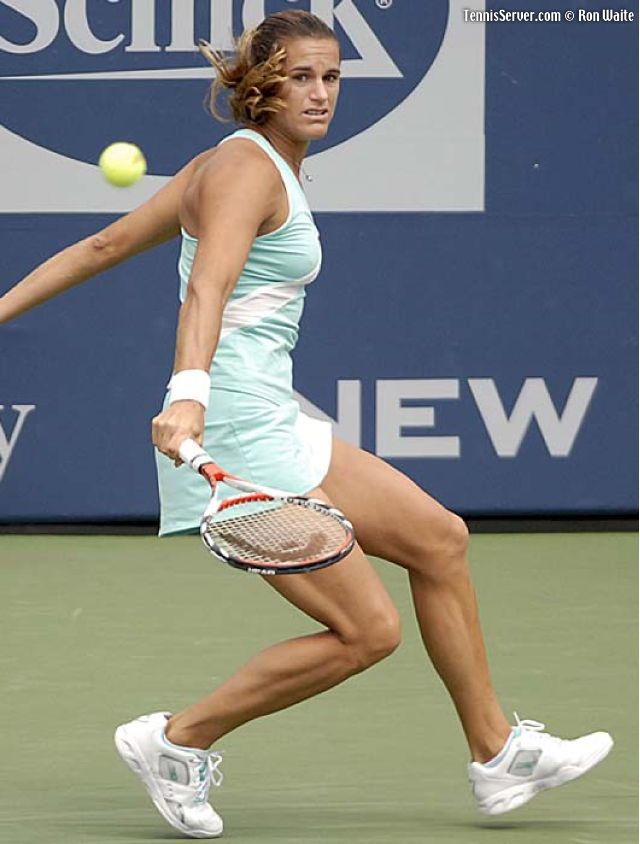 Amelie Mauresmo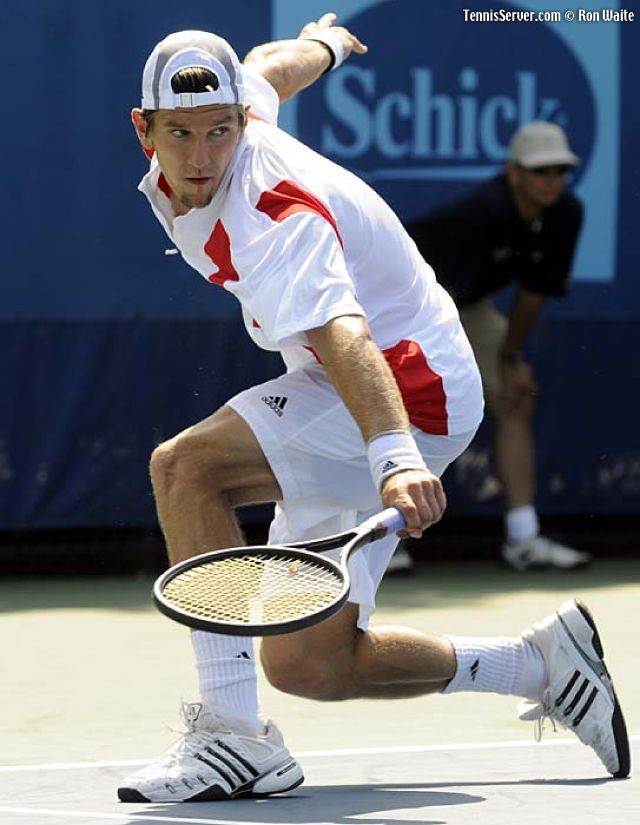 Jurgen Melzer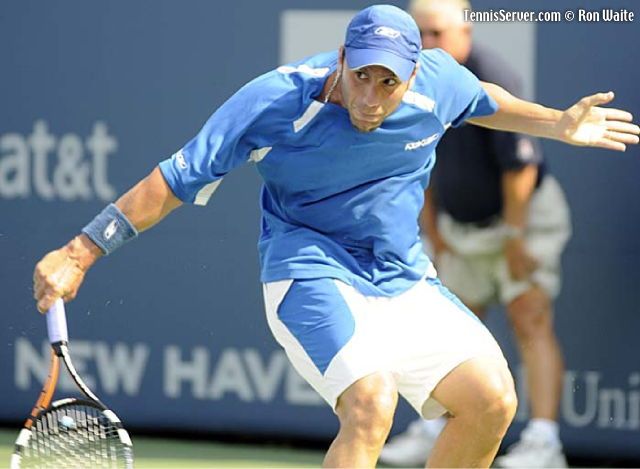 Luis Horna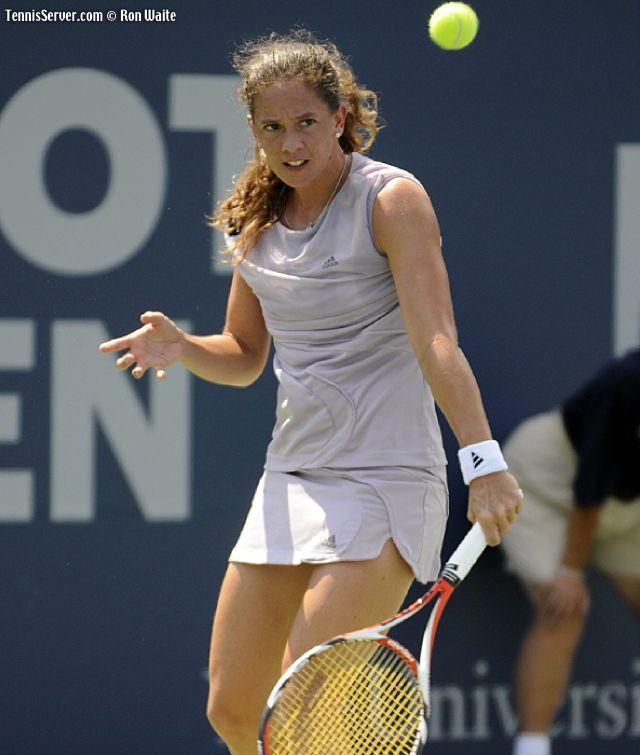 Patty Schnyder



Before leaving groundstrokes, it should be noted that some players like Marion Bartoli, Jan-Michael Gambill and Monica Seles hit both a two handed backhand and a two handed forehand. The ideal finish on the two handed forehand is the same as that associated with the two handed backhand. However, it is usually a little more difficult to get the racquet head completely above and behind the shoulder because of the grips used. Here is a picture of Marion Bartoli hitting her two handed forehand. You can compare it to the picture of her above hitting the two handed backhand.



Marion Bartoli



In the modern game, there are essentially two serves that are most commonly used: the flat serve and the kick serve. The flat serve is the norm for first serves and has its own unique finish. Generally, flat serves require a finish where the racquet crosses in front of the body ending with the racquet head on the non-dominant hand's side. Although it is not as commonly used today, the slice serve uses the same finish as the flat serve. Below are flat serve images.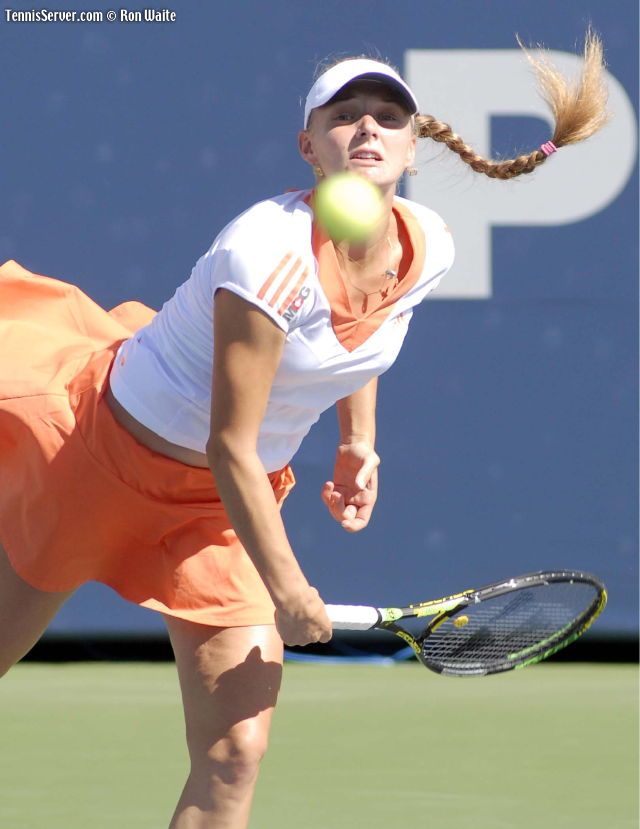 Anna Chakvetadze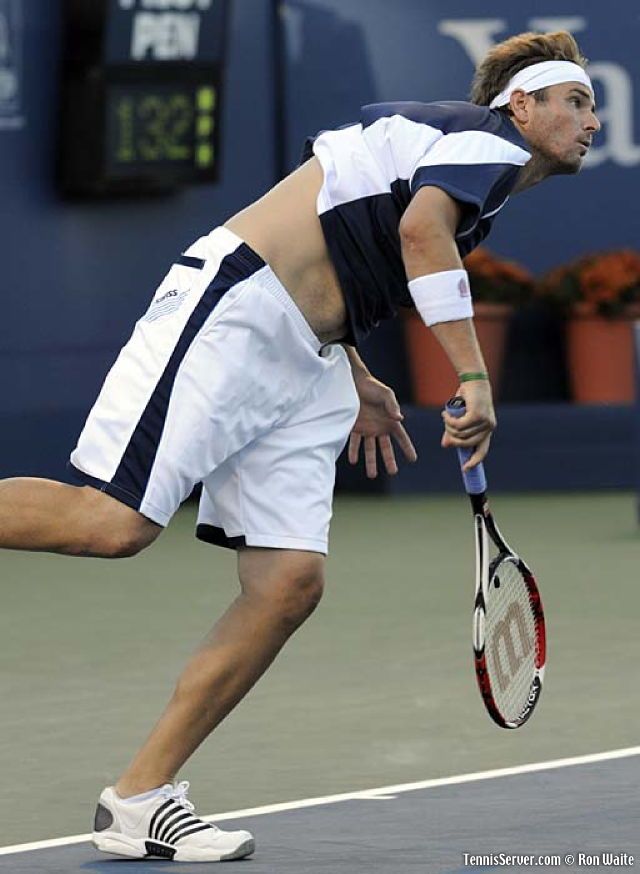 Mardy Fish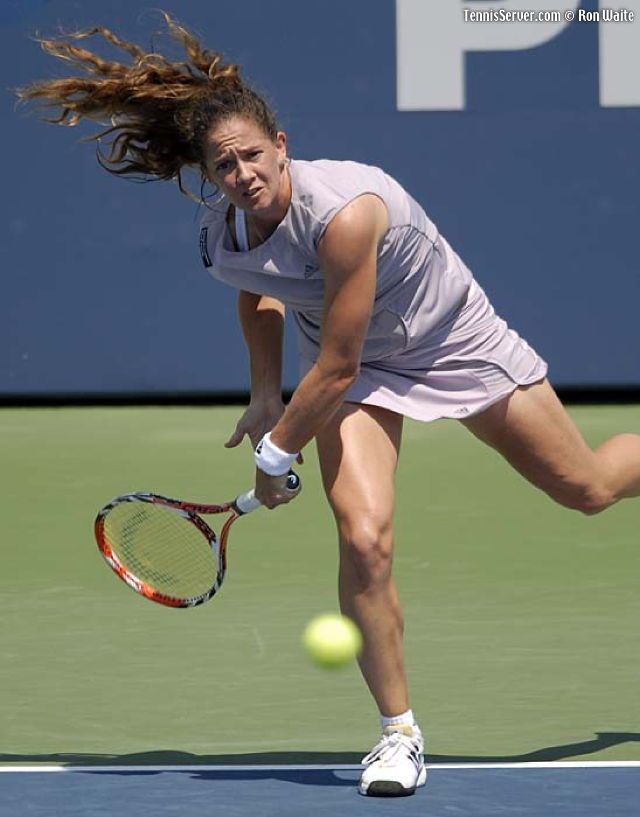 Patty Schnyder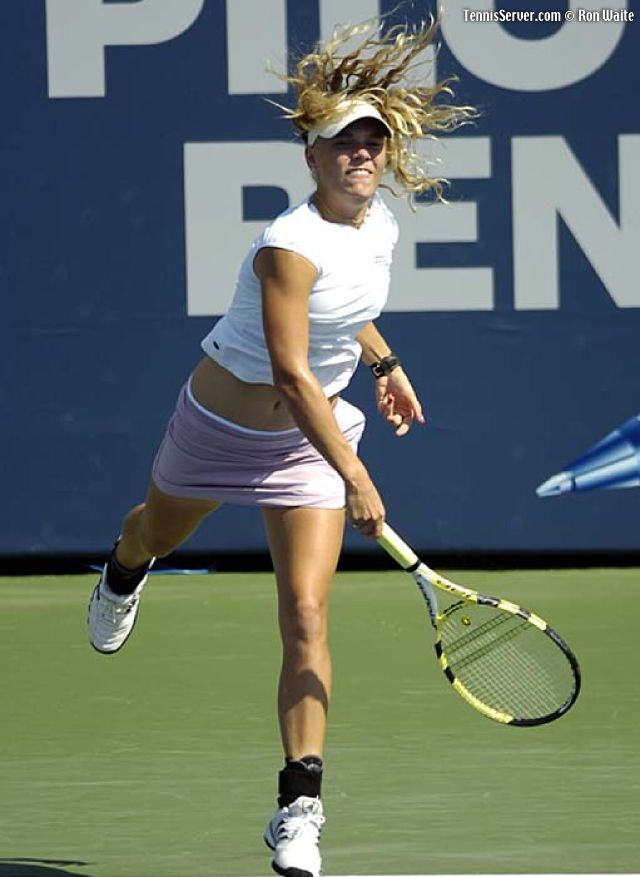 Aleksandra Wozniak



The kick serve is the most common second serve on the tours. This serve has lots of topspin and a bit of sidespin. The net result is that the ball bounces very high and to one side. In hitting the kick serve, the finish has the racquet ending up on the same side of the body as the dominant hand. Here are some illustrations that show the kick serve finish.


Donald Young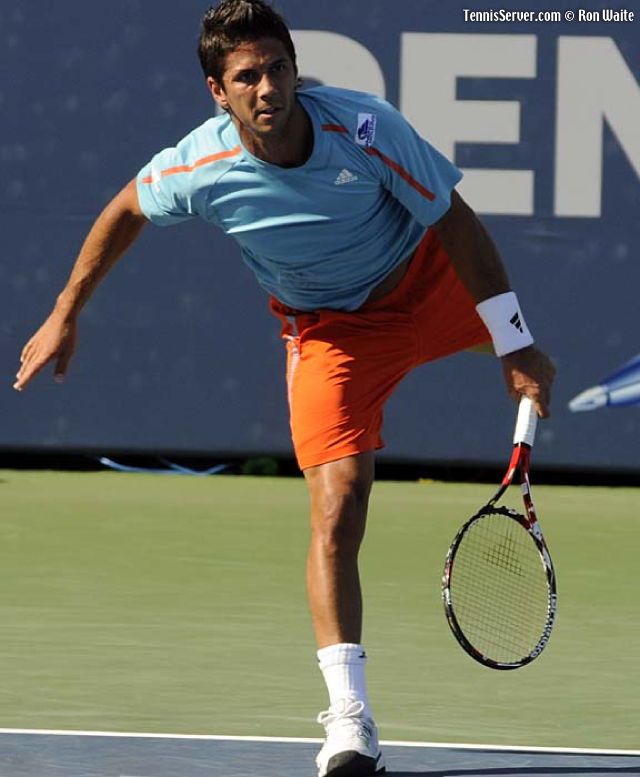 Fernando Verdasco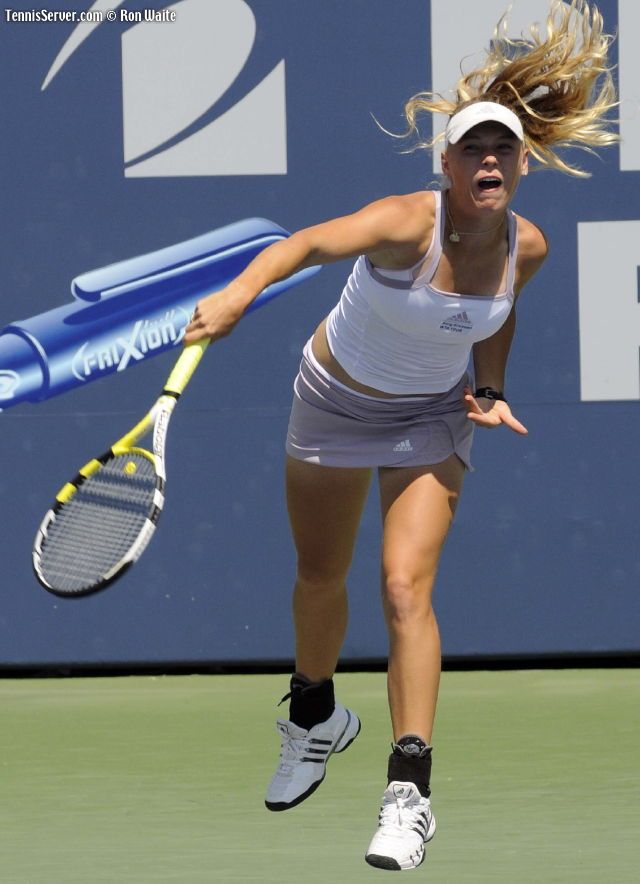 Aleksandra Wozniak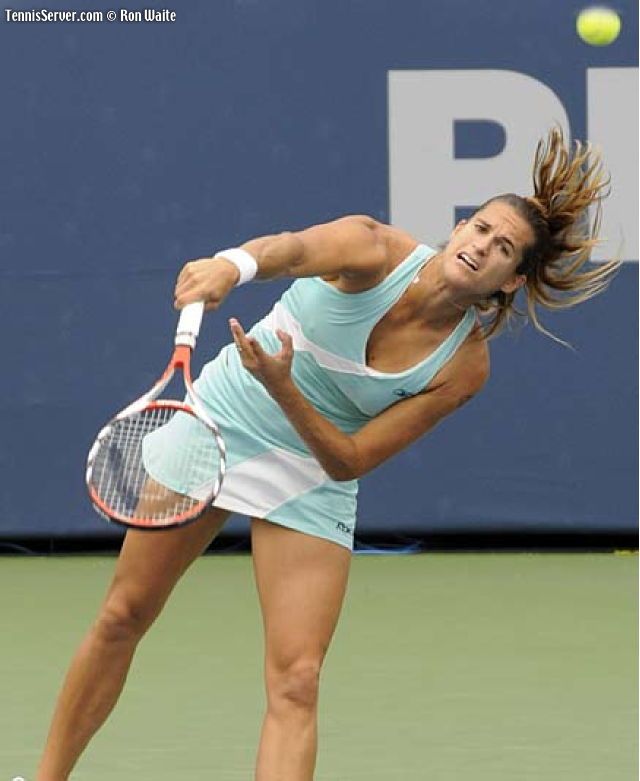 Amelie Mauresmo



Rarely do players really concentrate upon their stroke finishes. Yet, these are in many instructors' minds the single most important aspect of stroke production. If you can develop the proper finish for each stroke and execute it perfectly each time, the consistency of your shots will improve dramatically.

In no time, you will become a tennis overdog!





Turbo Tennis Archives:
1996 - 2002 | 2003 - Present
If you have not already signed up to receive our free e-mail newsletter Tennis Server INTERACTIVE, you can sign up here. You will receive notification each month of changes at the Tennis Server and news of new columns posted on our site.
This column is copyrighted by Ron Waite, all rights reserved. Questions and comments about these columns can be directed to Ron by using this form.
Ron Waite is a certified USPTR tennis instructor who took up the game of tennis at the age of 39. Frustrated with conventional tennis methods of instruction and the confusing data available on how to learn the game, Ron has sought to sift fact from fiction. In his seven years of tennis, Ron has received USTA sectional ranking four years, has successfully coached several NCAA Division III men's and women's tennis teams to post season competition, and has competed in USTA National singles tournaments. Ron has trained at a number of tennis academies and with many of the game's leading instructors.
In addition to his full-time work as a professor at Albertus Magnus College, Ron photographs ATP tour events for a variety of organizations and publications. The name of his column, TurboTennis, stems from his methods to decrease the amount of time it takes to learn and master the game of tennis.
---