How To Handle An Opponent's Power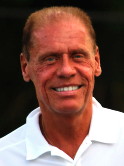 Ron Waite, USPTR
In NCAA Division III competition, it is not unusual to see levels of play that range from intermediate to pro-satellite. On occasion, there will be match-ups that are, to say the least, one sided. While scouting a match between two teams that compete in the GNAC conference, I witnessed one of those matches that drive any player crazy. The final score was 6-1, 6-0. However, the score tells only part of the story.

One of the two players was completely "in the zone." He hit every shot with impunity and with as much power as he could generate... which was incredible! His opponent was a decent player... but, he did not possess any clear weapons. The match took approximately 35 minutes. The losing player was, not surprisingly, stunned by his inability to compete against his opponent. After the match, he approached his coach and asked, "What should I have done?" His coach's reply was a simple "There was nothing you could have done." Having watched the match carefully, I am not so certain that his coach was correct.

Each of us who play this sport competitively has had similar experiences. From the warm-up to the final point, we seem to be a puppet on our opponent's string. We are unable to handle the power that our opponent is generating. Before we know it, the match is over and we are packing our bags... still in shock. Well, this month's article is dedicated to helping you turn the tide in such a situation.

Let's be honest. Sometimes we are just outclassed. I dare say that the vast majority of us would be unable to handle the serve of a Novak Djokovic, the groundstrokes of a Andy Murray or the volleys of a Roger Federer. Not only do these pros have unbelievable placement and consistency... they literally crush balls. They are just head and shoulders above the pack... that's why they win Grand Slams!

It is extremely difficult not to be intimidated by an opponent who hits with power. It is my belief that our human "fight or flight" reaction syndrome often comes to play in these situations... which results in panic, anger, desperation and ultimately, in defeat. These are completely normal responses to the situation. What is needed is the ability to go beyond the normal. So, how does one do this?

First, every opponent who plays the power game is taking a serious risk. Power, placement and consistency are, at best, a tentative combination. Certainly, any player can find herself/himself enjoying the benefits of "being in the zone." But, this is the exception... not the rule! Frequently (certainly, more often than not), the power player experiences breakdowns in a match. He or she will begin to hit out, net the ball or play strategically low-percentage shots. One has to console herself/himself when competing against the power player that, sooner or later, this "power broker" will have a lapse. When these lapses present themselves, the crafty player takes advantage by playing her/his best placement-oriented game.

By becoming consistent and focusing your efforts on exact placement in your shots, you will begin to change the momentum of the match. Power players often times have difficulty in recovering lost momentum. In fact, it has been my experience that power players are very likely to "self-destruct" when they lose momentum. For them, losing the ability to dominate with their power for even a few points becomes a very slippery slope... one from which they may never fully recover.

If, despite the odds, your opponent never experiences a lapse in her/his game, console yourself with the realization that this person was blessed with a rare gift in this game... playing perfectly!

Second, no matter how powerful the opponent is, as a match progresses her/his power will diminish. Power is a perceptual matter. As a match progresses, we become acclimated to an opponent's power. This is particularly true with returning powerful serves. When we first encounter the big serve, we probably say to ourselves, "How will I ever return this?" Yet, the experienced player will realize that after two or three service games, our perception of these big serves changes. These "heaters" seem less hot. We find that we are increasingly able to get our racquets on the ball. Our timing improves, and we may actually find ourselves able to return with placement. The important thing is not to panic. Rather, if you give yourself a little time, these serves will seem a little less huge.

In addition, there are physical reasons why big serves and powerful shots become slower as the match progresses... the balls become fluffy. Most of us who compete on the club, high school, college or USTA levels play with one set of 3 balls for an entire match. In some instances, new balls will be put in play, if the match goes to a third set. Every time the ball is struck by a racquet or bounces on a court, its fuzzy coating becomes a little bit thicker. This means that there is more resistance as the ball travels through the air. It may not seem like much, but it may be just enough to take some of the sting out of your opponent's shots.

However, there are some specific things a player can do to better handle an opponent's power, and perhaps, even challenge it.

Shorten your strokes! Frequently, I see players who react to powerful shots by trying to out power their opponents. It is somewhat natural to react to a hard hit ball by taking a big swing at it. It seems logical that you would need to hit the reply hard, if the ball is to make its way over the net. Nothing could be further from the truth. The wise player (like Andre Agassi or Marcelo Rios) will make her/his strokes more compact by minimizing her/his racquet's "take back." With a hard hit ball, one has only to put his/her racquet strings in its path. One needs to block the ball a bit more and swing at the ball a bit less than would normally be the case.

However, I would not suggest that you minimize the follow through or "finish" associated with your strokes. One needs to completely finish her/his stroke to maintain control over shot placement. If you don't follow through completely, you will in effect be "guiding" the ball rather than "hitting" the ball. You will frequently hear the pros chastise themselves when they "push" or guide balls. Why? They know that they actually lose control over depth and placement when they abbreviate the finish.

Vary the spin, height and pace of your shots! Players who rely on power frequently have a relatively narrow "strike zone." They need to hit balls at a particular bounce height and that have been hit with a particular spin. Usually, "power brokers" like balls that are hit flat and that bounce at a medium height. This is not to say that the power player can't hit balls that do not fall within these parameters. Rather, flat balls that bounce to about waist height are what they feel most comfortable hitting. If you consistently feed any type of shot to the power player, he/she will eventually find a "groove," and will begin to tee off on his/her shots.

So, I like to frustrate the powerful opponent by never letting him/her see the same ball twice in a row. I will hit moon balls, followed by heavily hit sliced shots, followed by medium paced flat shots, etc. The goal here is to break the rhythm of your opponent. In breaking the opponent's rhythm, you will probably find that she/he is more likely to have a lapse. Once this lapse becomes apparent, I try to hit with careful placement and consistency... to gain momentum. If I should at some point begin to lose momentum (which is not unlikely), I go back to varying my shots as much as is possible... until the next lapse.

Make the opponent run as much as is possible! Hitting powerful shots is usually a matter of timing rather than physical strength. However, hitting powerful shots can physically wear down a player, if she/he is not in good shape. Power players are usually used to winning big or losing big. Generally, they don't need to be in superior condition because their matches just don't last very long. I like to challenge the power player's physical conditioning, whenever possible. If possible, I try to run my opponent from "coast to coast" on the baseline. You would be amazed at how quickly an opponent will lose his/her power accuracy when he/she has to run.

Now, I realize that controlling the direction of your shots is more difficult when you are playing a powerful opponent. Again, the shorter strokes and fluffier balls will help you in this regard. You may not be able to achieve this level of control in the first set, but in the second set, it may be more possible. It is certainly worth a try.

Bring your opponent to the net! Most power players are groundstrokers... not serve and volleyers. They look to hit the big "groundie." So, why not see if they can volley? Usually, if you are just bunting back balls anyway, bringing the opponent to the net is not all that difficult. Just take a little bit off your replies. Sometimes the power player is fairly complete in his/her repertoire of shots. However, you would be amazed at how many of these players don't perform well when they are brought to the net. I mean this with no malice, but you don't see many of the top pros playing doubles or serve-volley singles very often... unless they are on grass or a fast indoor carpet. There is a reason for this. The modern game has made passing shots easy to execute. Players who try to make it to the net can be passed by a well struck shot. The speed of groundstrokes frequently prevents even the fleet of foot player to close the net effectively.

Slow everything down! The one thing that you can control in a match, regardless of how powerful your opponent may be, is match pace. How long you take between points and games (within legal limits) is completely up to you. It never ceases to amaze me how "quick to lose" a player may become. When I play power players, I do everything slower and more deliberately. I try to control the flow of the match as much as is possible. I force myself not to rush.

Now, when I am returning serve, I must follow the flow of my opponent. I don't deliberately stall or delay, but I don't run to the next point, either. I try to focus on relaxing my muscles and slowing down my breathing as I move to receive the next serve. This usually is enough to prevent me from rushing.

Patience is extremely important when playing a more powerful opponent. By taking my time, waiting for lapses in my opponent's game, and varying my shots, I stand the best chance of winning. However, I can only do these things when I am patient with myself, and accept the fact that victory is going to require a bit of a roller coaster ride. I need to be committed to doing whatever it takes to win. I need to accept the fact that I am going to have some problems in achieving victory. I must remind myself that tennis scoring is such that you are never out of a match until the very last point has been played. If I don't believe I have a chance of winning, I probably won't. Being patient enhances my ability to believe in myself.

In the match that I described at the beginning of this column, I am not certain that the out-powered, losing opponent could have beaten his opponent in that particular match. However, I am certain that he could have done more to improve his chances.

Had he been more patient, shortened his strokes, varied his shots, ran his opponent and slowed down the overall flow of the match... he may or may not have been able to defeat his opponent. But certainly, he would have become more of a tennis overdog!





Turbo Tennis Archives:
1996 - 2002 | 2003 - Present
If you have not already signed up to receive our free e-mail newsletter Tennis Server INTERACTIVE, you can sign up here. You will receive notification each month of changes at the Tennis Server and news of new columns posted on our site.
This column is copyrighted by Ron Waite, all rights reserved. Questions and comments about these columns can be directed to Ron by using this form.
Ron Waite is a certified USPTR tennis instructor who took up the game of tennis at the age of 39. Frustrated with conventional tennis methods of instruction and the confusing data available on how to learn the game, Ron has sought to sift fact from fiction. In his seven years of tennis, Ron has received USTA sectional ranking four years, has successfully coached several NCAA Division III men's and women's tennis teams to post season competition, and has competed in USTA National singles tournaments. Ron has trained at a number of tennis academies and with many of the game's leading instructors.
In addition to his full-time work as a professor at Albertus Magnus College, Ron photographs ATP tour events for a variety of organizations and publications. The name of his column, TurboTennis, stems from his methods to decrease the amount of time it takes to learn and master the game of tennis.
---