Teamwork in Doubles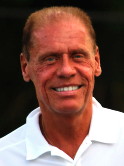 Ron Waite, USPTR
Clearly the Bryan Brothers have made history with respect to doubles. I have had the good fortune to meet their father, Wayne, at some of the tournaments that I photograph. One thing that is clear about these two brothers is that they communicate well with each other. Indeed, it would be surprising if they did not. Still, I would argue that they have done the remarkable things in doubles that they have because they excel with respect to team communications. Good doubles requires good teamwork. Good teamwork results from good communication.

Now, I know that I am by no means the first person to suggest that good doubles depends upon effective communication.. So, this month, I want to share with you the "how and why" of doubles communication.

Communicating When Your Team is Serving

To me, doubles is similar to American football. There are different formations, players in motion and various plays. The player serving is like the quarterback... starting the play in motion. The net player is like a running back or wide receiver... frequently, finishing off the play. Doubles, when played well, is much more a game of strategy, timing and finesse than it is a game of power.

Thus, good doubles depends upon each member of a team being in sync with the other. This is particularly important when serving. Why?

First, if a team never loses its serve, it cannot lose the match. So, a team that is serving cannot afford to be out of sync... which might result in a lost point or game.

Second, doubles is definitely a game of control. When a team is serving, they set the tone for the entire point. This is truer in doubles than in singles because, in doubles, most of the court is well covered. Thus, the serving team by its formations, serve placements, net poaching and court movement must force an opposing team into an error or ineffective positioning. As in all forms of tennis, most teams win by making fewer errors... not by making more winners. The receiving team must react to what the serving team does. In singles, return winners are much more likely than in doubles... even when the return is placed at the feet of the net-rushing, doubles' server.

If you watch effective teams, they always "huddle" before each point... especially, when they are serving. When serving, a team must have made several decisions before the ball is served.

These are:


What formation will we be using... and why? If an "I" or Australian formation is being used, in which direction will the net player move... and why?
Where will the server serve the ball (to the receiver's forehand... backhand... at the receiver's body) ... and why?
What kind of serve will it be... flat, slice, kick... and why?
Will the net person poach?... on any return or only on the high return?
Will the serving team try to hit more balls to one of the two opponents... and why?

Now, if you and your partner make all these decisions before each time your team serves, wouldn't you feel as though you were in greater control? Of course, you would because in fact you are in greater control.

When I coached the men's tennis team at Albertus Magnus College, I insisted that the teams answer each of these questions before each point. Usually, I have the net person make the decisions for the server. However, the server can reject a particular proposal, if he believes it is too difficult or ill founded.

Most professional teams talk in between each point. They usually have played their opponents before. Thus, they have probably decided a general game plan and backup plan before the match. During the match, arriving at the answers to the above questions is usually a fairly quick process.

For scholastic players and club players, a little more discussion time may be needed... especially, if they are facing opponents for the first time. In my opinion, the net player has the best perspective on what is happening and what should be done to correct any problems. By making it clear that I want the net player to propose the strategy, I reduce the amount of time needed to arrive at the key decisions. In college competition, a USTA referee will not hesitate to give warning and penalize a team for any delay. In addition, having the net person making the decisions means that the server is free to concentrate on one thing... properly executing the serve!

Many college and high school teams will use hand signals to arrive at the key decisions. To me, this is not preferable to actually speaking to each other. However, it is better than not communicating at all. The person at the net gives these signals to the server by using hand signals (these are seen by the server but not by the opposing team because the net player's body blocks the opponents' view). The server responds with a yes or a no to each signal. If the server declines a signal, the net person gives another, and perhaps another, until the server gives her/him an affirmative response.

With hand signals, there are really only three decisions that can be made:


Where should the server put the serve? (forehand, backhand, at the receiver)
What kind of serve? (flat, slice, kick)
Will the net person poach?

I have seen many variations on the signals used for these three decisions. I like the following:

First Signal


a thumb sticking out from a closed fist means: serve to the forehand (right-handed player)
a little finger sticking out from a closed fist means: serve to the backhand (right handed player)
a completely closed fist means: serve at the opponents body

Second Signal


1 finger sticking out from a closed fist means: hit a flat serve.
2 fingers mean: hit a slice serve
3 fingers mean: hit a kick serve

Third Signal


a closed fist means: the net person will not poach
an open hand means that the net person will poach

Remember: each of these signals must be confirmed by the server with a verbal reply before the net person gives the next signal.

Communicating When Your Team is Receiving

Although being "in sync" is usually seen as being critical when receiving, many teams do not plan or communicate when they are receiving. To me this is a major mistake.

When receiving, the team must make the following decisions:


What kind of return will the receiver make?... at the server's feet, at the net person, down the line, or lobbed over the net person's head.
Where will the net person attempt to put her/his volleys?... at the server, at the net person or in between the two opponents.

If a receiving team makes these decisions before each point, their chances of having effective court positioning, once the ball is in play, greatly increase.

For example, if the returner intends on using the lobbed return, the receiving team's net person should move to that side of the court on which the lob lands. The player who hit the lobbed return would automatically move to cover the opposite side of the court. Now, the receiving team is in the best position to handle any reply.

Preplanning is essential in doubles... whether serving or receiving!!!

Communicating between Games

During game changeovers, teams should take the time to discuss in detail overall strategy and any specific changes that need to be made. A great thing about doubles is that each team has two minds working. In doubles, two heads are always better than one. With two players, there are two perspectives... and two possible sources for solutions.

Good doubles teams never waste this valuable time. They know that between them, they can usually discover what is working and what needs to be done.

Often times, a team will decide to adopt a different formation when serving and/or receiving. This is one of the best ways for a team to recover if things are not going its way. Does the serving team play the "I" formation? Should the serving team adopt the "Australian" formation? If receiving, should a team play the "two back" formation? These and other adjustments can and should be considered during changeovers.

Communicating for Morale

One of the things that makes singles play so daunting is that each player is out there on his/her own! In doubles, each player can help the other when it comes to morale.

It is almost impossible not to get a bit negative at some time during a match... such as when we are making mistakes... employing ineffective strategies... or when we are simply getting crushed by our opponents. Maintaining a positive attitude is a must in tennis. You have to be able to weather the tough times to win.

Good doubles players encourage their partners!!! This kind of positive camaraderie that doubles can promote is, in my opinion, one of the great things about the game. That's why it is imperative that each player monitor her/his partner's mood and work hard to keep it positive. To me, it's like having the crowd behind you. Your partner encourages you and, sooner or later, your confidence and mood elevate. I can think of no more important factor in the game of doubles than positive encouragement between partners! In my coaching career, I have seen many inferior teams win when they are constantly exchanging positive statements.

So, the next time you play doubles, pay particular attention to communicating with your partner. I am certain that if you do, you will both become tennis overdogs!





Turbo Tennis Archives:
1996 - 2002 | 2003 - Present
If you have not already signed up to receive our free e-mail newsletter Tennis Server INTERACTIVE, you can sign up here. You will receive notification each month of changes at the Tennis Server and news of new columns posted on our site.
This column is copyrighted by Ron Waite, all rights reserved. Questions and comments about these columns can be directed to Ron by using this form.
Ron Waite is a certified USPTR tennis instructor who took up the game of tennis at the age of 39. Frustrated with conventional tennis methods of instruction and the confusing data available on how to learn the game, Ron has sought to sift fact from fiction. In his seven years of tennis, Ron has received USTA sectional ranking four years, has successfully coached several NCAA Division III men's and women's tennis teams to post season competition, and has competed in USTA National singles tournaments. Ron has trained at a number of tennis academies and with many of the game's leading instructors.
In addition to his full-time work as a professor at Albertus Magnus College, Ron photographs ATP tour events for a variety of organizations and publications. The name of his column, TurboTennis, stems from his methods to decrease the amount of time it takes to learn and master the game of tennis.
---