Volleying in the Modern, Groundstroke Era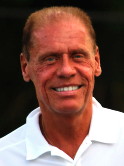 Ron Waite, USPTR
In the modern game of tennis, it seems that big groundstrokes and huge serves are the basis of a winning strategy. During my years as the head Men's Tennis Coach at Albertus Magnus College, I saw many players that fit this description. It is only during doubles matches that I would see collegiate players volley. On the junior level, it is rare that I see any player (male or female) who really possesses much of a net game. In fact, many, if not most, of these juniors are at a severe disadvantage when drawn to the net.

Well, this month, I will examine why so many younger players cannot volley and propose some ways in which they can improve their net game.

In the modern game, racquet technology and hard courts have completely changed the nature of the game. Today, the typical player will find herself/himself competing on a hard court and will probably be gifted with powerful groundstrokes. In fact, many players will move up to a stiffer racquet to increase the amount of power they can impart to the ball. In addition, the lighter weight of racquets have enabled some players to increase their racquet head speed.

As a result, big serves abound. From time to time, I will see a very senior player who hits a big serve because she/he is using the stiffest racquet available. With serves, controlling this power becomes very difficult. This is why every player needs to have a second serve that spins with either slice or "kick."

The modern groundstroke involves grips that were very uncommon thirty or twenty years ago.

On the forehand side, semi-western and western grips have replaced the traditional eastern forehand grip. These western grips allow for more topspin. Thus, the player can hit harder and still keep the ball from sailing out.

On the backhand wing, we increasingly see two-handed backhands. This two-fisted stroke usually involves a grip change for the dominant hand when moving from the forehand grip. Many players use an eastern backhand or continental grip for their dominant hand when hitting the two handed backhand. The non-dominant hand usually takes an eastern forehand position on the racquet handle.

Again, two handed backhands allow for lots of power and can be used to impart topspin without much difficulty.

Back in the days when players like John McEnroe, Rod Laver, Ken Rosewall, et al, played the game of tennis using one grip for all strokes... the continental grip. They would serve, volley, smash and hit groundstrokes with this single grip. It made things simple and was a viable way to play at the time. After all, racquets were made of wood, and grass was a much more common surface than it is today. Balls were hit with less pace, bounced a bit lower and slice was the preferred method of spinning the ball for control.

These great players were almost always great volleyers. Why? Well, the preferred grip for volleying is the continental grip. With this one grip, a player can hit forehand and backhand volleys equally well. When there are quick exchanges at the net, the fact that one does not have to change their grip is a definite plus.

Frequently, these legends would play both singles and doubles at virtually every tournament. The latter assured them that they would be hitting plenty of volleys. In addition, doubles is more a game of control that it is a game of power.

But those days are gone. Today, it is rare to find consummate volleyers. Roger Federer is an example of modern volleying greats. But each year, we see fewer and fewer true volleyers.

If you listen to the TV commentary by John McEnroe, you will often hear him lament the absence of good volleying in a match. He was one of the players blessed with great "hands" and could volley exceptionally well.

It is difficult to volley today!!! Why? Well, the game is much faster and it is hard to get close to the net. Passing shots are much more likely to zoom by the modern player. In addition, the grips we use today are not the "ideal" grips for volleying.

Still, the average player needs to develop a net game despite the fact that it is less likely to be needed in the modern singles game. On the recreational or junior levels, a heady player will draw his/her opponent to the net, if he/she thinks that the opponent cannot volley well.

On occasion, I will watch a senior player take apart a gifted junior player by using this technique. Once the junior is taken away from the baseline and forced to volley, she/he is often times very vulnerable.

One season at Albertus, I had a player who was in his senior year. For his first three years, he literally was unable to volley. I could play him at the 1 or 2 singles spot, and he was capable of winning. But, in doubles (where he could not avoid volleying), he would consistently miss volleys. This past season, I was determined to improve his doubles performance. In fact, I needed him to play at the number one doubles spot.

Literally, I broke from tradition and fashioned volleys that are in stark contrast to the conventional wisdom and methods. I am pleased to report that this player not only learned to volley, but in fact, used serve and volley technique in many of his singles matches... with much success!!! Not surprisingly, his doubles record improved dramatically.

The key to modern volleying, in my opinion, lies first in the grip. I do not advocate using the continental grip when volleying, if you are the type of modern player who uses a western or semi-western forehand grip and uses a two handed backhand.

When using these styles of groundstrokes, the emphasis is upon swinging and on changing grips when moving from one wing to the other. Conventional volleying wisdom promotes little or no swing, and encourages one grip for both volleys. It is no wonder that so many modern players have difficulty with the volley.

My advice is to use two different grips for volleying. Use the eastern forehand grip for all forehand volleys.

For backhand volleys, I suggest that you switch grips to the eastern backhand grip.

These grips will automatically improve your volleying. Why? Well, for several reasons.

First, these grips place the wrist in a very strong position for volleying. When using a continental grip, it is more difficult to achieve a "firm wrist" at the moment of impact. You can see the effects of hitting with the continental grip if you look at the left forearm of Rod Laver. Easily, it is twice the size of his right arm's (remember he is a lefty). Years of hitting every stroke with the continental grip developed his forearm to a point where it could support a firm wrist.

Second, you can swing a bit more when volleying if you use these two grips rather than the continental grip. Now, don't get me wrong. I am not advocating swinging when volleying. Rather, good volleying is more of a block or a push than it is a stroke. But, you can swing a bit more when using separate grips for the forehand and backhand volley. In a world of tennis where swinging is the norm, this means that the volleying and groundstroke "software" need not be so different.

Third, each of these two grips will automatically help you hit your volleys in front of your body. One of the problems with the continental grip is that it often times makes a player a bit late when volleying on the forehand side.

There are some clear disadvantages to using two different grips when volleying. The principle disadvantage is that you need to switch grips when moving from a volley on one side to a volley on the other. During quick exchanges at the net (like those experienced in doubles), this can be a problem. But, it is my experience that one can switch grips much more quickly and instinctively than one may believe... if one practices!!!

The second disadvantage is that these two grips are not as effective when the player is stretching to the maximum to hit a volley. Why? Well, in these situations, the racquet face tends to close a bit. Thus, it is a bit more likely that you will net the ball. But again, one can compensate for this if one practices using two grips.

All in all, I think the advantages outweigh the disadvantages, particularly if you are primarily a singles player.

Position in volleying is very important. Frequently, the groundstroker will simply try to come to the center of the net. She/he is surprised when a passing shot is hit by her/him. This frustrates the player and prevents her/him from wanting to come back to the net.

Well, if you do come to the net, you are going to lose some points to passing shots and to lobs.

However, you can improve your odds of winning the point if you follow the path of the ball that you have just hit. Whether it is a serve, an approach shot, an angled groundstroke, whatever... always move on the same path that the ball has traveled. By taking this simple course, you will automatically put yourself in the best possible position to volley. You won't win every point, nor will you make every volley... but your odds increase dramatically.

Modern players tend to think of playing only one volley. It is probably unrealistic that most players can serve and volley effectively unless the surface is very fast. Generally, the modern player must think of hitting two volleys to win the point. The first volley should tend to force your opponent to run to hit a reply. After hitting the first volley, you should again follow the path of the ball and move in the direction it was hit while still moving forward to close the net. Your second volley should be the winning volley. Granted, at times, the opponent will lob you off of your first volley. So, you need to be prepared to reverse gears and hit an overhead smash. More often than not however, the opponent will try to pass you. By moving forward and following the path of your first volley, you will automatically be in the best possible position for any passing shot.

Finally, try to move to hit volleys by moving your head towards the ball. This is a tip I learned from Oscar Wegner and it really does help. I assure you that you won't have the ball hit your head. But, by trying to move your head to the ball, you will automatically put your body in the best position for hitting the volley... whether it is a low or high volley.

If you are a serious tennis player, you need to learn to volley. Invariably, you will be brought to the net... whether you want to be there or not. By learning to volley, you open up new strategies for yourself... serve/volley and chip/charge.

If you struggle with volleys, take some time to learn to volley with two grips. Abandon the conventional approach and forsake the continental grip. If you practice my method, I am sure that in a very short period of time, you will become a tennis overdog!





Turbo Tennis Archives:
1996 - 2002 | 2003 - Present
If you have not already signed up to receive our free e-mail newsletter Tennis Server INTERACTIVE, you can sign up here. You will receive notification each month of changes at the Tennis Server and news of new columns posted on our site.
This column is copyrighted by Ron Waite, all rights reserved. Questions and comments about these columns can be directed to Ron by using this form.
Ron Waite is a certified USPTR tennis instructor who took up the game of tennis at the age of 39. Frustrated with conventional tennis methods of instruction and the confusing data available on how to learn the game, Ron has sought to sift fact from fiction. In his seven years of tennis, Ron has received USTA sectional ranking four years, has successfully coached several NCAA Division III men's and women's tennis teams to post season competition, and has competed in USTA National singles tournaments. Ron has trained at a number of tennis academies and with many of the game's leading instructors.
In addition to his full-time work as a professor at Albertus Magnus College, Ron photographs ATP tour events for a variety of organizations and publications. The name of his column, TurboTennis, stems from his methods to decrease the amount of time it takes to learn and master the game of tennis.
---