Ahead Of The Game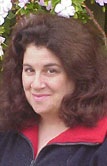 Jani Macari Pallis, Ph.D.
If you visit this column then you know that I typically delve into various technical aspects of tennis. This month I just want to share some thoughts about the blessed accessibility of this sport. Over the last 6 weeks I have been traveling a lot - mostly for fun, volunteering my time to a couple of sports engineering efforts.
The travel started in late March. For the last few years, Sara Ferrita Jarvi, who is the director of public relations for USA Tennis New England, and I have both volunteered time to speak at a "Careers In Sports" day for high school girls sponsored by the New England Women's Fund. (I'm originally from New England.) About 250 girls plus their coaches attend and there's always a waiting list to this event.
When I saw Sara this year, she generously gave me a tennis calendar with images of different recreational tennis players on it. There was one shot of a group of senior - very senior - men's players. "Boy", I thought, "look at these guys, straight backs, great physiques; AND they must be in their late 70's or early 80's - amazing!" I knew that the father of one of our company's former employees is a senior men's title winner. So when I got home I shot the picture over to her and said, "Your dad know any of these guys?"
"Dad's the third one from the left", she said. "How old is your dad now," I asked? "He's 94," she said (and I know that his doubles partner is about 2 years old than him). So I was wrong - these players in the photo were in their 90's!
Two weeks later I was in Boca Raton, Florida watching the US wheelchair tennis hardcourt championship which is always an awesome experience. If you have never watched wheelchair tennis before it is an amazing sport. No, let me correct myself - I think it classifies as an extreme sport. There's no time to lay the racquet in your lap, so players push the chair's wheels with the racquet in their hand. There are no 2-handed shots, because the wheelchairs have no brakes, so the non-dominant hand holds the wheelchair in place during the stroke.
Now, let's fast forward. Last week I spent some time at the U.S. Olympic Training Center (OTC) in Colorado Springs - an awesome area in the shadow of Pike's Peak. The OTC is an inspiring place, especially for youngsters, as are the Olympic and Paralympic games. I was invited as a technical expert in sport aerodynamics to talk and work with the US winter sports coaches for a few days - an honor, yet also a humbling and sobering experience. I was one of the few individuals at this meeting who had NOT represented their country in the Olympics. Two of the other technical experts are legends in their own right. Dr. Sam Colbeck, who was with the US Geological Service for years, knows everything there is know about snow and ice rheology and Dr. Chet Kyle is considered by most to be the father of human powered vehicles.
These coaches and athletes are amazing committed folks with extremely challenging equipment, environmental and material science technical issues. For a minute, let's put aside the environmental conditions these national winter coaches have to deal with - although, one group described 10 days where it was -35 degrees (yes, that's negative 35 degrees Fahrenheit) at their Lake Placid, New York training center. -35 degrees! I was asking myself which fluid dynamic, let alone physiological processes, stop working well at those temperatures. Accidents at the speeds the bobsled, luge and skeleton (all different forms of sleds) travel can be catastrophic and even fatal.
Last night, on his way home to Maui, Barry Spanier, one the best windsurf sail designers in the world, called to chat. I opened up my copy of this month's Windsurfer magazine and there's a major story on the gender gap. Windsurfing, like many sports, can be a difficult sport for women and kids to get started in because of the weight of the gear. It can be difficult to even carry the gear to the water and you need a good deal of upper body strength. And it also goes without saying that you have to find the right wind and water to sail.
Many of the other sports I discussed in this column are expensive to get started and participate in due to the cost of equipment. Also, would you like to know how many books have been written on the luge? None, that I could find. In tennis we have many, many written resources available to help us learn the sport as well. This all made me appreciate that in a 3-mile radius from my house there are probably 10 tennis courts. We have a sport that truly is accessible.
I often think, well - actually complain - why haven't we solved this or that problem in tennis yet. Why don't we have better, cheaper analysis tools for coaches? Why isn't there a definitive answer on tennis elbow? Why isn't there a ball that doesn't fluff up when it rains?
But the past weeks have made me appreciate the accessibility and longevity of tennis. It is truly a sport for all ages - from very young children to competitive players in their 90's. It is accessible to men, women, kids and individuals with physical and intellectual disabilities.
I really look forward to and hope that I can make a contribution in winter sports. These were an amazing group of people. However I came back appreciating the game of tennis even more.
Which brings me to the point of congratulating to Dr. Paul Roetert, Director of Administration for USA Tennis High Performance. Dr. Roetert received the 2002 Tennis Educational Merit Award from the International Tennis Hall of Fame (this is basically being named into the International Tennis Hall of Fame as an educator). Others who have received this very prestigious award include Zina Garrison, Vic Braden, sport psychologist Dr. Jim Loehr, Dr. Jack Groppel and Dr. Howard Brody. Dr. Roetert's books Complete Conditioning For Tennis (with Todd S. Ellenbecker) and World-Class Tennis Technique: Master Every Stroke (with Dr. Jack Groppel) are big favorites and in particular Complete Conditioning For Tennis has been on the Tennis Server's bestsellers list frequently. Dr. Roetert was the USTA liaison to our tennis sport science project with NASA and also served as an advisor to the project. Vic Braden once wrote me that Paul was one of the few folks in the tennis business open-minded enough to support such a project - which was very true. Paul has always tried to help make things happen. As well, there have been conversations over the years where I've just been taken back with one of his thoughts or insights and just said to myself, "Now that was just brilliant!" He's been a mentor to many and is just a really nice guy. And by the way that "youngster" in the backcourt on the cover of Tony Trabert's book, Tennis Past 50 is Paul.
Last, good thoughts and a speedy recovery to USA wheelchair tennis gold medalist and 10-time US Open singles title winner Randy Snow recovering from major surgery. If you haven't read it already, Randy's book, Pushing Forward about his life will make you laugh one minute, cry the next and reflect throughout. So good wishes to the guy who lights up the court with his smile and loves to make everyone laugh.
Until next month ... Jani



Tennis SET Archive
If you have not already signed up to receive our free e-mail newsletter Tennis Server INTERACTIVE, you can sign up here. You will receive notification each month of changes at the Tennis Server and news of new columns posted on our site.
This column is copyrighted by Jani Macari Pallis, Ph.D., all rights reserved.
Dr. Jani Macari Pallis is the founder and CEO of Cislunar Aerospace, Inc., an engineering and research firm in San Francisco. In addition to her engineering practice, she has led two collaborations between NASA and Cislunar, creating educational materials on the aerodynamics of sports for pre-college students and educators. As the head of NASA's "Aerodynamics in Sports" project, she has led a team of researchers investigating the aerodynamics, physics and biomechanics of tennis. The group has conducted high speed video data capture at the US Open and research of ball/court interaction, footwork, serve speeds, trajectories and ball aerodynamics. Pallis received a BS and MS from the Georgia Institute of Technology, an MS in mechanical engineering from the University of California, Berkeley and a Ph.D. in mechanical and aeronautical engineering from the University of California, Davis. She is a member of the Executive Committee of The International Sports Engineering Association.

Questions and comments about these columns can be directed to Jani by using this form.
---