What The Doctor Ordered:
Practical Advice From Some Of The World's
Experts In Tennis Science and Medicine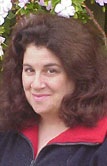 Jani Macari Pallis, Ph.D.
I can not take credit for this month's column. However, my sincerest thanks go out to my colleagues that contributed their sport science and medical tips from around the world. Some of the world's top tennis sports medicine and science practitioners and researchers contributed their favorite tennis tips for you. Let's see what they had to say!
Returning To Play After Tennis Elbow
Contributed by Babette Pluim, M.D., President of the Society for Tennis Medicine and Science, Physician for the Royal Netherlands Lawn Tennis Association, Member International Tennis Federation Medical Commission and Wheelchair Tennis Medical Commission
"When hitting backhands, try to hit the ball in front of the body, so it is easier to fully use the shoulder and trunk and to stabilize the wrist. When the ball impacts the racquet, the wrist should be straight. The forearm extensor muscles are better able to handle the shock when the wrist is straight than when it is flexed. Try to use the forearm for control instead of strength. The application of strength should come mainly from the shoulder and trunk muscles, which are much stronger than the forearm muscles."
Loosen that Grip!
Contributed by Duane Knudson, Ph.D., Member United States Tennis Association Sport Science Committee, Associate Professor California State University, Chico Physical Education and Exercise Department
"For many years tennis players were encouraged to firmly grip the racket to increase the 'power' of their strokes. Surprisingly, this is not good advice because tennis impacts are so short (3 - 5 milliseconds) that there is not enough time for hand forces to substantially increase the force transmitted to the ball. A tight grip at impact may also be a problem because the shock wave and frame vibration after impact is more effectively transmitted to the hand and arm. A very firm grip allows the forearm muscles and their common tendon attachment to absorb much of the force of impact that, over time, may lead to tennis elbow. A simple technique point players can incorporate into their game is to grip the racket with moderate pressure. The speed of your shot depends most on the speed of the racket and where the ball impacts the strings on the racket face."
Fast To Slow Court
Contributed by Howard Brody, Ph.D., Professor Emeritus of physics, USTA Sport Science Committee, ITF Technical Commission, Advisor PTR
"When going from a fast to slow court, reduce string tension a bit and hit the ball farther out on the head."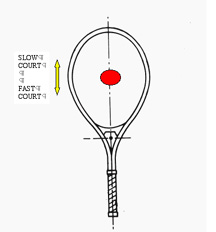 Graphic Courtesy and Copyright Howard Brody

Mishits On Heavy Topspin
Contributed by Simon Goodwill, Ph.D., University of Sheffield, Sports Engineer Specializing In Tennis
"A tip aimed at players who are trying to hit more topspin on their shots, using their old racket which hasn't been restrung for over a year. Consider getting your racket restrung to a tension of say 60 lbs, anymore would probably lead to the racket feeling boardy. (Whilst this is not a high tension, your old racket will have lost a lot of tension over time so you will notice a difference.) The stringbed stiffness of the restrung racket will be higher, and this will reduce the time that the ball is in contact with strings. This will reduce the likelihood of mishits when heavy top spin shots are attempted, which involves the racket being 'whipped' over the ball."
Sun Protection
Contributed by Carol Otis, M.D., USTA Sport Science Committee, www.sportsdoctor.com, past chief medical officer for t he WTA
"Remind players to apply a sun block at least 20 minutes before getting to the court, apply it to forgotten areas, such as the back of the neck and calves, and tops of ears. Reapply every two hours. Don't forget to put sun protection on your lips as well!"
Fluid, Salt and Carbs
Contributed by Michael F. Bergeron, Ph.D., FACSM, USTA Sport Science Committee, Assistant Professor of Pediatrics, Medical College of Georgia, Georgia Prevention Institute
"Especially when playing tennis in hot weather, be sure to take in enough fluid, salt, and carbohydrates in order to rehydrate, have the energy to play well, and reduce the risk for heat illness."
The amounts are really individual. However, here are some references: on sodium and carbs.
Prevention Of Heat Stress
Contributed by Babette Pluim, MD, President of the Society for Tennis Medicine and Science, Physician for the Royal Netherlands Lawn Tennis Association, Member International Tennis Federation Medical Commission and Wheelchair Tennis Medical Commission
Before play, drink 500- 600 ml (18-20 oz) of fluid two to three hours prior, then again another 200 - 300 ml (8-10 oz) ten to twenty minutes before exercise. Your urine should be clear before a match.
During play, drink 200 - 300 ml (8-10 oz) every ten to twenty minutes (during change-overs). Start drinking during the warm-up and do not wait till you feel thirsty.
When first trying sports drinks, do so in practice and training to assess taste and gastro-intestinal response, and to find the one you prefer. It is possible to "train" drinking during practice; the body adapts to it and fluid uptake during high intensity exercise will gradually increase.
You can make your own sport drink by mixing 3 gram (0.5 teaspoon) salt and 60-80 gram (15-20 cubes) sugar in one liter of water.
Strength Training And Rest For Ages 8-15
Contributed by Carol Otis, M.D., USTA Sport Science Committee, www.sportsdoctor.com, past chief medical officer for the WTA
Begin limited strength training - Focus on developing core stability, endurance and basic athletic skills like agility, balance and coordination. Teach dynamic warm-up and its importance before practice. A firm foundation in the core muscles (trunk, hips, abdomen and lower back) is the basis for all future strength and power development. Always insist on proper technique.
Establish periods of rest and recovery - Most children should have at least two days off each week to help the body as it grows. Rest will help to avoid over-training and consolidate the gains made during training. Plan times away from tennis to coincide with high demand times at school. Also, teach about proper nutritional recovery following competition or practice.
Take time now to form a sports medicine team - Connect players with sports medicine professionals as part of their support team: physician, nutritionist, conditioning specialist and sport psychologist. Use these professionals to lead workshops for players and parents.
What type of training is recommended for young adolescents off-court? They need additional work beyond playing tennis to develop general cardio-respiratory fitness. So, add running, or other more aerobic sports like soccer or basketball, to your training. Some training in different sports will help develop coordination, speed, and flexibility and balance the body from the one-sided demands of tennis. It also continues to build the player's body of knowledge about competing.
I'd like to thank my colleagues SO MUCH for helping me produce this month's Tennis SET column.
Until Next Month ... Jani



Tennis SET Archive
If you have not already signed up to receive our free e-mail newsletter Tennis Server INTERACTIVE, you can sign up here. You will receive notification each month of changes at the Tennis Server and news of new columns posted on our site.
This column is copyrighted by Jani Macari Pallis, Ph.D., all rights reserved.
Dr. Jani Macari Pallis is the founder and CEO of Cislunar Aerospace, Inc., an engineering and research firm in San Francisco. In addition to her engineering practice, she has led two collaborations between NASA and Cislunar, creating educational materials on the aerodynamics of sports for pre-college students and educators. As the head of NASA's "Aerodynamics in Sports" project, she has led a team of researchers investigating the aerodynamics, physics and biomechanics of tennis. The group has conducted high speed video data capture at the US Open and research of ball/court interaction, footwork, serve speeds, trajectories and ball aerodynamics. Pallis received a BS and MS from the Georgia Institute of Technology, an MS in mechanical engineering from the University of California, Berkeley and a Ph.D. in mechanical and aeronautical engineering from the University of California, Davis. She is a member of the Executive Committee of The International Sports Engineering Association.

Questions and comments about these columns can be directed to Jani by using this form.
---