Using Science To Improve Your Strokes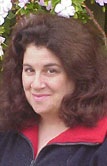 Jani Macari Pallis, Ph.D.
This month's column is a review of Dr. Duane Knudson's book "Biomechanical Principles of Tennis Technique: Using Science to Improve Your Strokes." Dr. Knudson is a world-renowned (and prolific) tennis researcher, as well as a professor of kinesiology (the study of human mechanics of motion) and associate dean of the College of Communication and Education at California State University, Chico. He also has served on the United States Tennis Association's Sport Science Committee.
This is not an instructional book on "how to play tennis" and the author stresses that the book is not intended to replace your tennis teaching pro. The book will make you more knowledgeable about the mechanics of your tennis strokes and help you work with your instructor to determine techniques best suited to you based on your experience, ability and conditioning.
To my knowledge this is the first book of its kind devoted to tennis biomechanics. There have been a few books that have covered some biomechanics of stroke movement. In contrast, Knudson's book gets down to how forces generate these movements. One of the most admirable aspects of the book, which solidifies and justifies its importance and accuracy, is that it has summarized so much of the peer reviewed science research in tennis. The list of over 100 references provides an extensive bibliography that the interested reader can pursue.
The text is heavily illustrated with clear, meaningful diagrams depicting both the biomechanics of player strokes and forces. The book also includes photo sequences of top players executing and exemplifying the materials, such as a really excellent sequence of photographs of Pete Sampras' slice serve and forehand volley, Justine Henin-Hardenne's one-handed backhand, Nicolas Kiefer's two-handed backhand and Roger Federer's semi-open stance forehand.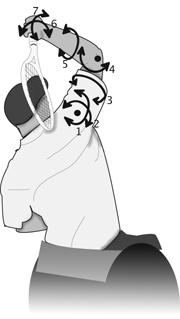 Sample Diagram Depicting The Distinct Joint Rotations In A Serve
From Biomechanical Principles Of Tennis Technique
Courtesy and With Permission of Racquet Tech Publishing
The book is divided into six chapters.
Biomechanical Principles Of Tennis Technique
Injury Prevention In Tennis
Biomechanics Of The Serve
Biomechanics Of The Forehand
Biomechanics Of The Backhand
Biomechanics Of The Volley
Biomechanists use a characteristic set of biomechanical principles to describe the generation of motion. Knudson's book uses a subset of these relevant to tennis. As Knudson points out even the principles which appear 'physics oriented' are inherently influenced by human factors such as skill, body motion and strength. Thus, the first chapter, Biomechanical Principles Of Tennis Technique, leads the reader through:
Force and Time
Coordination and Transfer of Energy
Optimal Projection
Balance and Inertia
Range and Motion
Spin
Throughout the stroke mechanics chapters, Knudson continually refers to the specific principles that apply to that stroke (not all principles are of importance or equal importance in the various strokes).
Some of the interesting information I enjoyed learning was in the serve and volley chapters. Serves have been categorized as first and second serves, with the first serve being faster and 'flat' and the second serve slower and with more spin. However, Knudson points out that all serves have some spin and that a truly 'flat' (no spin) serve is a misnomer. Power and accuracy of modern racquets may have changed this strategy, such that players may use fast first and second serves. The book contains a through examination of serve grips and in particular has a nice segment on the biomechanics of the continental grip versus the eastern forehand grip. (The eastern forehand grip limits wrist and forearm motion.)
In the volley chapter, the author contrasts the open versus closed stance in terms of ball and racquet speed and the biomechanics of the punch, drive and more recent swing volley. The chapter discusses the biomechanics of the forehand versus backhand volley, preparation, footwork, grips, stroke, follow-through as well as recent work on vision and reaction time and anticipation. (Elite players do not necessarily have their "eye on the ball.")
I also caught up with author, Dr. Duane Knudson and editor-in-chief of the series, Crawford Lindsey to talk about the work. Racquet Tech Publishing, an imprint of the US Racquet Stringers Association, has published six additional titles in this series devoted to tennis science and technology:
The Physics and Technology of Tennis by Howard Brody, Ph.D., Rod Cross and Crawford Lindsey;
From Breakpoint to Advantage : A Practical Guide to Optimal Tennis Health and Performance by Babette Pluim, MD, Ph.D. and Marc Safran, MD;
The Winner's Mind: A Competitor's Guide to Sports and Business Success by Allen Fox, Ph.D.;
Technical Tennis: Racquets, Strings, Balls, Courts, Spin, and Bounce by Rod Cross and Crawford Lindsey.
Taking Your Tennis On Tour: The Business, Science and Reality of Going Pro, by Bonita Marks, Ph.D.and
Fit To Play Tennis: High Performance Training Tips by physiotherapist Carl Petersen and tennis coach and former professional player Nina Nittinger.
Why all these books on tennis? Crawford replied, "There's been more research in tennis recently and there is a need to communicate that work to the tennis community. The game is very competitive and people want to train to achieve an "edge" or for that little missing ingredient in their game. If you look at all the major organizations, the ITF, USTA High Performance, the PTA and PTR, they are evolving their tennis performance through science. But there have been limited opportunities through the teaching channels to communicate this and books are one of the best ways to do this. Duane's book provides a conceptual framework, dispels myths and demonstrates a 'cause and effect' and 'flow' of the stroke."
I asked the author, "What are the key things someone will learn from your book?" Knudson told me, "The book provides information that can help you work with your coach or teaching pro so that you can make adjustments to your game. There is no single best way to play. Each stroke technique has its strength and weaknesses."
I think that this is an excellent book for teaching pros to use to solidify their knowledge of biomechanics, and it is also useful to use in communicating with students on this topic in an easy to understand manner. Players at any level and parents of young players can increase their basic understanding of grips, footwork and stroke mechanics as well as understand how their game can evolve as their conditioning and strength increases. It is a good text for interested science students. I am often asked about tennis science texts on biomechanics and strokes (especially around science fair time) and now there is a book devoted to this. Kudos to Duane and Crawford on an excellent and much needed work.
Until Next Month ... Jani



Tennis SET Archive
If you have not already signed up to receive our free e-mail newsletter Tennis Server INTERACTIVE, you can sign up here. You will receive notification each month of changes at the Tennis Server and news of new columns posted on our site.
This column is copyrighted by Jani Macari Pallis, Ph.D., all rights reserved.
Dr. Jani Macari Pallis is the founder and CEO of Cislunar Aerospace, Inc., an engineering and research firm in San Francisco. In addition to her engineering practice, she has led two collaborations between NASA and Cislunar, creating educational materials on the aerodynamics of sports for pre-college students and educators. As the head of NASA's "Aerodynamics in Sports" project, she has led a team of researchers investigating the aerodynamics, physics and biomechanics of tennis. The group has conducted high speed video data capture at the US Open and research of ball/court interaction, footwork, serve speeds, trajectories and ball aerodynamics. Pallis received a BS and MS from the Georgia Institute of Technology, an MS in mechanical engineering from the University of California, Berkeley and a Ph.D. in mechanical and aeronautical engineering from the University of California, Davis. She is a member of the Executive Committee of The International Sports Engineering Association.

Questions and comments about these columns can be directed to Jani by using this form.
---