Target Practice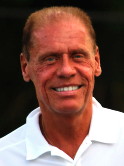 Ron Waite, USPTR
If you live North of the Equator, you are in the heart of the tennis season. Hopefully, you are competing at your best level. Frequently, during the heart of the outdoor season, players will simply play sets and compete in tournaments. Although I believe there is no better training than actually competing, I do believe that the summer months provide a great opportunity to develop accuracy and consistency in your game.
So, this month's column is dedicated to those of you who wish to improve these two attributes in your game.
You will need one of the following: a ball machine that oscillates (spitting balls to both deuce and ad courts), a willing hitting partner, or a friend who is willing to toss balls to you. (This person will literally be throwing balls to your side of the net.) In addition, you will need a hopper full of balls.
The intent behind this month's column is to have you practice hitting targets. We all try to place balls to either ad or deuce courts, deep or shallow, high or low, etc. Yet, most of us rarely go out and try to hit specific target areas on the court.
Some year's back, I had the good fortune to observe Andre Chesnikov when he would train at Yale's Cullman courts. For at least two years, Andre and his coach would come to practice at this indoor facility. At this time, Andre was a force to be reckoned with on the ATP tour. From serves, to ground strokes, to volleys, Chesnikov would hit ball after ball at tennis ball cans that were carefully placed on his "opponent's" side of the court. What amazed me is how often Andre would actually hit one of these very small targets.
I was inspired to try this training technique, and though I found it very difficult to hit the tennis ball can targets; I found that there were some clear benefits to this type of training.
First, those of you who read my column regularly know that I am very big on quieting one's head during any shot. As a coach of a collegiate team, I see lots of players of varying skills compete. Yet, without fail, those players who make fewest errors do not have any or much head motion during any shot or serve. By this, I mean that they seem to actually pause and "freeze" their heads and eye gazes as they make contact with the ball. In addition, they seem to actually stay "frozen" until they have completely finished the stroke. Thus, their heads are "quiet" as they hit every stroke and shot.
The value to "quieting" one's head when making contact with the ball is immeasurable. First, when one "quiets" her/his head, she/he automatically maintains better body balance through the stroke. Second, quieting the head allows one to hit harder while still maintaining control over the ball. Both of these lead to more consistent shot making.
Now, some of you may say: "Yes, but won't I be late in reading my opponent's reply if I keep my head motionless as I finish the stroke?" Definitely not! What I find to be the case is that I actually seem to read my opponent's replies more accurately when I look over the net after I have finished the stroke fully.
Using targets when practicing helps develop a visual sense of the court. By this, I mean that I find myself visualizing what target I wish to hit as I set up for the shot and while I am making the shot. In an interview some time back, John McEnroe indicated that he liked to visualize where each ball would land as he made contact with the ball. We all know how accurate his placement was and is!
When I am visualizing a target, I find that my body and mind work together to achieve the goal. It amazes me how accurate my shots become after only a short period of target training. What amazes me even more is how often I can actually hit a target when I am not even looking at it! For me, visualizing shots greatly helps my shot accuracy.
Finally, I find that target training improves the consistency of my shots. This makes complete sense when one realizes that accuracy is the key ingredient in achieving shot consistency.
Now, image how much more confident you would be if all of your shots were accurate and consistent. Well, you may not achieve perfection in these areas, but target training can go a long way to helping you improve.
The logical question is where should one place the targets on a court? To assist you in answering this question, I have included a diagram of where I place my targets: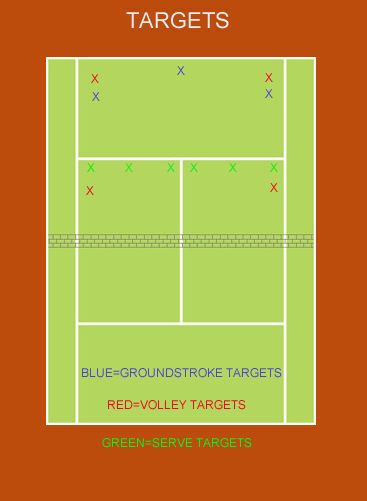 If you look at the BLUE colored "X's," you see the three places that I place tennis ball cans when practicing groundstrokes. You will note that I place the can in the center a bit farther back than the cans placed near each sideline. Experience has taught me that short ground strokes hit to the center of my opponent's court will come back as winners for my opponent. So, I want to make certain that when I hit a groundstroke down the center…it is certain to land deep. You will also note that I keep the cans placed near the sidelines at least three to four feet in from both the sideline and the baseline. I want to make certain that any shot hit crosscourt or down the line has plenty of margin for error.
When practicing target training for groundstrokes, I use my Tennis Tutor II ball machine. I place the ball machine in the center of my opponent's court…slightly behind the baseline. I start by not having the machine oscillate. Rather, I use the machine in static mode and start with every ball being shot to my forehand. I simply try to hit one ball crosscourt and the next down the line. I alternate between crosscourt and down the line until the machine has run out of balls (about 150 balls). Each time I strike my forehand, I try to freeze any motion in my head and to visualize which of the two cans I wish to hit. I don't hit to the center can when using the machine in static mode. Why? I rarely find myself hitting balls to the center of my opponent's court when I am not running or in motion. I sometimes will try to move back to the center of my court after hitting each forehand…a good habit to develop! After a complete cycle directed to my forehand, I repeat this process to the backhand side…again, I avoid hitting to the center positioned can (target).
Now, I put the Tennis Tutor in oscillating mode…it spits balls from forehand to center to backhand to center to forehand, etc. This oscillating forces me to hit balls on the run and to switch grips from forehand to backhand. My pattern for returning is as follows: hit crosscourt, hit down the line, hit center, hit crosscourt, hit down the line, hit center, etc. I try to do at least 3 cycles of 150 balls. Each cycle, I increase the feed rate of the balls. This forces me to run harder and setup more quickly. It also makes the head freezing more difficult to maintain…but, I strive to keep my head quiet.
For those of you who do not have access to a ball machine, you can achieve the same feed pattern by having your hitting partner stand near the net and feed balls to you from a hopper. If you don't have a hitting partner, you can enlist the services of anyone who is willing to throw the balls to your forehand, to center court, to your backhand, etc. Whoever feeds you the balls should try to maintain a rhythm in the rate at which they feed you the balls. Each round or cycle, ask your partner to increase this rhythm slightly. Your partner should keep his/her eyes open as some balls may come close to hitting him/her. Those of us who teach tennis regularly are always alert to on coming balls and are rarely (if ever) hit by a ball. However, this may not be the case with a partner who is throwing balls or with a hitting partner who is not used to feeding balls from a hopper. I promise you that after one or two cycles, your partner will be able to very easily duck away from any balls that might hit him/her.
If you refer to the RED "X's," you will see the placement of targets for practicing volleys. You will note that I have two cans (targets) in the backcourt and two near the sidelines within the service box. I find that these are the four spots that are most likely to result in winning volleys.
Again, I use my Tennis Tutor II, but I begin with it in an oscillating mode. If you are not comfortable volleying, you might begin in a static mode and complete two cycles…one to the forehand volley, and then, one to the backhand volley. Oscillating the ball machine will force you to move to left to right to left as you volley (similar to what one expects to be the case when playing a match). Make certain that you are not too close to the net. For most of us, volleying close to the net is a dream…not a reality. I make a deliberate effort to practice my volleys a little inside the service line (much closer to where I find myself making volleys during a match).
My target pattern is completely random. I just choose a target mentally, and attempt to volley at the can placed in this location. Unlike groundstrokes where patterns are very desirable, I prefer to be able to hit my volleys to any one of the four target areas with either my forehand or backhand volley. Volleys are generally more reactive in nature. The placement decision must be made in a fraction of a second…often without any real forethought.
If your partner is feeding you balls, have her/him stand in the center of her/his court behind the baseline. Given where the volley targets are located, it is very unlikely that she/he will have to duck away from any shots…a fact that will undoubtedly make her/him more comfortable about feeding.
Even if you have no access to a ball machine or a willing partner, you can always practice service target training. The serve is the single most important stroke in tennis. Yet often, it is the stroke that is least practiced. I make certain that I practice 100 serves per day in addition to any match play/practice in which I may engage.
Again if you refer to the target diagram, you will see the serve targets represented by the GREEN "X's." You will note that there are three targets for each service box. A player who wishes to win must be able to hit wide, center and down the "T" in both deuce and ad courts! I usually hit ten serves to each court…trying to hit a different target (can) each time. Again, I try to keep my serve pattern random. Why? I want to feel confident that I can hit any serve to any spot at any time. I then repeat the process by hitting ten serves to the ad court. I alternate from deuce to ad courts until I have completed a total of 100 serves.
When practicing service target training, it is absolutely imperative that you freeze your head as you make contact with the ball. So many times, I see players net a serve because they drop their heads. In addition, I think it is desirable to vary hitting first and second serves as you target train. Hit some flat serves, then some kick serves, then some serve and volley serves and finally, some slice serves. Each time choose a different service target. Believe me. After a week or two of target training your serve, you will find that your double faults go down in number significantly!
Finally, you can target train overhead smashes. Just use the back two targets that you used when practicing volleys. Have the ball machine or partner serve you up some lobs. Alternate in a random manner which of the two targets you choose to visualize and hit. If you are a frequent doubles player, you probably want to ad a center target…in doubles, the best overhead is usually hit down the middle between your two opponents.
As a last tip, I suggest that you place a tennis ball in the bottom of each target can. The weight of this ball will prevent it from being knocked over by the wind.
Target training can significantly improve your shot accuracy and consistency…but only if you focus on quieting your head and visualizing your targets. I am certain that if you target train on a regular basis, you will in no time become a tennis overdog!



Turbo Tennis Archives:
1996 - 2002 | 2003 - Present
If you have not already signed up to receive our free e-mail newsletter Tennis Server INTERACTIVE, you can sign up here. You will receive notification each month of changes at the Tennis Server and news of new columns posted on our site.
This column is copyrighted by Ron Waite, all rights reserved. Questions and comments about these columns can be directed to Ron by using this form.
Ron Waite is a certified USPTR tennis instructor who took up the game of tennis at the age of 39. Frustrated with conventional tennis methods of instruction and the confusing data available on how to learn the game, Ron has sought to sift fact from fiction. In his seven years of tennis, Ron has received USTA sectional ranking four years, has successfully coached several NCAA Division III men's and women's tennis teams to post season competition, and has competed in USTA National singles tournaments. Ron has trained at a number of tennis academies and with many of the game's leading instructors.
In addition to his full-time work as a professor at Albertus Magnus College, Ron photographs ATP tour events for a variety of organizations and publications. The name of his column, TurboTennis, stems from his methods to decrease the amount of time it takes to learn and master the game of tennis.
---