When "Push" Comes to Shove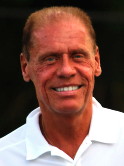 Ron Waite, USPTR
Each month, I receive many questions and comments from readers. Without a doubt, many of these ask me "How does one go about beating the 'pusher?'"
Let's see if this scenario is familiar to you. You are in a friendly match or you are in tournament/competition. You have practiced and prepared well. You have improved your game to include weapons…perhaps, a killer forehand. You are in shape and you are mentally focused to win.
Your opponent begins the warm-up. You are sizing her/him up to determine what kind of player is this person, if you have never played her/him before. Your assessment is that "Golly, this one has nothing!" He/she is a bit out of shape, from your point of view. The strokes seem to appear a bit unorthodox. Nothing comes back to you with any pace. In fact, you are surprised at the lack of pace. Though you respect all your opponents, this one should not present to many problems. By the end of the match you have lost 3-6, 4-6!!! You are shocked, embarrassed, and perplexed. Sound familiar?
This is the typical situation that Type "A" players encounter when they face a pusher. A Type A player is one who plays his/her best tennis when he/she is not really thinking. Type A players want to hit the ball!!! They normally possess some fairly daunting weapons. You can learn more about my perception of player types by reading my past article: Type "A" or Type "B" player?
A "pusher" is a special kind of Type "B" player. Type B players are heady players. They may not possess the skills or grace of their Type A counterparts, but they are constantly thinking of ways to develop points and to emphasize their strengths. They are willing to do whatever it takes to win. They realize that there are no "style points" in tennis. You either win or you lose…it is that simple.
Pushers are Type B players who have one goal and only one goal. They want to take you completely out of your comfort zone and help you lose. They never win by dominating. Rather, they win by forcing the opponent to err. In two sets, they can take away years of grooved strokes. They don't just want to win; they want to win by embarrassing you!!!
I have played my fair share of pushers. I have seen collegiate players with serious tennis skills go into complete melt down when playing the pusher. The bottom line is that pushers are frustrating. Even pushers do not want to compete against other pushers!
Now, I believe the first step in approaching playing the pusher is to give her/him some well-deserved respect. On all levels of the game, errors are usually the cause of the loss…winners are generally not the cause of the win. The pusher realizes this and takes full advantage of disarming the opponent. This is a complete legitimate (and frankly, brilliant) way to compete in this wonderful game of ours.
Dismissing the pusher as being less skilled, gifted or deserving of a win is the first strategic flaw a tennis player can make. Pushers can and do win!!!
How do pushers win? Well generally, they can return lots of balls hit at them with pace. They know how to bunt, slice, chop, lob and float balls back over the net. They generally can rally for quite a long while, even when they appear to be out of shape.
Pushers know when to hit a ball hard. Just when you are getting used to balls coming back at you at a pace that your grandmother could generate, the pusher will hit a clean winner and do so by ripping the ball. They can't hit these winners from every spot on the court, but they know what spots they can. Pushers understand their strengths, limited as they may be.
Most pushers have a fairly reliable first serve that lands flat and has some pace behind it. Pushers realize that weak first serves come back at them as winners. Although their first serves may not be blistering, they can usually place the first serve well.
Pushers have second serves that spin in many different ways. Pushers usually do not own kick serves, but their slice serves can be corkscrew-like. Second serves for pushers bounce off the court in the most unexpected manners. Just when you step in to take these unusual serves on the rise, pushers will use a three quarter paced, first serve that bounces deep in the box. However, during the warm-ups, pushers will rarely show all they can do with a serve.
Pushers feed on frustration. They love it when they see you getting angry with yourself. In fact, apart from winning, pushers find this mental breakdown a most rewarding part of playing our sport.
Pushers rarely give up easily. They are like pit bulls. Just when you start to figure out how to handle their "junk," they will move to another form of torture. When playing pushers, the score is almost always a roller coaster of ups and downs. Usually, pushers don't win by much. They just win.
Even in the pro ranks, there have been pushers. I think the best professional pusher that I have ever seen play was Brad Gilbert. His opponents describe him as massaging the ball…not hitting… the ball over the net. In some ways, Fabrice Santoro is a pusher. His nickname is "The Magician." He wins by getting every ball back with spins that destroy the rhythm of his opponents. Still, when he gets his chance, he will hit a clean winner or great volley.
So how should one play pushers to win?
The first step is to realize that playing pushers is not going to be fun or easy.
There are probably not going to be many "highlight reel" points. You need to be patient, persistent and self-forgiving. Any other mindset will almost certainly cause your demise. Pushers rightfully deserve respect and should not be dismissed as being less than formidable.
The worst player for pushers is the accomplished serve and volleyer. If you are this type of player, you probably enjoy playing pushers. If you are an all court player, you need to be able to bring this part of your game forward when playing pushers. Vary your serve placement and vary your volley placement. Don't let pushers get a sense of what you are about to do. If they do, they will surely find a way to take it from you.
If you are the big groundstroke player, you are in for a challenge. You are the favorite target for pushers. You want to hit big. You want to use those weapons. You want to dominate your opponent. Certain shots are beneath you. The problem is that to play this type of game, you need rhythm. This is your fatal flaw.
Pushers will slice, dice, moonball, drop shot and any other shot available to upset your flow and rhythm. Your strokes depend on instant, mindless reactions. You need to play on autopilot. But, pushers know how upset your timing with their pace variety and spins. The short ball that is a sure put away now goes long, and you can't figure out why.
Pushers know that you love to move left to right. So, pushers will try to move you in and out.
Pushers know that when you are angry you will hit harder, not safer. So, pushers mix up things to unsettle you. In addition, pushers will counterpunch and use your pace against you. They'll find a way of bunting every ball back, regardless of how hard you hit it. This invariably causes frustration. Once frustration sets in, anger is around the corner. The result is a viscous circle that leads to your loss.
But there is hope!!!
When playing pushers, the big groundstroker needs to do the following:
1. Get every first serve in!!! Even if you need to take pace off your first serve, get it in. Pushers live for second serves. They will usually know how to step in and hit something with slice. They will take kick serves and slice them crosscourt and short. You'll be at the baseline watching a 30 mph winner off your best kick serve. When you do serve a second serve, try to hit at the pusher or down the T. This second serve will normally result in a weak return that lands reasonably deep in your court.
2. Really watch the ball. Pushers thrive on spin. You need to force yourself to really see each ball. If you do not, you will find that your timing is off just ever so slightly. Just enough to make an error.
3. Hit your normal groundstrokes at three quarter pace at the beginning of the match. Don't try to exert dominance at the beginning of the contest. Early in the match, you need to develop a new "sense." Pushers don't give you rhythm. So, don't try big things too early. As the match unfolds, more and more of the pusher's "tricks" will become familiar to you. As they do, you will find that you will be able to increase your pace with success.
4. Freeze your head through every shot and finish each stroke fully. Instead of worrying about pace and placement, focus on form. Pushers will take away your form.
5. Be prepared to move in, at all times. Pushers will invariably hit something like a drop shot when they sense you are thinking a deep ball. Unlike we mortals, pushers will effectively hit the drop shot more often than not.
6. Don't be afraid to hit moonballs that land deep in the pusher's court. Pushers do not like to be very far behind the baseline. The farther back they have to play, the less effective they become. Pushers like to lob back the moonball. So be prepared to step in and hit an overhead smash. Just don't try to kill it. Why? Well, that lob will probably have more ball rotation than you have ever seen before. Place the smashes. Don't crush them.
7. Rally crosscourt. Pushers love to see you hit the down the line shot. They will get to it, and somehow, they will put the ball over the net, crosscourt and short. Frequently, they will just keep the ball in play and wait for you to become impatient. When you do, they realize that their spins and lack of pace will often times result in an unforced error from you. The only time to hit down the line against a pusher is when the pusher is way out of court or when the pusher's shot has landed in midcourt. If the ball lands close inside the service box or close to the net, roll or volley the ball gently away from the pusher. Then, step in to hit another volley or overhead smash. You will be surprised how many unforced errors you will make and how many balls the pusher will retrieve, if you deviate from these guidelines. Remember, pushers hit with junk.
8. Never talk with pushers during game changeovers. Pushers are psych masters. They know exactly how to take your focus and momentum away from you with words. When I play pushers, I keep my bag on the opposite side of the court. When I sit, I sit with my back to them.
9. Call the score out loud every point…even when you are receiving serve. Pushers will use feigned confusion to force you out of your focus and groove. If you do this every point from the very first point, there should be no confusion or discussions. Do the same with game scores after each changeover.
10. Don't try to outthink pushers. Rather, be alert to what they do and what they do not do. Be prepared to adjust at all times. Pushers rarely do anything for any length of time unless they are winning. Pushers will try anything to win a point. Play your game at a lower speed, until you are sure that you have locked in on the individual pusher's idiosyncrasies. Every pusher is adaptive, and no two pushers are identical.
Playing pushers used to be a real nightmare for me. Now, I find myself enjoying the contest. I realize that I may lose some games or a set. But if I remain patient, relaxed and do not become overzealous, I will win more often than not. I am more of a groundstroke, baseline player. But, I can serve and volley. So, this is my first course of action in the match. I may deviate from this style of play as the match unfolds. In fact, I probably will. But, I like to start the match with a message for the pusher. "Your push will ultimately become my shove!!!"
If you can swallow your pride, respect the pusher for the skilled player she/he is, and remain patient, persistent and calm…I am sure that you will find yourself beating the pusher and well on your way to becoming a tennis overdog!!!



Turbo Tennis Archives:
1996 - 2002 | 2003 - Present
If you have not already signed up to receive our free e-mail newsletter Tennis Server INTERACTIVE, you can sign up here. You will receive notification each month of changes at the Tennis Server and news of new columns posted on our site.
This column is copyrighted by Ron Waite, all rights reserved. Questions and comments about these columns can be directed to Ron by using this form.
Ron Waite is a certified USPTR tennis instructor who took up the game of tennis at the age of 39. Frustrated with conventional tennis methods of instruction and the confusing data available on how to learn the game, Ron has sought to sift fact from fiction. In his seven years of tennis, Ron has received USTA sectional ranking four years, has successfully coached several NCAA Division III men's and women's tennis teams to post season competition, and has competed in USTA National singles tournaments. Ron has trained at a number of tennis academies and with many of the game's leading instructors.
In addition to his full-time work as a professor at Albertus Magnus College, Ron photographs ATP tour events for a variety of organizations and publications. The name of his column, TurboTennis, stems from his methods to decrease the amount of time it takes to learn and master the game of tennis.
---