Speak Softly and Carry the Right Stick!!!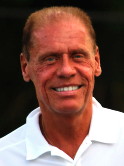 Ron Waite, USPTR
Again, this month's article is a result of reader e-mail. If you read last month's edition of TurboTennis, you know how important soft "self-talk" is when you compete in tennis. Well, this month I want to address the concept of carrying the right stick...racquet selection.
People frequently purchase a new racquet because they believe or hope that it will automatically improve their performance and play. Let me begin by saying that I wish this were true, but unfortunately it is not! New racquets are no substitute for good skills, physical and mental practice and the right strategy. You may play better "instantly," but this is really a consequence of the short lived enthusiasm, optimism and confidence a new racquet can bring. We truly want to believe that the racquet will solve the problems forever...a great and powerful serve, a reliable backhand, volleys that are crisp and well placed, etc. Whatever immediate benefits a new racquet brings, they will soon fade as our body and mind readjust to the "normal" mode.
So, why would anyone buy a new racquet? Well, the right racquet can help but not cure problems, and can accentuate not create existing strengths. Besides, after a few years of regular play, the racquet will invariably change as a result of frequent impact with the ball...probably becoming a bit "dead." Sometimes, the racquet can help (not cure!) some conditions like tennis elbow.
Given all of this, what follows are my guidelines and insights on racquets. It is intended to be a basic consumer guide to finding the right racquet. Now, I must confess that I am sponsored by a major international racquet company and actually serve as an area rep for these racquets (e-mail me and I will be happy to tell you what company). However, my guidelines in no way are brand dependent. I am not looking to make sales from this article...I just want to help you discover what racquet is best for you and your game.
Let's start by identifying what I believe are the most significant attributes of a racquet:
Power
Maneuverability
Balance
Weight
Head Size
Length
Dampening
Grip Size
The idea of power is usually the attribute that attracts players when purchasing a new racquet. Basically, modern racquets can range from being unbelievably powerful to almost dead in there response. Several aspects determine a racquet's power.
Stiffness is the first power element. The stiffer the racquet the more powerful it is. What a racquet is made of can greatly affect its performance. Suffice it to say that the greater the amount of graphite in a racquet's composition, the stiffer it is. Most racquets mix graphite with a host of other materials to provide a blend that provides a particular stiffness and related power.
Thickness is another important factor that affects power. The thicker the racquet, the more powerful it is. This is somewhat deceptive today as some racquets are now manufactured that are very thin but act as if they were much thicker. Some years back, thick "widebody" racquets were the rage. Today, thinner varieties prevail for most players.
Length affects a racquet's power potential. The longer the racquet the more powerful it is.
One racquet company puts out a racquet known as "Big_ _ _ _ _." It is 32 inches long (5 inches longer than "normal" racquets), a widebody and made from a lot of graphite. You can send a ball through a brick wall with this weapon! This is the most powerful racquet that I have ever hit with! I hope to never hit with it again. Why? Well, with power there is a tradeoff...control. Usually, with an extremely powerful racquet it is difficult to control the ball and keep it in the court. Although other factors influence a racquet's power performance, I want to address one other...string tension. All things being equal, the lower the string tension, the more power the racquet will generate. However, you can only moderately affect the racquet's power performance by varying the string tension...unless you go way beyond the manufacturer's recommended range (I don't advise this!). So, the real question is...how much power is right for your strokes, game style and ability? My advice is to use the most powerful racquet that still will allow you to hit groundstrokes with control.
Remember, no matter what racquet you use...you'll hit some groundies out!
Maneuverability is the next variable I will discuss. Some racquets seem to be very easy to move...some seem as though they require much effort. Maneuverability in the modern high speed game of tennis is of critical importance. If you can't swing quickly, block adeptly, change racquet direction with speed and dexterity, you are at a disadvantage.
However, maneuverability should be secondary to stability. The most important thing a racquet can do is to send a ball in the direction you want it to go when you are hitting a groundstroke. The second most important thing a racquet can do is allow for off center hits (away from the "sweet spot" on the racquet's string bed...which varies from model to model). This is what I mean by stability. Again, you should strive to find the racquet that is as maneuverable as is possible...but still hits with stability. Frankly, this is on reason why some racquets are more expensive...they provide both well! Play testing a racquet is the only way to understand its maneuverability. Usually, groundstrokers prefer a racquet that is less maneuverable than those preferred by volleyers.
Weight is intimately related to maneuverability, as is balance. Racquets range from 9 ounces up to about 13.5 ounces. Some people add weight (using lead tape) to a racquet. I believe Sampras plays with a racquet in excess of 14 ounces...much heavier than most players would like. Perhaps more important than weight is balance. Basically, racquets are either head light, evenly balanced or head heavy. Don't believe manufacturer's specifications regarding balance. There is only one way to perceive balance...by actually playing with the frame. One manufacturer has an entire line of racquets that are technically head heavy. Play with them, however, and they seem head heavy. Twohanders and big topspinners usually love head heavy or evenly balanced racquets. Volleyers and finesse players usually prefer head light racquets. Regarding weight, there are no hard and fast rules. It is really a matter of preferred "feel."
Head size is another important consideration. Racquets come in three basic sizes: midsize (90 to 92 square inches), midplus (95 to 100 square inches) and oversize (105 to 115 square inches). One would think that the oversize racquet would automatically be the best choice in that there is more hitting surface...which could mean that the racquet would be more forgiving. However, most male pros use either mid or midplus racquets (Sampras uses a racquet that is 85 square inches!). Most female pros use midplus or oversized racquets. The larger the head the less maneuverable it becomes. In addition, oversize racquets may hinder the serve a bit. Beyond these, there are no hard and fast rules. I personally use a 98 inch head. I really think head size is more of a psychological consideration (larger heads generate confidence) and to some degree a power consideration (larger heads are usually a bit more powerful than their smaller counterparts). In many ways, head size preference may result from early experience. You probably began playing with a larger head racquet because someone told you it was more forgiving (which to a minor degree it is). If this is how you started, it is likely that you continue to play with larger head racquets. My advice is to try all three varieties, just to be certain that you are playing with the best size for your game.
Length is, perhaps, the biggest technological advance since widebody racquets were first introduced. First, the verdict is not in on these longer sticks. A traditional racquet is 27 inches. By the year 2000, all "legal" racquets used by pros will be required to be 29 inches or less in length (ITF ruling). Today, you can find racquets that are 32 inches or longer! Most "longbodies" are 28 to 29 inches in length. Despite the newness of these racquets and the extraordinary claims by manufacturers, some benefits are clear. Longer racquets make for more accurate and powerful serves. They impart more spin. They absorb the shock of ball impact better. And, they allow for greater reach. Volleys can be a bit difficult with these longer frames, but not impossible by any means. I play 50% of the time with a longer frame and 50% with a traditional length racquet. Why? I am doing what I recommend you do...give them a thorough test before you commit to them!!! I do think that they offer many benefits and I encourage every player to give them a demo!
Dampening refers to the ability of a racquet to absorb the shock of ball impact. Too much vibration reaching the arm can exacerbate (not create!!!) tennis elbow and other arm/wrist ailments. The stiffer the racquet the less dampening as a general rule. The longer the racquet the greater its dampening potential. Some racquets have special dampening devices and grips built in to help in this area. The down side to too much dampening involves the loss of "feel" off of the strings. If you are a "touch" player, you don't need or want dampening. Big groundstrokers, however, may really benefit from a dampening frame. Although this is not usually the first or most significant consideration in selecting a racquet, you should keep dampening in mind if you suffer from arm, wrist or shoulder problems.
Finally, we come to grip size. Grips on racquets come in the following sizes: 4, 4 1/4, 4 3/8, 4 1/2, 4 5/8, 4 3/4 and 5 inches diameter. The bigger the number...the bigger/thicker the grip. Most women use 4, 4 1/4 and 4 1/2 grips. Most men use 4 1/2 and 4 5/8 grips. Actually, I have a big hand but use a 4 3/8 grip. Why? Well. I believe that smaller grips enhance feel and improve volleys. However, there is scientific evidence to suggest that every player should use the largest grip she/he can handle...to minimize the likelihood of tennis elbow. I think grip size can help arm ailments, but really the cause of these ailments is usually mechanical execution related...not racquet/grip related. Try different grips until you find the size that feels right for you!
There is much more one can discuss about racquet technology, etc. I recommend having a discussion with a USRSA certified technician. She or he can answer all your questions in depth and provide concrete suggestions! The only real way you will know if a racquet is right for you is to play with it at on at least 4 separate occasions. Some racquets you demo will immediately feel wrong. Some will leave doubt and some will feel good. Before you buy one or two racquets (if you play a lot you really need 2 identical frames), demo the frame on 4 different days. By the fourth day, the novelty effects will have diminished.
In ending this article, I will give you a few suggestions on what racquets to demo given your age, gender and playing style:
Stiff, midplus or larger, longbodies:
perfect for most senior aged club players who prefer doubles.

Moderately stiff, oversized, longbodies:
perfect for most female groundstroke oriented players who like rally wars.

Light, stiff, maneuverable, midplus, traditional length frames:
perfect for serve and volley singles players.

Heavier, flexible, midplus or midsize, traditional length frames:
perfect for the hard hitting, male, groundstroker.

Moderately stiff, maneuverable, midplus, longbodies or traditional length frames:
best for the skilled, experienced, all court player.
I am certain that, if you practice hard and find the right stick, you will become a tennis overdog.

Good luck in your game!!!



Turbo Tennis Archives:
1996 - 2002 | 2003 - Present
If you have not already signed up to receive our free e-mail newsletter Tennis Server INTERACTIVE, you can sign up here. You will receive notification each month of changes at the Tennis Server and news of new columns posted on our site.
This column is copyrighted by Ron Waite, all rights reserved. Questions and comments about these columns can be directed to Ron by using this form.
Ron Waite is a certified USPTR tennis instructor who took up the game of tennis at the age of 39. Frustrated with conventional tennis methods of instruction and the confusing data available on how to learn the game, Ron has sought to sift fact from fiction. In his seven years of tennis, Ron has received USTA sectional ranking four years, has successfully coached several NCAA Division III men's and women's tennis teams to post season competition, and has competed in USTA National singles tournaments. Ron has trained at a number of tennis academies and with many of the game's leading instructors.
In addition to his full-time work as a professor at Albertus Magnus College, Ron photographs ATP tour events for a variety of organizations and publications. The name of his column, TurboTennis, stems from his methods to decrease the amount of time it takes to learn and master the game of tennis.
---