New Fangled Tennis: Updating Your Game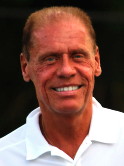 Ron Waite, USPTR
As many of you may already know, I have been involved with tennis for a relatively short period of time…a little over a decade. What prompted me to begin writing this column was the frustration I experienced trying to learn and master this game. Lessons, tennis literature and instructional videotapes often times did more to confuse than help me. The books, teaching pros and videos were teaching me one type of tennis, but the pros were playing a very different style. For these 10 years in tennis, I have collected a rather impressive library of materials. These range from The Art of Lawn Tennis by William Tilden to Winning Ugly by Brad Gilbert. Every text and video has provided me with at least one useful insight. However, many of the available texts and videos don't really address the modern game of tennis.
Tennis has undergone a drastic series of changes in the last 15 to 20 years. The modern player doesn't follow the traditional guidelines of tennis stroke production…more often than not. The game that Stan Smith played at his peak is in many ways significantly different from the game of Pete Sampras, et al.
The differences that exist between traditional and modern tennis became abundantly clear to me recently. One of my students…I'll call him Joe…is a 62-year-old, recently retired tennisphile who has played the game for over 50 years. Essentially, Joe is a better club level player who still plays singles. Joe enjoys competing against younger players…even juniors! In fact, Joe tells me that he has won sets against tournament level players who are 45 years younger than he. However, Joe realizes that with the modern player, he is facing a very different opponent from those who are his contemporaries. As he puts it, "the modern player doesn't set up, hit the ball, move, strategize or compete the same way I was taught to play tennis." Joe's game is truly traditional (eastern forehand, onehand slice backhand, slice serve and flat groundstrokes). He can play serve and volley, but finds that lately he is being passed more than he would like. Thus, Joe has enlisted my services to "modernize" and "update" his game. Joe realizes a profound truth: the modern game will more often than not beat the traditional game! I greatly admire Joe. He is a fierce competitor who never wants to rest on his laurels. He is willing to change, more importantly; he is willing to lose while making the changes.
If you are a senior player who still plays the traditional game, this month's article will hopefully inspire you to consider some growth and change in your game. If you are already a member of the modern game's ranks, this month's column will help you understand why the modern game prevails.
First, we must understand why the traditional game has faded. In my view, there are at least several principle reasons:
Bjorn Borg:
Borg was the first, truly modern player. He revolutionized the game of tennis. His awesome topspin groundstrokes, two-handed backhand, incredible fitness and a powerful serve were the prototype components of today's pro player. Although Borg is known as a backcourt specialist, it should be noted that he won Wimbledon five times by serving and volleying! What is amazing to me is Borg's ability to hit high, loopy, topspin groundstrokes off of any surface…including grass! These, coupled with Borg's tremendous passing shots, made him the formidable opponent he was and is! Despite some initial resistance, Borg's approach to the game of tennis became accepted and desirable.

Racquet Technology:
Long gone are the days of heavy, wooden racquets. Today's racquets are lighter, more maneuverable, longer and more powerful. The net result of this racquet revolution is that even the weakest player can now hit with great pace. The speed associated with today's groundstrokes and serves is absolutely incredible. It is no wonder that the game of tennis has changed so significantly with these modern "sticks."

Court Surface:
Granted, grass and clay surfaces still exist today. However, the most common surface today has to be hardcourts. Hardcourts are conducive to the big game!

Player Types:
The modern player (whether male or female) is usually taller (Rios and Chang are notable exceptions), stronger (due to modern strength training) and fitter (due to better nutrition, cross training, stretching and sport science advancements).
I am certain that other reasons could be added to the above list, but clearly, these are the primary reasons why the game of tennis has changed.
So, how is the modern game different? This is a deep question, which could elicit volumes. However, as I see the game today, there are some principle ways in which players differ today.
Forehand Grips:
The modern player probably uses one of two grips for her/his forehand strokes: the semi-western or western. (For more information see my articles: True Grip and Picture Perfect.) Even the eastern forehand grip is a bit obsolete (granted, Pete Sampras still uses this grip). The reasons for choosing these two forehand grips are simple: power and topspin. Using either the semi-western or western grip enables the player to lift the ball, imparting topspin. Imparting topspin means that the ball can be hit harder and still land inbounds (topspin forces the ball to drop more rapidly). In addition, topspin balls bounce higher which makes it difficult for an opponent to hit outright winners. You can't play the modern game if you can't hit topspin…it's that important.

Two-hand Backhands:
More often than not, the modern player chooses the two-hand backhand. The one-hand slice is still an essential stroke to have in one's arsenal, but the two-handed backhand offers clear benefits: easier topspin, better returns of serves, the ability to hit high bouncing balls (the product of your opponent's topspin) and better disguise. Two-handed backhands on the whole may also be more powerful…but this is debatable.

Less Backswing:
Regardless of what grip you use or whether you hit a one-handed or two-handed backhand, today's racquets are so powerful that you need not take the racquet back as far in preparing for a groundstroke. This is not to suggest that you don't have to prepare early. Rather, you are more likely to prepare early and appropriately because you do not have to have a big backswing. Look at Rios' groundstrokes…they are the archetype of the modern game's backswing.

Open Stances:
More often than not, the modern player will hit her/his groundstrokes from an open stance. Clearly, the one-handed slice still requires the traditional closed stance. However, virtually every other groundstroke can be hit powerfully and effectively from an open or semi-open stance. The real benefit to open stances is that recovery (getting back into desirable court position after you hit a groundstroke) is much easier. Granted, there are times when you must hit from a closed stance. But, when you have a choice, the open stance is preferred.

Kick Serves:
Big, powerful, flat serves have always been the mainstay of tennis. As a first serve, these can be a great weapon. Fortunately, modern racquets enable all of us to hit serves with greater pace (part of the modern game). What is the biggest difference in serving today is the reliance upon the kick serve as a second serve. In the traditional game, the slice serve was the preferred second serve…it still is on grass (the original tennis surface). Today's kick serve has ball rotation that makes it easier to control and more likely to drop in the service box (this is true of the slice serve, as well). However, the real benefit to the kick serve is that it bounces up and away from the opponent…making a clear put-away return difficult. Often, kick serves are just not returnable…not bad for a second serve!

Aggressive Put-Aways:
In the traditional game, the truly aggressive player was one who would serve and volley and/or chip and charge. The only place to be aggressive was at the net. In the modern game, aggressive shots can be hit from anywhere on the court! I am not suggesting that effective net play should be abandoned. However, today's player can hit a winner from virtually any court position. Of course, percentage put-aways are hit from somewhere inside the baseline. Yet, many of the modern professionals (Agassi, Sampras, Seles etc.) can hit a big winner from several feet behind the baseline (not recommended for the club player!). Thus, modern players must be able to defend in ways that their traditional counterparts did not. In fact, even the traditional volley is being re-defined. Today's player is not afraid to hit the swing volley (Seles, Agassi, etc.). On the women's side of the tour, quite a few players hit a two-hand backhand volley. I suspect that we'll see more of these in the future (McEnroe will probably have a coronary!)

Passing Shots:
Given the prevalence of topspin on both forehand and backhand groundstrokes, it is not surprising that the modern player can hit great passing shots…both down the line and crosscourt. I believe these well-developed passing shots coupled with better returns of serve explain why the serve and volley game is somewhat a rarity today. One has to be extremely quick (like Edberg or Novotna) to get to an advantageous volleying position on today's hard courts.
All of this leads me back to Joe's development. I have been working with Joe for about three months and his game has radically changed. He now hits the kick serve effectively. He still uses a one-hand backhand, but he now comes over the ball to impart topspin. He has moved from an eastern forehand grip to the semi-western. This change has been difficult, but he now reaping the rewards of his patience and diligence. Coupled with this semi-western grip, Joe now hits from an open stance. Needless to say, Joe is now hits great topspin off of both wings. His backswing is still conspicuous on the backhand wing, but the forehand is a short, compact stroke. Overall, Joe is hitting more powerfully off the ground but without sacrificing control.
Recently, I had the occasion to watch Joe play a practice match against his grandson (an accomplished junior). It was amazing to see Joe hitting big groundstrokes, working the angles and then putting away the short ball. To mix things up, he would occasionally play serve and volley. Clearly, Joe's singles game had been modernized. Although he lost two sets to his grandson (sometimes youth just prevails), Joe tells me that he is killing his regular hitting partners (all of whom are in their 40's and 50's). When he plays doubles, Joe returns to his traditional strokes, which are more suited to doubles than modern strokes. Yet, when it comes to singles, Joe is very much an Agassi on the court.
So, if you are a traditional player looking to improve your singles game, I strongly recommend adopting some, if not all, of the aspects of the modern game. If you are new to tennis, strive to learn the modern game. You may not find it in many of the standard tennis texts, but I assure you, it is the way to go. I am certain that if you make the modern game your game…you will soon become a tennis overdog.



Turbo Tennis Archives:
1996 - 2002 | 2003 - Present
If you have not already signed up to receive our free e-mail newsletter Tennis Server INTERACTIVE, you can sign up here. You will receive notification each month of changes at the Tennis Server and news of new columns posted on our site.
This column is copyrighted by Ron Waite, all rights reserved. Questions and comments about these columns can be directed to Ron by using this form.
Ron Waite is a certified USPTR tennis instructor who took up the game of tennis at the age of 39. Frustrated with conventional tennis methods of instruction and the confusing data available on how to learn the game, Ron has sought to sift fact from fiction. In his seven years of tennis, Ron has received USTA sectional ranking four years, has successfully coached several NCAA Division III men's and women's tennis teams to post season competition, and has competed in USTA National singles tournaments. Ron has trained at a number of tennis academies and with many of the game's leading instructors.
In addition to his full-time work as a professor at Albertus Magnus College, Ron photographs ATP tour events for a variety of organizations and publications. The name of his column, TurboTennis, stems from his methods to decrease the amount of time it takes to learn and master the game of tennis.
---