Why Every Junior Should Watch The Seniors!!!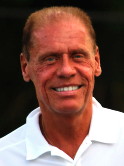 Ron Waite, USPTR
This month, I decided to write a bit of a different article. Why? Well, I had the great fortune to attend the Citibank Championships, which were held at Manhattanville College in NY. This tournament is one of the stops on the Senior Tennis Circuit. This is the equivalent of the Senior Tour in golf.
My primary purpose was to photograph the event, and the fruits of this labor are available at the end of this article. I wanted to provide readers with action images of some of the best men to ever play the game. They did not disappoint me and I invite you to download any of these images listed.
However, as I watched the event unfold, I began to realize how important it is for any serious tennis enthusiast, as well as junior players, to attend these events.
It should be noted that I took up the game of tennis 10 years ago. Thus, I had not much experience watching these legends of the game compete. By the time I started playing the game, some of these champions had left the game or were in the autumn of their careers. So, I was eager to see the level of play that they were capable of exhibiting…but, I had some ill-founded preconceptions as I approached the event.
First, I was under the impression that these former ATP Tour players were likely to be in less than fit shape. Nothing could have been further from the truth. In the Citibank Championships, there wasn't a single player who was overweight or lacking conditioning. Now don't get me wrong, age does take its toll on a player, but one wouldn't know it by these contestants!
Second, I felt that it was likely that the level of intensity brought to the matches was going to be somewhat below par. Here again, these champions proved me wrong. One need only look at the facial expressions on Guillermo Vilas, Jimmy Connors or Mikael Pernfors in the images I took at this event to realize that these guys mean business. The prize money associated with these events may be modest in comparison to ATP Tour events, but these senior players are playing for pride. Each contestant brought a level of gritiness and determination that was absolutely inspiring.
It is this level of commitment to playing well that is the first reason why every junior player should attend these Senior Tennis Circuit events. Regardless of the score, every one of these champions refused to throw in the towel. When the going gets tough, these pros know how to get going!
In addition, juniors will see styles of play that are not the norm on the ATP Tour. Those of you who read my column regularly know that I am an advocate of the "modern game." Yet, I also advocate depth in one's tactical arsenal. Well, junior players will see some shots and strategies that are not the norm on the ATP Tour.
I have never seen better drop shots than those executed by Mansour Bahrami! His technique was impeccable…and equally important…he knows when to use this shot effectively. His drop shots would actually roll back to him if there was no net to stop their motion.
In the modern game, two-handed backhand returns and big forehand returns are often times the goal. Present day pros on the ATP Tour frequently expect to win the point off their return. This high-risk approach to this facet of the game has found its way into the junior ranks. Yet, there are some pros today on the ATP Tour who take a different approach…Patrick Rafter, for one. Well, the seniors know the most important rule of tennis…get your first ball in! The junior player could well benefit from observing the returns of Johan Kriek, John Lloyd, and of course, Johnny Mac.
These senior players not only get the ball back, but also place it with radar-like accuracy…proving the adage that "less is more."
Now, there is plenty of pace is these events. Look at the images I took of Mikael Pernfors. He literally tore the cover off the ball with his massive forehands. The pace and spin associated with these forehands were awesome, to say the least. Believe me, these senior pros still can cream a ball. What juniors can learn from these champions is when to attempt the big shot! How many juniors lose a match because they go for broke on every shot?
What was very refreshing about these senior matches was the level of sport that each player brought to the contests. Almost without exception, players would overrule line judges in favor of their opponent. This is the true spirit of the "Code." All tennis players should abide by this "Code," and juniors can learn much about the wonderful tradition of sport associated with tennis by watching these senior pros. They treat each other with respect and want no unearned points!
Honest line calls are the foundation upon which this sport is based. Juniors learn by example…and these pros set a wonderful standard.
I must add parenthetically that there was one exception to this approach to line calls…John McEnroe. In one match, he disputed three line calls in the first two games! Truly, I think John performs for the audience. They expect these hysteronics from him, and he is more than willing to provide the show. Hopefully, juniors will see John's behavior as being in stark contrast to the level of professionalism displayed by every other player I observed.
Finally, fans considering attending these Senior Tennis Circuit events may be concerned that only Connors and McEnroe win the tournaments. Well, the Citibank Championships proved this assumption to be unfounded. The singles final included Mikael Pernfors and Mel Purcell…Pernfors was the ultimate victor. This final was great. The crowd was treated to high level tennis and drama.
Like the ATP Tour, there are no sure winners on the Senior Tennis Circuit.
The surface which is used for these senior events is Har-Tru clay. This, in my opinion, is the best surface for tennis. Why? Well, every style of play is possible on this green clay. Groundstrokers, serve and volleyers, and all court players…each has a good chance on this fairest of surfaces. So, the junior player will likely see different styles pitted against each other. There is a wealth of knowledge to be gained from watching the various styles challenge each other!
Finally, it should be noted that these are first class events in every regard. The venue was beautiful, the stadium was first rate, and the ancillaries (booths, pro-ams, and clinics) were in no way lacking.
Unfortunately, I never saw Rod Laver, Ken Rosewall, et al play during their prime. When I decided to cover the Citibank Championships, I believed that I would be seeing some of the greats…but again, not at their peak. Believe me, most of these guys could still be ranked in the top 100 on the ATP Tour. They may have their best years behind them, but there is still plenty of fuel in the furnace. This Senior Tennis Circuit is serious tennis!
So, I encourage all tennisphiles (and especially juniors) to attend these Senior Tennis Circuit events. Where else can you watch a tournament where collectively the contestants bring over 55 Grand Slam titles? Believe me, should you decide to patronize one these excellent events, I know that the knowledge you can gain from the experience will go a lone way toward making you a tennis overdog!



Turbo Tennis Archives:
1996 - 2002 | 2003 - Present
If you have not already signed up to receive our free e-mail newsletter Tennis Server INTERACTIVE, you can sign up here. You will receive notification each month of changes at the Tennis Server and news of new columns posted on our site.
This column is copyrighted by Ron Waite, all rights reserved. Questions and comments about these columns can be directed to Ron by using this form.
Ron Waite is a certified USPTR tennis instructor who took up the game of tennis at the age of 39. Frustrated with conventional tennis methods of instruction and the confusing data available on how to learn the game, Ron has sought to sift fact from fiction. In his seven years of tennis, Ron has received USTA sectional ranking four years, has successfully coached several NCAA Division III men's and women's tennis teams to post season competition, and has competed in USTA National singles tournaments. Ron has trained at a number of tennis academies and with many of the game's leading instructors.
In addition to his full-time work as a professor at Albertus Magnus College, Ron photographs ATP tour events for a variety of organizations and publications. The name of his column, TurboTennis, stems from his methods to decrease the amount of time it takes to learn and master the game of tennis.
---