"SWERVE" AND VOLLEY…
Ideal for Fast Surfaces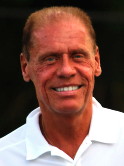 Ron Waite, USPTR
In last month's column, I addressed playing on clay court surfaces. Continuing with the theme of how to play different surfaces, I would like to address the fast surfaces such as indoor hardcourts and grass. For those of us who live north of the equator, it won't be long before the weather forces many of us indoors. So, now is the time to prepare for the "winter" season.
My belief is that any fast or medium fast surface lends itself to the serve and volley approach to tennis. However, serving and volleying can be successful on slower surfaces, as evidenced by Patrick Rafter's superlative play during the 1999 European clay tournaments.
If you are a senior player (as I am), I firmly believe that you must be able to serve and volley, if you are to be successful in tournament competition. Why? Our bodies just can't handle the beating that a backcourt game inflicts when we compete on hardcourts. If you live in the USA, chances are that you play many if not most of your matches on these surfaces. In addition, we probably can't run to cover the court as well as we could when we were a bit younger.
Juniors can benefit from learning to serve and volley. Most juniors and college players are great backcourt players with well-developed groundstrokes. But, I have never seen a junior player beat one who is accomplished at serving and volleying. I truly believe that the junior or college player who can serve and volley with proficiency will prevail in most matches. Why? Most juniors and college players are not used to seeing opponents rushing the net. They simply don't know how to defend against this attacking style of play.
If you have read my column for a while, you know that I advocate having multiple game plans. Certainly, one of these plans should be serving and volleying!
In a past article entitled, Volleys Not Follies, I address many of the basic principles needed to execute proper volleys. If you feel that you are lacking in volleying skill, I strongly suggest that you call this article up and practice this essential tennis stroke. However, having a good serve and proper volleys are not all that is needed to serve and volley effectively.
So, in this month's column, I hope to shed light on some of the other ingredients necessary to succeed using this style of play.
The first and perhaps most important concept to understand is that serving and volleying is a two step process! You must serve and then volley. Amazingly obvious as this may seem, I see so many players who rush the serve in order to close the net. Usually, they commit a service fault. This means that they must hit a second serve. If they serve and volley on the second serve, they are taking a major risk…that they will be passed or lobbed. So, they often times resort to a spin second serve and stay back…the percentage play. It is no wonder so many of these players tell me that they cannot serve and volley…they never really have an opportunity to see if they can!
You must be able to reliably serve while beginning to move forward. I regularly practice my serve in this manner…I serve and follow the ball to the net. After hitting the serve, I actually force myself to move to my court's service line before I return to practice another serve. How many times when you practice your serve do you remain behind the baseline? Practicing your serve in this manner will never help you to be a serve and volley player. You must practice serves moving forward as you would if you were serving and volleying!
Now, the ideal way to serve and volley is to move to the service line to hit your first volley. Most of us are just not that fast! If I can arrive at a point that is one yard behind the service line by the time I have to hit my first volley, I am doing well. Does this mean I can't serve and volley… absolutely not. Fortunately, most players do not have the ability to return serve as well as Andre Agassi. Their returns are often high over the net, which makes for an easier volley. Yet, once in a while, a player comes along who can hit the return at your feet. Being a bit slower in getting to the net, this usually translates into my having to hit a half volley. I actually practice hitting half volleys using my ball machine or a backboard/wall. The fact that I have confidence in my half volleys allows me to be a bit more intrepid as I lumber toward the net.
Clearly, good foot speed and proper footwork will help a player to close the net more effectively.
I regularly run 25-yard sprints to improve my forward motion foot speed. In fact, I believe sprints are much more useful than distance running for tennis players.
Proper footwork is a little more difficult. Professional players on both tours use the split step when serving and volleying. The split step is where a player stops running forward and lands on both feet (shoulder width apart) as the opponent makes contact with the serve. This enables the player to move in any direction that the opponent's reply may go. Most recreational players do not need to develop the split step to be successful at serving and volleying. Rather, she/he needs only to slow down as the opponent's racquet makes contact with the ball. Usually, this is sufficient to allow movement in any direction. However, if you want to excel at the serve and volley game, you need the split step.
Some years back, I watched Barbara Potter (former tour champion) teach a young pupil to split step. Her method was rather simple. The student served the ball and counted three steps. After the third step, the student would automatically perform the split step. Barbara would return the serve to various parts of the court (she has control!!!). After about six or seven awkward attempts, the student immediately began to gain the cadence and rhythm necessary to split step reasonably well. By the end of the hour lesson, the student looked like a pro. I often use this technique with my students and find that in one or two lessons, they have greatly improved their footwork. I suggest you find a hitting partner and try this drill for yourself.
Still, you may find that you are being passed. Well, here is almost a sure-fire cure. If you wondered why Patrick Rafter could win on clay playing the serve and volley game, it is for one reason…he has an absolutely great kick serve. The kick serve does two things for the serve and volley player.
First, it actually takes longer to reach the opponent… which allows you, the server, a fraction of a second more to close the net. This may not seem like much, but in reality, this fraction of a second may make all the difference in the world.
Second, the kick serve jumps up high at the opponent. This means that the opponent has to hit up on the ball. The result is often either a weak return of serve or one that passes higher over the net. The higher the ball…the easier the volley.
This means that you need a reliable kick serve. On very fast surfaces (like grass or fast indoor courts), the slice serve is usually better. Why? Well, it still allows that fraction of second of time for you to close the net. However, on fast surfaces, the kick serve does not jump up as high.
If you kick serve on grass, you often times find the ball jumping up into the opponent's strike zone. The slice serve usually stays low and moves a bit sideways. Frequently, when hit correctly, the slice serve will actually skip off the court. All of these factors translate into a weaker return of serve from the opponent.
So, the rule is simple…on slow surfaces, kick serve…on faster surfaces, slice serve.
The next point that needs to be addressed deals with serve placement. Classic serve and volley calls for "wide and wide." By this, I mean that you serve wide (in a sense, your are swerving your opponent out of the court) and hit your first volley wide to the open court. I often tell the players on the college team that I coach to "swerve and volley."
For example, If you are serving in the deuce court, you want to serve wide to bring your opponent out of the court. Then, you hit your first volley deep and wide to the ad court. The same tactic can be applied to the ad court. Serve your opponent wide then volley deep and wide to the deuce court. If there is a starting point for serve and volley tennis, this is it. It is most effective when your opponent is uses a western forehand grip (when serving to the deuce court…assuming she/he is right handed) and when your opponent uses a two handed backhand (when serving to the ad court…assuming she/he is right handed). However, this classic "swerve" and volley is effective against almost all player types. The problem is that you cannot go to the well too often. The opponent will anticipate that you are serving wide and move in that direction as you toss the ball.
The second most effective serve placement in my opinion is to serve right at the opponent. This forces him/her to move quickly to set up for the ball. The moment of indecision may cause a weaker return. Thus, you are more likely to have an easy volley. Whenever I serve at the opponent, I try to hit my first volley short in the court at an angle away from the opponent. Why? Well, I have found that when you serve at the opponent he/she will move back a step to hit the return. This backward motion is difficult to reverse. By hitting my first volley short, I am forcing him/her to change direction and move forward. By hitting my first volley away from the opponent, I increase the distance that he/she must run to make a reply…in this game every extra step your opponent must take is to your advantage.
If you find that the opponent is able to pass you easily, I suggest that you attempt to serve down the "T." By serving down the center, you will reduce the severity of the angles with which your opponent may pass you. However, a smart opponent will often times lob you when you serve down the "T." So, be aware and ready to move back for an overhead smash.
You will note that so far I have referred to my "first volley." Frankly, you must expect to hit two or three volleys if you are to win the point. All too frequently, I see players who hit a good first volley and then freeze. All to frequently, they find that a fast opponent has reached the ball and is able to make a reply. So, you must always assume that there will be a reply and prepare for a second or maybe third volley!
Students often ask me about where they should be positioned at the net. When serving and volleying, you always want to follow the path of the ball. If you are serving wide, you want to follow the path of the ball, which will take you either right or left of the net's center strap. If you serve down the "T," following the path of the ball will bring you near the center of the net. After you make the first volley, again, follow its path. If your first volley goes to the ad court, move a bit in that direction. If you volley to the deuce court, move a bit in that direction. Granted players can pass you crosscourt or down the line if your first volley is not a clear winner. Moving in the direction of the first volley will help you cover both possibilities as best as you can.
One final note on positioning. If in doubt, cover down the line. The odds are your opponent will choose this direction.
When you are at the net, try to keep your feet moving. Watch the pros. They are always on their toes and moving their feet when they are at the net. This keeps you alert and enables you to move quickly in any direction.
Anticipation in tennis is always a plus. I try to focus on the opponent's racquet face when I am at the net. I have found that I am better able to "read" what direction her/his reply will go when I focus on the racquet face.
If you are totally uncomfortable with serving and volleying, I strongly suggest you play lots of doubles. When played correctly, the servers in doubles will always follow their serves to the net.
Since the opponent will most likely return serve at you, there is less guesswork. In addition, once you are at the net, you have less court to cover. Doubles will greatly enhance your reaction time.
Doubles often times forces players to hit quick "reaction volleys." Learning to hit these will automatically improve your confidence at the net.
Generally, when we think of the "modern" game of tennis, we do not conjure up the serve and volley style. Granted, the tennis academies have fostered generations of big groundstroke baseline players. Yet, I would argue that the modern game still has plenty of room for the serve and volley player. Look at Rafter, Sampras, Novotna, and Hingis. All have excellent serve and volley games. Equally important, they each know how to successfully employ this style of tennis on virtually any surface.
I encourage each of you to spend some time developing or improving your serve and volley game. I know that with such a style of play at your command, in no time, you'll become a tennis overdog!!!



Turbo Tennis Archives:
1996 - 2002 | 2003 - Present
If you have not already signed up to receive our free e-mail newsletter Tennis Server INTERACTIVE, you can sign up here. You will receive notification each month of changes at the Tennis Server and news of new columns posted on our site.
This column is copyrighted by Ron Waite, all rights reserved. Questions and comments about these columns can be directed to Ron by using this form.
Ron Waite is a certified USPTR tennis instructor who took up the game of tennis at the age of 39. Frustrated with conventional tennis methods of instruction and the confusing data available on how to learn the game, Ron has sought to sift fact from fiction. In his seven years of tennis, Ron has received USTA sectional ranking four years, has successfully coached several NCAA Division III men's and women's tennis teams to post season competition, and has competed in USTA National singles tournaments. Ron has trained at a number of tennis academies and with many of the game's leading instructors.
In addition to his full-time work as a professor at Albertus Magnus College, Ron photographs ATP tour events for a variety of organizations and publications. The name of his column, TurboTennis, stems from his methods to decrease the amount of time it takes to learn and master the game of tennis.
---