Player of the Year 2007
by Ray Bowers

Ray Bowers
Our Player of the Year has sometimes been the year's male or female singles champion--i.e., the winner in the year's points race. That was the case, for example, in naming Serena Williams in 2002 and Roger Federer in 2004 and 2006. Often, however, we have recognized narrower achievements that seemed of higher drama or historical significance--unusual success in doubles, perhaps, or in winning a single event in a surpassing fashion, or extreme contributions in Davis Cup or Fed Cup play.
Of the three prime candidates for 2007, two are the year's #1 players--Roger Federer and Justine Henin. Both achieved unusually strong margins of dominance. Our third candidate is from the second category.

Tennis Players of the Year
Player of the Decade
Player of the Century
JUSTINE HENIN
After missing Australian Open in January amid her divorce process, Justine then recorded triumphs at Dubai and Doha, a second-place finish at Miami, and the championship at Garros 07, all of which lifted her into first place in the year-to-date points race. She then reached the semis at Wimbledon, losing to Bartoli, but after that she would not lose another match for the rest of the year. During that period she captured Canada and U.S. Opens, the Tier II at Stuttgart, the Tier I at Zurich, and in November the year-ending championships at Madrid. Over the full year, she won ten of the fourteen tournaments in which she competed, for an overall W-L mark of 63-4.
It was thus a year of dazzling success for the slender Belgian superstar, whose mental strengths, court speed, footwork, and surprising power enabled her regularly to defeat taller and more-powerfully-built opponents. Her superb defensive and offensive skills were blended easily into an overall game of wondrous balance. Henin's only significant blemish during the year was her absence from Fed Cup play, where her country, Belgium, was eliminated from the eight-nation World Group for 2008.
Justine has not previously won our Player of Year award, though she was the top female candidate in year 2003. Having accomplished seven Slam triumphs and three year-end #1 finishes now at age 25, she is at the edge of entering the ranks of the all-time superstars.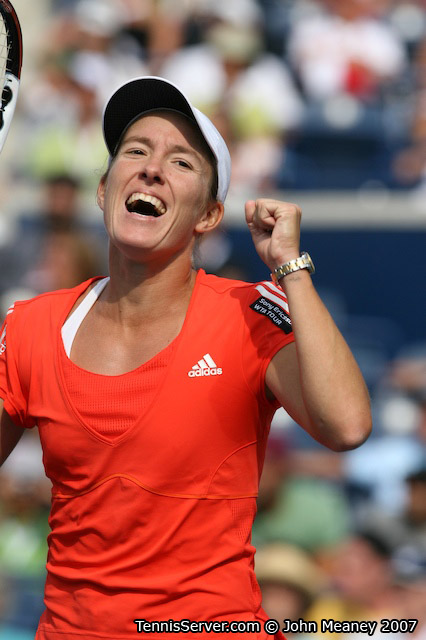 Justine Henin took home the Rogers Cup
on her way to a first place finish for 2007.
ROGER FEDERER
Roger Federer's dominance as #1 in the men's game in 2007 compares closely with Justine's among the women. Roger won three of the year's Slams and was runner-up at the fourth, Garros. Like Justine, he won the year-ending event, Masters Cup in Shanghai. Overall, he won eight of the sixteen tournaments that he entered, and he compiled a W-L record of 68-9 in ATP, Slam, and Cup competition. Like Justine, he blended superior defensive and offensive skills into an overall mastery of the game that may be history's finest.
Roger missed his nation's first 2007 Davis Cup engagement, which was played on indoor carpet in Geneva in February, midway between Roger's triumphs at Melbourne Park and at Dubai. The Swiss team, lacking both Federer and its #2 player, Wawrinka, nevertheless played visiting Spain fairly closely, losing by 3-2. (Youthful Chiudinelli beat both Verdasco and, in the meaningless fifth rubber, Ferrer.) Then in September, in relegation Cup play in Prague, Federer defeated both Berdych and Stepanek in singles but narrowly lost in doubles with Allegro. Switzerland thus lost to the Czech team 3-2 and thereby lost its place in the men's 16-nation World Group for 2008.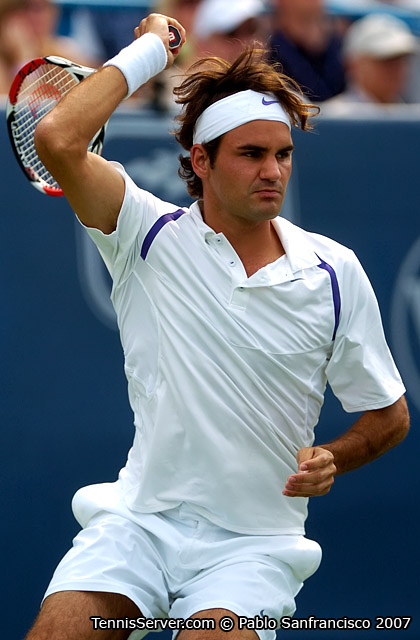 Roger Federer captured the W&SFG Masters title
on his way to a number 1 finish for 2007.

FEDERER AND SAMPRAS

Tilden once wrote that the current world champion is always the best of all time. The point is of course overstated, though surely the game advances with time. Tilden himself sometimes contributed contrary evidence, defeating superstars at their prime younger than himself by 15 or 20 years. The three recent exhibitions in Asia pitted two champions ten years apart in age, Roger Federer and Pete Sampras. Their meetings provided interesting grist.

Roger won the first two engagements, on November 20 in Seoul and two days later in Kuala Lumpur, both on indoor hard surfaces. Both were straight-setters though both turned out to be closer than had been generally expected. At Seoul, Roger fell behind early but then won the second set comfortably amid intermittent shabby play by both men. Then at Kuala Lumpur, Roger won two tiebreak sets, where both deciding games were settled by the narrowest of margins. Their third engagement, on a noticeably faster court at Macau, was even more surprising in its outcome.

Again at Macau, Sampras showed his former serving prowess amid relentless net-attacking tactics and occasional extreme rocketry in stroking. Federer's superior all-court movement and stroking, especially on the backhand side, roughly balanced these assets. Roger tried to return serve from close-on-baseline depth but was never able to put together a string of effective serve-returns. Throughout, the match was played in an outwardly light-hearted mood by Pete, but there was no mistaking Roger's resolve, which appeared to translate into tightness at the climactic finish. Sampras was the winner, 76 64.

The three matches were not part of the official ATP/ITF season. But they are part of pro tennis history and will probably be cited in future discussions comparing tennis generations and past champions. The conclusion is plain that, despite their ten-year age difference, Sampras and Federer are currently very close in fast-court play. (Few would question, however, that Roger's slow-court strengths now are well ahead of Pete's at any time in his career.)

In post-match comments, Pete denied any possibility of returning to the pro tour. But he hinted that it would be interesting to try again on grass. Tennis fandom worldwide would wildly applaud the presence of Sampras at Queen's and Wimbledon in 2008, perhaps under special wild-card arrangements. A final-round meeting of history's greatest grass-court champions would seem likely.

DAVIS CUP 07 AND OUR THIRD CANDIDATE

The United States has captured the Davis Cup more often than any other nation in tennis history. But prior to 2007 there had been a 11-year dry spell for the Americans, where six other nations won the crown, five of them twice. The dispersion of Cup success among many nations was essentially healthy for the sport, but a Cup triumph in 2007 for the once-dominant tennis nation seemed overdue.

In recent times, the Americans seemed to have found the right blend of young talent. Under Patrick McEnroe's low-key but energetic leadership Andy Roddick, James Blake, the Bryan brothers, and others of the same tennis generation have been total in their commitment to Cup success. Meanwhile all of them in their behavior and sportsmanship have been exemplary representatives of their country. There had been many winning Cup engagements against various opponents, but in every year matters seemed to conspire against a U.S. triumph. The Yanks did reach the final round in 2004, but a potent Spanish team featuring Moya and newcomer Nadal prevailed on home-nation clay.

Year 2007 seemed different, as the draw protected the Americans against facing the best clay-court nations on their preferred surface. The quest began on indoor clay in Czech Republic in February. There, Blake lost his first-day match to Berdych in four sets, but Andy Roddick captured two singles and the Bryans won the doubles for a comfortable U.S. win. Then in April the Americans faced Spain (without Nadal) on an indoor hard court in Winston-Salem. The American line-up--Blake, Roddick, and the Bryans--consecutively won the first three matches to settle matters quickly.

For their September semi-final the Americans traveled to Gothenburg to face a dangerous Swedish team on a hard, indoor court. (Sweden, whose open championship is played on clay, chose against using that surface.) Again the Yanks overcame a first-day singles loss by Blake with two wins by Roddick and another doubles win by the Bryans. Thus, prior to the December final against Russia, Andy Roddick had won all five of his singles matches, all of them meaningful, and the Bryans too were undefeated.

The opposition in Portland was the fine Russian team, Cup champions the last two years. In the semi-final round the previous year, 2006, the Russians had hosted the Americans on indoor clay and beaten them firmly. In one of the singles matches Mikhail Youzhny had defeated James Blake in four sets, and in another Tursunov had beaten Andy Roddick in five. Remarkably, these two match-ups became the card for the first-day's singles at Portland. The large difference in 2007 was the fast, hard court surface chosen by the host nation, likely to benefit the harder-hitting Americans and, especially, the serving strength of Andy.

Matters unfolded largely as the Americans had hoped. Roddick's potent serve allowed Andy increasingly to dominate Tursunov, giving Andy the edge in short points and allowing him otherwise to stay with conservative shot-making against his sometimes erratic opponent. Blake's all-out attacking strokes then prevailed in four sets over his opponent, the dangerous Youzhny, who again and again seemed ready to turn matters in his favor. James's success in rising to deny the Russian player's late charges led to one of James's finest career victories.

The Saturday doubles settled matters. The Bryans faced in their opponents two superb singles artists, Igor Andreev and Nikolay Davydenko. The Russians played well, typically lingering in back court in receiving serve and in Andreev's serving games, where Andreev's sizzling forehand prowess provided constant threat. But as the twins gradually adjusted to the baseline power of their opponents, matters gradually swung to the favor of the year's doubles #1 pair.

The success at Portland, and indeed the entire U.S. Davis Cup effort in 2007, was first of all a collegial, or "team", victory. There were of course many individual contributions, where Roddick's was certainly the most central. Andy's singles wins (along with the doubles wins of the twins) were of course indispensable. But also important was the extended, indeed multi-year contribution by Andy as the team's leading player in rallying the full commitment of his contemporaries to Captain McEnroe and the overall team cause. In returning the Cup to U.S.A. in 2007 after years of frustration and never-failing commitment, the team's achievement equals any Cup triumph in U.S. tennis history. For Andy's central role as player and team leader in making this happen, we deem him our third Player of Year candidate for 2007.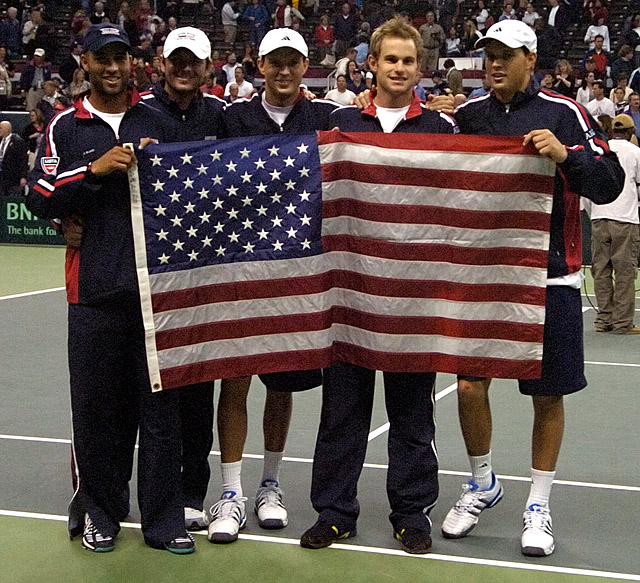 Andy Roddick led the US Davis Cup team to victory in 2007.
PLAYER OF THE YEAR
Andy's other successes in 2007, a year in which he turned 25, were not outstanding. He won the tournament here in Washington, where the opposing field was not strong, where his presence contributed greatly in the event's success. He reached the final four in Australia, lost early at Garros to Andreev, reached the final eight at Wimbledon and U.S. Open, and ended the year sixth in the points race, equalling his lowest finish since reaching #1 in 2003.
Meanwhile Andy's achievements in the winning of the Cup are hard to compare with Roger Federer's as the year's singles champion. To me, the wondrous crowd response at Portland, as in countless Cup engagements during the year throughout the world, again showed the hugely important potential role of Davis Cup play in strengthening the sport's traditions and appeal. Accordingly attaching great importance to Andy's Cup role, we here choose Andy Roddick the leading male candidate for our award, ever so slightly ahead of Federer.
Having narrowed our choices to Roddick on the one hand, and the year's female champion, Henin, on the other, we find a margin just as slender. The consistent successes of Justine throughout the year and especially in the second half against the world's top female superstars in my view requires that she be chosen. Her achievements in winning two Slams and the year-end event are of a dimension rarely seen, especially amid a year of Justine's excellent success elsewhere.
This our selection at Player of Year for 2007 is the women's champion, Justine Henin. She is the third woman to be thus honored in the award's ten-year history, after Venus Williams in 2002 and Serena in 2004.
THE TENNIS NATIONS IN 2007

Tennis Nations of the Year
| | |
| --- | --- |
| | 2006: Russia |
| | 2005: Russia |
| | 2004: Russia |
| | 2003: U.S.A. |
| | 2002: Russia |
Once again, the top nation in women's tennis was Russia, winner of Fed Cup and leading nation at all four of the Slams in terms of match-wins by its players. The U.S. women, perhaps surprisingly, were second in match-wins at all four Slams, and two American players (Serena and Venus Williams) each won a Slam championship during the year. Italy was Fed Cup runner-up, Henin's achievements counted toward Belgium's record, Mauresmo's poor year set back France's, and the late-year return of Lindsay Davenport added to American hopes for 2008.

The U.S. winning of Davis Cup 07 lifts the American males to the heights in men's tennis. The American men also won the most matches at Australian and U.S. Opens and were second at Wimbledon 07. Remarkably, France's males won the most matches at Wimbledon and were second at Australian Open and Garros. Spain won at Garros behind tournament champion Nadal.

Argentina won World Team Cup on clay just before Garros, and Russia won Hopman Cup in January and was Davis Cup runner-up. Further American honors include successes in doubles--those of the Bryan brothers at #1 and Lisa Raymond, whose many wins with different partners over the years continued until the sickness to Stosur. Special notice is given to the small nation of Serbia for the rise of three of its players to the top echelons--Novak Djokovic, Ana Ivanovic, and Jelena Jankovic, all in the world's top five men or women.

Russia had been our choice as Tennis Nation of the Year in each of the last three years. But the American Davis Cup triumph in 2007 after eleven years of frustration, along with a strong match-win performance among both men and women in the year's Slams plus wide achievements elsewhere, in my opinion, requires naming U.S.A. as pro-tennis Nation of the Year for 2007.

It's time to start thinking of Australia 2008.

--Ray Bowers
Arlington, Virginia



Between The Lines Archives:
1995 - May 1998 | August 1998 - 2003 | 2004 - 2015
If you have not already signed up to receive our free e-mail newsletter Tennis Server INTERACTIVE, you can sign up here. You will receive notification each month of changes at the Tennis Server and news of new columns posted on our site.
This column is copyrighted by Ray Bowers, all rights reserved.
Following interesting military and civilian careers, Ray became a regular competitor in the senior divisions, reaching official rank of #1 in the 75 singles in the Mid-Atlantic Section for 2002. He was boys' tennis coach for four years at Thomas Jefferson High School for Science and Technology, Virginia, where the team three times reached the state Final Four. He was named Washington Post All-Metropolitan Coach of the Year in 2003. He is now researching a history of the early pro tennis wars, working mainly at U.S. Library of Congress. A tentative chapter, which appeared on Tennis Server, won a second-place award from U.S. Tennis Writers Association.
Questions and comments about these columns can be directed to Ray by using this form.
---