"Australian Open Preview & Predictions"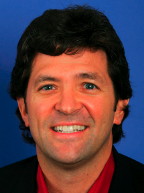 David Higdon
The Grand Slam Down Under always is a difficult tournament to predict. It's so early in the season (not that there seems to be a "season" any more on the non-stop, no-break pro tennis tour), it can be unbearably hot in Melbourne and the surface can vary from evenly paced to downright slow. Still, it's an early barometer on the year ahead. We can only hope the 1996 Australian Open matches the emotion and excitement generated last year by Andre Agassi, Pete Sampras and Mary Pierce.
My predictions for the last Grand Slam (which you still can access on the Tennis Server) weren't too shabby. I called the Sampras win over Agassi in the 1995 U.S. Open final, and had three of the four women's semifinalists. Still, Steve "Snapper" Jones, the NBC-TV basketball analyst (and an excellent tennis player to boot), won't let me live down my outlandish pick of Conchita Martinez to win the women's event. He reminds me of it every time we hit or see each other at a Portland Trail Blazers game. Get over it, mate!
So, while opening myself up for more criticism and little praise, the envelope, please...
MEN
Winner: Pete Sampras. The Aussie champ in 1994 and a finalist last year to Agassi, Sampras is one of the few "great" players who has the all-around game to adapt to the divergent conditions. He's also got the better half of the draw (compared to Agassi), though he may be vulnerable in the first few rounds due to a lingering flu. A probable third-round date with local fave Mark Philippoussis is especially dangerous. I think the hype preceding the match with Philippoussis will serve as a wake-up call to Sampras and, barring the upset, inspire him to capture his third consecutive Grand Slam.

Finalist: Jim Courier. The dude is due. He wisely winds down at the end of the year, foregoing the lure of the mighty buck, and arrives in Australia strong and eager. He's won the event twice (92, 93), reached the semis once and last year, in the season's most captivating match, stretched an emotionally spent Sampras to five sets in the quarterfinals. I think he'll upset Agassi in the quarters, but he'll fall to Sampras for the third consecutive year.

Semifinals: Michael Chang, Patrick Rafter. The tall, graceful Rafter has weathered the hype thrown on the back of every promising Aussie, and stands ready to make his move. It seems the Australian Open gives us a surprising semifinalist every year (Aaron Krickstein last year, Patrick McEnroe in 1991); Rafter, who has improved his play in Melbourne the last two tournaments, is as good a long shot as the next guy. He'll be joined by last year's semifinalist Chang, who may be the Energizer bunny--he keeps going, and going, and going--but hasn't been able to cross a Slam finish line on top since his French Open breakthrough.

Quarterfinalists: Thomas Enqvist, Jacco Eltingh, Thomas Muster, Andre Agassi. Enqvist soared to No. 7 in the world last year, but not on his results at the Slams: He didn't get past the third round at all four Majors. Melbourne's a perfect place for him to step up. Eltingh, on the other hand, may be a doubles specialist, but he comes with the goods in singles when it counts. He reached two Grand Slam quarterfinals in 1995, at Melbourne and Wimbledon. If he gets past the second round, he has a good chance of repeating that feat. Muster will persevere in the early rounds, then fall victim to the more versatile Chang, looking to avenge his loss in the 1995 French Open final. Defending champ Agassi has a hellish draw; to repeat, he may have to defeat, in order, a Fab Four of Americans: Todd Martin, Courier, Chang and Sampras. It looks like red, white & the blues for Andre. I don't think he'll get past Jimbo.

Early Round Follies: I hope I'm wrong, but I think Boris Becker had a swan song season in 1995; look for an upset by either Greg Rusedski in the first round or Eltingh in the second. I went out on a limb with my Rafter pick, but won't be surprised if he doesn't survive his first-round encounter with Marcelo Rios. Stefan Edberg will have a "dream" Grand Slam in his final season on the tour, reaching the semis or better at one Major, but he won't be able to survive the cluster of Americans in the bottom half of the Aussie draw. Chang should take him out in the third round. A member of the ATP Tour staff e-mailed me in response to my last column, in which I questioned the high ranking given to Bohdan Ulihrach. He wrote: "Ulihrach & Roll Tennis Will Rule in `96!" Let's first see if he can bypass Courier, who played the drums with REM during the tournament last year, in the third round.
WOMEN
Champion: Monica Seles. She's hurt, she's not match-tough, she's out-of-shape and, oh yeah, she's the closest thing to a sure thing we have in pro tennis today. Unless someone gets her early, I can't imagine Seles losing in Melbourne. She's that good. She always has played well in the country known by natives as Oz. It's her kind of fantasyland.

Runner-up: Mary Pierce. I'm not as confident with this pick. Pierce tumbled after her breakthrough Grand Slam win at the 1995 Australian Open, a victory, it must be pointed out, tainted a bit by the absence of both Seles and Steffi Graf. Still, Pierce played superbly, so there's no reason to believe she can't do it again under similar conditions. She won't beat Seles, but she should be able to duplicate her 1995 victory over Conchita Martinez in the semifinals--if she gets that far...

Semifinalists: Arantxa Sanchez Vicario, Conchita Martinez. If Sanchez Vicario hadn't slipped a notch in the rankings, she would have taken her routine place in a Grand Slam final (she was a finalist, but not a winner, in three of four Slams in 1995). By letting her countrywoman, Martinez, cruise past her, she gets a date with Seles in the semis. Adios, Arantxa. Meanwhile, No. 2 seed Martinez should cruise through the draw, but I don't see her holding seed. She looked shaky at the end of last year, thanks, I'm sure, to my overinflated opinion of her.

Quarterfinalists: Sabine Appelmans, Gabriela Sabatini, Martina Hingis, Anke Huber. I picked Appelmans mainly because I don't trust the two seeds in her bracket, Natasha Zvereva and Iva Majoli, to play consistently through several rounds. Sabatini's a safe bet. Hingis could be a semifinalist, if not a finalist, if she can avoid Pierce, her likely quarterfinal opponent. She's still too lean and underdeveloped, however, to stay with big hitters like Pierce, but she'll give softballers like Martinez fits. Huber seems to have settled into a comfortable groove. She's no longer burdened by the "next Steffi Graf" moniker, allowing her to play more loosely and confidently.

Early Round Follies: Keep your eye on Americans Mary Joe Fernandez, Chanda Rubin and Lindsay Davenport; they could pull off an upset or two. Amanda Coetzer has a good draw, and could be the one to knock off Pierce prior to the quarterfinals. The first-round match between Helena Sukova and Judith Wiesner offers a battle between two hard-nosed women whose better days are behind them.
---
Remember to return here after the tournament for my wrap-up and review of picks.




Higdon's Net Game / Between The Lines Archives:
1995 - May 1998 | August 1998 - 2002 | 2003 - 2007
If you have not already signed up to receive our free e-mail newsletter Tennis Server INTERACTIVE, you can sign up here. You will receive notification each month of changes at the Tennis Server and news of new columns posted on our site.
This column is copyrighted by David Higdon, all rights reserved.
David Higdon was named a senior writer of Tennis Magazine (U.S.) beginning with the December 1994 issue, which featured David's cover story on Andre Agassi. David worked for the magazine since August 1988, when he was hired by the magazine as a senior editor. In September 1991, he left his full-time editing position with the magazine to become a contributing editor, moving from Connecticut to Portland, Oregon. He currently works as a freelance writer, writing regularly not only for Tennis but also for publications such as Sports Illustrated for Kids, The New York Times, Self, Boys' Life and USAir Magazine. He also serves as editor of Rip City Magazine, the official publication of the NBA's Portland Trail Blazers.
---