"Australian Open Wrap-Up"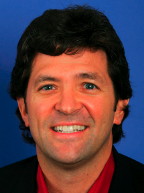 David Higdon
In the land called Oz, you always can expect a few surprises, and the 1996 Australian Open certainly had its share of amazing results. I would have preferred a happier ending, however, but women's singles champion Monica Seles broke down in tears when asked about her plans to return to Germany (where she was stabbed) while men's victor Boris Becker responded to his first Grand Slam victory in five years with the emotion of a factory worker completing a long, hard shift. C'mon, Boris, at least crack a smile or throw a racquet into the stands!
Still, the Slam Down Under had plenty of excitement to lift the spirits of even the most casual tennis fan. Though it's held too early in the season to showcase the top players at their best, it does provide followers of the sport with a barometer of the year ahead. Here are the Top 10 lessons learned in Melbourne:
Monica Seles II is the real deal

Anyone doubt Seles' talent and guts now? She won the event with enough injuries and ailments to bring Hawkeye Pierce and Trapper John out of syndicated retirement. Winning a Grand Slam sends a signal to the public that she's back on top; her semifinal victory, during which she clawed herself out of a 2-5, third-set hole against Chanda Rubin, tells her peers that her comeback is complete and her return to dominance begins.

Seles' injuries worry me, though. While I respect the comments that she made about not getting swayed by society's standards of appearance (citing a friend who suffered from bulimia), I wonder if the extra weight that she's carrying has placed undue stress on her knees, groin, etc. This isn't a gender problem; I've seen it often in my work covering the NBA. A basketball player gets injured, gains weight during rehabilitation, then spends a year or so nursing chronic injuries until he returns to his former playing weight.

Becker can get Better

The former No. 1 finished 1995 ranked No. 4, thanks to his run to the finals at Wimbledon, a semifinal showing at the U.S. Open and a victory at the ATP Tour World Championships. With his impressive victory in Australia, he's sent a clear signal that his career has been infused with a second wind. He beat Michael Chang in the final with a brilliant all-court game, mixing in well-timed rushes to the net with steady, often overpowering play from the baseline. As a youngster, Becker won on pure power alone. Over the past five years, however, he often stubbornly tried to dismantle the American juggernaut (Chang, Andre Agassi, Pete Sampras, Jim Courier) by outslugging them. In Melbourne, he seemed to have found a comfort zone. If he stays in it, he'll be a threat at all three Grand Slams this year--including the French Open.

There's only one Anke

Can everyone please stopping comparing Anke Huber to Steffi Graf now? She'll never replace Steffi in the hearts of her native fans (nor in the recordbooks), but her runner-up finish proves she's unshackled herself from the burden of being "The Next Steffi." Last year, she reached--but never went beyond--the fourth round at all four Grand Slams. Don't expect her to cop a major in 1996, but she looks like someone ready to stay around deep into the second week at many future Slams.

Michael Chang needs some Luck

The 1989 French Open champion has worked relentlessly on his game, but one has to wonder if he'll ever be able to hoist a second Grand Slam trophy over his head again. Unfortunately, players who rely so much on speed and quickness don't exactly age well. He's still got a few more years left before the wheels start slowing down, but his slight stature puts him at a big disadvantage, even with the new stick.

Sampras was a Dead Man Walking

Sampras needs a break, and not the kind he could have used during his upset loss to the big-serving Mark Philippoussis. I'm talking about a little R&R, a few weeks off the pro tennis Merry-go-round. From last year's Australian Open through the 1995 Davis Cup final, Sampras was going petal to the metal. He was a notch off his game in Melbourne, and that was enough to send him home early, which, now that I think about it, might be just what the doctor ordered.

The Scud is a Stud, but he's still Young

With all the attention lavished on Philippousis in his hometown, the "Scud" did not succumb to nerves during his match against Sampras. That bodes well for him in the future. But Mark Woodforde beat him the next round in straight sets--by dinking him to death. Ouch! Like another player with Greek in his blood (Sampras), Philippoussis might be an up-and-down player until he finds the right coach, strategy and necessary ingredients (patience comes immediately to mind) to push him into the upper echelon.

Chanda is Human

I don't think Rubin choked, but her loss to Seles after being up 5-2 in the third showed she isn't Houdini. She's been winning some amazing matches over the last 12 months, so I wonder how this defeat wrestled from the clutches of victory will affect her psyche.

Andre's Still a Giant

I had a sinking feeling that Agassi might have trouble rejuvenating himself after he lost to Sampras at the 1995 U.S. Open, a bitter pill at the end of a near-perfect season. Plus, the chest injury of late 1995, which forced him to pull out of several tournaments and the Davis Cup final, reeked of the old Andre. But a confident and mature Andre showed up Down Under; he was focused in his early rounds and remarkable in his comeback victory over Jim Courier. He simply ran out of gas against Chang.

Jimbo is Snakebit

Courier, along with Chang, have been the Best Men in Andre & Pete's much-ballyhooed walk down the aisle of pro tennis success. I still believe Courier will resurrect himself one of these days, but I'm starting to have my doubts.

Nobody Knows Nothing

Just ask Holden Caulfield and then read on.
THE GOOD, THE BAD AND THE UGLY
I'm talking about my Australian Open predictions (see the most recent Higdon's Net Game). I did pick Seles to win it all, and though I picked Pierce to reach the final, I admitted to a lack of confidence in the selection. That's nit-picking, though. Okay, I'll never pick Pierce again! I thought Rubin might pull off "an upset or two," but didn't foresee her thrilling ride to the semifinals. Nor did I expect Huber to surprise us as well, though I noted her newfound comfort in herself and loose and confident play of late. Does that count?

I expected Philippousis to give Sampras fits ("A probable third-round date with local fave Philippoussis is especially dangerous"), not to send him home. I had Agassi losing to an American, but I predicted Courier (who almost made me look good) not Chang. I do get a big pat on the back for forecasting an unseeded Aussie to shake up the seedings and reach the semifinals. What do you mean I picked Patrick Rafter? I meant Mark Woodforde!!!

Next Higdon's Net Game: My responses to the many readers who have e-mailed comments, questions and an occasional piece of constructive criticism. Keep on writing, and watch for the new column in February!




Higdon's Net Game / Between The Lines Archives:
1995 - May 1998 | August 1998 - 2002 | 2003 - 2007
If you have not already signed up to receive our free e-mail newsletter Tennis Server INTERACTIVE, you can sign up here. You will receive notification each month of changes at the Tennis Server and news of new columns posted on our site.
This column is copyrighted by David Higdon, all rights reserved.
David Higdon was named a senior writer of Tennis Magazine (U.S.) beginning with the December 1994 issue, which featured David's cover story on Andre Agassi. David worked for the magazine since August 1988, when he was hired by the magazine as a senior editor. In September 1991, he left his full-time editing position with the magazine to become a contributing editor, moving from Connecticut to Portland, Oregon. He currently works as a freelance writer, writing regularly not only for Tennis but also for publications such as Sports Illustrated for Kids, The New York Times, Self, Boys' Life and USAir Magazine. He also serves as editor of Rip City Magazine, the official publication of the NBA's Portland Trail Blazers.
---