"Verbal Volleys"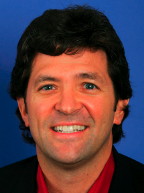 David Higdon
Some random thoughts and observations from the tennis circuit:
My first thought when I heard Roger Clinton, the President's brother, would host Tennis Extra Magazine, a weekly Prime Network show on Tuesdays: Where was the show's producer back when Jimmy Carter was in the White House?... If you were surprised that MaliVai Washington lost twice in the Davis Cup tie to Czech Republic, you must not be a regular reader of Higdon's Net Game (See the March 8 column)... Sad to watch Washington, a genuinely nice guy, go down in flames, but it was nice to see Petr Korda earn the accolades and embrace the role of hero... Don't expect me to trash Americans Andre Agassi, Pete Sampras, Michael Chang and Jim Courier for opting not to play the second-round tie. I think the top players should be playing less tennis during the year, not more. I don't buy into the theory that Davis Cup is secondary only to the Grand Slams in importance.
Though I remain a big basher of the ATP Tour's ranking system, at least it's produced a memorable race for No. 1 this year. The top spot still should be up in the air through Wimbledon... Don't be shocked that Irina Spirlea from Romania won the Bausch & Lomb Championships (a clay-court event) at Amelia Island on April 14. She's for real. I watched her wax Mary Joe Fernandez in the third round of the French Open last year... A tour rarity: The top seeds at all three ATP Tour events during the week of April 8 won their respective events (Pete Sampras at Hong Kong, Thomas Muster at Estoril, Portugal and Thomas Enqvist at New Delhi)... Don't you think that Mercedes, the sponsor of the ATP Tour, should give one of their vehicles to the writer of Higdon's Net Game?
The Davis Cup semifinals should be exciting; Italy, France, Czech Republic and Sweden all boast balanced squads without a dominant player... Luke Jensen beat Andre Agassi at Memphis. Every tournament promoter in the world is trying to secure the rematch... Tennis will miss Stefan Edberg more than he'll miss the sport... I'm looking forward to following the results of the clay-court circuit this spring more than ever before. It'll be interesting to see if Muster can remain invincible. I wouldn't bet against him... Don't be surprised if Alberto Berasategui rises from the dead... Jennifer Capriati needs a coach whose first name isn't Stefano.
Chanda Rubin is the Sybil of pro tennis: One minute she's a top ten player with an overpowering counterpunching game, the next she's an erratic baseliner who can't keep a ball in play... The WTA Tour players all wonder when they step on the court which Chanda they'll face. If it's the latter, they just keep the ball in play and let her self-destruct... After winning Indian Wells, Chang did his post-match interview standing up because he was cramping. He's in knots more than Dennis Conner... What do you think is motivating Gabriela Sabatini right now? No one on either tour looks like they're going through the motions more than Gaby.
The Australian Open victory took more out of Boris Becker than he expected, leading to all his physical ailments of late. He'll be fine come Wimbledon time, though... Isn't it just his luck? Goran Ivanisevic played the best tennis of career during one of the season's least important stretches of tournaments... Yevgeny Kafelnikov no longer looks like a future Grand Slam champion to me; he looks more like a newer version of Andrei Medvedev.
I half-expect Agassi to have a sub-par year in 1996, but he's always so difficult to figure... Michael Stich is cursed... So is Cedric Pioline... Sampras attended the NBA's All-Star Weekend and left unimpressed. Much ado about nothing, he claims... Reader Roger McKenzie wrote requesting information on the whereabouts of Spanish player Sergio Casal, known as the other half of the Casal/Sanchez doubles squad. Sergio's taken on an even bigger challenge: He's the tournament director of an ATP Tour event in late September.




Higdon's Net Game / Between The Lines Archives:
1995 - May 1998 | August 1998 - 2002 | 2003 - 2007
If you have not already signed up to receive our free e-mail newsletter Tennis Server INTERACTIVE, you can sign up here. You will receive notification each month of changes at the Tennis Server and news of new columns posted on our site.
This column is copyrighted by David Higdon, all rights reserved.
David Higdon was named a senior writer of Tennis Magazine (U.S.) beginning with the December 1994 issue, which featured David's cover story on Andre Agassi. David worked for the magazine since August 1988, when he was hired by the magazine as a senior editor. In September 1991, he left his full-time editing position with the magazine to become a contributing editor, moving from Connecticut to Portland, Oregon. He currently works as a freelance writer, writing regularly not only for Tennis but also for publications such as Sports Illustrated for Kids, The New York Times, Self, Boys' Life and USAir Magazine. He also serves as editor of Rip City Magazine, the official publication of the NBA's Portland Trail Blazers.
---