"1996 U.S. Open Predictions"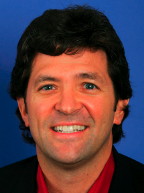 David Higdon
The U.S. Open, as always, will be the pro tennis season's most hard-fought, dog-eat-dog event. Bitter rivalries come to the forefront. Antagonism reigns supreme.
Eventually, they'll even get around to playing matches.
The controversy surrounding the men's seedings and draw, which was redone for the first time in history after allegations of tampering, served to whet our appetites even more for the game's grittiest tournament. The biggest benefactor from the reshuffled draw appears to be Pete Sampras, who had two potential early-round land mines (Wimbledon quarterfinalist Alex Radulescu and his Australian Open conqueror Mark Philippousis) in the earlier version. The losers? Jason Stoltenberg, Adrian Voinea, Richey Reneberg and Mark Woodforde, who now face much tougher opponents on the pothole-laden road to the second week.
Who will we watch toil on the New York City hard courts come Labor Day Weekend? The envelopes, please...
Men's Singles
Winner: Pete Sampras
Last chance to save his Grand Slam season. He badly needed the win two weeks ago in Indianapolis to reestablish both his own confidence and others' fear of his game. He hasn't played enough matches this summer, but he's hungry and fit. Two out of three should be good enough for the game's most talented player.

Runnerup: Michael Chang
Chang's on a roll, and the easiest draw among the top seeds enables him to barrel into the final weekend and a likely final day showdown with his U.S. junior tennis rival. I don't see a single tough match before the quarterfinals, where he'll probably face a hard-nosed baseliner (Courier or Rios) who will have struggled just to get into the second week. Like Andre Agassi discovered last year, however, a hot summer doesn't always conclude with a championship in New York.

Semifinalists: Todd Martin, Michael Stich
Martin's collapse in the Wimbledon semifinals will not haunt him during his career. The fact that he can't seem to beat Sampras when it matters most will. Stich has regained the form that carried him to the U.S. Open finals in 1994. He'll revenge that loss to Andre Agassi, but he'll come up a round short this time.

Quarterfinalists: Wayne Ferreira, Petr Korda, Andre Agassi, Jim Courier
Ferreira's one of those solid players who tends to hold seed, but never seems to do much more. He's the benefactor of Kafelnikov's injury and hissy fit (albeit a legitimate one, IMHO) over the seedings. Korda should be able to beat two seeds in his part of the draw: clay-courter Alberto Costa and Goran Ivanisevic, who seems to be fading as the season comes to a close. Ivanisevic reached the Indy final, but looked lost against Sampras. Agassi appeared to have regained the fire in his belly earlier this summer, but I think his default in Cincinnati foretells a shaky Flushing fortnight. He doesn't appear to have a tough first week, however, so he might pick up enough momentum to carry him into the final weekend. Jim Courier has been in a Ferreira-like rut the past two years. He'll hold seed, nothing more. (Note: I had him in the semifinals with the first draw.)

Early-round follies:
Wimbledon champion Richard Krajicek not only gets Stefan Edberg, who is still capable of top-notch tennis on any given day, in the first round, he likely would need to beat such scary opponents as Jonathan Stark, Richey Reneberg and Paul Haarhuis in the next two. He's got the toughest draw of the tournament among the top seeds and the added pressure to live up to his newfound status as a Grand Slam champion. In the first round, Australia's Mark Philippousis will need to exact revenge on countryman Mark Woodforde, who beat Philippousis at the 1996 Australian Open, if he wants another shot at Sampras in the round of 16. If Ivanisevic's serve is off, he might struggle against first-round opponent Andrei Chesnokov. MaliVai Washington could meet fellow American Alex O'Brien, one of the hottest players on the tour, in round two. Marcelo Rios needs to convince me that he's the real deal with a strong Grand Slam showing; a victory over Courier in the round of 16 would do the trick.
Women's Singles
Winner: Steffi Graf
You could reshuffle the women's draw a hundred times and you'd still see the greatest player in history on the final weekend. The new Sunday women's final might have one new face, but we'll all know the one holding the championship trophy.

Runnerup: Kimiko Date
I must be crazy to once again predict a less-than-predictable women's U.S. Open tournament (see my 1995 picks). But something tells me that Date's steady and subtly improved play and Seles' tougher draw results in a once-in-a-lifetime opportunity for Japan's favorite daughter.

Semifinalists: Arantxa Sanchez Vicario, Lindsay Davenport
Sanchez Vicario's biggest victories have come over Graf. The bulk of their showdowns, however, have been painfully one-sided. Davenport is the Hot New Sensation, but the pressure that will accompany her success on her country's biggest stage eventually will prove too much against the Date backboard.

Quarterfinalists: Mary Joe Fernandez, Jana Novotna, Conchita Martinez, Monica Seles
Fernandez seems primed for another breakthrough, but it might still be a Grand Slam or two away. Novotna can frustrate most, but usually not the unflappable Sanchez Vicario. Martinez is operating on autopilot, which should be enough to get her this far. Last year, a groundswell of good will, fine play and lingering awe in her opponents' minds carried Seles into the final. This time, she'll struggle against players who now view her as vulnerable.

Early-round Follies:
Who knows if Jennifer Capriati will be ready to play, but if she does, she won't be able to get past Fernandez in the third round. Doesn't it seem like Judith Wiesner, a player always on the cusp of getting seeded, draws a seeded opponent in the first round of every Grand Slam? This time she's got No. 5 Iva Majoli. Davenport's toughest challenge during the first week will be her first one: Karina Habsudova. The toughest first-round matchup for a seeded player, however, goes to No. 6 seed Anke Huber, who faces Amanda Coetzer. Irina Spirlea likely lies in wait for the victor in round three. Watch for Sandra Testud, a potential fourth-round opponent for Seles, to make some noise.

David Higdon's next column for the Tennis Server will be his U.S. Open Wrap-Up on or around September 8. In the meantime, check out his Pete Sampras profile in the September issue of InStyle Magazine, and watch for his tribute to Stefan Edberg in the October issue of Tennis Magazine.




Higdon's Net Game / Between The Lines Archives:
1995 - May 1998 | August 1998 - 2002 | 2003 - 2007
If you have not already signed up to receive our free e-mail newsletter Tennis Server INTERACTIVE, you can sign up here. You will receive notification each month of changes at the Tennis Server and news of new columns posted on our site.
This column is copyrighted by David Higdon, all rights reserved.
David Higdon was named a senior writer of Tennis Magazine (U.S.) beginning with the December 1994 issue, which featured David's cover story on Andre Agassi. David worked for the magazine since August 1988, when he was hired by the magazine as a senior editor. In September 1991, he left his full-time editing position with the magazine to become a contributing editor, moving from Connecticut to Portland, Oregon. He currently works as a freelance writer, writing regularly not only for Tennis but also for publications such as Sports Illustrated for Kids, The New York Times, Self, Boys' Life and USAir Magazine. He also serves as editor of Rip City Magazine, the official publication of the NBA's Portland Trail Blazers.
---