Service Strategies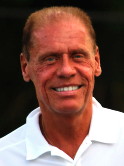 Ron Waite, USPTR
Continuing with last month's column on Strategies and Tactics, I want to spend a little time addressing service strategies.

Generally, players have two basic serves: a flat or more powerful first serve, and a spinned or less powerful second serve. Of the two, the latter is more important. Why? Well, you are only as good as your second serve is reliable. The problem is that we usually fall into a very simple service pattern that is predictable as the match unfolds. This allows for your opponent to have a better chance of winning points off of your serve. Remember, you can't lose if you win every service game and every tiebreak serve.

With this in mind, I will focus this month's column on the "best practices" associated with serving. Of course, this presumes two things. First, that you are able to direct your first and second serves to any area in the service box. Second, that you have more than one type of serve in your arsenal.

If neither of these are the case, as may be the true with beginners and/or intermediate players, the first requisite is to work on both of these in practice. It is my contention that players do not spend enough time on perfecting their serves in this wonderful game of ours. Given the fact that weather conditions may affect being able to play outdoors as the areas north of the equator head from autumn into winter, this may be the perfect time to work on your serve. You don't need a partner to practice serves, and the court conditions do not need to be pristine.

This said, let's start with the type of serves that you want to have in your arsenal and how one might develop these.

The flat serve is a starting point for even novice tennis players. Usually, beginners will use a forehand grip (eastern forehand) and hit a somewhat "badminton-like serve." This results in a fairly powerful serve and usually the ball has no spin or backspin. The flat serve is characterized by both power and an absence of spin.

If you produce your first serve in the manner described above, you are automatically a candidate for learning the backspin serve. In a previously published column, I discuss how to produce this unusual but very effective serve. See: The "Infamous" Backspin Serve.

Usually, the flat serve is produced with a continental grip and/or an eastern backhand grip as a player advances. The advantage to these grips is that they permit the server to "break" or bend the wrist. This is an important component when trying to impart spin, but the wrist bending can provide extra power to any serve.

Should the reader be confused about what each of the aforementioned grips may look like, I would refer you to my previous column, The Grip: Picture Perfect.

The second serve that each player should possess in her/his arsenal, is what is known as the slice serve. Normally, this is produced using a continental grip, but it can be effectively executed using an eastern backhand grip. Some players may actually be able to produce the slice serve with an eastern forehand grip, but this is certainly the exception... not the rule.

A sliced serve curves to either the left (if you are right handed) or to the right (if you are left handed). Once the ball bounces, it moves in curved direction that is the exact opposite of what was the previous curve. To help clarify what I mean by the above descriptions, I have included some diagrams. You will see the direction of the curves before and after the bounce by looking at the accompanying arrows.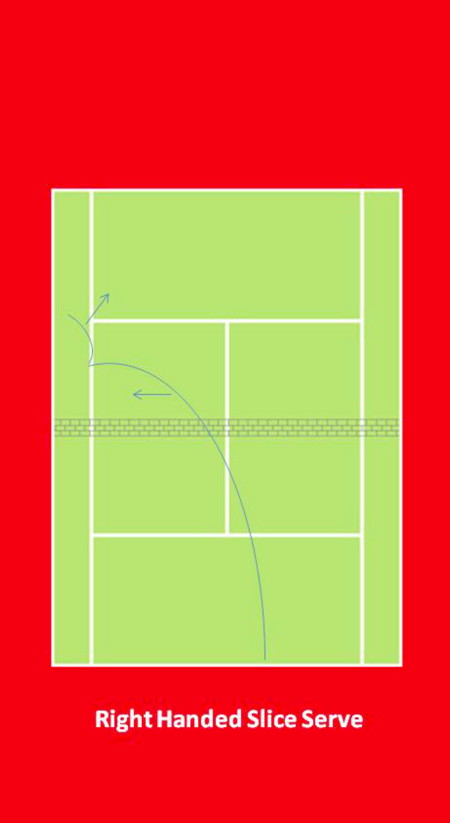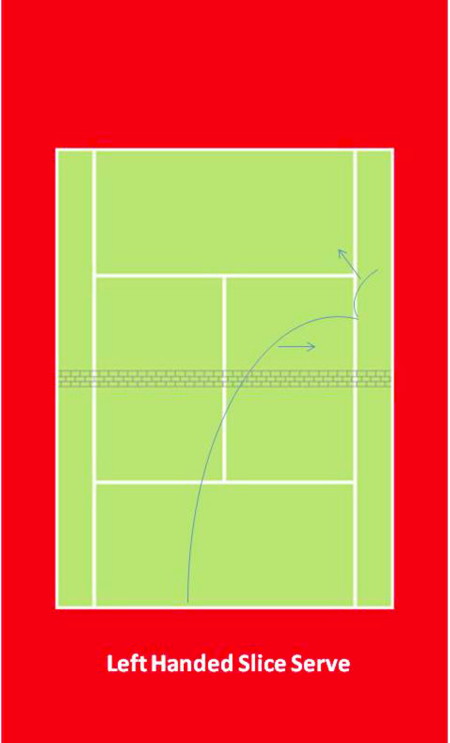 You will note that I have created the illustrations where the right-handed player uses the slice serve when serving to the deuce court and the leftie uses it when serving to the ad court. These are the most effective use of the slice serve because they pull the opponent out of court. The opposite spin that is produced after the ball bounces makes the slice serve that much more difficult to return with authority.

Lastly, we have the kick serve. The kick serve is a serve that is hit in a manner that produces topspin. As always is the case with topspin, the ball bounces higher than would normally be the case. Most pros use this as their second serve. When a bit of side spin (slice) is added to the kick serve it is referred to as the American Twist serve or twist serve.

The goal for any serious player of this great game is to be able to produce each of these three serves. If you are truly proficient, you will be able to produce all three in a manner that uses a single grip, a similar toss and similar motion.

To reach this level of consistent delivery is not an easy task. Perhaps, the player who was best able to achieve this consistency was Pete Sampras in his prime. Having seen him play and photographed him in tournament competition, I was amazed. Whether it was a flat, slice or kick serve; Pete's service motion and toss were identical. This made his serve extremely deceptive and difficult to read.

I doubt that many who are reading this will be able to reach this level of deception. But truthfully at most levels of competition, it is not necessary. Rather, it is simply important that you are able to produce each serve, even if your toss, stance or motion give away what serve you are about to execute.

Assuming that you are able to produce these three serves, there are some basic rules that apply to each.

Flat serves should only be used as a first serve. They are generally more effective on faster surfaces that they are on slower surfaces such as clay.
Slice serves are a great first serve when used in moderation, and should be the normal second serve when playing on surfaces that do not allow for much bounce, as would be the case when competing on grass, carpet, and some indoor hard courts.
The kick serve is the normal second serve in the modern game of tennis. It should be used about 80% of the time when competing on slow to medium speed hard courts, and clay surfaces. Kick serves on grass and carpet are more of a liability because these surfaces do not allow for much bounce... the true advantage of the kick serve. If you can hit the kick serve with a bit of side spin (the twist serve), all the better.

Serve patterns are often times never varied. Generally, the first and second serve are directed to the backhand side of the opponent. The first serve is hit flat with lots of pace, and the second serve is hit with either spin or as a slower paced flat serve. It doesn't take long for an opponent to lock onto this pattern and anticipate your serves. What amazes me is how often I see players sticking to this basic pattern and never really deviating from it. If they do, it is usually because their serve has been in some way mishit, and results in a different spin or location within the service box.

Here are some ideas to consider in crafting different service patterns.

Most first serves should be hit flatly, but the direction of where you place them should be varied. I recommend hitting about two thirds of your flat serves to the opponent's backhand wing. The remaining 40% of these flat serves should be struck in such a manner where they are bounce directly into the body of the opponent. These latter serves tend to "jam" the opponent and result in less than effective returns. You will be amazed at how effective the "jammed" flat serve can be. Usually when I hit such a serve, I try to follow my serve to the net. Why? Well quite frequently, the returns from these "jammed" serves will result in a slow, less than powerful reply that passes high over the net. These are perfect conditions for hitting a volley put away.

When playing an opponent who uses a western forehand grip, use a slice serve to the forehand about 20 to 30 % of the time as your first serve. This is particularly true when you are playing on a faster surface. The right-handed player can pull the right-handed opponent wide when slicing the serve in the deuce court. Western grip players have a difficult time executing a solid return off of these serves. Lefty receives are probably not as vulnerable.

Left-handed players almost always know the benefits of the slice serve hit to the ad court. If the opponent is right-handed, this serve is very problematic. In that only 1 in 6 or 7 players is left-handed, most tennis players are not accustomed to the opposite spins that the left-handed strokes produced.

The kick serves and/or twist serves are extremely effective on slow surfaces. Why? Clay and gritty hard courts tend to make their high bounce even more pronounced. I have found that one-handed, backhand opponents have even more difficulty with the kick and twist serves. It is physically a bit more difficult and fatiguing for the one-handed, backhand player to return these high bouncing serves. Two-handed backhands are much more likely to return the kick and twist serve effectively without fatiguing the returning player.

If I find that an opponent's forehand is a weak wing, I have no fear serving a kick serve to the forehand wing... even as a first serve.

The only way to really know what patterns work well for you is to try different patterns and keep records of your level of success with respect to winning points and/or eliciting weak return of serves.

For example, maybe you have a serve combination as follows:

Pattern One

First serve to the deuce court... Flat serve hit down the T.
Second serve to the deuce court... Kick serve hit down the T.
First serve to the ad court... Flat serve hit down the T.
Second serve to the ad court... Kick serve hit wide.
Pattern Two
First Serve to the deuce court... Slice serve hit wide.
Second serve to the deuce court... Kick serve hit down the T.
First serve to the ad court... Flat serve hit directly at the opponent (jammed serve).
Second serve to the ad court... Kick serve hit wide.
Pattern Three
First serve to the deuce court... Flat serve hit directly at the opponent (jammed serve).
Second serve to the deuce court... Slice serve hit down the T.
First serve to the ad court... Kick serve hit wide.
Second serve to the ad court... Kick serve hit directly at the opponent (jamming the opponent).
Pattern Four
First serve to the deuce court... Flat serve hit wide to the forehand.
Second serve to the deuce court... Flat serve hit directly at the opponent (jammed serve).
First serve to the ad court... Flat serve hit directly at the opponent (jammed serve).
Second serve to the ad court... Slice serve that is hit as wide as is possible.

These are just four sample serve patterns. There are many combinations. Some will work better for you than others. The only way to know which ones are best is to keep a written record of their success or lack there of.

This serve "journal" should be kept all the time, and can be tailored toward specific players.

Whether you are a recreational, club, league or school/university competitor; it is likely that you will see opponents again and again. If you can find serve patterns that are most effective when playing an opponent, you are entering each encounter with a highly successful game plan before the match begins!

Using serve patterns is not always something that we tennis lovers really contemplate or explore. However, having different service patterns can allow you to confuse opponents, keep them "off balance," and provide you with a level of confidence in your service game.

Even if you discover successful patterns through trial and error (the error suggests that you will lose some points, sets and matches as you experiment), the long-term benefits are significant.

So, take some time to learn all three of the basic serves. If possible, try to develop similar looking deliveries for each. Work on placement and spin. Once these are in place, begin to record the patterns of serves that work best for you... given surface types and types of opponents.

I assure you that if you do that in no time you will become a tennis overdog!





Turbo Tennis Archives:
1996 - 2002 | 2003 - Present
If you have not already signed up to receive our free e-mail newsletter Tennis Server INTERACTIVE, you can sign up here. You will receive notification each month of changes at the Tennis Server and news of new columns posted on our site.
This column is copyrighted by Ron Waite, all rights reserved. Questions and comments about these columns can be directed to Ron by using this form.
Ron Waite is a certified USPTR tennis instructor who took up the game of tennis at the age of 39. Frustrated with conventional tennis methods of instruction and the confusing data available on how to learn the game, Ron has sought to sift fact from fiction. In his seven years of tennis, Ron has received USTA sectional ranking four years, has successfully coached several NCAA Division III men's and women's tennis teams to post season competition, and has competed in USTA National singles tournaments. Ron has trained at a number of tennis academies and with many of the game's leading instructors.
In addition to his full-time work as a professor at Albertus Magnus College, Ron photographs ATP tour events for a variety of organizations and publications. The name of his column, TurboTennis, stems from his methods to decrease the amount of time it takes to learn and master the game of tennis.
---