Junkyard Tennis: How to Play the "Pusher"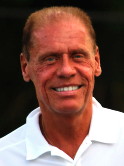 Ron Waite, USPTR

I want to begin this month's column by relating an anecdote. Four years ago, while coaching the Men's Tennis Team at Albertus Magnus College, I had a player named John who competed at the number five singles spot. John was an incredible soccer player and an extremely fierce competitor. However, tennis was a relatively new sport for him, at the time. At the beginning of the season, John attempted to out hit his opponents. Usually, he would try for hard, flat shots that were targeted at the lines. Needless to say, John was not very successful with this strategy.

About a third of the way into the season, John was beaten 6-1, 6-0 by what most of us refer to as the infamous "pusher." John came off the court angry because he realized that he had been sorely defeated by a player who "had nothing but junk" as John put it. John and I spoke about the match and he began to realize that his opponent's approach to the game and strategy were clearly legitimate and deserved more credit than he was initially willing to give. The rest of the season, John became a premier "pusher." In fact, he lost only one match after adopting this "junkyard" style of tennis. Pushing, when done well, can yield surprising results.

I know first hand how difficult the "pusher" can be. For some years, my hitting partner, Bob, was such a player. He had great "wheels," an okay backhand, a horrible forehand, and fair volleys. Truthfully, he had no weapons. Yet, Bob won lots of matches by adopting the "pusher's" strategy. Quality players would blow Bob away, but the average club player or junior player found themselves being tortured by Bob's "pushing" style. Bob was a master at hitting "junk."

The "pusher's" approach to the game is simple...make certain that the opponent commits an error. Not only does this win points for the "pusher," it actually frustrates the opponent. Playing "pushers" has driven many a tennis player crazy!!!

Well, this month's article will address how to beat the dreaded "pusher." Once you learn how to approach this style of play from your opponent, you'll never fear playing them. "Pushers" may still beat you from time to time, but your overall success against them will increase dramatically. Unfortunately, my readers who are "pushers" are not likely to like this month's column and will probably e-mail me with their laments. So be it. For every strategy, there is an effective counterstrategy. That's what makes this wonderful game of tennis so fascinating!

The "pushing" style of play is fairly easy to describe. First, your opponent is a retriever who usually gets to virtually every ball you hit. He or she may not appear to be fit nor fast of foot. Yet, somehow, they manage to get a racquet on most of your shots. Second, the "pusher" rarely hits balls with much pace. He/she prefers to "dink" balls over the net with incredible backspin and/or sidespin or he/she will simply guide the ball to a court position that is disadvantageous for his/her opponent. The "pusher" likes to draw her/his opponent into the center of the court in "no person's land" (see Euclidean Tennis). This combination of elements (balls with spin that lack pace hit to an undesirable court position) are usually enough to elicit an error from the opponent.

The "pusher" sees the court differently, and frequently, likes to hit short drop shots followed by incredibly high and deep lobs. The opponent is forced in and out, back and forth like a puppet on a string. If you hit hard to the "pusher" she/he will float the ball back with slice. In a short period of time, the "pusher" has completely frustrated her/his opponent and has the opponent going for winners on every shot. This usually results in errors. Occasionally, just to break any rhythm the opponent may be developing, the "pusher" will hit a few balls with pace that land just at the opponent's feet. Again, the net result is a frustrated opponent who is taken out of his/her game! "Pushers" don't make many unforced errors and rarely go for big winners.

Even the pros have had a few "pushers" among their ranks. Brad Gilbert and Ramesh Krishna were two of the very best at this style of game. Their whole psychology of play revolved around helping an opponent lose...rather than, taking it to the opponent and winning. Gilbert made it into the top 10 and has plenty of cash to show for his victories.

So given all of this, how does one beat the pusher? Well, it isn't always easy, but it can be done! First, you must respect the "pusher!" He/she wants you to look down upon him/her. He/she doesn't want you to take him/her seriously. The "pusher's" game is based more on psychological warfare than upon tennis skills and strokes. As soon as you ridicule the "pusher" in your mind, she/he has won a major victory. Recognize that this style of play, though not flashy, is a valid way to approach the game. In fact, each of us at one time or another has won a tennis contest by pushing, albeit we may not want to admit it.

Second, you must not resort to playing the "pusher's" game. You can't beat a "pusher" by "pushing" yourself. She/he is probably much better at it than you. Once you begin to "push," she/ he will miraculously find a way to hit hard and flat winners. This will invariably add to your frustration.

There are several things that the "pusher" does not like. "Pushers" generally do not like moonballs. She/he hates balls that bounce high and keep the her/him behind the baseline. Hitting slice and sidespin off of high bouncing balls usually is difficult for the "pusher," and forces her/him to experience a bit of frustration. Second, "pushers" usually do not possess great passing shots. If you can get to the net quickly and volley away from the "pusher," you can probably put away any passing shot she/he may hit. Frequently, the "pusher" attempts to lob over the net rusher rather than attempting to pass her/him. So, if you are at net against a pusher, keep an eye out for the lob. Fortunately, most pushers do not disguise the lob well. When I play the "pusher" my first plan of action is to serve and volley. On the return of serve, I frequently chip and charge. Net rushers are the "pusher's" Nemesis. (Another good reason to develop your all court game!). Pushers like to move side to side...they are used to it. However, they hate to move on diagonals. If you hit a shot deep to the "pusher's" backhand and then follow it with a short shot to the forehand, he/she will have to run diagonally to get to the ball. This action usually forces the "pusher" to hit a weak reply or to go for a shot he/she probably doesn't own...the big winner.

Equally important is knowing what not to do against the "pusher." Don't rush!!! You need to be very patient when playing the "pusher," especially if you are not attempting to take the net. Big groundstrokers often self-destruct against "pushers" because they are impatient. This added to the fact that they have to provide the entire pace on their groundstrokes (the "pusher" after all does push rather than hit the ball). Be prepared to run when playing the "pusher." Don't be too eager to go for put aways. Wait until you have a clear opportunity to win the point before you go for the winner. Don't try to outpower the "pusher." Try to hit your groundstrokes at 3/4 pace. Don't push the ball, just try to hit the ball at less than maximum pace. Go for placement, not for power! I have found that the most important thing about hitting groundstrokes against the typical "pusher's" shot (no pace, backspin and/or sidespin, hit short or floated deep) is to prepare early but to actually delay your forward swing a fraction of a second. I discovered that this "delayed" groundstroke actually allows me to hit through the ball, and thus, to create pace. In fact, I keep one racquet in my back that is deliberately weighted heavier than the rest (using lead tape in the racquet's head). Whenever I play a pusher, I use this heavier stick. The weight of the racquet forces me to delay the forward motion of my groundstrokes. In addition, the added weight makes the racquet more powerful. Thus, my groundstrokes have more pace without my having to hit the ball hard. Try this heavier racquet tip...it really works!

Don't wait for the ball to come to you!!! Aggressively move to every ball! If you can, try to hit every ball on the rise. This action will minimize the effects of the "pusher's" spin. The "pusher" wants you to be lazy as you approach her/his paceless shots. To beat the pusher, you must move forward quickly. Frequently, I make a deliberate effort to stand 6 inches inside the baseline when playing the pusher. This enables me to get to short balls more easily, and forces me to take deeper balls on the rise.

Moving forward to the ball quickly, preparing early and delaying the forward motion of your racquet a fraction of a second are absolutely necessary, if you are going to play the "pusher" from the baseline

When serving to the "pusher," be certain to mix up the placement of your serves. Hit flat, slice and kick serves to all parts of both service boxes. The key is not to be predictable on your serve. The "pusher" is very adept at discerning any patterns in your play. Don't be risky about your serve placement; just don't fall into a predictable pattern.

Don't let the "pusher" dictate the pace of play. "Pushers" will frequently try to speed things up or slow things down. They may try to quick serve you or they may try to frustrate you by taking forever to actually serve the ball. "Pushers" know how to gauge the tempo of a match. If you are winning, they take their time. If you are losing or showing anger, they will try to get things moving more quickly. After all, their game is psychological warfare! Be aware of what pace works for you and, whenever possible, force the "pusher" to play at your speed!

Finally, don't ever let the "pusher" see you angry or frustrated. These actions actually encourage the "pusher." He/she lives to see you snap psychologically. Truly, this is a major reason that he/she plays the game! If you remain calm and seemingly confident regardless of the score, the "pusher" will frequently begin to lose confidence. Once this happens, those little dinks that were winning him/her points now bounce a little too high...allowing you to safely put them away.

The "pusher" need not be your most feared opponent! If you are patient, try to hit volleys, use the moonball and move quickly to every ball, you will find that in no time you'll be the "pusher's" nightmare...and well on your way to becoming a tennis overdog!



Turbo Tennis Archives:
1996 - 2002 | 2003 - Present
If you have not already signed up to receive our free e-mail newsletter Tennis Server INTERACTIVE, you can sign up here. You will receive notification each month of changes at the Tennis Server and news of new columns posted on our site.
This column is copyrighted by Ron Waite, all rights reserved. Questions and comments about these columns can be directed to Ron by using this form.
Ron Waite is a certified USPTR tennis instructor who took up the game of tennis at the age of 39. Frustrated with conventional tennis methods of instruction and the confusing data available on how to learn the game, Ron has sought to sift fact from fiction. In his seven years of tennis, Ron has received USTA sectional ranking four years, has successfully coached several NCAA Division III men's and women's tennis teams to post season competition, and has competed in USTA National singles tournaments. Ron has trained at a number of tennis academies and with many of the game's leading instructors.
In addition to his full-time work as a professor at Albertus Magnus College, Ron photographs ATP tour events for a variety of organizations and publications. The name of his column, TurboTennis, stems from his methods to decrease the amount of time it takes to learn and master the game of tennis.
---