Player Of The Year 2010, Player of the Decade 2001-2010
by Ray Bowers




Ray Bowers

Told here is our quest for Tennis Server's pro-tennis Player of the Year 2010. Last month we named our 2010 female nominee -- Serena Williams, champion of Australia and Wimbledon, whose resume for the year seemed slightly ahead of the also-compelling credentials of Clijsters, Wozniacki, and several others. Now, we determine our male nominee and then choose either that individual or Serena as our overall Player of the Year.

FEDERER

It was a very good year for Roger Federer, who at age 29 finished at #2 in the year's rankings. He was the world's top player on nonclay surfaces, outscoring second-best Rafael Nadal in nonclay ranking points by a narrow margin. Nadal outscored Federer decisively on clay and finished as the overall #1.




Tennis Server Players of the Year


Player of the Decade


Player of the Century

Roger's prime achievements came at the beginning and at the end of the year. In January he won his fourth Australian Open. Tested in the quarter-finals, he survived a tough fight with Nikolay Davydenko, who was then amid a run at his career best. Then in the final round, Roger beat Andy Murray, where Roger came out in full attacking mode from the outset, relentlessly ripping to the corners. (Murray had beaten a knee-troubled Nadal earlier.)

But then came a lung infection followed by a run of disappointments for Roger -- losses at Indian Wells and Miami after holding match points, then losses on clay that ended Roger's acknowledged status as the world's second-best clay player, finally a loss to Berdych at Wimbledon that stopped Roger's seven-year string of reaching the final there. Matters improved for Federer in the summer, which included a runner-up finish in Toronto and winning the crown in Cincinnati. Then in the semi-finals of U.S. Open, Roger faced Novak Djokovic in what was probably the year's most fiercely contested set -- a lustrous fifth set where Roger put forth his most determined forcefulness and aggression, reaching two match points but finally losing to the younger man.

Then came Federer's year-end swing, during which Roger led all others in ATP points, won 21 of his 23 matches, and regained second place over Djokovic in the rankings. Matters ended with Roger's capture of the ATP World Tour Finals in London, where Roger defeated Nadal in a split-set final match. As in his other big victories during the year, Roger played with extreme and sustained power, bold net attacking, and a superior first and second serve. There was no early feeling-out of his opponent by Roger, no crescendo of violence.

It is clear that Federer's dominance over the other superstars has declined from mid-decade. But his 2010 triumphs assuredly included several great victories, enlarging his claim as tennis-history's greatest player. We grade his resume for our 2010 award at "A-Minus."

DAVIS CUP MVP

The most valuable player in the winning of the Davis Cup is always a strong candidate for our award. Indeed, on two occasions the Cup MVP became our male nominee for the year. That was the case with France's Nicolas Escude in 2001 and America's Andy Roddick in 2007.

Aside from his Cup contributions, for Novak Djokovic the year was only moderately successful. There was a spell of allergy or lung troubles in the spring, apparently a recurrence of earlier problems. His only tournament victories came at the 500-series events in Dubai and Beijing. But while he reached the middle rounds in all events entered and the late rounds often, his finest performance came at U.S. Open, where he defeated Federer, noted above, and then lost in the final round to Nadal in split sets. He finished the year at #3 in the ATP rankings, the same as in the three previous years.

But there was high glory in Novak's leading of his nation to its first-ever Davis Cup crown, where he played an indispensable role in all four of Serbia's team victories. In March he scored split-set wins over Querrey and Isner in Serbia's 3-2 win over U.S. In July he beat both Ljubicic and Cilic in Serbia's 4-1 victory over Croatia, staged indoors in Split. In September, he lost in doubles but won his only singles match, beating Berdych in third-day action in the 3-2 win over Czech Republic. Finally, he scored two wins in Serbia's come-from-behind 3-2 final-round victory over France. Thus he tallied a W-L record in Cup singles of 7-0, where all his matches were meaningful to the team verdict.

In evaluating Djokovic's candidacy for Player of the Year, we are influenced almost entirely by his Cup heroics, and we here grade his resume at "A-Minus."

STILL A WINNER

In 1973 Bobby Riggs at age 55 defeated Margaret Court and then lost to Billie Jean King. Women's pro tennis soared in the years that followed. But although the Riggs matches seemed to show that top senior males played at a level comparable to that of the world's best women, there was little growth in senior tennis as a competitive pro sport.

Since 1998, familiar male pros who have retired from the ATP main tour have competed in an international circuit called the Champions Tour. Jimmy Connors was an early Tour leader, and today, although a majority of Tour players are recent retirees, such veterans as Edberg, Becker, Borg, and Lendl still compete at least occasionally. Honest and serious competition among these players, it seems to me, should be just as fascinating to the worldwide public as is competition among, for example, senior golf pros.

Here were the 2010 Champions Tour standings in early December, following the tour's finale in Albert Hall, London.

Thomas Enqvist, 1,980 tour points
Goran Ivanisevic, 1,860
John McEnroe, 1,120
Pat Rafter, 1,035

Three of the above top four, and indeed a majority of the top ten, were under the age of forty. What is astonishing is the record in third place of John McEnroe, age 51, in competing successfully against world-class players who are ten years and more younger -- an age difference usually bringing a huge difference in playing ability at the upper levels.

The 2010 Champions Tour consisted of eleven tournaments, each featuring two round-robin groups feeding into a championship final match. McEnroe competed in five Tour events, winning one title -- in Paris in early October, where he beat Lendl, Wilander, and Forget. He was runner-up in Delray Beach and in Sydney, in both cases losing the championship match to Pat Rafter. (Enqvist won three titles during the year, Ivanisevic three including in London, Goran's serve reportedly still around 130 mph, Rafter two.)

As the world's top-ranking touring pro over age 40 and surely the world's best player over 50, John McEnroe becomes the first senior to earn serious consideration for our award. Here, we grade John's candidacy "B-Plus."

Meanwhile a larger group of other competitive seniors, including a sprinkling of former international players, compete intensively for rankings by ITF and the national tennis associations. It would be interesting if the best such players could compete for entry into Champions Tour events. The former superstars would almost surely prevail, especially at the younger senior ages, but the credibility of the Tour competition would surely be enhanced. Any sense that the Tour was simply a showcase for exhibiting former superstars would be removed.

With increased sponsorship and promotion could come senior singles competition at the ATP and Slam tournaments. The co-location of the Champions Tour and the ATP events in Delray Beach, coming in February 2011, perhaps points the way.

PLAYER OF THE YEAR

Rafael Nadal reached age 24 during 2010. It was a year where his achievements attained new heights, burnishing an already-great career. Meanwhile, in his offcourt role as the sport's acknowledged champion, his dedication, decency, and humility followed in the way of the previous champion, Federer, in exemplifying worldwide the ideals of sporting competition.

In pure achievement, Nadal's tennis year has rarely been exceeded. Rafa captured three of the year's four Slams, bringing his career Slam total to nine, three more than Federer at the same age. The winning of Garros and Wimbledon, back-to-back, had been a rarity in modern times, thought by some to be nearly impossible. But Rafa achieved that feat, indeed did so for the second time, in 2010. Then in winning the U.S. Open in September, Nadal became only the seventh player in the sport's history to complete a career Grand Slam. He finished the year reaching the final round on indoor carpet in London. Explaining his strong performances in nonclay events in the year's second half were improvements in the forcefulness of his serve and the velocity of his ground strokes, all reflecting hard work and changes in technique by Rafa.

Nadal also won three Masters Series-1,000 tournaments during the year, bringing his career total to 18, thereby passing Agassi, whose total had been regarded tops in the modern era. Rafa's W-L record during the year was a remarkable 71-10. There was even a doubles success, Rafa winning the tournament at Indian Wells in March with countryman Marc Lopez.

There were a few setbacks. He missed Spain's campaign to defend the Davis Cup, Rafa having contributed two singles wins in his country's final-round win over Czech Republic in 2009. A right-knee injury, seen in his withdrawal at Australian Open, kept him sidelined temporarily and was troublesome thereafter. Shoulder tendonitis became a problem in the fall. His resolve in rehabilitating himself from injuries and returning to competition promptly was characteristic.

The incomparable Federer-Nadal rivalry, probably the greatest in the sport's history, persisted, as the two captured the top two places in the rankings for the sixth consecutive year. They played one another only twice during the year. Nadal won their final-round match-up on Madrid clay in May, Federer won their year-ending meeting in London. Highly competitive in their quests for all-time greatness, the two men have remained friendly, and they will each visit the other's homeland in late December for one-night match-ups between the two, benefiting charities.

The sheer magnitude of Nadal's achievements during the year compel our the grade of "A-Plus." His candidacy clearly stands out above those of the fine male candidates discussed earlier.

The extreme strengths in his resume -- his sustained and superior record of high achievement during the year, coupled with his superb offcourt representation of tennis and competitive sport -- place him firmly ahead of our female nominee, Serena Williams. Nadal, who was our Tennis Server Player of the Year in 2005 and 2008, is once again our overall honoree.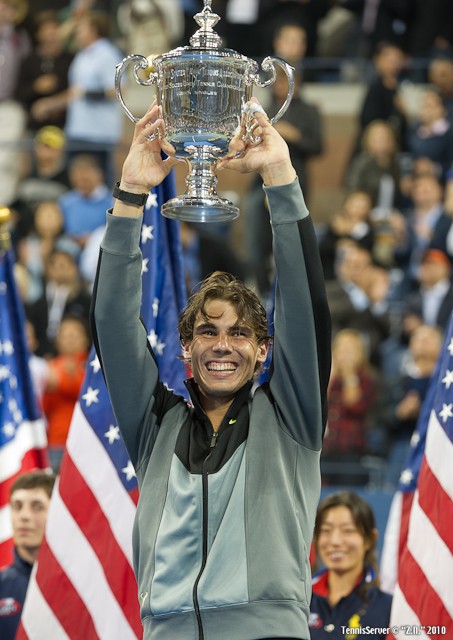 Rafael Nadal (shown here completing his career Slam at the 2010 US Open) is the 2010 Tennis Server Player of the Year.



PLAYER OF THE DECADE

Have ten years passed, incredibly, since we here named Pete Sampras our Player of the Decade, 1991-2000?

Now, as then, the tally of Slam singles crowns provides a convenient and generally acknowledged yardstick marking the top candidates. Here are the leading Slam-winners of decade 2001-2010:

Roger Federer, 16 Slam triumphs during the decade
Serena Williams, 12
Rafael Nadal, 9
Justine Henin, 7


(Adding in Olympics and year-ending World crowns does not change the order of rank. Federer won five of the decade's ten ATP World finales, Nadal one. Both Serena and Henin won WTA World twice. Both Nadal and Henin won Olympics gold once.)

In our present deliberations we possess an invaluable indicator that was not available ten years ago. We can now look back on our own Player of the Year selections, made in each year of the full decade. Each annual award was reached using the same general criteria employed here.

The picture that emerges is the same as that of the Slams. During the decade, Federer earned our overall honor three times and was also male nominee in one other year. Nadal won the overall award twice. Meanwhile Serena Williams, Henin, and Kim Clijsters each were the female nominee two times and earned the overall honor once. (Kim's Slam total was 3, lower than the others.)

We accordingly affirm that Roger Federer is our Player of the Decade, 2001-2010, and that Serena Williams was our top female candidate.

TENNIS NATION OF THE YEAR

Once again, Spain achieved the most success among the men at the year's major tournaments. The Armada led the male contingents from all other countries in match wins at two of the four Slams and also at six of the nine Series-1,000 tournaments. (The French males led at Wimbledon and also in Canada and Paris Indoors. The Americans led at Australian Open and also in Cincinnati.) Spain's Nadal was the year's top player, and Ferrer and Verdasco were also top-tenners.

Meanwhile the Russian women were as usual dominant in tournaments. The Russkayas won the most matches at all four Slams and at three of the four Premier Mandatory tournaments. (The U.S. women were slightly ahead in Madrid.) Fed Cup went to Italy, with U.S. the runner-up, having beaten an uncharacteristically weak Russian line-up.

Although the large tennis nations have been our honorees in all previous years (Russia, U.S., Spain), we have always deemed that a small nation that achieved success disproportionate to its size could be chosen. This year provides such a case.

Serbia vanished from the map of European nations after the First World War to become part of Yugoslavia. That new country took significant roles in international tennis thereafter and after its break-up, Serbia and Croatia both emerged to extend that tennis tradition. Croatian star Ivanisevic became Wimbledon champion in 2001, and Croatian players Ljubicic and Ancic later reached high level, accounting for Croatia's winning of the Davis Cup in 2005, and Cilic soon joined the group. Meanwhile Serbia, despite times of strife and atrocity, produced the current, remarkable generation of top tennis stars, male and female.

Serbia's Ana Ivanovic, 6-1 and age 18, won Garros in 2008, and Jelena Jankovic captured the year's #1 ranking in 2009 at age 24. Both slipped backward thereafter, but Jankovic remained in the top ten and Ivanovic returned to the top twenty in 2010. The two led Serbia upward into the Fed Cup's eight-nation World Group by defeating Spain on Spanish clay in April 2009. But in 2010, Serbia lost closely to Russia in Fed Cup play, and then, with teen-aged Jovanovic replacing unavailable Ivanovic, lost closely to Slovak Republic. Both losses were by 3-2 scores, the Serbs losing the fifth match, the doubles, in both cases. The losses relegated Serbia out of World Group for next year, 2011.

But the Fed Cup disappointment was more than balanced by the success of Serbia's males in winning Davis Cup 2010. Djokovic's contribution was the largest, described earlier, but Troicki won a necessary singles against U.S., and Tipsarevic won two singles matches in the 3-2 win over Czech Republic, including the deciding, fifth match. Doubles artist Zimonjic lost three of four, partnered in turn by the others, but won with Tipsarevic against Croatia.

But the most dramatic moment came on Sunday, December 5, when Viktor Troicki faced French net-attacker Michael Llodra in the deciding fifth match of the championship round, both nations having won two earlier matches. The two men had not played each other previously, but it seemed that the favorite should be Llodra, who ranked higher than Troicki, had excelled in reaching the semis at the recent Paris Indoors (beating Djokovic enroute), and had played well in winning the exciting Cup doubles the day before, Saturday, clearly outperforming Viktor in that match.

But the French star's magic was not present on Sunday in Belgrade, before 16,000 impassioned and noisy watchers. Troicki's serve-returning ability, his deception and accuracy in passing shots, and his strong first serve produced a straight-set victory over the French star. With Viktor's win, Serbia became Davis Cup champion 2010.

Back in 2008 here in Washington I asked a relatively unknown Viktor Troicki for his thoughts on Serbia's Davis Cup future. His answer was predictable but also prophetic, where he mentioned the names of the team members and correctly forecast an outcome that has now become reality.

Several elements -- the winning of the Davis Cup, the growing interest in tennis evident in the modern Belgrade Arena and its lively crowds, and the continuing success of the Serbian stars in both men's and women's pro tennis -- require that the small country of Serbia be named our pro tennis Nation of the Year for 2010.

THE DECADE

Our Tennis Nation of the Decade is Russia, mainly because of the achievements of the Russian women. The Russkayas won Fed Cup four times during the decade, and since 2003 regularly won the most matches at the Slams and other major tournaments, including at Olympics 2008. Meanwhile the Russian males were less successful, but they won Davis Cup twice and their ranks included Safin and Kafelnikov, who were prominent at high level through much of the decade.

Spain and U.S. earn our honorable mention. Spain's males were strong on the men's side, the Armada winning Davis Cup three times, dominating in the clay tournaments, and contending well in nonclay events, especially late in the decade. The American men led the other national contingents in singles wins at 23 of the decade's 40 Slams. The American women led in 14.

Looking back at our Tennis Nation of the Year awards, we find agreement with our verdict. Russia earned our annual honor four times during the decade, Spain and U.S. each twice, Serbia once. (There was no award in 2001.)

BELLYACHE OF THE YEAR

The organization and conduct of pro tennis is vastly better than it was when I first paid attention long ago. Today's regular meetings of the top stars in intense, honest competition, their results linked in an overall point system, seem wonderful, almost perfect, a fulfillment of the dreams of the early pros. The variety of settings and circumstances as each year unfolds is fascinating. Assuredly I am a tennis conservative. But not a blind one.

Wimbledon 2010 gave us The Match -- the three-day first-rounder between John Isner and Nicolas Mahut, won by Isner by score 70-68 in the fifth set, with both men near collapse. The marathon drew welcome attention worldwide to the tournament and the sport.

But as the encounter unfolded, it seemed to me that matters had become freakish. It was no longer a demonstration of top-flight competitive tennis, but rather a spectacle where the winning and losing hardly mattered. As the hours of play lengthened, the physical health of the two fine players seemed at risk. When it mercifully ended, the winner's chance of further success in the tournament was almost surely wrecked.

The tiebreak rule is universally used for all sets in men's tennis except in the fifth sets at Wimbledon, Garros, and Australia, and also in Davis Cup. If the idea in these events is to provide a more meaningful outcome, it seems to me that the thinking is wrong. The winning of a few critical and pressure-packed points in a fifth-set tiebreaker seems more nearly an ultimate measure of character and ability than the fatigued play of two opponents preoccupied with saving energy while managing to survive on the scoreboard. Only in its freakishness was there drama and excitement in the deadening pattern of consecutive games without verdict by Isner and Mahut, for example.

Let's put The Match permanently in the record book and change the rules to make sure it will never be challenged.

LOOKING TO 2011

The odds for winning the men's singles at Australian Open 2011 will probably mirror the year-end rankings of 2010. Expected to return from injury will be del Potro, who won U.S. Open and was runner-up at ATP World in 2009 prior to his long absence. Meanwhile possible outcomes among the women seem wildly unpredictable. We know that Serena will be absent and that Dementieva has retired. Clijsters and #1-ranked Wozniacki will probably be the top favorites. Not far behind will be the other top-tenners of 2009 along with former Australian champions Henin and Sharapova.

Best wishes to all for the new tennis year, 2011-- the best ever.

--Ray Bowers, Arlington, Virginia, U.S.A.



Between The Lines Archives:
1995 - May 1998 | August 1998 - 2003 | 2004 - 2015
If you have not already signed up to receive our free e-mail newsletter Tennis Server INTERACTIVE, you can sign up here. You will receive notification each month of changes at the Tennis Server and news of new columns posted on our site.
This column is copyrighted by Ray Bowers, all rights reserved.
Following interesting military and civilian careers, Ray became a regular competitor in the senior divisions, reaching official rank of #1 in the 75 singles in the Mid-Atlantic Section for 2002. He was boys' tennis coach for four years at Thomas Jefferson High School for Science and Technology, Virginia, where the team three times reached the state Final Four. He was named Washington Post All-Metropolitan Coach of the Year in 2003. He is now researching a history of the early pro tennis wars, working mainly at U.S. Library of Congress. A tentative chapter, which appeared on Tennis Server, won a second-place award from U.S. Tennis Writers Association.
Questions and comments about these columns can be directed to Ray by using this form.
---